3D-printing is used for a lot of different things from prototype design to traditional manufacturing. Architects and designers with open mind suggest that entire building could be fabricated with the help of 3D-printing, as the technology allows for working with a variety of raw materials from concrete to wood or even mud. 3D-printing can produce a wider variety of shapes than traditional building methods as well as be a cost-efficient solution for third-world countries and low-income areas.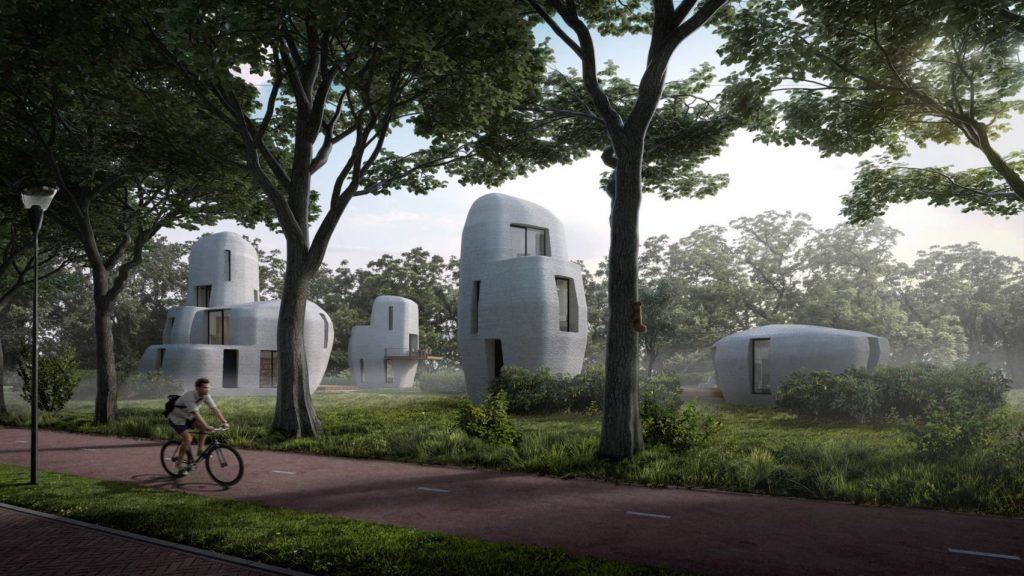 The Urban Cabin by the Dutch studio DUS Architects is a kind of architectural beta-testing in using 3D print technology in developing sustainable, customizable and on-demand housing solutions. Installed in a former industrial area in Amsterdam and available for short-term lets, this 8sqm micro-home gives its guests a glimpse into the future.
Entirely 3D printed with black colored bio-based material with linseed oil as its main component, it showcases different types of façade ornament, form-optimization techniques and smart solutions for insulation and material consumption. The floor and stepped porch are combined with a concrete finish for more durability. The cabin is aimed to be used as temporary housing or disaster relief, after which the bio print material can be shredded entirely and re-printed into new designs.
Swiss designer Yves Béhar, founder of Fuseproject studio, has teamed up with New Story, a non-profit dedicated to finding solutions to homelessness, and homebuilding technology company ICON to develop affordable yet high-quality houses for an impoverished farming community in Latin America. The exact location has not been disclosed yet, though the first houses are to be printed later this year.
The ambition is to build 'the world's first 3D-printed community', printed in 24 hours. Aimed at developing suitable housing for families living on less than $200 a month, the team worked directly with the future community residents to learn more about their culture and environment. To respond to their housing needs, the original concept has been modified to provide solutions that addressed important questions related to climate and family structure.
The houses will feature a large curved roof to act as a buffer against heavy rainfall, while the whole structure will be reinforced against seismic activity. Inside, the concrete walls will be left exposed and easy-to-clean to reduce the development of mould.
Dutch architecture studio Houben & Van Mierlo Architecten in collaboration with the Eindhoven University of Technology, is working at the world's first commercial 3D-printed housing project. Aptly entitled Project Milestone, the development will see the construction of five multi-level sustainable and energy-efficient homes in Eindhoven. The residences will be produced one after the other, with both printing technology and home design becoming increasingly complex, allowing the architects to learn from the fabrication of each. Initially working with prefabricated concrete elements, the team has an ambitious goal of printing the last home at once on location.
The futuristic design by Houben & Van Mierlo Architecten has succeeded in being timeless. The houses feature curved walls with balcony recesses and deep-set windows and doors. Each of the menhir-like 'Flinstone houses' will be printed using a specially-developed concrete mixture with a low cement content which will result in a low environmental impact.
Jelle Houben believes that the technique will evolve to the point when software will enable people to design and build their homes themselves 'with a push of a button' turning architects into consultants. We'll see what the future will bring.