Dictionaries define a vase as 'a container used to put flowers in or for decoration'. Creative approach and the extraordinary choice of production techniques, however, may result in vases becoming artworks themselves. Without compromising its original function of holding a bouquet, a designer vase is a vessel of the creative mind of the artist.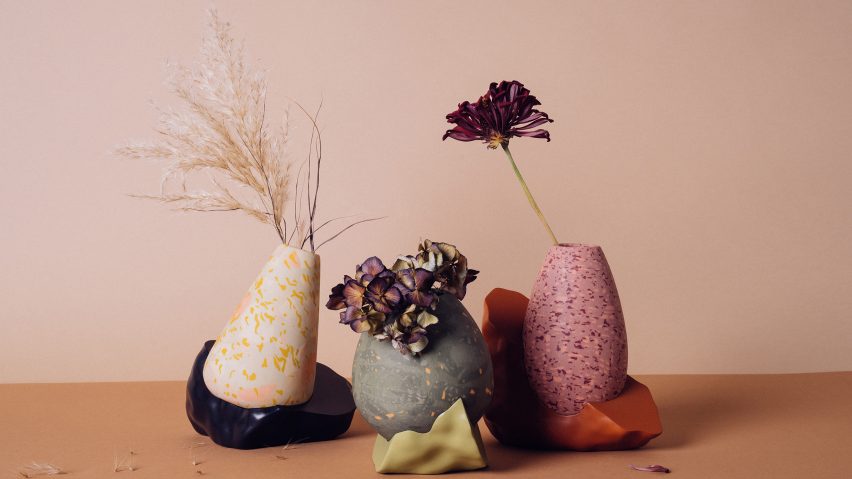 Designing their limited-edition Excavation series, Copenhagen-based art and design studio Wang & Söderström wanted to use digital processes with a human imprint, thus capturing this significant time of ours, where the digital weaves more and more into our lives. Excavation comprises three 3D-printed vessels, originally created as art pieces but then turned into vases.
Each design consists of two contrasting parts, with different materials and techniques employed for them.  The top parts are 3D-printed from plaster, their mottled surfaces created with the help of algorithms, while the more organically shaped bottom parts are cast in polyurethane and finished with glossy paintwork in order to give the sculptural volumes a solid and heavier foundation.
Indefinite Vases by Stockholm-based Studio Erik Olovsson is also an exploration of the relationship between geometric and organic forms, between transparent and opaque surfaces. Oscillating between sculptures and containers, the vases are the result of interaction between 'melting' mouth blown glass and various types of marbles, granite and onyx used for the base. While the former is associated with something indefinite and fragile, the latter is determined by angular forms and gravity.
Tossing typical vase shapes aside, Edgewood Made, New Jersey has created a trio of unique vases that are inspired by vascular systems, like those in trees, plumbing systems, and the human body's circulatory system.
The series comprises three  vessels or 'sections' that are made from different tubes and other components of various sizes and shapes that fit together to become a full system. The three vases handmade from porcelain share similar sections that allow them to be arranged together in a row to create a common sculptural silhouette.
Posture Vases,  a captivating collaborative series of minimal vases by Italian design team Bloc Studios and Stockholm-based photographer Carl Kleiner, is a step still further from the conventional idea of a vase. Inspired by Kleiner's 2014 series, 'Postures,' this project features flowers mounted on marble bases with metal wires that can transform into different angles and positions, creating sculptural shapes.
According to Kleiner,  the design  'came from experiments with methods to control the positions of the flowers in order to photograph them in poses and arrangements that made them look alive.'