A large number of objects forming city infrastructure such as barriers, bollards, lamp posts or low walls can take on new functions when designers and architects of the city environment tackle the problem of making the cityscape more comfortable for its dwellers. Habitual pieces of city furniture become carriers of a surprising diversion of use and these transformations bring new dimension to urban realm.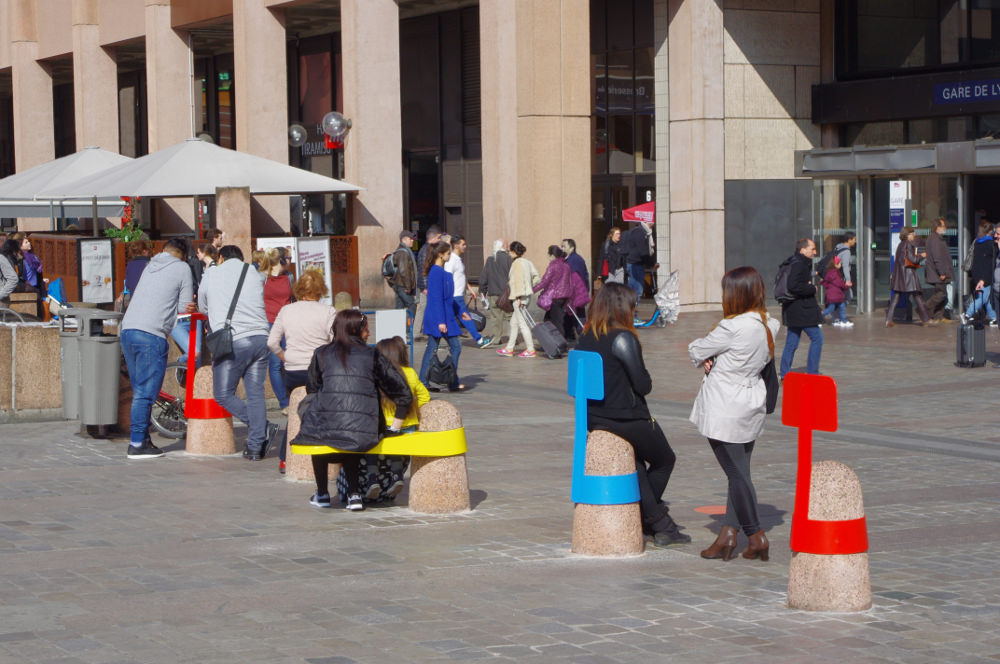 Adrian Blanc, a French designer and founder of Pondy Studio, has developed an adaptive urban furniture project called Boll which utilizes the existing city furniture as a support of new objects. The Boll family of objects consists of three modules (a table, a seat and a backrest), which are fixed on concrete bollards already present in public spaces. The pieces are made of stainless steel and painted in bold colours to brighten the cityscape.
This adaptable furniture is intended first of all for crowded areas, such as train stations, where people have to wait for long periods of time, often leaning on objects not meant for this purpose. Boll allows for maximizing the use of the existing objects without cluttering cityscape with extra furniture.
The Wanderest, an ergonomic and cost-efficient perch that can be attached to existing lamp posts, is developed by New Zealand based designer Nichola Trudgen with senior citizens in mind. For the elderly walking might be an inexpensive way to maintain health and mobility, still they often need to break their walk up into manageable distances with small intervals to take a quick rest and catch their breath.
Placed at equal intervals along the footpath, lamp posts allow for an ideal resting point. The well-engineered seat which is made up of three identical panels can be fixed to the posts with either a bolt or two steel straps. The panels are injection moulded from recycled Wood Plastic Composite – sustainable, cheap and durable material. Installed around rest homes and retirement villages, Wanderest provides an excellent infrastructure for regular walking.
The 'Print Your City' project in Thessaloniki by Rotterdam-based research and design studio The New Raw is a part of the ambitious Zero Waste Future program of Coca-Cola in Greece. The initiative invites citizens to bring their household plastic waste in the lab, design their own custom street furniture, and 3D-print it with the help of a robotic arm.
The 3D printed street furniture has integrated extra functions that promote a healthy and environment-friendly lifestyle in the city. Each object can feature a bike rack or a mini gym, a tree pot or even a dog feeding bowl or a bookcase. The geometries of the objects are based on ergonomic curvatures that accommodate a relaxed body posture. Each piece is finished with a metal tag that indicates the kilos of recycled plastic used to create it.