"Space travel is life-enhancing, and anything that's life-enhancing is worth doing," wrote the world's famous science fiction author Ray Bradbury. Hoping that going to space will soon just be another option people will pick for their vacation, designers cooperate with space companies to develop spaceships and space hotels that will make the dream of space tourism come true.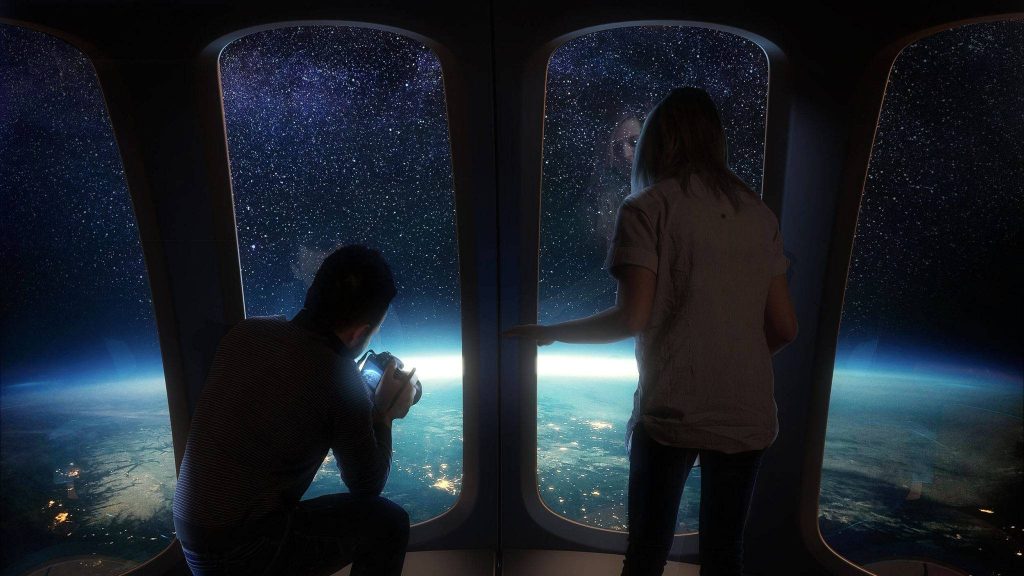 American space tourism startup Space Perspective commissioned transport design studio PriestmanGoode to bring to life their ambitious plans for a commercial spacecraft to take passengers on a journey to the edge of space. The design team has developed a concept for a high-performance balloon and pressurised capsule that would take space tourists on a "cruise" around the stratosphere. Named Spaceship Neptune, the two-part spaceship is comprised of a four-metre-tall and five-metre-wide pressurised pod shaped like a spinning top, which is attached to a giant high-altitude balloon.
Flown by a pilot, the spacecraft will take up to eight passengers on the six-hour journey. It will carry people and research payloads on a two-hour gentle ascent above 99% of the Earth's atmosphere to 100,000 feet, where it will cruise for up to two hours, before returning to Earth. The design team ensured to minimise weight and created a highly functional environment for the pilot.
The capsule doesn't use rocket propulsion nor engender G-force acceleration — it's a hydrogen-filled balloon which also addresses the demand for sustainable travel, resulting in a zero-emission spaceflight. It also requires minimal preparation with no physical demands for the guests. They will have an opportunity to move around during the journey enjoying 360 degree unobstructed views of the space.
The Florida-based space tourism company completed its first-ever test flight last year. The ascent proved to be safe and gentle, as the capsule was propelled by a state-of-the-art space balloon. Space Perspective has started selling seats for luxurious balloon rides to the stratosphere in 2024.
When privately-owned space exploration company, Axiom Space, announced the launch of its space tourism programme, offering private individuals 10-day expeditions to their "world's first" commercial space station, they invited French visionary creator Philippe Starck to create the interiors of the crew quarters, dining area and galley habitation module.
The construction of the station, which will be connected to the International Space Station (ISS) and eventually replace it when the former is retired in 2024, is currently underway.
Starck wanted his interior design to evoke the feeling of being weightless in the womb, which is similar to astronauts floating in zero gravity. Aiming to enhance life in orbit, and to provide an added level of luxury to the forthcoming space station, the design comprises a comfortable egg that is inviting with soft walls and a design perfectly in harmony with the movements of the human body in zero gravity.
The suede-textured walls of each private cabin will include large, rectangular gold-capped windows with rounded corners that would frame views of the earth below and will be dotted with hundreds of nano LED lights that change colour depending on the time. Even minor details such as the handles that inhabitants would use to pull themselves through the capsules will have luxurious gold-coloured textile covers.
The Gateway Foundation has announced that it intends to open the first hotel in space, named Voyager Station. The construction of the 50,000-square-metre facility will be operated by construction company Orbital Assembly Corporation and will start in 2026 and will be ready to accept up to 400 space travelers as early as 2027.
The rotating hotel will have a ring-shaped form and will give its guests gravity equivalent to one-sixth of the Earth's, that will provide visitors with a similar experience to visiting a high-end hotel.
The central un-pressurised ring structure will contain the docking hub, while the 200-metre-diametre outer ring truss will be assembled and connected to it by a network of spokes. This ring will support the 24 habitation modules, which will be used for hotel accommodation, restaurants, bars, gyms, crew accommodation and scientific research pods.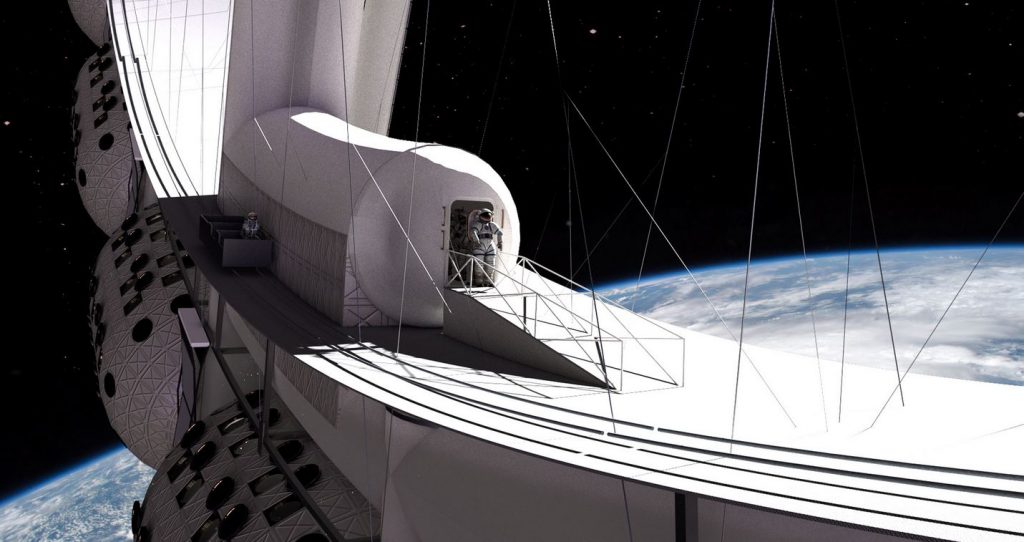 The hotel will offer a range of holiday accommodation options with 500-square-metre "luxury villas" that will have sleeping space for 16 along with three bathrooms and cooking facilities. These will be available to be rented for a week, month or permanently. Other accommodation options will include numerous 30-square-metre hotel suites that will have beds for two people and a private bathroom. Seeking to make the destination a more inviting place than it is often shown in science fiction movies, the design team will design Voyager Station to feel like a luxury hotel with natural materials and colour palette.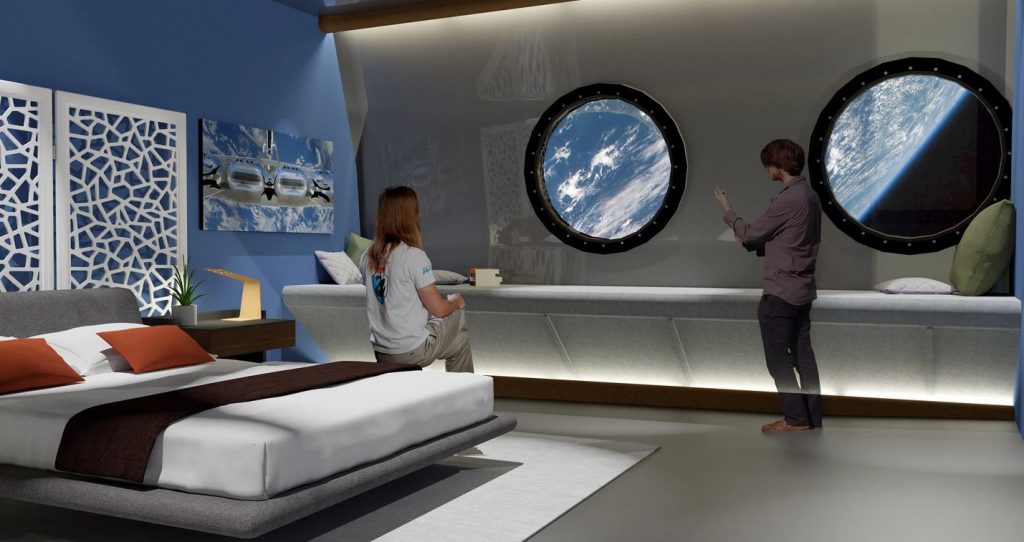 Among tourist attractions, there will be a triple-tier bar where drinks will defy the laws of physics, as well as an activity and gym module with seven-metre-high ceilings, which would be used for low-gravity games during the daytime and as a concert venue at night.