According to a report by UNICEF and the World Health Organization, 1 in 3 people globally still do not have access to safe drinking water. Product designers and researchers develop water filters that allow users to clean their water on a daily basis in a simple way. Innovative and sustainable, they enable us fully use the source that gives Earth life to give us life.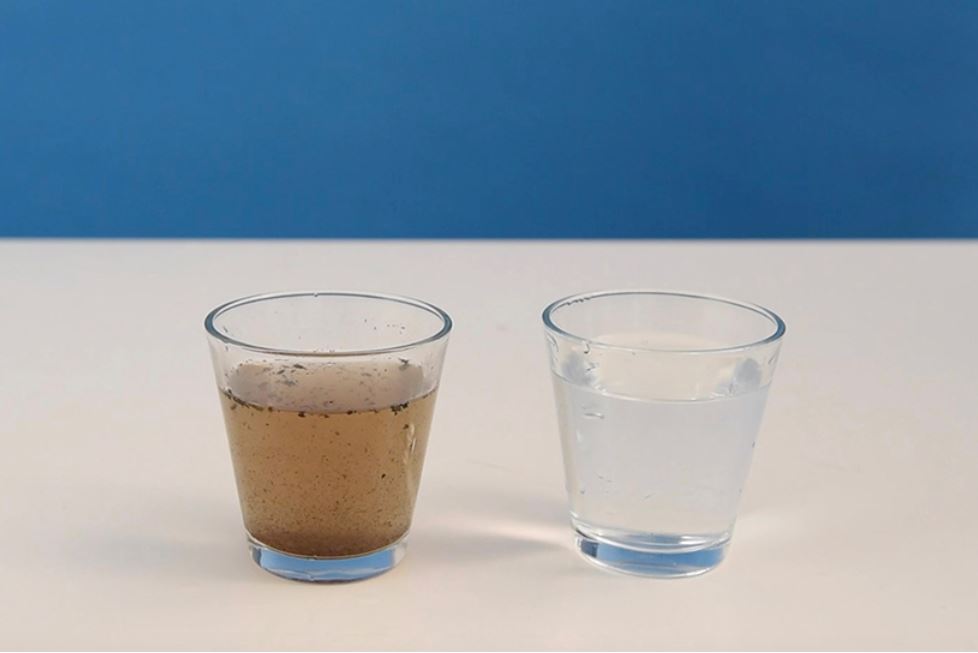 Pratt Institute graduate students Charlotte Böhning and Mary Lempres of studio Doppelgänger have used food waste from their kitchens to develop a collection of carbon water filters made completely without fossil fuels. Named Strøm, the four-piece range includes a sustainable substitute for conventional filter cartridges, purifying sticks that can be added into cups or bottles and a self-cleaning pitcher and carafe.
Unlike traditional water filers that are made of activated carbon housed in plastic cartridges, both of which are generally derived from non-renewable coal and petroleum, Strøm consists of a new material, created by turning banana peels, sheep bones and other food waste into carbon-rich biochar and combining it with natural resins, so it can be shaped like a thermoplastic. The resulting composite acts as both filter and vessel at the same time and, unlike the 100 million polypropylene cartridges that end up in landfills every year, will decompose in soil over the course of a single month.
The biochar for the filters is created using pyrolysis, a process that involves burning food waste from the designers' kitchens, as well as from local farms, in a special kiln in the absence of oxygen. In this way, the carbon in the biomass does not form carbon dioxide during combustion. Instead, it turns it into a porous, highly absorbent char while permanently storing away the carbon contained in the food, which would otherwise have been released into the atmosphere during decomposition.
While the Strøm cartridge and carafe are powered through filter pellets that can be replaced in order to expand the lifespan of the products, both the pitcher and the squiggly purifying sticks need to be discarded once their filtration capabilities have waned.
The design duo claims that their final products actually outperform traditional filters and work on several substances that don't react to activated carbon. Magnetising the biochar in a ferrous salt bath allows it to draw heavy metals out of the water, while the addition of animal bones into the char helps the material to filter out fluoride.
Aiming to provide a compact and low-cost device that would deliver safe drinking water to those who need it most, Olivier de Gruijter of studio Forthemany has collaborated with the business developer Eise van Maanen to develop Jerry, a self-cleaning water filter that, as its name suggests, is made specifically to fit onto jerry cans. In many places, jerry cans are an integral part of the water infrastructure and are used to transport and store drinking water. The new device enables people to treat water in their jerry cans at the point-of-use, as the water source may be contaminated, or the jerry can itself may not be clean, or both.
Besides, the invention eliminates the need to transport large bulky tanks that are normally associated with most water filters. This helps lower transportation costs needed to bring clean water to those not having access to it.
Once connected to a jerry can, the product functions as a filter and a tap for drinking water. The device includes a self-cleaning mechanism, which automatically cleans the filters with every pump stroke, eliminating over 99.999% of bacteria and parasites and over 99.9% of viruses from the water. A glass is filled in only two pump strokes with little force, allowing young children and the elderly to filter water with ease. An estimated lifespan of the filters is over 10,000 liters of water.
The team unveils that 130 prototypes will be tested over a period of six months in a refugee camp in Iraq, after which they hope to bring safe drinking water to one million people.
GoSun Flow filter also aims to provide access to clean water literally anywhere. This portable solar-powered device combines a water purifier and pump, which doubles as a handwashing sink and provides water for shower while storing the solar energy that it creates.
Small enough to fit into a backpack, GoSun Flow is a great solution for those going camping. It uses solar energy to filter 99.99% of pathogens from water and is able to pump 1 liter of clean water per minute. The product features an innovative 3-stage cartridge filter that consists of a polypropylene filter disc that removes large particles like dirt, rust, and sand; a high-efficiency carbon filter that absorbs hazardous chemicals and heavy metals; and a nano aluminum fiber filter that creates an electropositive charge to trap and kill the tiniest particles and organisms in the water.
To get the appliance running, the user has to – place the intake hose into any water source (except salt water) and plug in the USB-powered pump. The device will then automatically start filtering the water. The pump is powered by a power bank that can pump over 100 gallons of water on a single charge and can be recharged with the integrated solar panel that plugs right into the power bank.
The integrated clamp is designed to be effortlessly attached to branches or fences, while the faucet or shower can be easily clamped onto the pump, whenever you need to use the appliance as a handwashing station or take a hot shower.