The Coachella Valley Music and Arts Festival has returned to the California desert after a two-year break, with immersive installations by international architects, artists, and designers, responding to the unique topography and biodiversity of the desert. Through explorations of scale, light, sound, and colors, the installations deal with the global themes such as connectedness, environmental sustainability, immigration, social behavior and architecture, pop culture, and the community.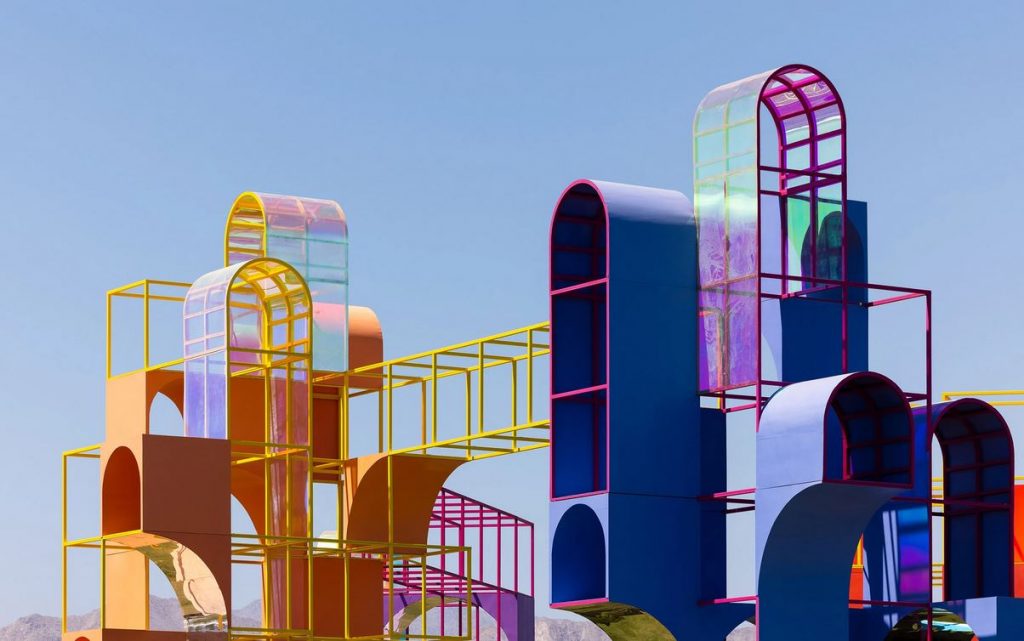 Coachella Valley-based artist Cristopher Cichocki has created a shell-shaped pavilion out of PVC tubes and animated it using natured-inspired music and imagery.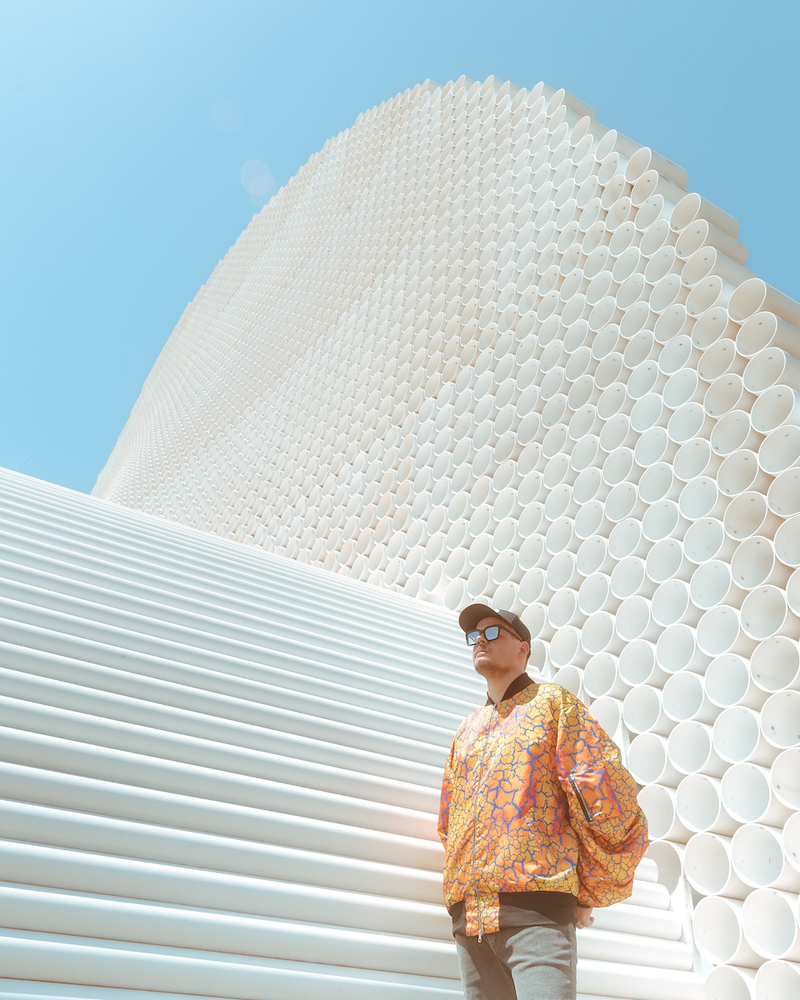 Cichocki used more than 25,000 feet of PVC tubes to construct a five-storey structure punctured by three circular tunnels. The resulting Circular Dimensions (Microscape) installation presents a visual spectacle of the artist's ongoing exploration of water and the history of the desert.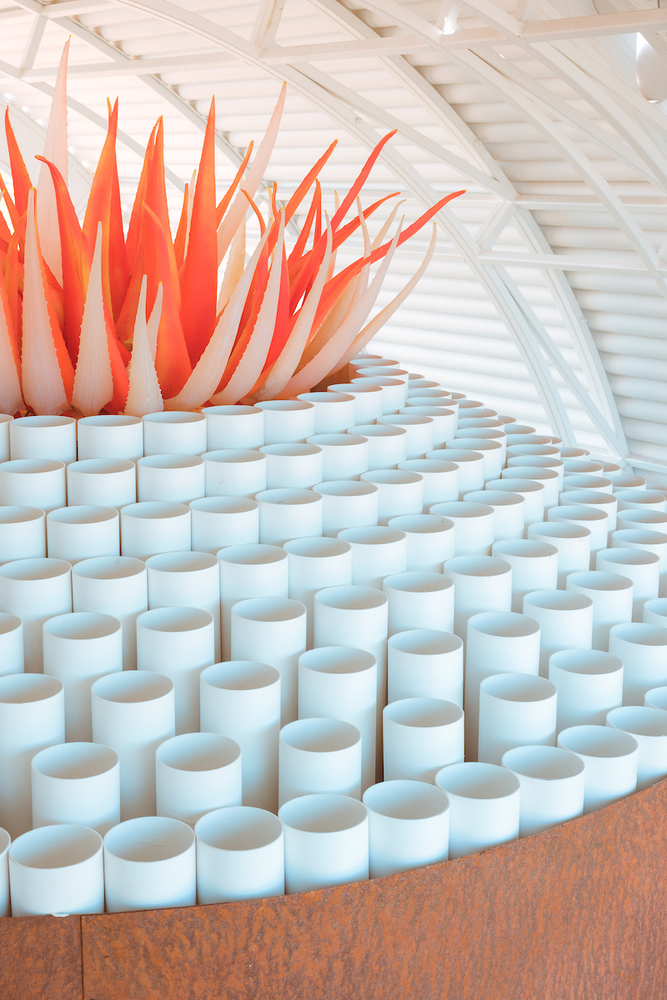 Inside the pavilion's "nucleus," there is a laboratory where scientists and artists can generate experimental "video paintings" on the walls by manipulating highly magnified images of water, salt, barnacles and algae bring colour. Meanwhile, a soundscape of field recordings grows in intensity from day to night.
Aiming to bring urbanity to the suburban sprawl in the Coachella Valley, Architensions, the architectural design and research studio of Alessandro Orsini and Nick Roseboro, has designed a colourful installation named Playground. It comprises four steel-framed towers ranging from 12.8 to 17 metres linked by skybridges, each of which features a variety of geometric forms as an intersection of different shapes and materials.
The team used cyan, magenta, and yellow dichroic film, mirror film, and polycarbonate sheets to create the vibrant colours of the installation. While the parts with dichroic film blend with the surroundings as the sun shines through them, the ones with mirror film encourage visitors to interact with the architecture, the space and its materiality.
According to the design duo, the installation was inspired by the work of Dutch painter Constant Nieuwenhuys and Italian architect Aldo Rossi, while its brightly coloured arches were intended to mimic certain urban features like piazzas and arcades.
Festivalgoers could not actually climb the towers, but were invited to walk through the installation and inhabit the piazzas.
New York-based Romanian architect Oana Stănescu has designed three massive canine sculptures and filled hem with a variety of colorful plants to demonstrate the visitors that people can "learn a lot from dogs: joy, lust for life, loyalty, unconditional affection and an endless capacity for interspecies love."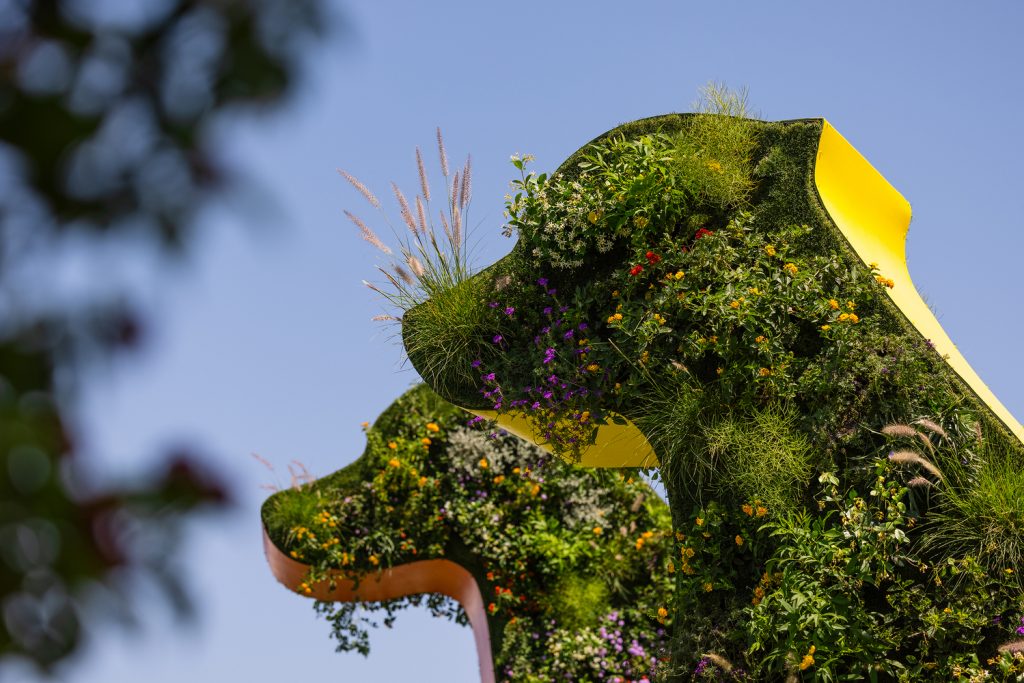 The designer has reduced the dogs to their minimal forms. Each of the three steel-frame silhouettes depicts the animals is a typical position to create a dialog and inviting interaction with visitors, as they can touch the nose of the stretching dog, walk under the pointer, and rest on the paws of the sitting dog.