Living in the city, we often lack the smell of plants after rain or the sight of leaves gently rippling and moving in the wind. Greenery creates an environment that gives us, city dwellers, a sense of well-being and calm. We have selected a few more fascinating high-rise buildings that incorporate large amounts of planting representing a unique way of living in the city and celebrating Nature in the urban surroundings.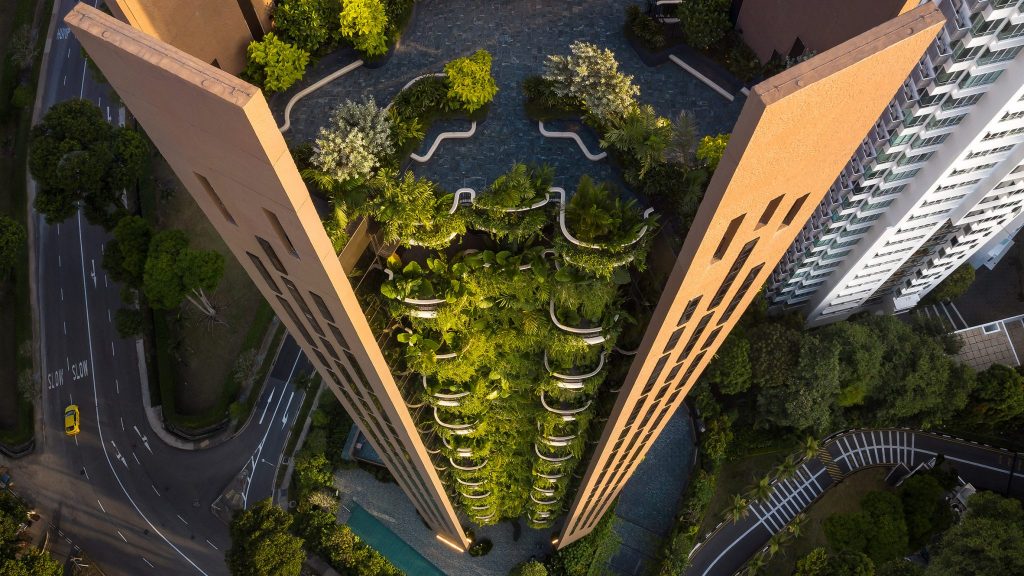 Singapore-based firm WOHA has populated façades and protruding balconies of the mixed-use development Sky Green in Taichung city, Taiwan, with trees and other vegetation. The project comprises two 26-storey towers, which both contain retail outlets on the lower three floors and apartments on the upper levels.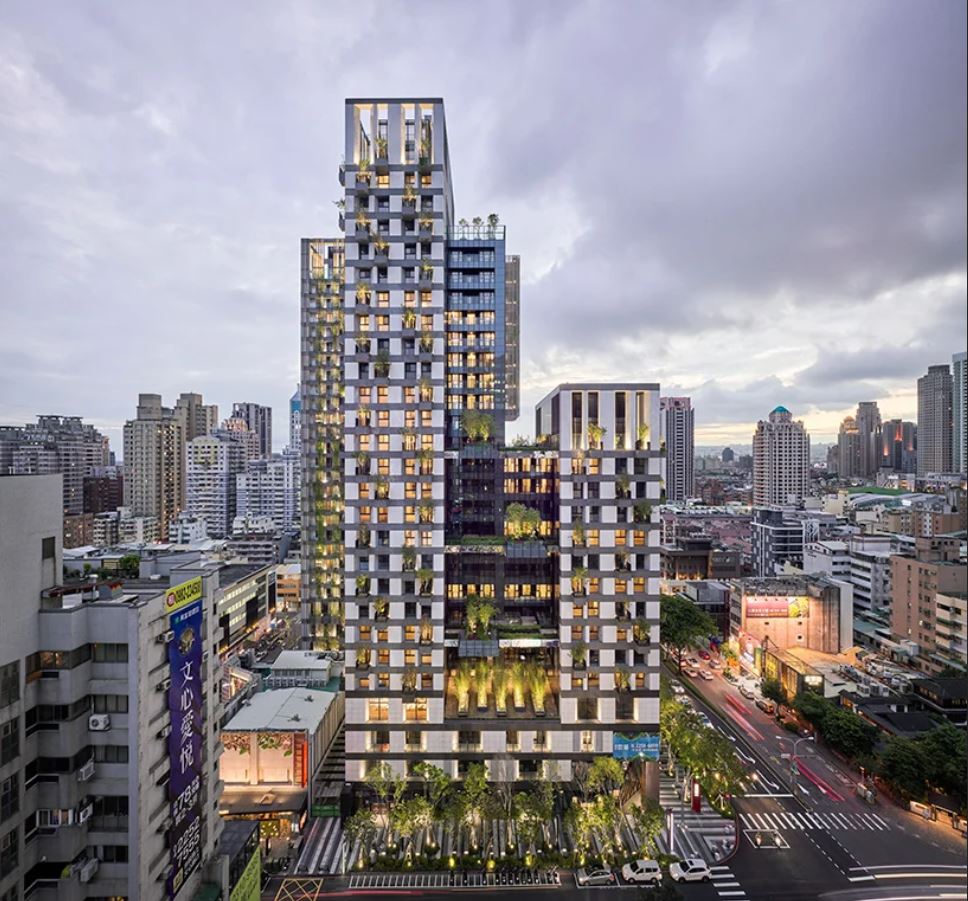 The retail shops have staggered patterned glass cladding as an urban backdrop to tree-lined pedestrian walkways and modern outdoor street furniture. Above them rise towers of residential units of different types with generous recreation facilities for indoor and outdoor activities.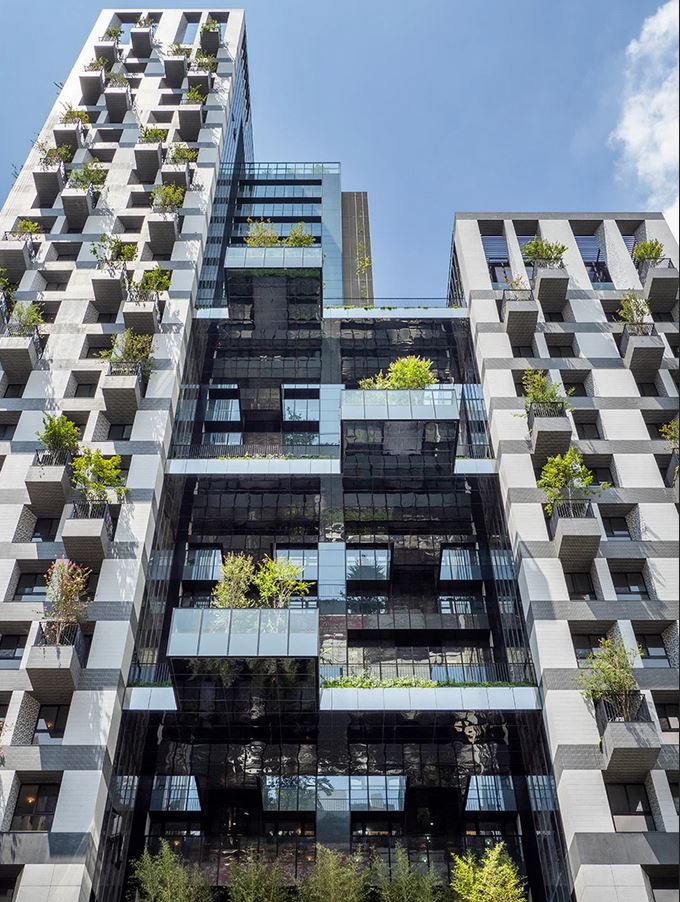 A series of open yet sheltered sky gardens every five floors, terraces, balconies and planters create a breathable façade bringing a sense of nature to high-rise living, while mesh screens that serve as a trellis for green creeper plants also help protect the apartments from the direct sunlight.
According to the architects, the building and its façade language, which are new to Taichung, is a prototype that is representational of the city's aspirations towards fostering sustainable living in a high-density urban environment.
In the meantime Singapore, London-based Heatherwick Studio is has unveiled a 20-storey apartment building that is inspired by the vision of a 'city in a garden' imagined by Lee Kuan Yew fifty years ago, and by the lush tropical setting of the area. Conceived as a radical departure from the glass and steel tower typology, the project comprises a vertical stack of homes that each have a garden.
By pulling apart the square block of a conventional residential tower and moving the services to the perimeter, each apartment has a large central living space, surrounded by smaller individual rooms and wide plant-filled balconies. Made from polished concrete, the shell-like forms of the balconies serve as giant planters for the tower's greenery. Acting like raised gardens, they create the lush immersive experience of being surrounded by nature. By moving the cores to the back, the architects managed to create 270-degree views of the city, and allow the apartments to be cross-ventilated in three directions.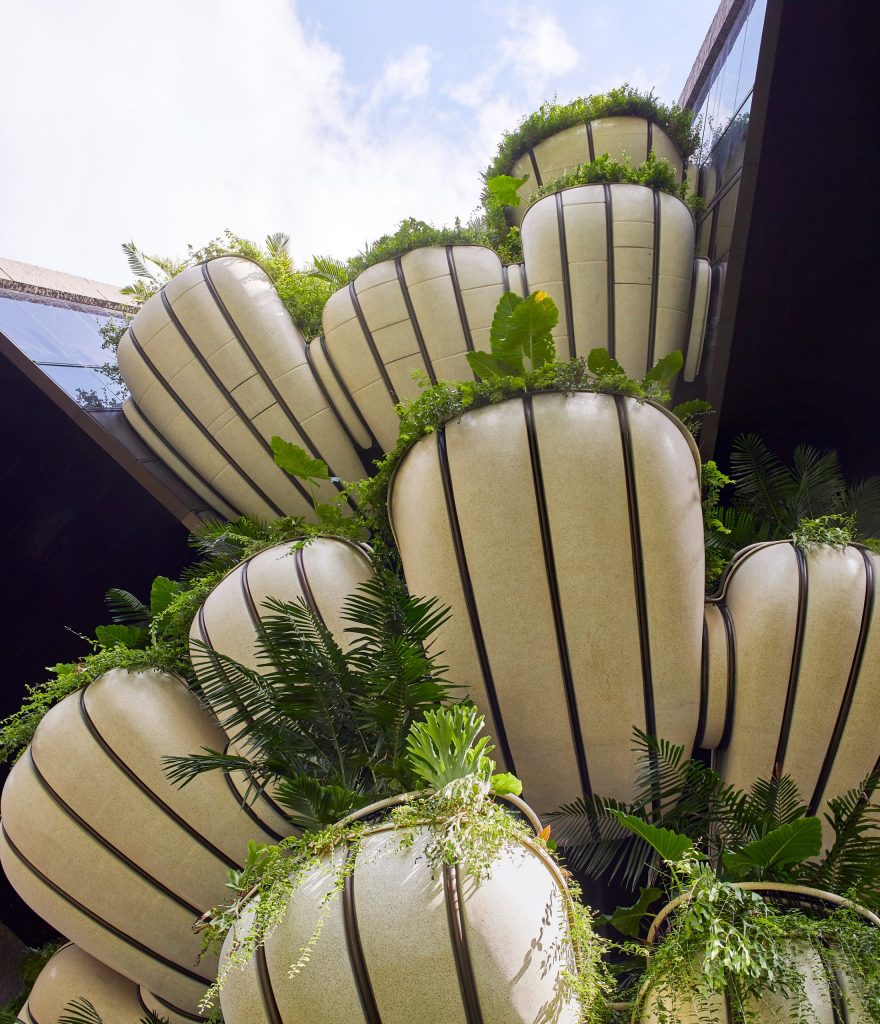 The apartments are lifted 27 metres above an intensely planted ground-level tropical garden. The greenery from the garden is threaded upwards and around the building through a series of planted chandeliers which grow as they rise up the building's dramatic 18 metre high lobby, to become generous private planted outdoor spaces that will mature as the greenery grows.
Another British firm Foster + Partners is planning to build two plant-covered residential buildings with 303 units as a part of their masterplan for a seven hectare site in Beverly Hills. Aiming to create an organic architecture that merges with landscape, the architects have developed glazed rounded hirh-rise structures wrapped by curvilinear white balconies and greenery.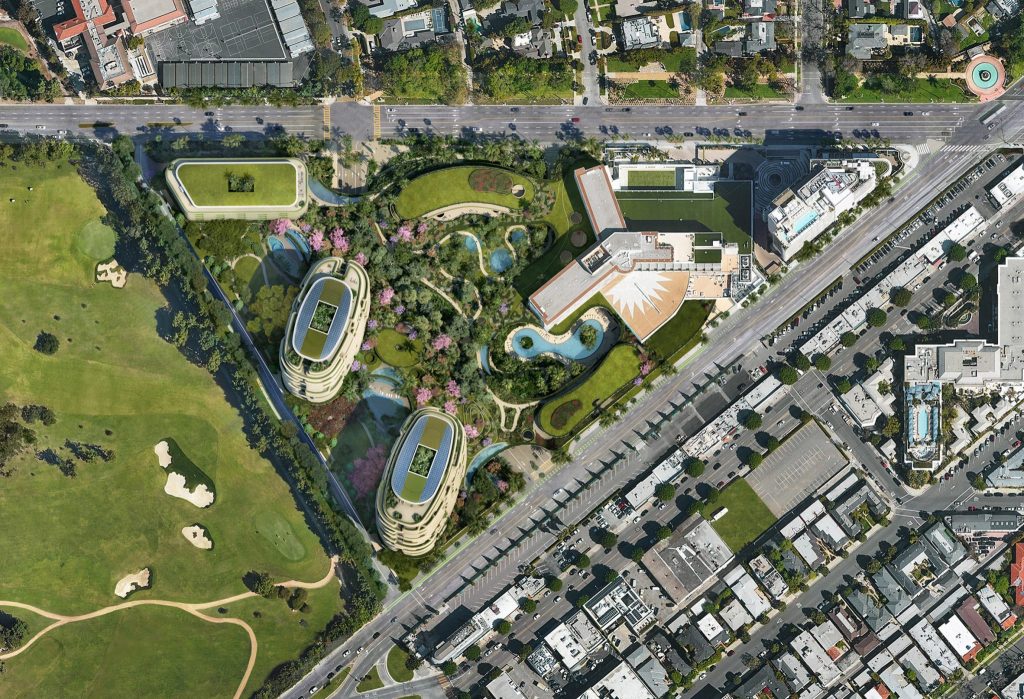 To reach LEED Platinum and WELL certifications in recognition due to environmentally friendly design details and promotion of well-being, the buildings will feature low-embodied carbon materials, as well as "smart luxury" technologies, like circadian dimming, LED lighting and silent HVAC systems.
The surroundings will be transformed into 3.4 hectares of garden, with over 300 species of plants and trees and will also accommodate an "ultra-luxury hotel" and a four-storey pavilion for shopping boutiques and eateries. In total, the masterplan includes nine distinct botanical gardens, pools and ponds and two one-mile-long walkways separating the public and private links around the landscape.