With 1.5 million people joining the global urban population each year, and cities becoming increasingly cramped, living environments can be somewhat struggling for enough space to fit everything you might need at home. Instead of making the furniture smaller, designers and architects find new smart ways to reconfigure even the tiniest of rooms into versatile spaces that can be used for multiple purposes maximizing the compact layout.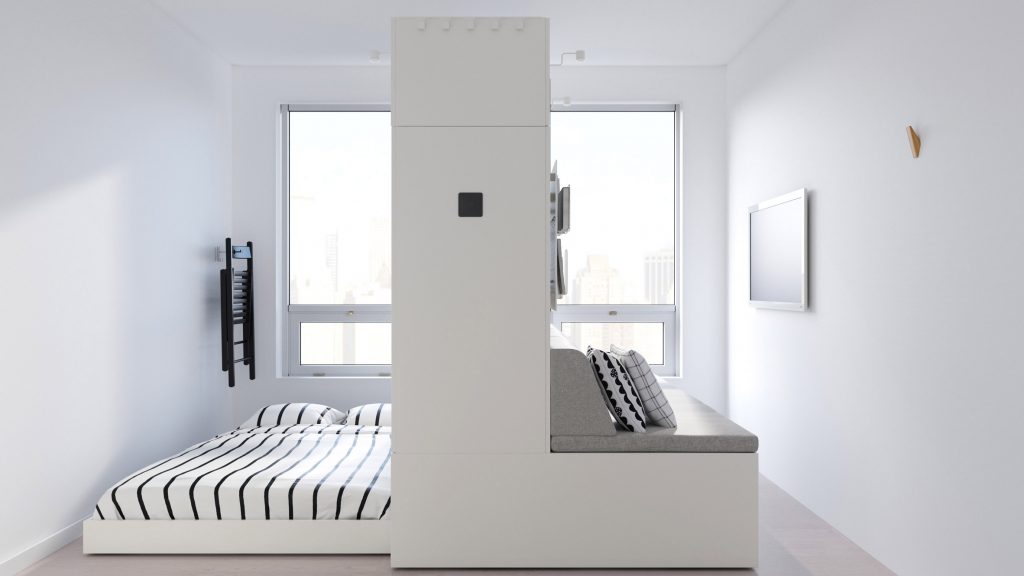 Paris-based agency JCPCDR Architecture has invented an oak table that won't get in your way in a cramped place. Designed to adapt to various situations, the Flying Table lowers from the ceiling using detachable straps and raises back when not in use to save on space.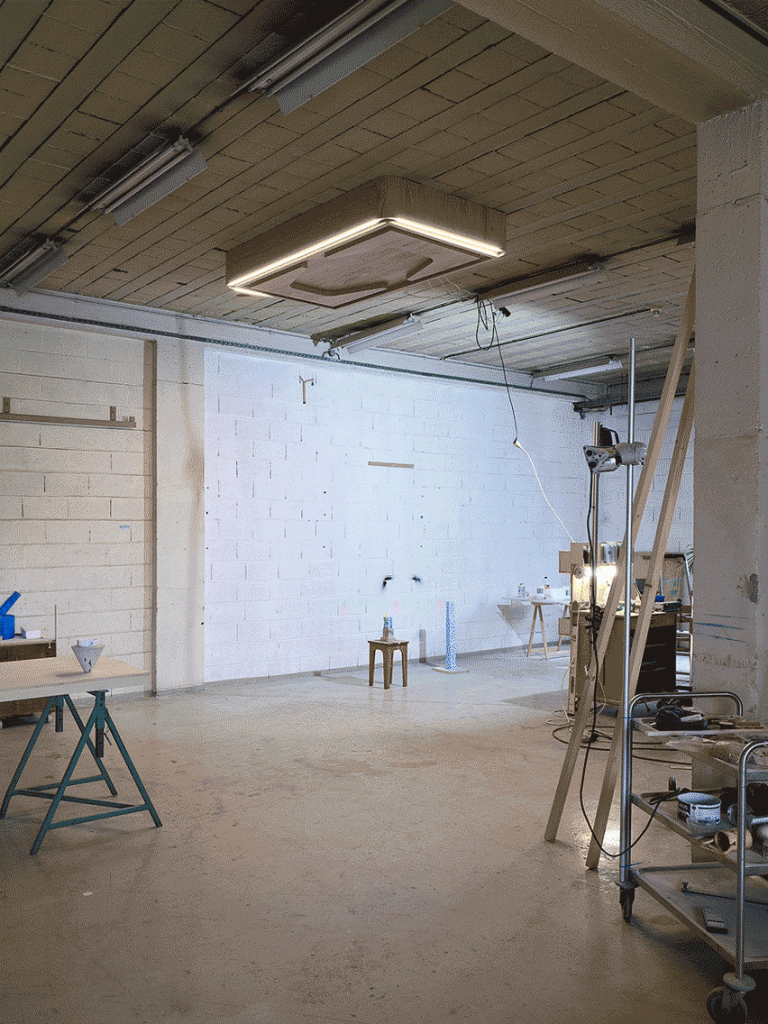 The detachable straps inspired by seat belts are wound around a remote-controlled roller shutter motor, enabling the table to gradually lower down to the desired height. The table can either be left suspended at a level suitable for the user's height or lowered to the floor to stand on its folding legs. In this case, the detachable straps can be retracted back to the docking element fixed on the ceiling until they are needed again.
Integrated lighting in the ceiling dock is both functional and decorative. Making the large wooden furniture seem lighter, it also adds a touch of futurism.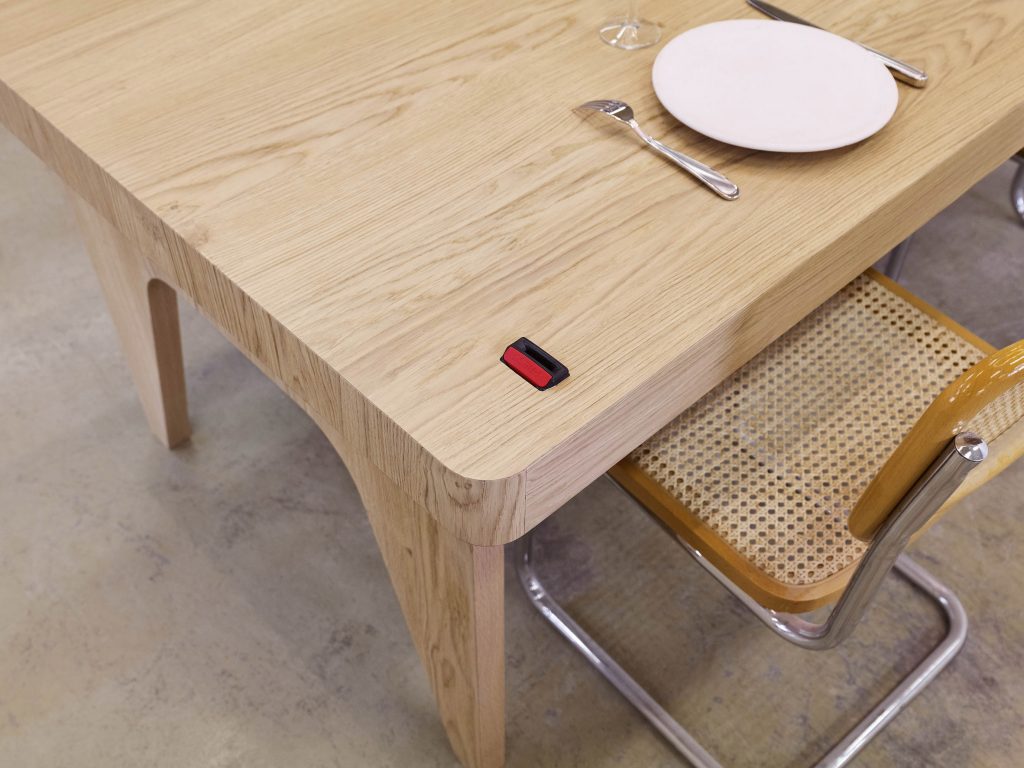 Made possible through these simple everyday techniques and objects, the Flying Table can function as a desk or meeting table when used in an office, or as a dining table if used at home.
IKEA, who has been working with developing small space living solutions for a long time already, has collaborated with American startup Ori to create a smart furniture system that fits the ever-shrinking size of modern homes. Rognan is a combination of Ori's robotic platform developed together with working with MIT's Media Lab and IKEA's existing Platsa storage solution. Intended for those living in small spaces in urban environments, it can transform a living room into a bedroom or walk-in closet by touching a button.
Rognan works through a combination of mechanics, electronics and software joined to create a moving bank of furniture. The system retracts on wheels to provide eight square metres of floor space: while one side might contain tucked-in bed, the other one offer storage and a seating area. Any other space-saving configuration is possible.
The utilized technology (already found in robotic vacuum cleaners and other household goods) creates a map of the space using machine learning the first few times it moves across the floor. This allows the system to build up a map of the room, which is then analyzed together with other factors, such as an item of furniture or a person sitting in its path.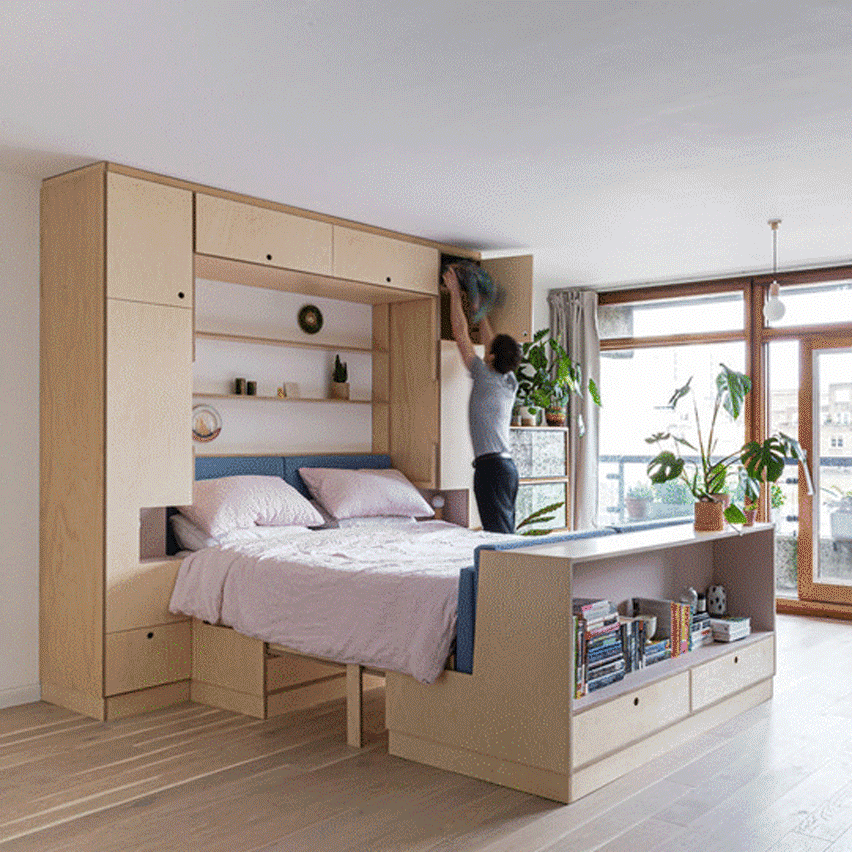 Barbican Dancer's Studio by Birmingham-based studio Intervention Architecture is another attempt at creating more flexible areas in a limited space. The architects have developed shape-shifting furniture for a compact apartment in London, owned by a professional ballet dancer, which can transform the place from a home into a studio for practicing choreography.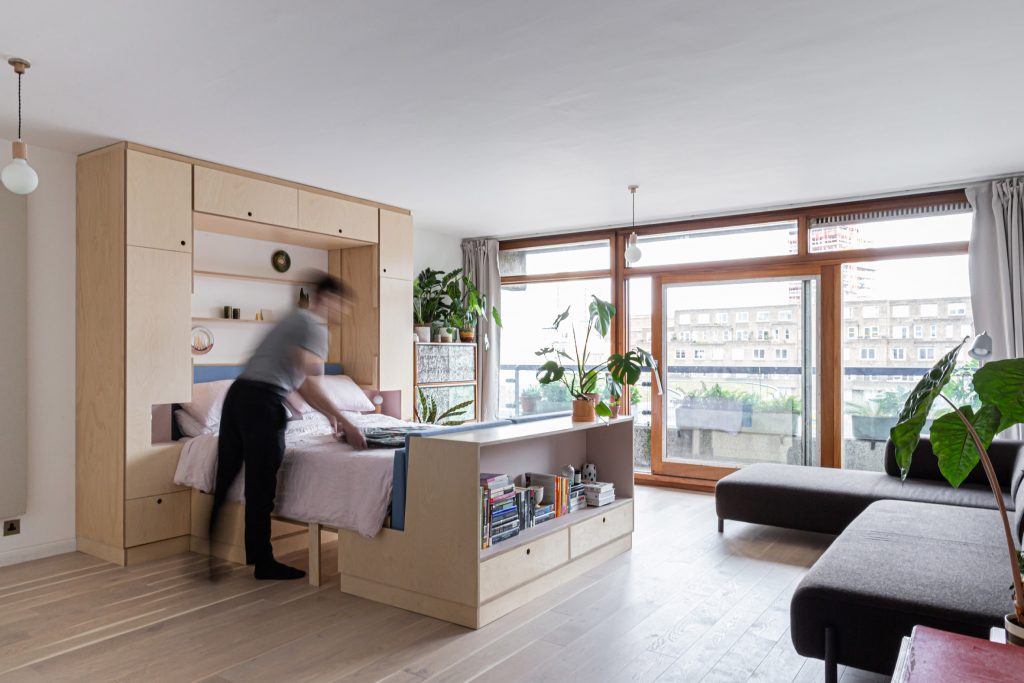 Conceived to be as flexible as possible, the multi-purpose modular plywood furniture can take on various configurations. Mobile and folding elements integrate seating, surfaces, storage and a bed.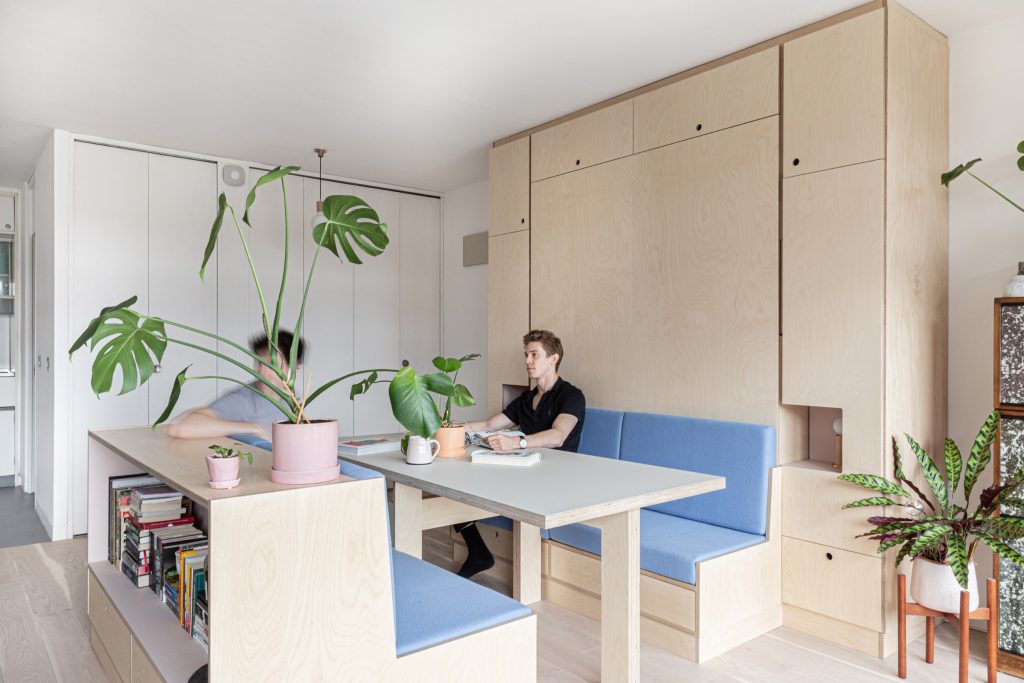 The main pieces are a ceiling-height storage unit, which integrates the fold-down bed, and a library-style bookshelf. The integrated bench seating is revealed when the bed is folded up against the wall, while a flat-pack table on removable legs can be slotted in-between. When the bed-mode is on, small niches in the shelving function as bedside tables.
To make space for dancing, the library-style bookshelf and seat can be simply moved to a different part of the room. According to the team, it takes around two minutes to assemble and de-assemble from the main modes.