The surf community has always been in the first line to protect the oceans. However, ironically, it is their surfboards that have negative impact on the environment. A single polyurethane surfboards emit up to 272 kg of carbon dioxide over its lifecycle, while polystyrene, the main component used in conventional boards, needs over 500 years to decompose. Let's check some sustainable solutions that are excellent in terms of performance, aesthetics and innovation.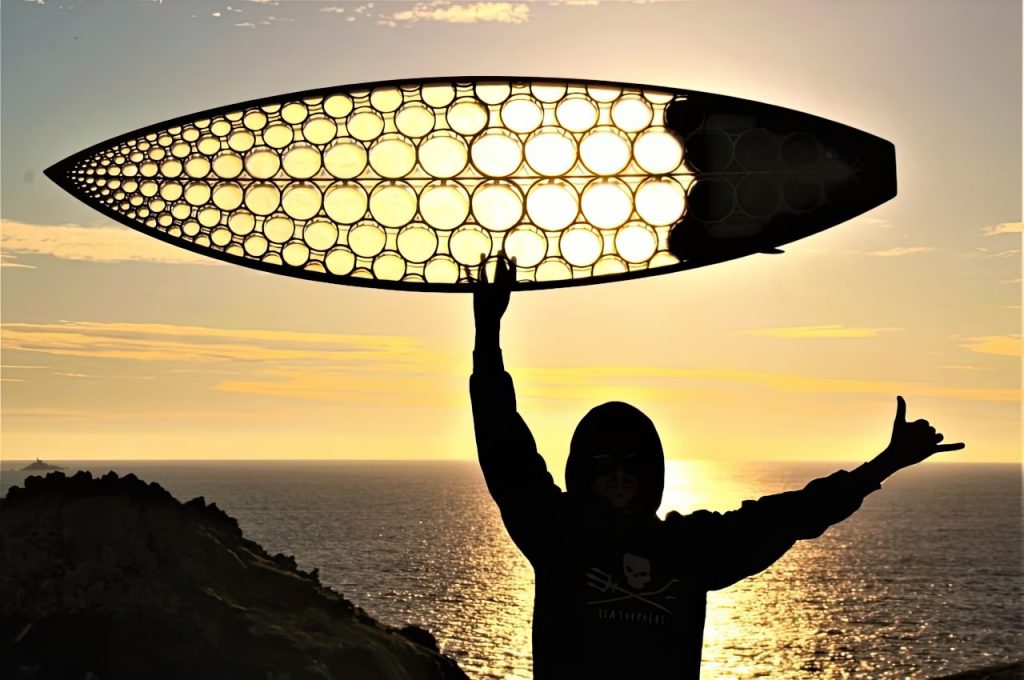 To reduce the negative impact of traditional epoxy resin-heavy, foam surfboards on the ever-growing problem of carbon emissions and global warming, surf designers are in constant search of eco-friendly alternatives to them. French designer Jérémy Lucas and the Paradoxal Surfboards team use upcycled sargassum algae, collected directly from Ris Beach, Spain, to 3D print a surfboard.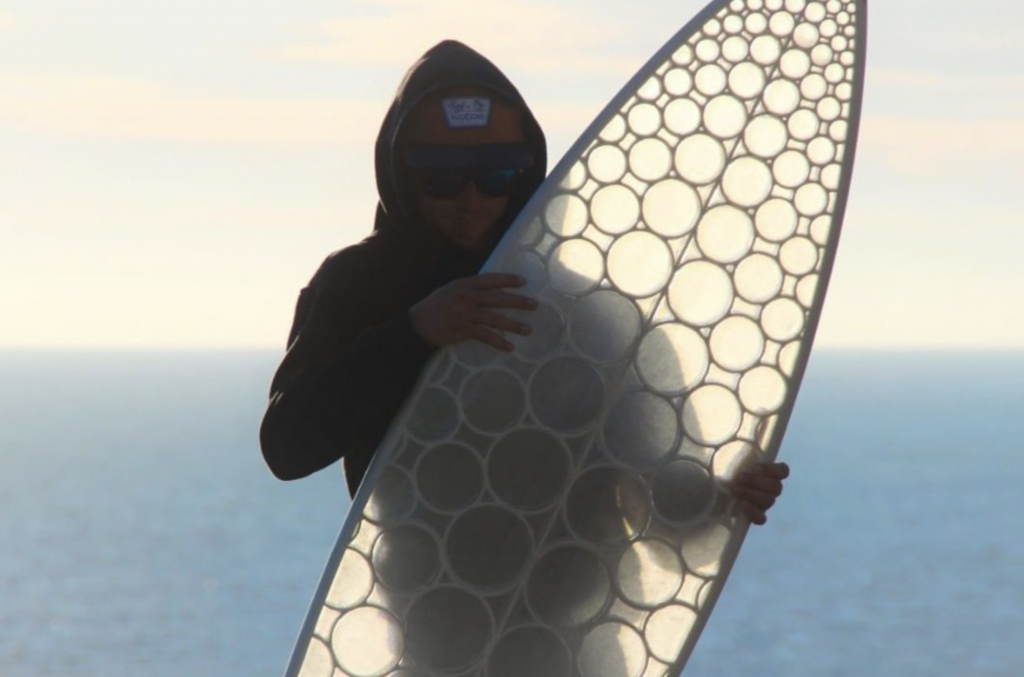 The team zoomed out to the microscopic level and discovered sargassum algae had a surfboard-like shape. The structure and design of the Paradoxal Surfboard is inspired directly from the honeycomb shape of nano-structures within the algae itself. Besides, a vivid green edge covers the resin-polished board to signal the use of sargassum algae.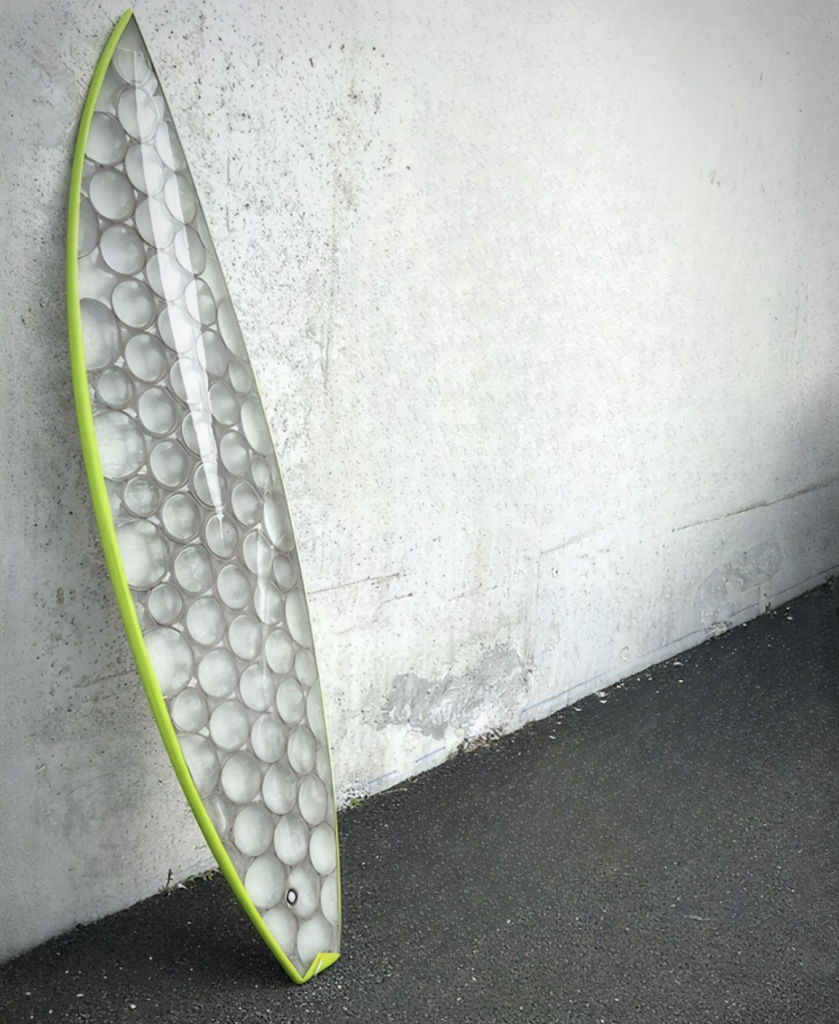 The surfboard is 3D printed using a mixture of the algae, thermoplastics, thermosetting materials, and biosourced fibers, which lets the manufacturer create uniquely-shaped designs that are reinforced in specific areas. This, in its turn, makes the structure more durable and resistant to the stresses of the ocean, compared to esigns with a polystyrene core. The circular honeycomb pattern with empty cavities gives the 3D-printed surfboard its enhanced sturdiness and greater resistance to dents, regardless of the frequency of use or intensity of the waves.
Spanish designers Rich People Things have also attempted to find clean alternatives to polystyrene in surfboards. Their initiative implied making use of components that would otherwise end up at a landfill – i.e. cork stoppers.
According to the design team, in Spain alone, more than 2500 tons of cork stoppers are thrown away every year. They discovered that the incredible fiscal and structural properties of the cork make the material perfect for crafting surfboards that are sturdy enough to withstand the marine environment.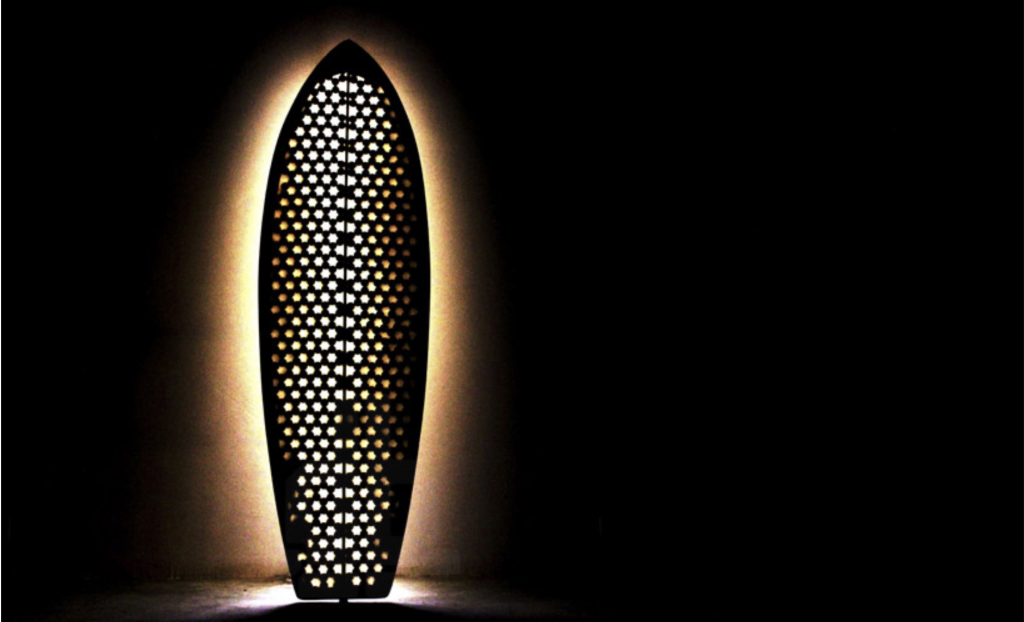 The team arrange corks six by six to create a honeycomb-like structure. Adhesives such as pine resin bees wax, provide the board's base, while natural fibers and bioresin are applied as finishes.
Surfer and former web programmer Mike Sheldrake have gone a step further designing a surfboard made of cardboard. He utilizes 3D modeling prior to cutting cardboard slats using a CNC-controlled saw. After that, the slats snapped together to form hexagonal and triangular patterns, which endow the board with its structural strength.
To make the board waterproof, the designer opts for the same methods that are used for conventional surfboards, wrapping his product in fibreglass cloth hardened with epoxy resin.