Since 1991, the Burning Man 2023 festival has been running in the deep desert of Nevada and has become famous for its anti-commercial ethos and scale of projects. This year's Burning Man theme — Animalia — celebrated the animal world and our place in it and explored the curious mental constructs that allow us to believe that imagined animals are real and real animals are imagined.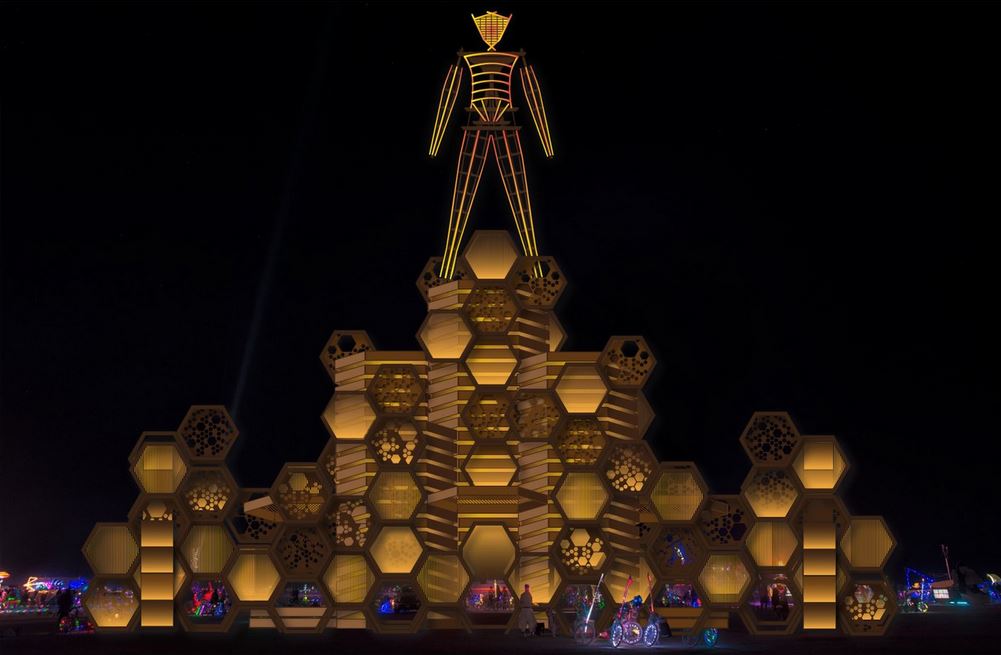 This year's central Pavilion that serves as both an effigy and a central plaza for the festival was designed by Oakland-based artist and creative Tim Bremner whose incredible proposal won over 10 other artists who had submitted their ideas.
The artist compares the festival's community to "a beehive of applied creativity," where everyone has their role and exists in a beautifully designed place just like in a proper bee colony. Therefore, the pedestal he developed for the pedestal took the form of a hive, with interlocking wooden hexagons stacked on top of one another to resemble honeycomb.
From the imagination of California-based photographer Michael Garlington comes yet another magical creation for Burning Man 2023. Named The Chapel of Babel, the wooden structure was built of multiple, hexagonal levels, which were all covered in Garlington's signature black-and-white photographs of various sizes printed onto panels and then affixed to the structure's side.
According to the photographer, the human element in the portraiture, animals, flowers, insects, and leaves, were supposed to convey that "we all belong here and will hold room for everyone in all versions and reiterations of their expression."
This year's official temple conceived by Ela Madej and Reed Finlay was meant to resemble an "upside-down desert flower with a stem pointing up into the sky". Called Temple of Heart, it comprised an all-wood, lattice 40 feet tall structure topped by an 80 feet tall spire.
Created using CNC machines, the temple was clad in 640 porous wooden panels carved into10 different lace-like flower patterns. It took over two weeks to assemble the structure using prefabricated units.
Created to be a place of meditation and mourning, it was burned during the last hours of this year's event.