Energy efficiency, thermal behavior and moisture resistance is what characterizes contemporary sustainable façades. These projects feature emerging technologies in façade design, including smart materials, double-skin facades, and facades as micro-habitat for flora and fauna.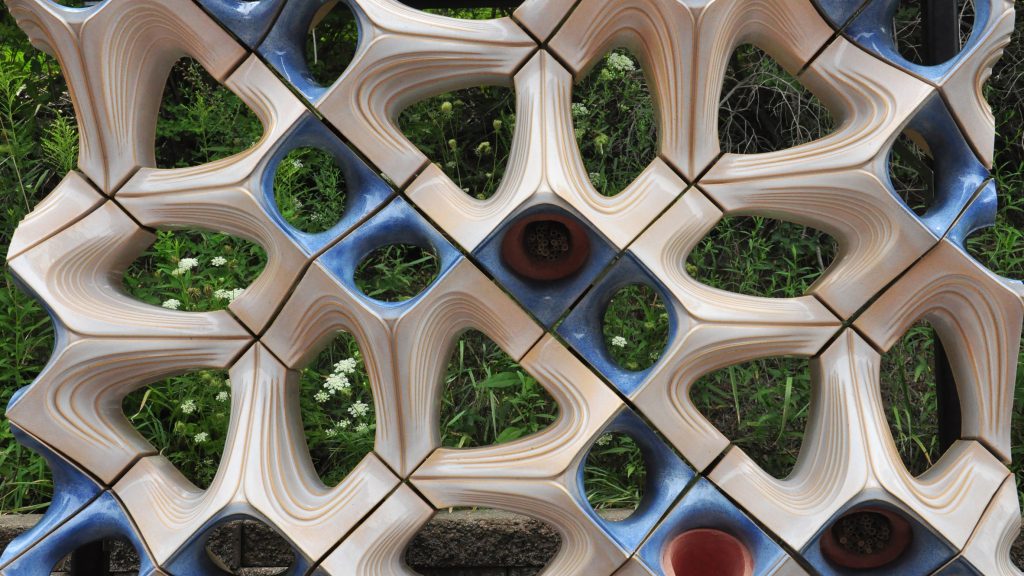 Creating the project of a co-working space in the outskirts of Pune, India, local architecture studio PMA Madhushala has wrapped the facade in a grid of locally crafted stone planters as an efficient and environmentally conscious solution for hot semi-arid climates like India.
Contrasting other fully glazed buildings, the structure's outer shell features 25-millimeter thick slabs of natural red sandstone to create the planters by the windows, allowing occupants to touch, feel, and nurture the plants from inside the workspace. This design feature not only brings life and greenery into the internal environment but also enlivens the surrounding neighborhood, creating a lively and natural aesthetic.
The architects drew inspiration from the architectural heritage of the region, where buildings featured planters protruding onto the streets, creating a celebration of life and a strong connection with nature in transitional spaces such as balconies and windows.
The building's envelope is divided into smaller concrete modules, which allows for easier construction. Each module incorporates red sandstone fins with planters asymmetrically arranged to create a pattern that is visually engaging even without the presence of plants.
Maintaining the independence of the stone fins from the main structure allows for changing the stone fenestrations and thus modifying the building's overall architectural expression. This solution lets the living skin naturally evolve over time.
The use of buildings, rooftops and grounds as wildlife habitat is an essential part of long-term health for people and their ecosystems. British engineering company Buro Happold and American architecture studio Cookfox Architects have collaborated to develop a prototype for a modular terracotta facade system that can house small wildlife, insects, birds and plants letting them thrive in urban environments.
The terracotta screen wall is made with standardized stacking modules that create a framework for customizable terracotta units with microhabitat pods inserted to suit the native fauna or flora.
Three different slip cast pod attachments can be bolted to the underside of the terracotta systems. Each module has a sculptural shape comprised of three prongs and circular openings that can be fitted with nesting pods to provide wildlife with inhabitable space beneath the surface of the facade.
A physical prototype includes 24 modules that comprise four plant pods, four bird pods and three bee pods. The measurements of the pods dedicated to birds have were considered specifically to house Mountain Bluebirds, Great Crested Flycatcher, Tufted Titmouse, Tree Swallow, and Chickadees. Rounded interior and ample depth provide birds with comfortable nesting space, while four vent holes on the sides of the pod provide airflow to the interior of the nest.
Pods designed to house pollinating bees and other insects like resin bees and mud and grass-carrying wasps are packed with reeds. Last but not least, plant pods feature a socket for planting as well as a reservoir set below the soil pocket, which are connected by a wick allowing greenery to a self-watering system.
The ceramic modules were glazed in hues of blue and white and covered in decorative ridged surfaces to create rippling and textural patterns across facades of buildings when fixed together.