Resilient design of built environments responds to natural and manmade disasters and disturbances—as well as long-term changes resulting from climate change. To alleviate the threats posed to our cities by climate change and rising sea levels, flood resilient design strategies are applied to individual buildings, communities, and larger regional scales.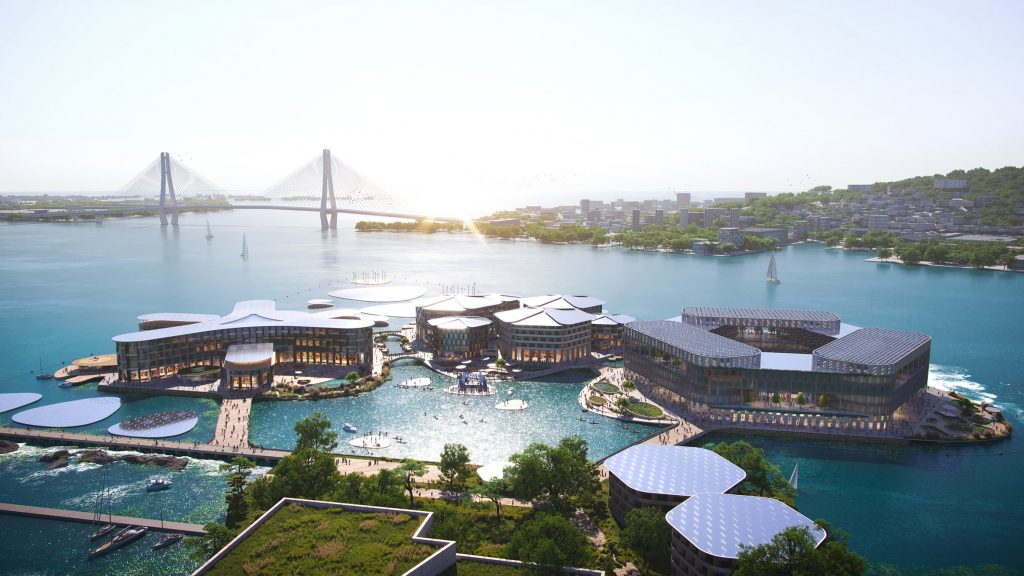 The Cove is a new conceptual vision for San Francisco's Piers 30-32 developed by London-based Heatherwick Studio in collaboration with a team of experienced local waterfront and biodiversity specialists. Among resilient strategies used for the project are generating solar-powered energy, incorporating low-carbon materials, restoring coastal processes, and enhancing habitats for fish, shellfish, aquatic plants, and wildlife.
With its close proximity to water, San Francisco is one of a number of cities threatened by rising sea levels caused by climate change. The Cove proposal is intended to provide a new waterfront ecological park and community hub park bolstered against this ecological threat.
The project will rest on a resilient pier platform composed of concrete piles and built above the sea level, which is forecasted to rise 0.9 metres. Above, a 20,000 sqm ecological public park will be flanked by two modular buildings designed to accommodate a range of functions like offices and shops. Renders show glazed walls opening up to the crescent-shaped park and the inlet of water in between intended for sports activities like kayaking.
The construction is set to complete in 2026. When opened, The Cove will be net-zero carbon and meet International Living Future Institute certifications, which outline practices for a building to be considered green or sustainable.
Architecture firms BIG and Samoo have teamed up with tech company Oceanix to design a first-of-its-kind climate-resilient floating city, which expands urban development into the ocean off the shores of Busan in South Korea with habitation built on floating platforms. The project is being developed by the Busan Metropolitan City and UN-Habitat. The team aims for the project to provide a model for coastal cities facing threats from flooding and rising sea levels due to climate change.
Initially, Oceanix Busan will comprise three mixed-use platforms, 30,000- to 40,000 sqm each, but with the potential to expand to more than 20 platforms over time. Each platform has been designed to serve a specific purpose.
The first one will have diverse housing options, as well as a space for local food vendors and stores, while the second one will feature eco-lodgings, organic dining and other amenities for tourists visiting the floating city. The third platform is conceived to be a hub for maritime research, with new green economy jobs in areas such as a habitat regeneration centre, maker spaces and dorms. The three platforms will be connected by link-span bridges.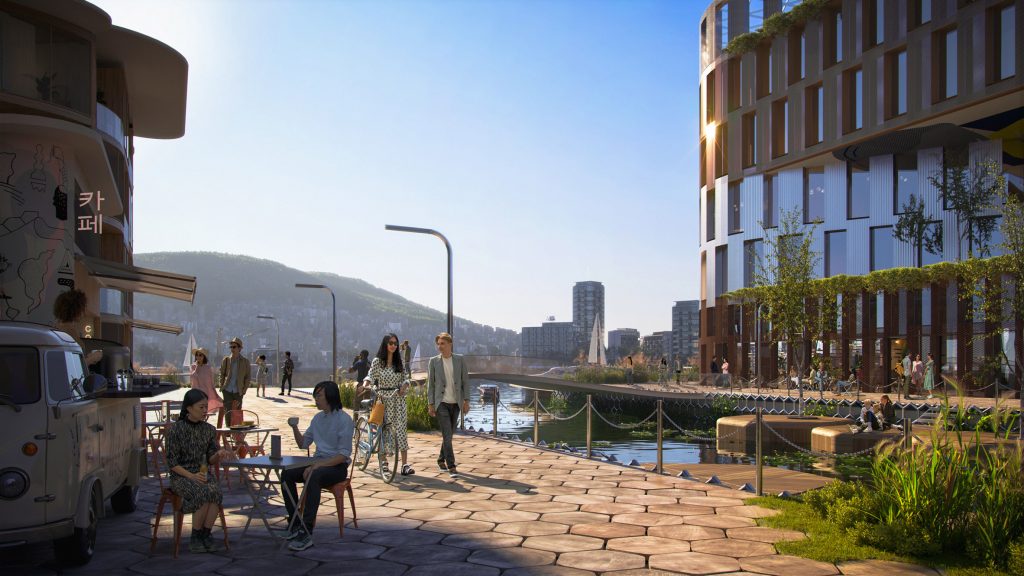 The project is designed to be self-sufficient and off-grid generating 100% of its required operational energy. Other sustainable features include photovoltaic panels and greenhouses for growing food, as well as local systems for water treatment, recycling and urban agriculture.
Construction is expected to begin in 2023.
Boston is another US city that is moving ahead with plans to address rising sea levels predicted as a result of climate change. New York firm SCAPE worked with the City of Boston on a comprehensive and transformative vision that will invest in Boston's waterfront to increase access and open space along the city's 75 km shoreline while better protecting the city during a major flooding event.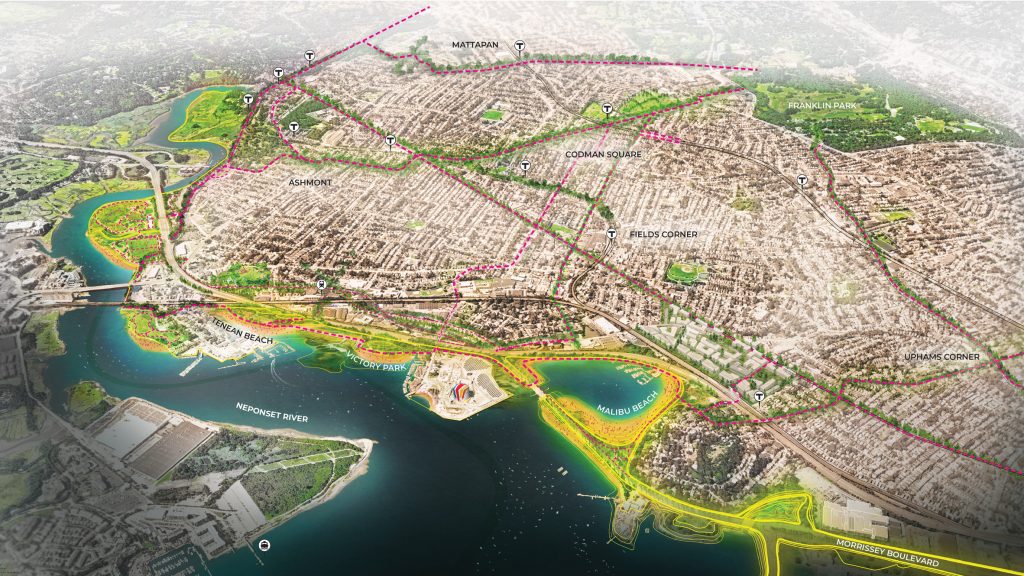 The proposal reveals how ongoing neighborhood planning efforts could be stitched together with a new layer of parks, boulevards and recreational spaces that help absorb rain water, buffer from storms, and connect all of Boston to more park and waterfront assets.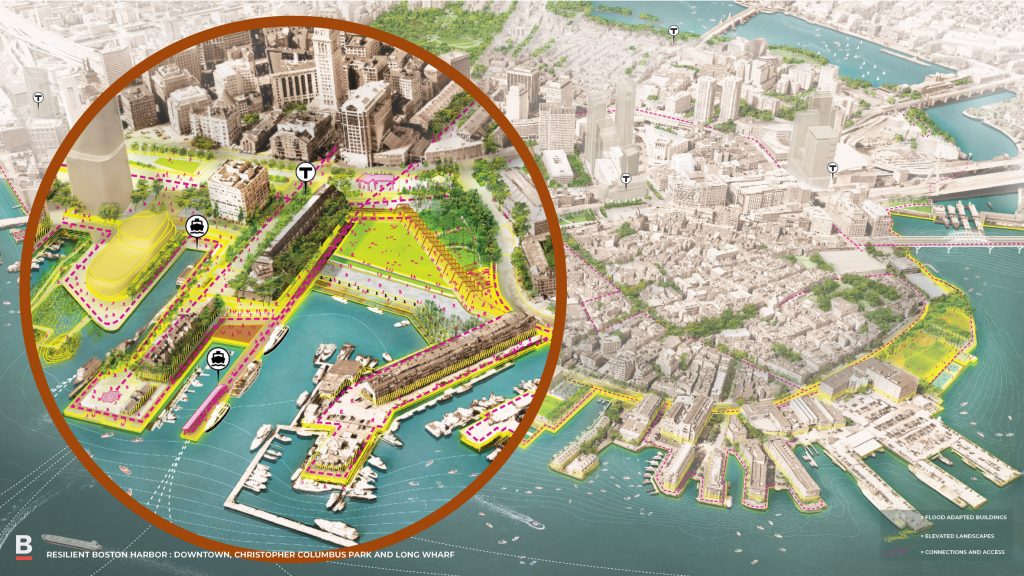 A selection of at-risk buildings will be raised and flood-adapted, while a series of elevated landscapes, pathways and protective parks will be constructed along the low-lying shore. Accordidng to the team, this vision aims to anticipate change and is a first step in that open change process, signaling an intent to meet the challenge and a collaborative method to provide solutions.