What role does design play in early childhood education? These bespoke projects seek to develop spaces that help avoid homogenization and unified standards and nurture young ones' creative thinking.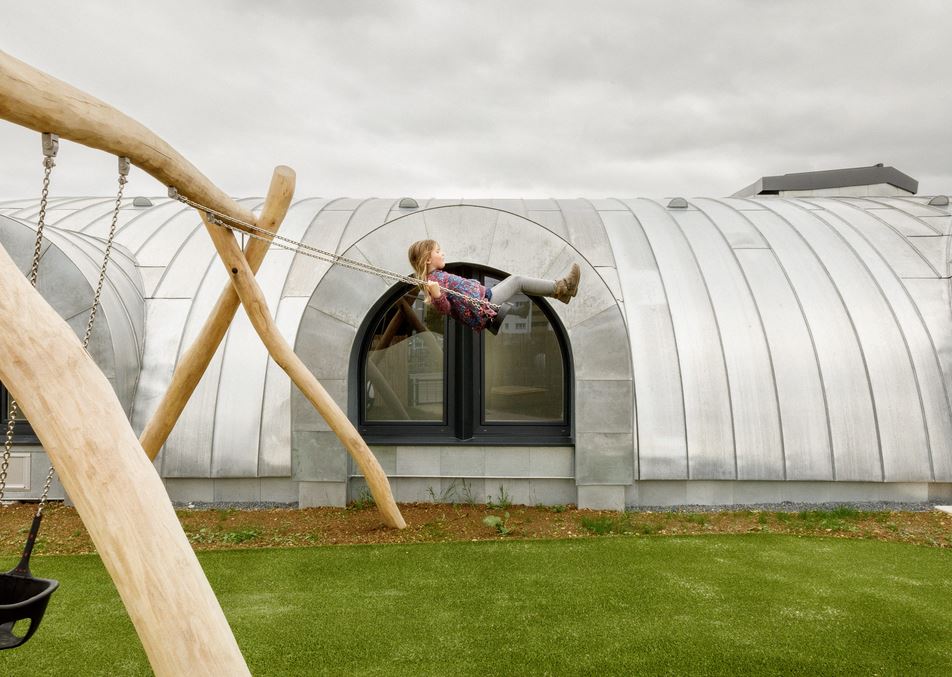 The Maison Départementale de l'Enfance et de la Famille du Calvados (MDEFC) approached Paul Le Quernec Architectes when it decided to relocate its nursery for children coming from disadvantaged or abusive homes to a new site outside Caen, France. Since 1985, the facility has been offering temporary placement adapted to specific needs of children aged 0 to 6 years dealing with complex, traumatic situations.
The project's singular form might be seen as surprising, but it results from the considerable thought given to the needs of children. The programme has been developed to meet three objectives. First, it is meant to establish a physical and psychological frontier between the children's living areas and the rest of the structure. Secondly, it seeks to organize the units to create several individual homes while also ensuring their functional interdependence. But what's most important it considers each 'house' as a warm, cozy cocoon offering protection and a feeling of safety for children who suffered a strained relationship with the worlds of adults.
The new nursery comprises a village-like complex that consists of an array of cocoon-shaped living units organized a central square. The living areas can only be accessed by a walkway crossing over a symbolic void via a glazed lobby, like a drawbridge reaching over a moat and marking the frontier – both physical and psychological – between the realm of children and that of adults. This passage crosses the shared central block acting as a watchtower, making it possible to supervise all entries and exits. The watchtower leads to a centrally located circular agora with transparent glazing.
In contrast, developed as purely functional designs, the technical building containing various workshops and a logistical building holding administrative departments, medical and dining services take on rectangular shape. The distances between the services are reduced to create the shortest routes possible.
Architect Andrés Jaque from Office for Political Innovation has devised 'Colegio Reggio,' a new private school in Madrid, as a as an assemblage of different climates, ecosystems, architectural traditions, and regulations. Aiming to disrupt the paradigms of conventional educational spaces, the architect has offered a vertical programming that symbolizes an ongoing maturity process.
The ground floor accommodates classrooms for younger students, with intermediate classes aced on top. Presented as a cosmopolitical agora, the second floor encourages teachers and students to participate in school government and to interact with the surrounding landscapes and territories. It also contains water and soil tanks that nourish an indoor garden reaching the uppermost levels, around which classrooms for older students are organized.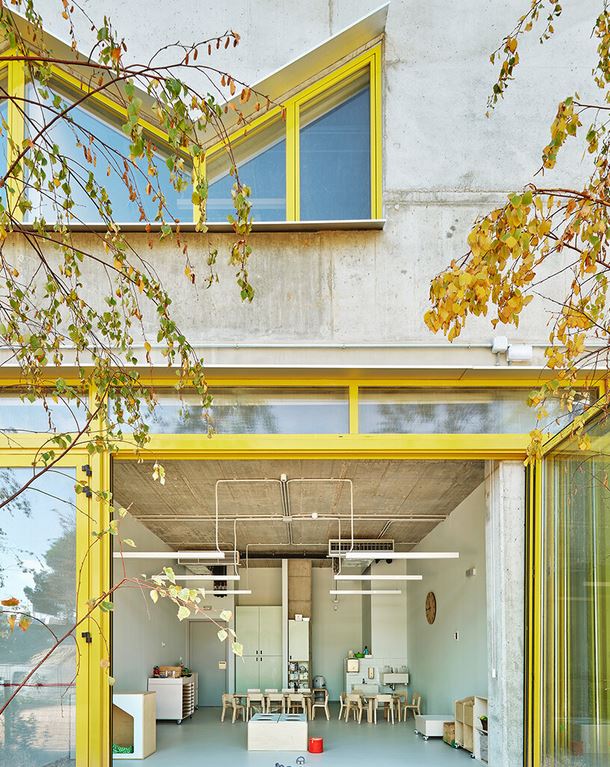 The project develops a low-budget strategy to reduce its environmental footprint based on a 'more thinking, less material' principle. While compact, vertical shape minimizes the structure's footprint as compared to a traditional horizontal expansion, the overall amount of material in the facades, roofs, and interior partitions is reduced by 48%. All services are kept visible, so operating components, such pipes, conduits, wires, and grilles, defines the building's aesthetics. Last but not least, cork wrapping used as thermal isolation covers 80% of the school envelope, thus helping reduce energy consumed for heating the school's interiors by 50%.
Local practice Architektura Studio has designed a whimsical kindergarten for the Říčany-Větrník area in the Czech Republic. Aiming to build an object for children that is not an institution but rather a space that enables the development of creativity, the team conceived a free-form complex combines a gym and a garden.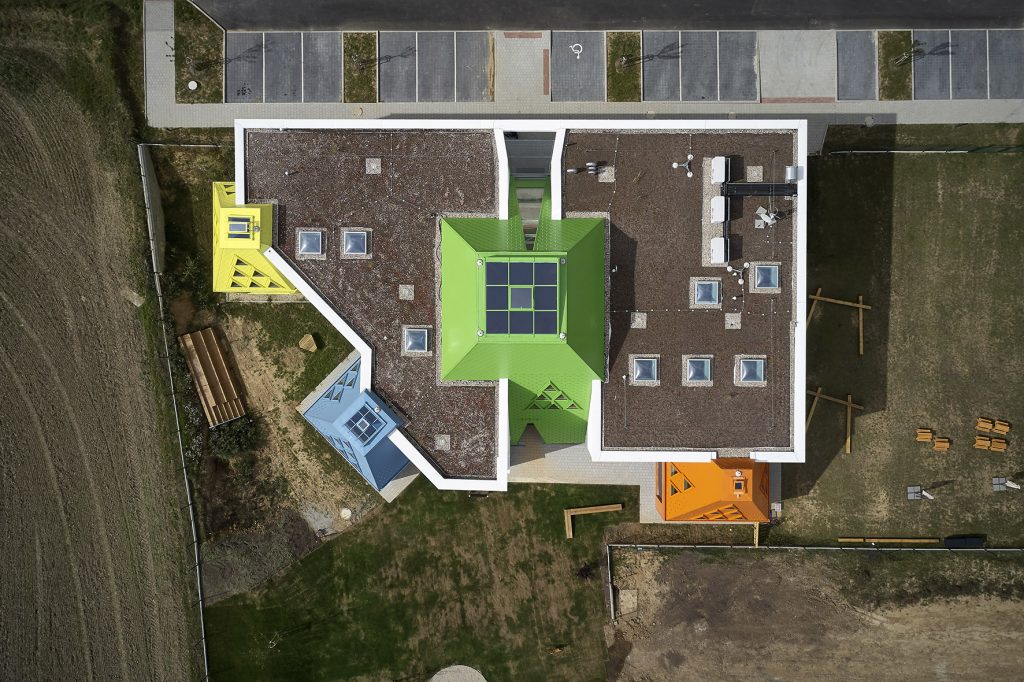 All functional programs are assigned to the central white cube, which includes facilities and offices, and is characterized by a spiderweb-like rope hammock installation suspended from tree trunks in the middle of the entrance atrium. Accessible from all classrooms, the atrium also acts as a community space for singing, acting, exhibitions, and theater. Protruding out of the central structure are colorful house-shaped blocks containing classrooms. Inside these classrooms, areas for hiding, learning, and exploring are situated over two floors.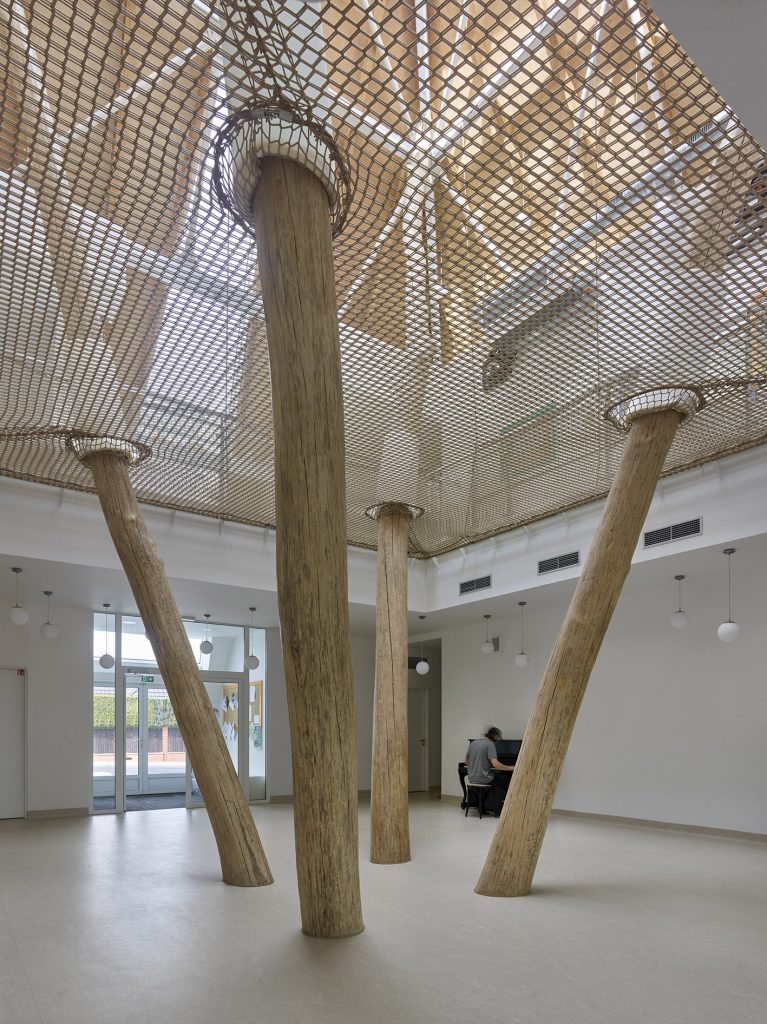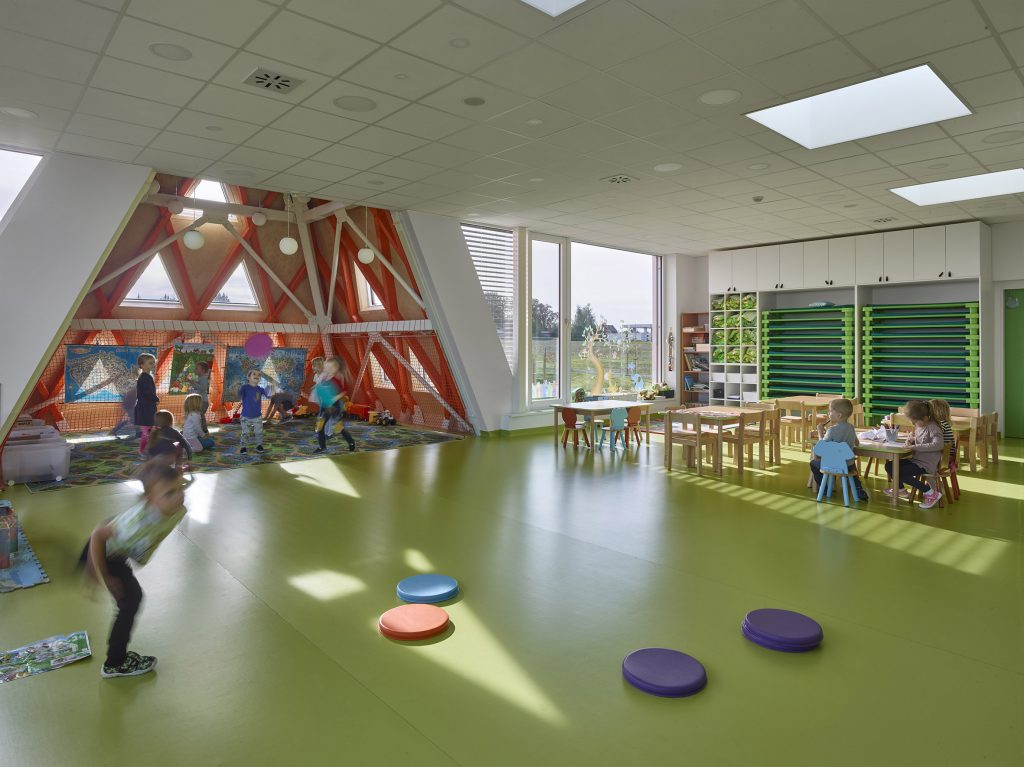 The main entrance is accessed from the street, evoking the door to a mysterious temple. The street-facing elevation is partially designed as vertical greenery, which the team hopes will spread over the entire façade as time passes. Meanwhile, the technical infrastructure is left partially visible for children to witness how and where water, electricity, and air flow.