Focused on minimalist aesthetics, Japanese and Scandinavian share many common design principles, including warm natural materials, subdued colour scheme and seemingly basic and uncomplicated structure. All this has given birth to the new "Japandi" design trend that combines Japanese simplicity with Scandinavian functionality.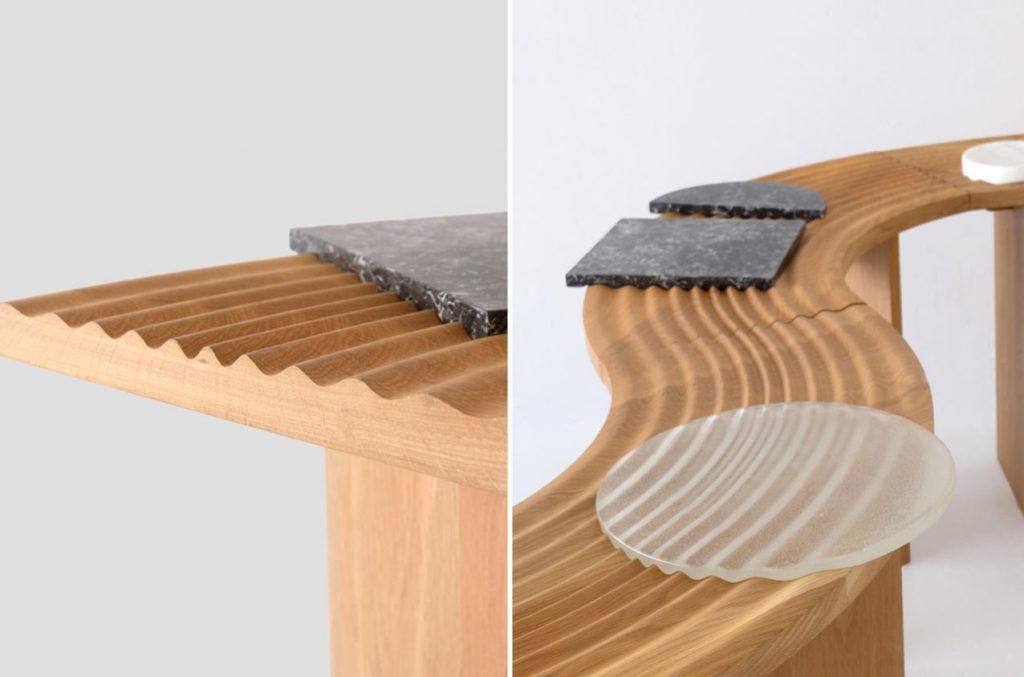 Aiming to introduce a sense of the natural world into interior spaces through form and symbolism, Melbourne-based design company Sabu Studio founded by designer-maker Samuel Burns has created Outside In as a multifunctional, shapeshifting table that incorporates hand-carved grooves into its timber frame to resemble the raked ruts of Japanese Zen gardens.
The grooves on the tabletop also double as rails for hand-carved granite and marble elements to slide between and provide functional flat surfaces. These consist of two halves that can separate to create two small flat surfaces or come together to form a larger rectangle, which makes the bespoke piece a fully functional table.
According to the designer, the design investigates materials dialogues and the notion of synergy, each object can shift and slide across the surface in a circular motion.
Cloth is a coffee table from Portugal-based designer Joao Teixeira that merges Scandinavian functionality with Japanese simplicity for a dynamic, yet balanced look. Inspired by organic shapes, the design intends to create a balance between boldness and elegance depending on the angle.
The overall design language suggests an interesting contrast between colors, materials and shapes, but also allows enhancing stability while keeping slim profiles.
The table's unique feature is the metal bookstand that works as a centerpiece of the table. Its curved bottom establishes an aesthetical relation with the wavy undulating table edge. Most of the components are created using processes like press bending plywood sheets or CNC milled tops, while all hardware is designed to be hidden, which helps keep the minimal aesthetics of the design. All this integrates a sense of durability into the simple build of the coffee table.
Another Japandi project by Texeira comprises a sophisticated coat rack made out of basic and simple components. Named Acrobat, the stylish, dynamic and sleek hanger adopts a tripod solution. The bended metal tube forming the rack is welded only on one side, allowing for this gap to be used as a spot to hang scarfs or other items. The metal tube tops can also be used to hang clothes or hats without the need for a hanger.
Designed through the principles of minimalism, the exquisite piece combines the hanging function of a coatrack with the safekeeping components of an entryway table. The central cavity that runs through the wooden hull that interlinks the beams offers a space for daily accessories such as wallets, glasses or keys.
The mix between wood and metal allows for interesting texture and color contrasts for the basic and uncomplicated structure of the bespoke multifunctional piece.