Orthopedic cast immobilisation is one of the most common ways of treating broken and fractured bones, involving the use of materials to encase and restrict the movement of broken bones, which allows them to heal. A standard for decades are plaster fracture casts that are not water resistant and can cause great discomfort, annoying sweat, stink, and itch when being worn for weeks or even months. Product designers do their best to find new sustainable methods to design and manufacture alternative medical casts that are both functional and elegant.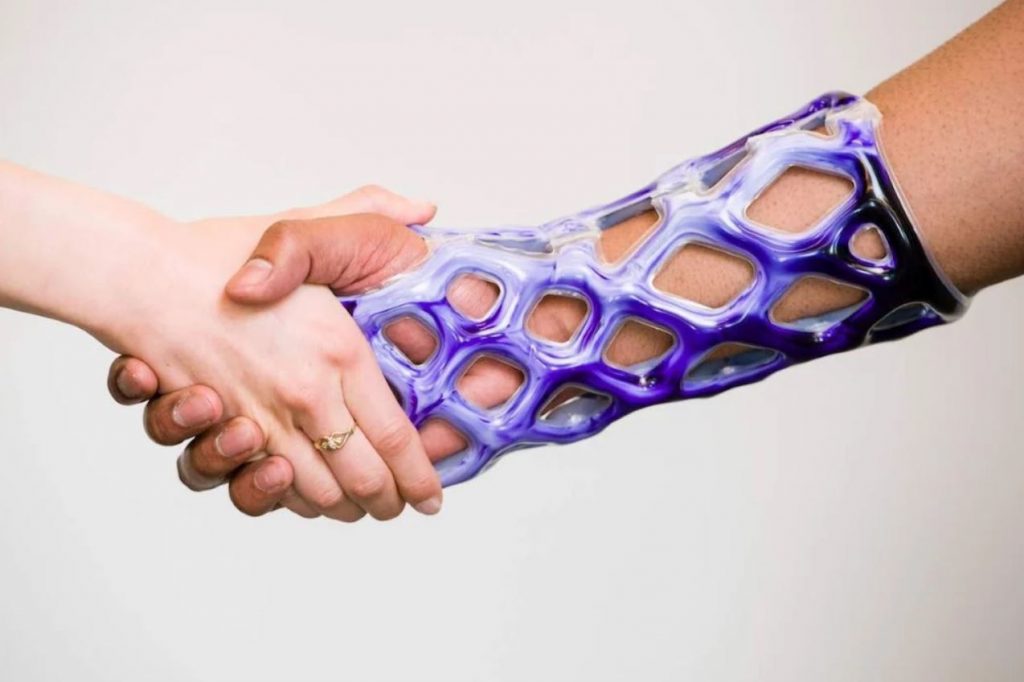 Chicago-based startup Cast21 has designed a cast that takes shape around your hand once it's filled with a patented mixture of resins that hardens over time through an exothermic reaction. First, the doctor selects a sleeve choosing between different sizes ranging between those for a child and a fully-grown adult.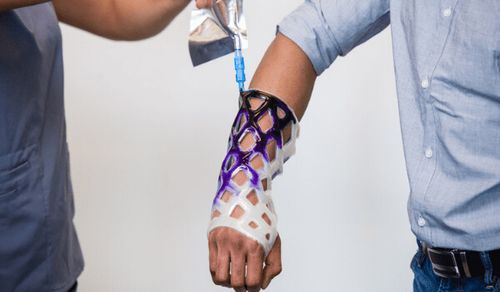 Once the sleeve is slipped on, it is filled with the gel, which the doctor can adjust to perfectly hug the limb providing it with the necessary support. Patients are free to choose between a variety of gel colours, opting for combinations and gradients, breaking the stigma that casts need to look exclusively clinical.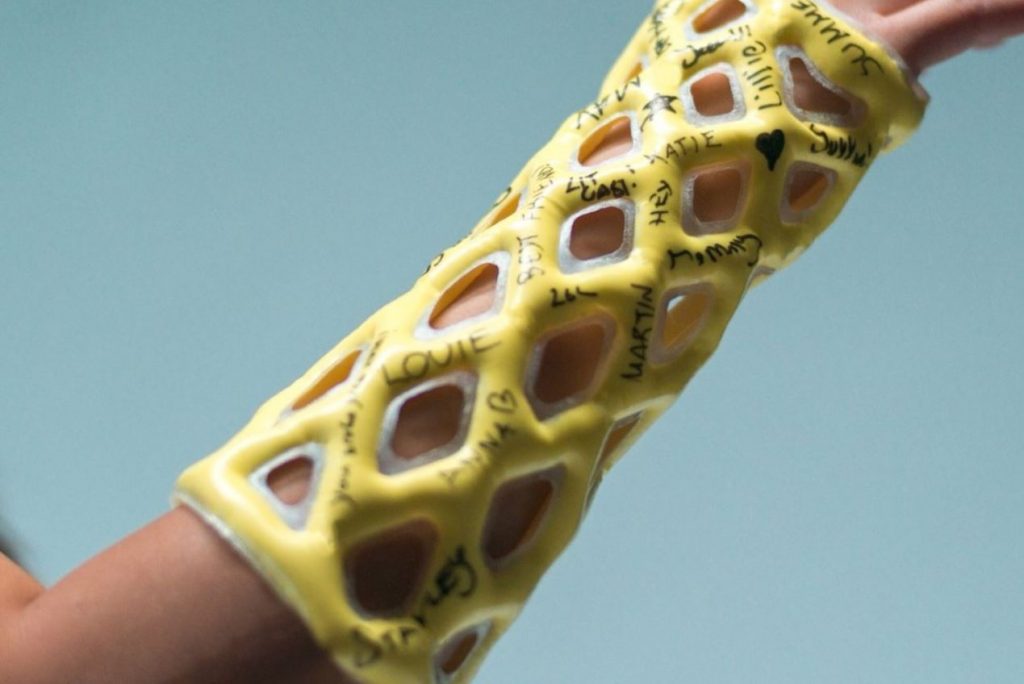 The resulting sleeve has a crisscrossed design that enables it to remain breathable while still providing a robust structure around the broken limb. Besides, Cast21's casts are completely waterproof, which means the user can shower or even swim in them and their partially-open design even allows them to satisfy an itch.
So far, the start-up limits itself to casts for distal radial fractures or DR fractures that occur around the wrist, but the team is working to develop different sleeves for other parts of the body. The innovative cast is fir for widespread applications, such as military and first-aid use, since the resin and sleeve are relatively easy to carry around and administer on-site, rather than having to travel to a nearby hospital.
As technology has become more accessible, 3D printed casts are growing in popularity. Tailor-made to a specific patient's anatomy and therefore more comfortable than their conventional counterparts, they are becoming increasingly popular these days. However, despite the evolution in cast production qualities, all casts share a fundamental flaw – they are single-use products.
Aiming to reduce the inevitable waste generated by their complex and tailored form and maintenance of hygiene standards, Sustainable Product Design student at Falmouth University Jack Cockle has developed DynamiCast, which involves the use of 3D-printed elastic mesh to allow reusability. The concept is a flexible resin auxetic sleeve that fits over the arm of the patient, which is compressed by the rigid PETg shell, immobilising the limb.
The shape of the mesh compresses and morphs around the patient's limb during use and returns to its original, neutral shape after removal. This allows a single cast to fit multiple people with similar-sized limbs.
The designer hopes that the reusable cast would reduce waste, cut lead times (as a stock of casts could be kept) and the longer-term cost of casts per patient, since the costs of one cast could be distributed across several patients.
Industrial-design student from California College of Arts Aadhya Krishna also set herself a goal of finding new sustainable methods to design and manufacture medical casts. Together with Tri Duong and Jiayi Zheng she has conceptualized AXO, a lightweight 3D-printed conceptual medical cast made from plant extracts, recycled food, and bio-resins.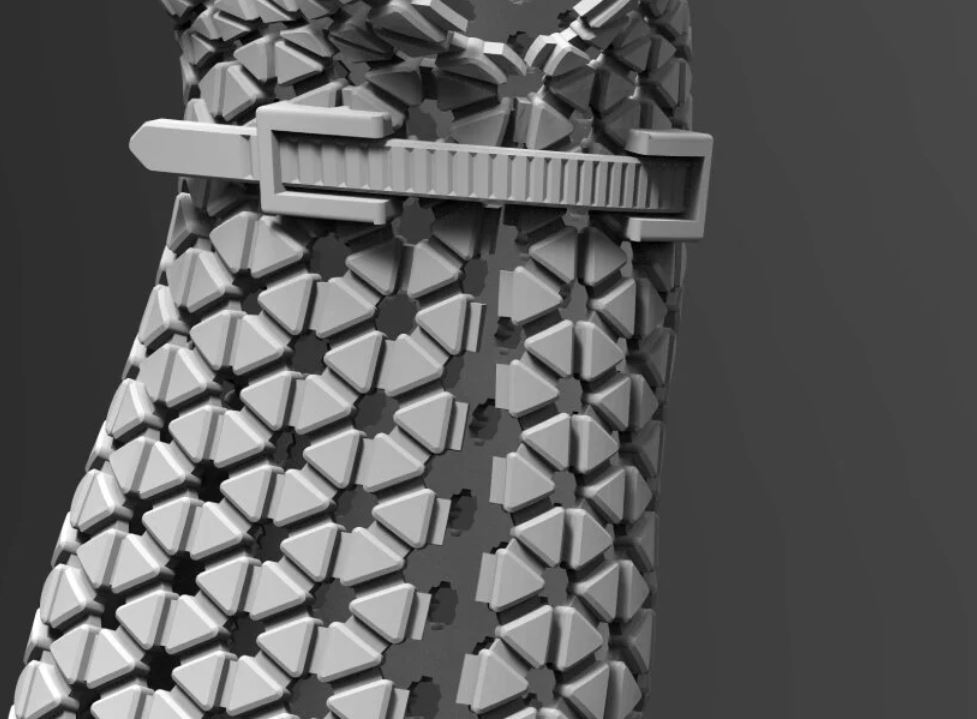 Breathable and comfortable, the cast enables adjustment, allows customization, and protects from impact. Besides, it is biodegradable, which minimizes waste and environmental impact.
As for its pattern, Krishna had tested the design with pentagons and hexagons during the prototype before settling with the triangle pattern after having found out that the shape is the most flexible and strongest structure for the intended medical cast. As she shares, 'the triangular pattern was decided on the basis of strength, tolerance, and ability to provide flexibility without damaging the form.'