Building in wood is one of the most talked about innovations in sustainable construction internationally. With engineered timber being subject to fire and remaining the only renewable construction material which can be obtained at a less cost than concrete and steel, it is only a matter of time until the first timber skyscraper is built. Having explored the most recent projects of timber high-rises, which are designed to be sustainable extensions of urban landscape, this time we will move on to the most seemingly fantastic proposals for timber skyscrapers aimed to densify and regenerate modern cities.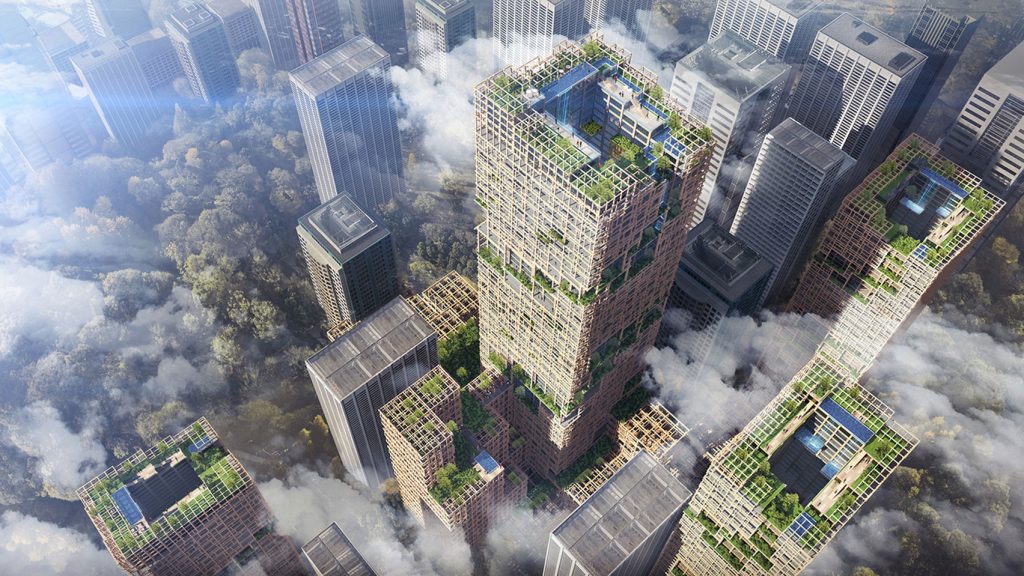 Farmhouse by Austrian architecture studio Precht is not only a high-rise residential building made of timber; it is also an attempt to reconnect people in the city with agriculture as the process of growing their food.
Architects Fei and Chris Precht are concerned with the fact that city dwellers around the world have lost touch with how their food is produced, while food transportation has an increasingly harmful effect on the environment. Developed as a concept for modular housing, the Farmhouse would allow residents to grow food in vertical farms in the residential tower block to eat or share with their local community.
Prefabricated A-frame housing modules are set to be made from cross-laminated timber (CLT) and  stacked to provide flexible living spaces. The walls would feature three layers – the inner layer would hold the electricity and pipes, the outside one would hold the gardening elements and water supply, while structure and insulation would form the middle layer. External systems of the modules would differ from hydroponic units for growing without soil and waste management systems to solar panels to provide sustainable electricity.
Swedish studio Anders Berensson Architects was commissioned by the Stockholm Center Party to design a skyscraper to replace an old car park. The team developed a slender timber skyscraper, named  Trätoppen (Swedish for 'tree top'), which is going to be the highest in the city center of Stockholm.  The structure will have 40 storeys and will rise 133 metres. Constructed from CLT, it will have a pattern of numbers on its distinctive façade to reference the original car park 'Parkladen' by Hans Asplund -perhaps Sweden's most famous one – which has a similar characteristic feature on the exterior.
Aiming to leave the existing car park's façade intact, the skyscraper is retracted six meters from it and is considerably smaller in foot print, which enables space for a large public terrace on the seventh floor (best suited for shopping and restaurants) and makes it possible to use the existing building at the lower floors after an extensive reconstruction.
The CLT cladding of the new skyscraper featuring the pattern of numbers will allow one to count the floors by simply reading the number on the building — similar to the concept of a parking garage, and will have certain practical benefits too serving as a sun screen, which keeps the building cool and energy efficient.
Having received a brief to consider the future development of tall timber buildings in central London, researchers from Cambridge University's Department of Architecture alongside PLP Architecture have proposed Oakwood Tower, an 80-storey and 300-metre-tall addition to the Barbican housing estate. If realized, the project could create over 800 new residential units in the 93,000sqm floor plan and become London's second tallest building, after The Shard, and perhaps the tallest wooden structure in the world.
Following the emerging trend for timber-framed high-rises, PLP Architecture and Cambridge University's Department of Architecture collaborated with engineer Smith and Wallwork to find an alternative to traditional steel and concrete construction. The resulting proposal is designed and engineered to stand, and to meet the fire regulations in place for concrete and steel buildings.
The most ambitious project of a wooden skyscraper has been unveiled by the Japanese timber company Sumitomo Forestry, which is going to mark its 350th anniversary in 2041 by constructing a 70-storey and 350-metre-tall building. Designed in collaboration with Tokyo practice Nikken Sekkei and aptly named W350, the structure is set to be the world's tallest wooden building as well as Japan's highest.  The mixed-use tower would include a hotel, residential units, offices, and shops wrapped in large balconies with plants sprouting from them to offer a view of biodiversity in an urban setting.
Sumitomo Forestry sees its aim in creating environment-friendly cities that would remind forests through increased use of wooden high-rises. The W350 tower would use a "braced tube structure" with columns and beams made from steel and timber, supplemented by additional diagonal steel braces, with timber expected to make up 90% of the hybrid structure.
The company estimates that 185,000 cubic metres of wood will be used in the construction, while the building will cost £4.2 billion, which almost double that of a conventional high-rise building. Sumitomo Forestry is working to reduce these costs by developing new technology, in order to encourage more companies to join them in their quest for turning cities into forests.