Modern cities are generally an assembly of steel and concrete. However, latest material research shows that high-rises can be built sustainably and connect with nature, even in a hectic urban environment thanks to the use of timber as main construction material. Architects of today believe that CLT and other engineered wood will shortly take over as this century's architectural "wonder material". The world's current tallest timber building is a 18-storey student residence in Canada, but there are numerous attempts to surpass this height.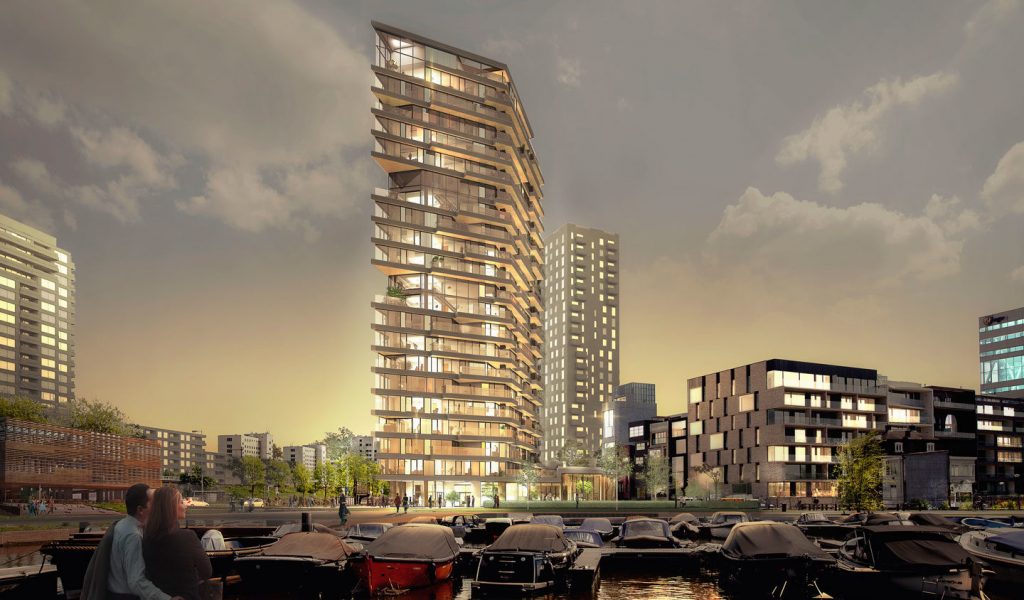 Toronto Tree Tower by Penda, an architecture practice with offices in China and Austria, is an incredible proposal for a 62 metres high residential block with a modular structure made from cross-laminated timber (CLT). The project is developed to include 4,500sqm of residential area, along with 550sqm of public space including a cafe, a children's daycare centre, and community workshops.
The building is inspired by Montreal's renowned brutalist Habitat 67 building by Moshe Safdie, which has become a model for prefabricated structures that provide each residence with a private outdoor space. Toronto Tree Tower's CLT units are designed to be assembled off-site, then delivered and stacked onto the foundations, after which wooden facade panels would be installed and sealed. The method of construction is suggested by Penda as a faster, quieter and more environmentally friendly one.
The team is known for incorporating plants into its architecture, and Toronto Tree Tower is no exception featuring plants and trees sprouting from its modular units. "If you walk through the city and suddenly see a tower made of wood and plants, it will create an interesting contrast," says Chris Precht, the co-founder of Penda.
While Penda's project is yet a proposition, the Terrace House by the Pritzker-winning Tokyo-based architect Shigeru Ban, is currently being constructed in Canada's another city – Vancouver. After it is completed in 2020, the 19-storey and 71 metre tall residential tower is going to be North America's tallest hybrid timber building boasting a pioneering hybrid structure of wood, concrete and steel. The project is going to showcase forward-thinking sustainable design and advanced timber engineering and construction.
The Terrace House is also remarkable for its extraordinary homage to the legacy of the Canadian architect Arthur Erickson and his adjacent Evergreen Building, completed in 1978. The opportunity to respond to the building is what initially drew Ban to this innovative project, as he has tremendous respect for Erickson's work.
Erickson's concrete office building is fronted by zigzagging terraced gardens that are sloping down towards the ocean. Similarly, the terraces of Ban's building will also overflow with greenery, creating a mirror image of the Evergreen. Ban's design comprises a stepped concrete base mimicking the Evergreen's geometry, and then arcs at a 45-degree angle for the last nine floors, shifting to structural timber. So symbiotic is the new design that it appears to extrude organically from the older structure.
2021 will see the completion of HAUT, a project which – at 21 storeys and 73 metres high — would become one of the highest wooden residential buildings in the world.  Designed by Team V Architectuur, the structure currently in development in Amsterdam will have a total gross floor area of approximately 14,500 square meters. The floors and walls will be constructed in timber, while the foundations, basement and core are made of concrete, as a structure of timber alone would be impossible in a wet and windy city like Amsterdam.
Unlike most timber buildings, only the inner walls of HAUT are load-bearing, which allows for large floor-to-ceiling windows in the façade. As CLT panels are easily adaptable, first buyers are offered a choice in the size of their apartment, number of floors, layout and position of balconies. The resulting irregular pattern of make HAUT's architecture truly distinctive.
The innovative project will help to put timber back on the world map as a structural building material and is set to receive the BREEAM outstanding label — the highest possible sustainability score. Not only the structure is made of CLT panels which are manufactured off-site, ensuring low-waste production with no carbon emissions, the building is an example of innovative sustainability in other ways, too. The building features solar panels on the roof and façade, a cold source in the ground, sensor-controlled installations with low-temperature floor heating and cooling, nesting boxes for birds and bats, charging points for shared electric cars, and a rooftop garden with rainwater storage.
With an abundance of natural resources, Canada is one of the countries at the forefront of high-rise CLT construction. Another project, called Canada's Earth Tower, designed by the global firm Perkins+Will is planned to be built in British Columbia as yet one more attempt to construct 'the world's tallest hybrid tower' made of laminated wood. Set to rise approx. 120 metres high, the building will feature nearly 200 apartments, along with shops, restaurants and office space. The number of storeys is yet to be determined, though it is planned to be something between 35 to 40.
The tower is designed to rise up from a U-shaped podium that wraps an entry courtyard with plants, trees and seating. Communal gardens will be incorporated at every third floor. While the foundation and core are planned to be built of concrete, for the walls, floors and columns the team will utilize all types of engineered wood including CLT.
Aiming for Passive House certification, the building will have a number of features that help reduce energy consumption, such as triple-glazed windows, a heat-recovery system, and natural ventilation.