The art of embroidery is centuries old and today, is often viewed upon as primitive needlework. However, contemporary visionary artists push the boundaries of traditional techniques, subjects and materials, thus bring the traditional craft onto the next level.  No longer basic handicraft, embroidery is a growing presence in museums and galleries, the needle and thread being used to investigate a variety of issues in diverse and complex ways.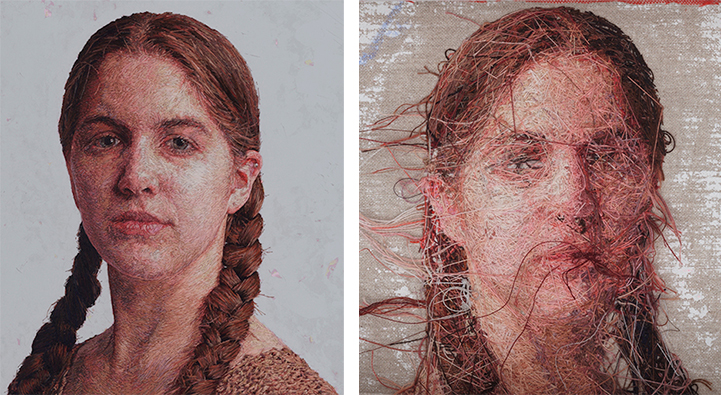 Cayce Zavaglia, a visionary artist from Indiana, USA creates portraits that capture natural beauty through textured layers of hand stitched embroidery and bear close resemblance to classical oil paintings. Zavaglia was originally trained as a painter but then switched to embroidery as her primary medium.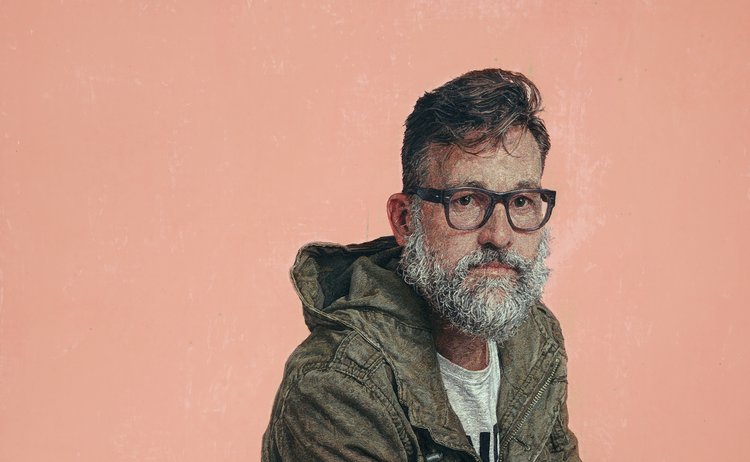 Her works are so life-like, that it is hard to believe they are not photographs. Using her friends and family as subjects, Zavaglia represents the duality of identity by placing the hyperrealistic front composed of hundreds of crosshatched stitches next to the abstract reverse side, as a way to start a conversation about our presented self contrasting to one's part that usually remains hidden.
Russian artist Vera Shimunia has similarly swapped paint brushes for needle and thread, but she specializes in masterful landscapes that create the illusion of painted scenes.
With the help of palm-sized hoops, textured threads, three-dimensional fibers and intricate needlework such as different stitch and knot techniques, Shimunia captures the depth and dimensions of seaside sunsets and flower fields she portrays in a full spectrum of colours and hues.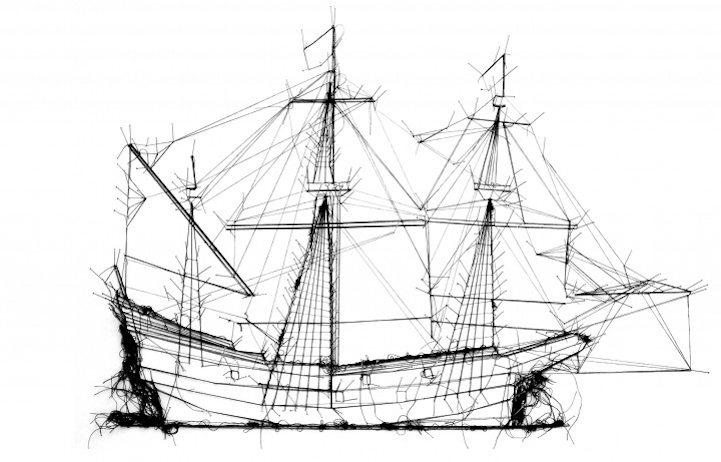 Artist Debbie Smyth from Gloucestershire, England blurs the line between illustration and embroidery. Her 'pin and thread' drawings lie between two-dimensional and three-dimensional work. Smyth's Linear Works depict commonplace objects and architectural forms elegantly formed through play with the angles and perspective, while for Shaded Works that are inspired by mundane scenarios and childhood memories the negative space is filled and shaded with masses of thread.
"I feel as if I am taking thread out of its comfort zone, presenting it on monumental scale, and creating an eye-catching, and in some cases jaw-dropping, effect," the artist says.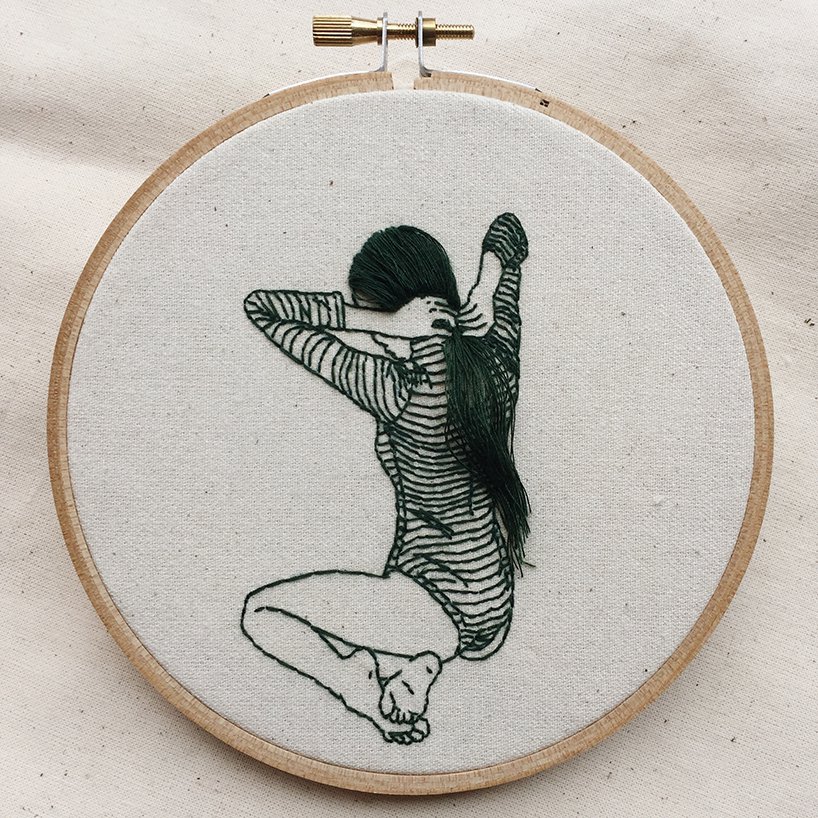 Malaysian born artist and model Sheena Liam is best known for her vulnerable self-portraits created in signature dark green thread. Leaving thread out to fall freely, Liam steps further than a trim two dimensional portrait with her juxtaposition of loose and secure threads  and the way she spins unfinished green rhymes into strands of flowing hair.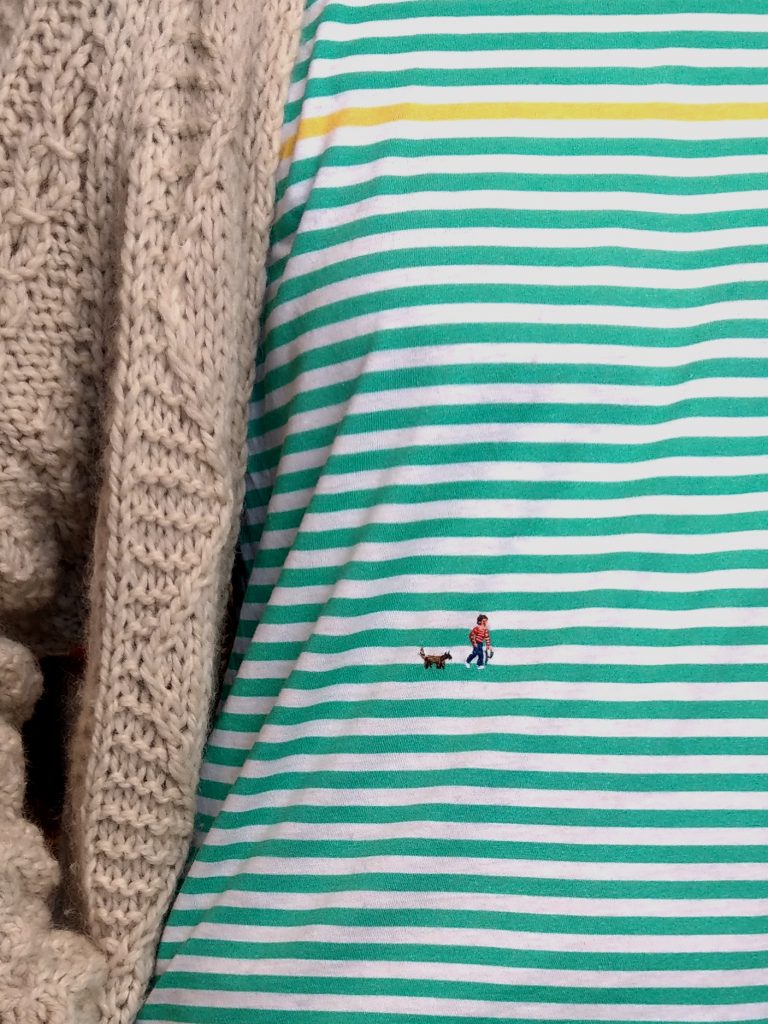 Germany-based artist Ekaterina Haak gives a new take on visible mending, turning embroidery art into the medium for addressing social issues. To help garments live longer and help reduce waste and overproduction,  she hand stitches on all kinds of textiles using embroidery to cover stains and holes of all sizes. Haak also creates new logos to endow old clothes with more character.