Even the humblest of meals can be a joy in the right setting. Picking the right table is a tricky task, especially nowadays, when designers offer such a broad variety of options. Let us walk through some of the contemporary versions of the commonest of things.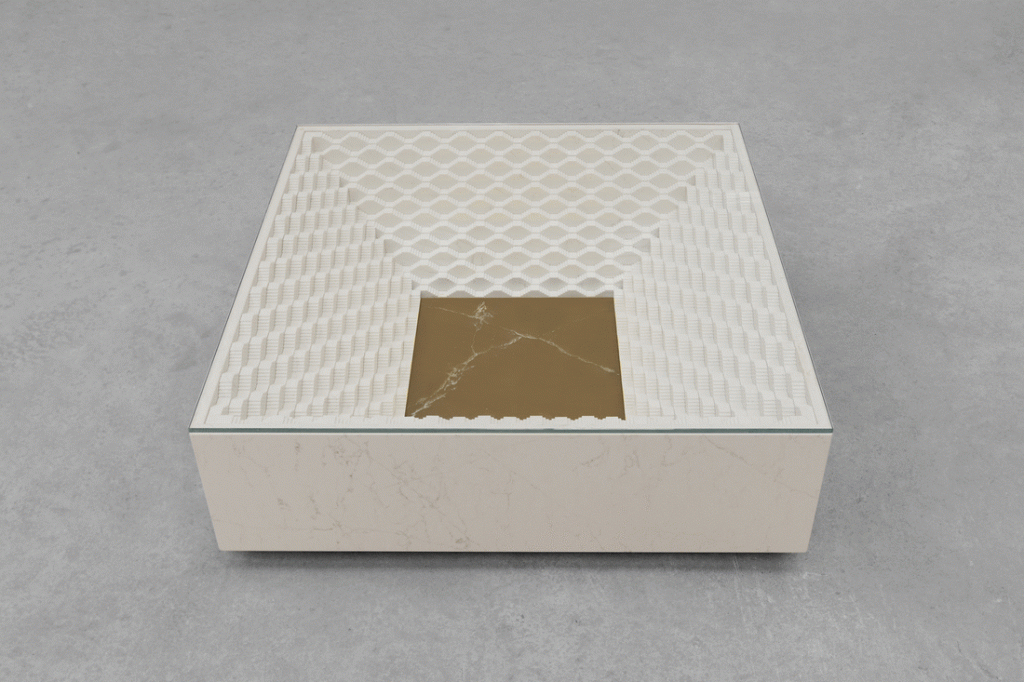 London based Coffey Architects created the Stepwell table.
The inspiration for the design came from the geometrical wonder Chand Baori, one of the oldest and most important landmarks in India. Visitors have to descend 13 levels of stairs etched into the four sides of this water well to reach the emerald green pool of water below.
This conceptual table manufactured from Calcutta quartz presents an intricate recreation of the famed symmetrical steps. And a thin sheet of green quartz, which can be illuminated from below, simulates the water in the well.
Ireland-based Joseph Walsh is the author of the Dommus erosion table.
The organic sculptural table made of ebonized walnut is the result of unique and innovative wood working processes. The designer shows a great understanding of the material, while his work demonstrates an intimate relationship between the process of creating structures and finding forms. The Dommus erosion table is designed to be practical and yet give a refined and elegant character to the dining room it sits in.
The Japan- and Milan-based Nendo have developed the Seesaw table for Marsotto edizioni.
This family of two side tables and a dining table is made of monolithic marble. The architecture of the streamlined piece of the side tables is distinguished by its balance: though the top and the base are securely fastened together, the top plate seems to be almost weightless, floating above the pointed base.
The collection presents a contradictory impression between the natural heaviness of the marble and the clever lightness of the design.
London-based industrial designer Charlotte Kingsnorth has created a collection of tables made of bronze. The base of the Lichen Table has been rolled and brazed to its top. The designer has developed a new finish imitating the growth of fungal lichen, which usually tarnishes bronze surfaces. This involves application of selected chemical compounds usually found in science labs.
This pioneering new technique allows to create very expressive and bespoke designer items.
Ghent-based Maria Scarpulla designed a collection of minimalist tables with colorful double-sided tops that can be flipped over to suit the owner's mood.
Each table has a lacquered steel frame, on top of which rests a double-sided sustainable MDF or timber top of a contrasting color on either side.
The tables are made by local craftsmen and are a result of an intensive process of research, minimalizing and fine-tuning to achieve the essential aim – to give a freedom of "dialogue" to the table's user by changing the color of the table top to express one's feelings at a certain moment.