While tourists tend to choose classical performances in a classical setting, local scenic arts lovers appreciate modern environments. Architects and designers meet the need of contemporary performing arts to be housed in matching buildings.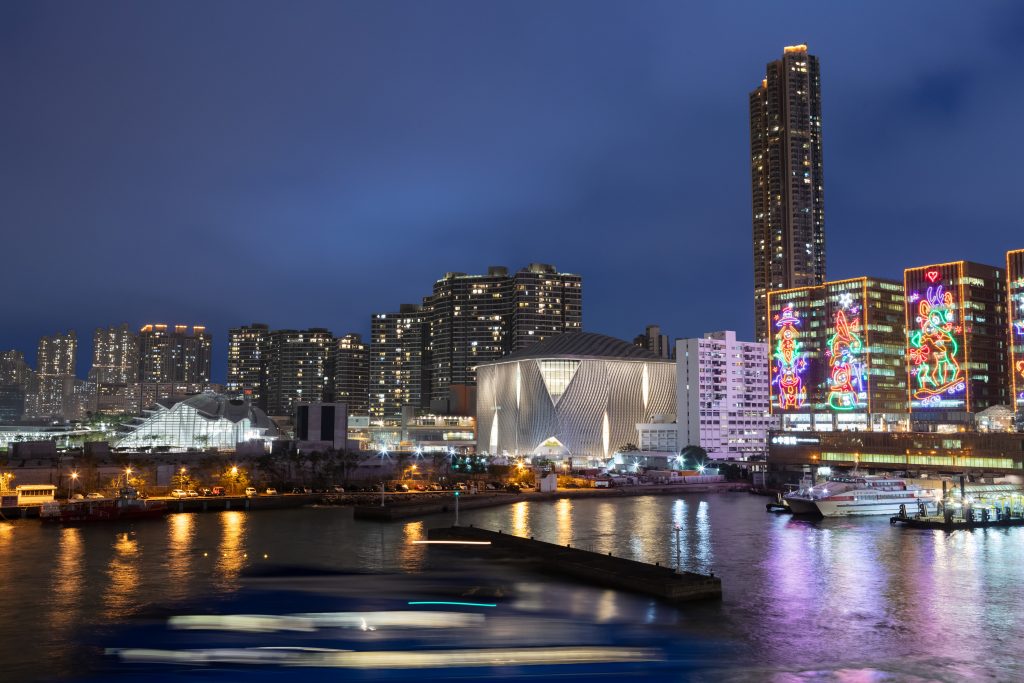 Revery Architecture with their offices in Vancouver, Washington and Hong Kong, have completed an opera house in Hong Kong.
The building creates a landmark entrance at the gateway to the city's new hub for arts and culture – West Kowloon Cultural District (WKCD). The eight-storey structure is covered in curved aluminium panels arranged in wavy patterns to resemble fabric or ripples across the water. Each form is cut from untreated aluminium using a computer numerically controlled (CNC) machine.
"Qi", which means flow, is expressed throughout the complex: woven metal panels are gently pulled back like curtains, curvilinear paths and arched entrances are designed around a multi-level circular atrium.
The theatre is lifted 27 meters off the ground and accommodates 1,073 seats. The space is dimly lit to contrast the rest of the project. Two outdoor sky gardens offer visitors panoramic views of Victoria Harbor.
Architecture studio MAD with offices in Beijing and Los Angeles has designed the Yiwu Grand Theater in China. It will be surrounded by water and topped with "glass sails" to resemble a Chinese junk – a type of Chinese ship that was first developed in the 2nd century and is still in use today.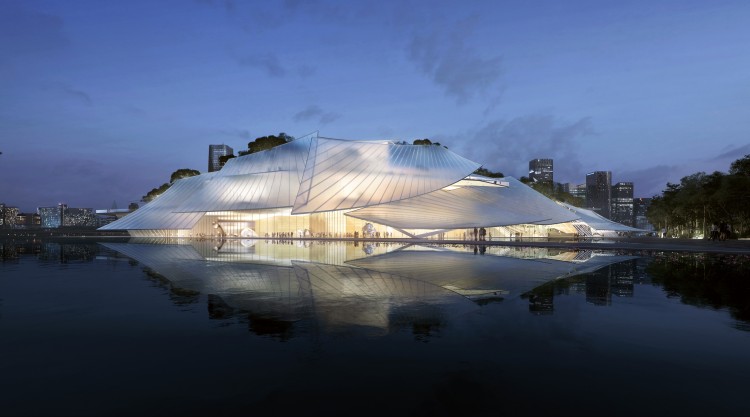 The subtle curves of the structure echo the Jiangnan-style eaves of the ancient vernacular architecture, which is typical of the region. The transparency of the glass sails expresses the texture of thin, silky fabric, which creates a dynamic rhythm and makes them appear as if they are bloating in the wind.
The island complex encompasses a grand theater for 1600 seats, a medium theater for 1200 seats, and an international conference center with the 2000-person capacity. Access to the structure will be provided by two bridges: a vehicle bridge and a curved pedestrian one.
UNStudio with offices in Amsterdam, Shanghai, Hong Kong and Frankfurt has developed the Lyric Theatre Complex in Hong Kong.
The complex will contain three performance spaces: the 1,450-seat Lyric theatre, the 600-seat Medium theatre, and the Studio theatre seating 270 persons.
Each theatre is distinguished by own color-coded palette: the Lyric theatre will be colored red and bronze, Medium theatre – deep purple with contrasting metal and walnut inlays, and the Studio theatre is to be realized in dark blue.
A foyer with a balcony will belong to each theatre, so that theatre-goers and the public can enjoy a "see and be seen" atmosphere: transparency is put at the core of the building.
The theatres will be connected by two ramps, and natural light will flow into the center of the structure through a large opening topped by skylights.