We think of our homes as of an extention of who we are, and try to fill the space we live in with objects that define or complement us. The todays market of design products offers a broad spectrum of options for almost every item we might need at home. Let us have a look at some of the creations that could deserve a place at your universum.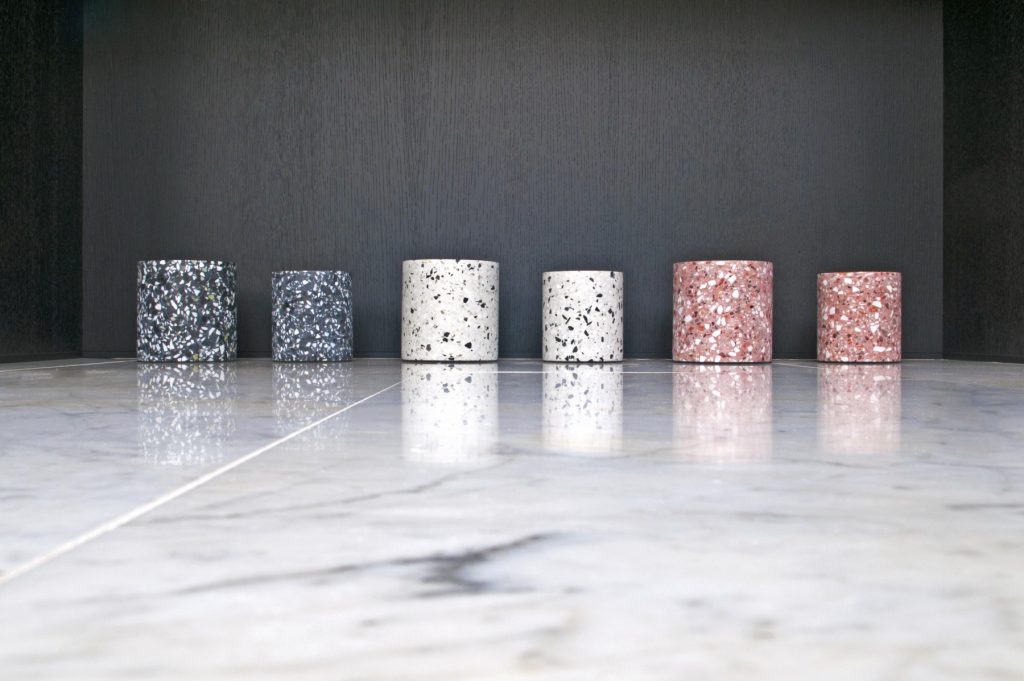 Belgium based XLBoom uses Terrazzo – a material made of tile, glass chippings and colored cement – that used to be a flooring material but is now reinvented for design objects. These multifaceted pots can serve for a variety of uses, both indoor and outdoor, from flowerpots to stylish storage solutions. All pots are handmade and can be a vibrant addition to any living space.
The Mexican Bandido studio have created an unusually looking wall hook – the Moonstone. It features an enamel texturized surface resembling the moon craters and a contrasting brushed brass ring. Thanks to its form, it allows the user to create their own decorative patterns.
Sebastian Herkner from Germany has designed glass containers for Nude. The form of the Ecrin collection is inspired by the Earth Pyramids of Ritten which is a very unique formation of the local landscape. The designer balanced lids that remind of river stones, or colorful soap bubbles on top of transparent containers. The smoothness of the lids contrasts to the stable and straight cylinders: this builds a composition of volumes, colors and spaces in glass.
The Dutch HAY have created the Marbled Milk Jug. Colored porcelain is mixed with white stoneware to result in a unique swirled pattern of blue/brown/grey. The jug is meant to be used to serve beverages or as an element of décor.
Fferrone Design, based in the USA and Italy, has presented a new take on a glass. The Margot Collection combines intricate detailing with innovative production techniques and materials. Each item is hand formed from borosilicate glass without using any molds. The studio blended tradition with intricate detail, thus creating a perfect glass for those seeking generous and ornate touches for their home designs.