A child's formal education typically starts in a kindergarten or a nursery school. For generations most of these institutions of primary education have been placed into quite boring standardized buildings. At least from the outside, as on the inside each of them contains the children's colorful and bright universe. Luckily, architects and designers of today seem to have initiated a wave of changes, developing ever more favorable environments for the new generation.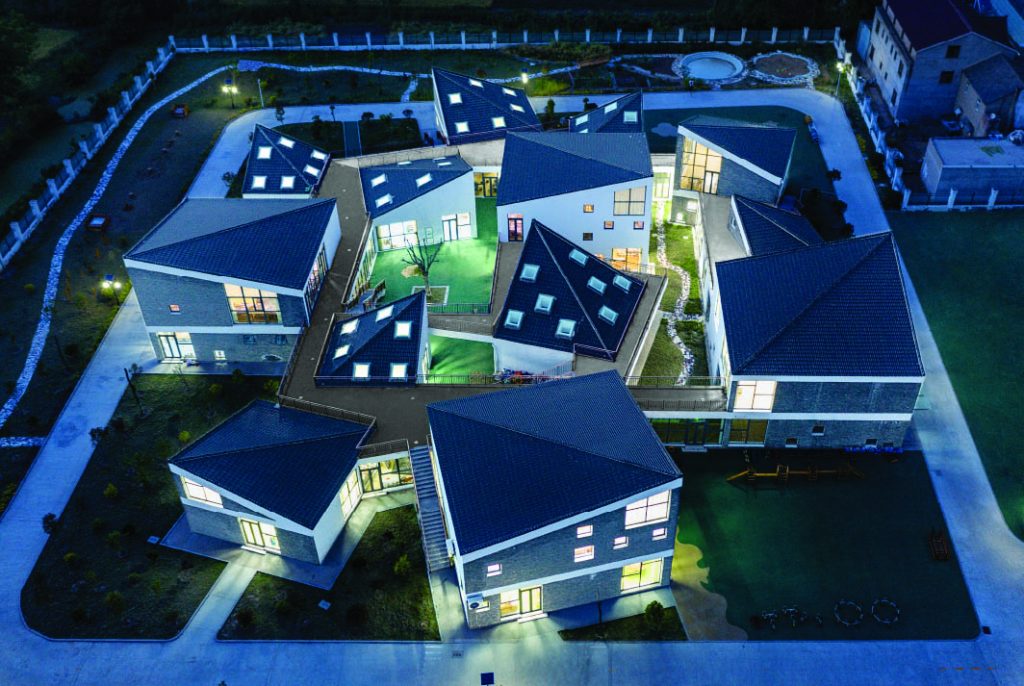 Beijing and Frankfurt-based Crossboundaries designed a new kindergarten to be built in a small village of Beisha in China. The idea was to create a space that functions like a small village in itself: houses are clustered around a square and are connected via winding paths and raised walkways. This offers children a sense of familiarity and engages curiosity.
Large windows on the upper level of two storied blocks, as well as small openings facing the inner courtyard create visual connections between each block. Natural light flows unhampered through the skylights. Glass corridors enclosing the courtyard connect the ground floor blocks, while the staircases lead up to a raised platform that gives views out over the surroundings.
The Paris based Tracks Architectes have designed a timber-clad kindergarten in the village of Perthes-en-Gatinais in France.
The project's honey-colored gabled forms borrow their geometry from the local architecture. The new kindergarten sits in the Gatinais Regional Natural Park and comprises a set of units that slightly vary in widths and lengths depending on internal requirements.
Inside, simple wooden cladding and white walls create bright and open spaces with skylights and large windows drawing in as much natural light as possible. The whole structure looks like a child could have drawn its plan: simple, graphic, natural.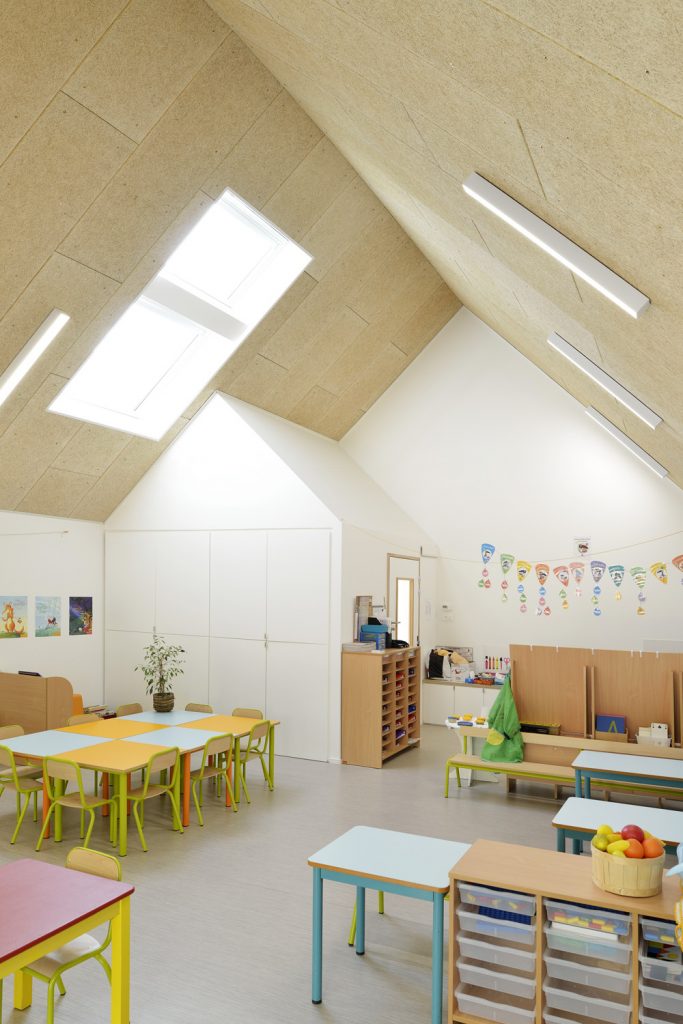 La Ruche kindergarten by Tracks ArchitectesThe architects created a wooden framed opening at the center of this run of buildings: this courtyard extends into the playground and garden, connecting the two sides of the site.
Architecture studio Kientruc O from Vietnam has designed a kindergarten in Ho Chi Minh City, which combines a series of brick-clad gabled blocks and a curving cantilevered staircase leading to a roof garden.
The company finished their first kindergarten project in 2015. For the 1st Chuon Kim Kindergarten they converted an old townhouse into a cluster of small gabled spaces best suited for children's needs. Their new kindergarten repeats this concept and consist of a configuration of different volumes made from bricks – it reminds of a Lego building: a unique shape appealing to the children on the outside that also provides endless indoors experiences for the curious minds.
Each floor of the kindergarten is arranged in an alternating pattern, creating an ascending spiral with its multi-level colorful surfaces and gardens round the central core. The building's orange staircase ascends to an open-air landing on the first floor, from which a curving concrete staircase sweeps up onto a rooftop facing the Saigon river.