Literature is inspiring in many ways. World masterpieces have been stirring imagination and exciting inspiration in countless artists for centuries. Today, we will reveal another way for book lovers to proclaim their love – through masterly crafted jewelry pieces.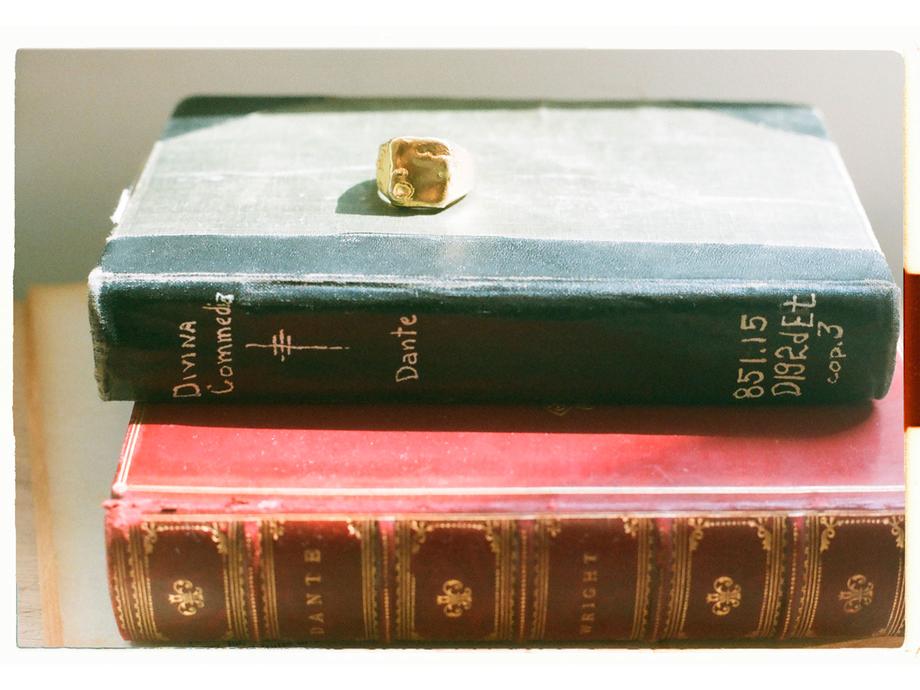 Rosh Mahtani from Alighieri was not formally trained for jewelry making. She studied French and Italian at Oxford University and spent two years working with stylists and in e-commerce. Yet all the way through her days at work she dreamt of her own collection: the one of modern heirlooms, born from the literature she had studied, and inspired particularly by Dante Alighieri's Divine Comedy.
Rosh founded her business in 2014 and set to create a brand that had firm roots in Literature and travel. Her jewelry pieces, just as Dante's 100 poems they were inspired by, are battered, imperfect and have a touch of melancholy.
'The Land of the Lawless' collection is inspired by the souls in hell: those who disrespect order and rules. It explores the childish and, in many ways, blissful nature of doing something wrong. Here silver is paired with gold; objects are created from cardboard with the sole purpose of being lit by a flame on a whim.
The souls encountered by Dante are subjects of tormenting elements. And 'the Dance of the Storm' collection explores how we are subject to external forces. It tells the story of the two lovers from the 5th canto who are trapped inside of a storm with nothing left to do but to submit to the elements and dance along.
The role of dreaming when the reality seems to be a surreal nightmare is explored by 'The Lost Dreamer' Collection. Art, music, and storytelling are means to escape it. The boarder between the reality and the dream is blurred with the continuous tension between light and dark, real and imaginary to become the context for these objects.
Kate from Jezebel Charms studied calligraphy and heraldic art at an art college, then worked in interior design for a couple of years. Having explored different mediums and materials the designer launched her big breakthrough – literary book text brass cuffs. Today, Jezebel Charms is a well-recognized British brand creating literature themed jewelry.
Homer's epic poetic work The Iliad tells about the battles of the Trojan War and the ten-year siege of Troy. The designer used vintage imagery of the book's pages to create this necklace. The original Greek text is written in gold on a black background.
Alexandre Duma's Three Musketeers have conquered the world with their motto: 'All for one, one for all'. The true lovers can now enjoy the quote set upon vintage text imagery of the French publication of the novel. The cuff features a grey cross beneath the inscription and is finished with an aged appearance.
Tina Tarnoff creates a different type of jewelry. She was mesmerized by Victorian silhouettes, papercuts made by Hans Christian Andersen, shadow puppet theatre of Bali and intricate Chinese papercuts. Papercut art requires a lot of precision and attention to detail, but she is fascinated by the sense of building or sculpting something. To make her art wearable, she transferred papercuts into jewelry.
For this necklace the designer used one of her papercut images and set it under a clear cabochon dome. Finished with a beautiful antiqued silver-plated base and a black satin ribbon, the pendant will appeal to Lewis Carol's admirers.
Another tribute to Carol's work is this bracelet with papercut characters once again covered by a clear cabochon dome and fixed on a silver-plated filigreed bracelet base.