Lamps are a key component of a comprehensive and well-integrated interior style. They complete the interior bringing the light to just the right places of the space. Simplistic and almost invisible or extravagant and voluminous, lamps may be artworks for everyday use – just choose yours.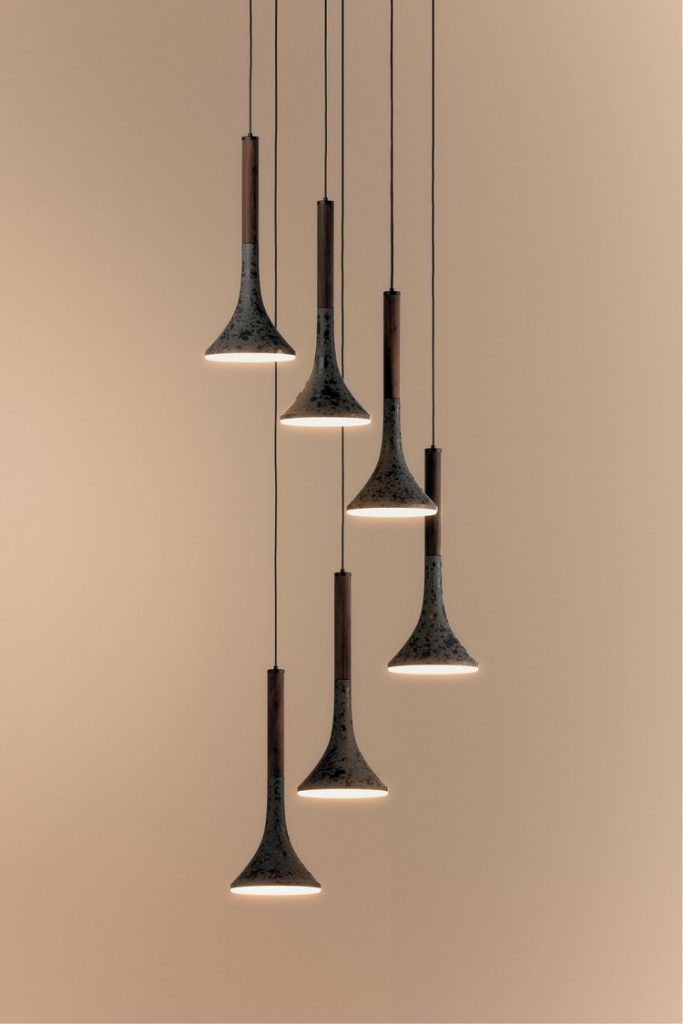 The Mexican Bandido Studio developed Aura – a pendant lamp finished with textured charcoal grey surface.
The lamp was born as a result of an experiment carried out with porcelain enamel placed over raw steel: the perfectly unique imperfect surface is developed by heating the enamel coating applied onto steel to the temperature of over 700ºC.
The porcelain enamel used by the company is local and popular in the country: it is very durable and can be found in almost every home. And the lamp's name reflects the warm glow that it emits while showing a subtle line of light.
Studio Olafur Eliasson, with offices in Berlin and NY, created another bespoke pendant lamp for the Danish lighting brand Louis Poulsen. The OE Quasi Light was developed by exploration of combining complex mathematical geometries with atmospheric lighting conditions.
The two completely opposite three-dimensional shapes of this lamp slot together. Its outer aluminium layer is an icosahedron – a 20-sided form with 12 vertices, and inside it there is a comfortably nestled dodecahedron, a 12-sided form with 20 vertices.
The lamp produces an extraordinary impression, as the inner layer seems to be floating inside while reflecting the light that takes on different geometries, depending on how you look at it.
Luca Nichetto from Italy has created a family of glass lights featuring the famous Venetian Murano glass for the Swedish heritage brand Svenskt Tenn. The collection comprises bulbous floor and table lamps, as well as table-top candle holders. It's name is Fusa, "fused", which stands for this special technique for producing distinct colors and textures of the glass.
The collection is the designer's interpretation of Josef Frank's Terrazzo textile print: his patterns recall the mosaics in the old Venetian buildings. Nichetto took pieces of glass, broke them into small stones, like terrazzo, and melted them together thus creating particular effects. The internal LED light enlivens the glass and produces a magical play of refractions, transparencies and opacity.