Museums seem to be living through a new renaissance phase. They no longer are a place for school outings or a recreational rescue on a rainy day – today, architects and designers create new museum buildings that are visit-worthy on their own, and make the existing museums newly attractive through well planned and artistically produced extensions.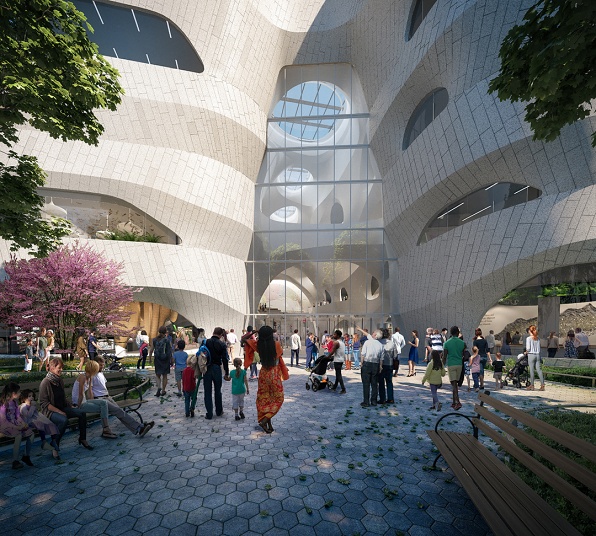 The US headquartered Studio Gang has designed an extension for the Natural History Museum in New York: the Richard Gilder Center for Science, Education, and Innovation.
They sought to accommodate the growing attendance of the museum and uncovered a way to improve visitor circulation, as well as museum's functionality. They appeal to the natural human desires to explore and discover, which are also the quintessence of scientific research.
The building will rise seven storeys and be connected to the existing parts of the museum. Its architecture is inspired by natural formation processes: the Central Exhibition Hall will form a continuous, flowing spatial experience along an east-west axis. The cavernous interiors are designed to encourage visitors to move between textured walls, beneath and across connective bridges, discovering the Museum's programs along the way.
The British Foster + Partners developed an extensive facelift for the Norton Museum of Art in West Palm Beach, Florida.
The project aims to bring the museum back to its original simple axial arrangement with a series of single-storey, art-deco pavilions arranged around a courtyard. With years, the museum's entrance was shifted to a side street and it lost its presence in the neighborhood. The new building reorients the entrance and faces the city's South Dixie Highway with a new 5,480-square-metre wing. The new build is designed to match the art deco-style of the older structures and is covered in horizontally banded white stucco.
Given the location, the architects have also incorporated plenty of green space into the project. The old asphalt car park is now a part of this vast area: vegetation with 272 trees and shrubbery, chosen to perfectly suite the subtropical climate with its harsh winds and lack of water in drought season.
The Australia based Koichi Takada Architects have completed two gift shops in the National Museum of Qatar in Doha.
The project is inspired by the Dahl Al Misfir (Cave of Light), a natural cavern located in the heart of Qatar. The shop's soaring walls made of layered wooden profiles create a series of cavernous enclosures; the interiors extend down like stalagmites to form columns and display shelves.
40,000 pieces of wood were used to construct the space with each piece having its unique position in the structure. The architects applied a cutting-edge 3D modelling software which allowed them to achieve the staggering design of curves and surfaces.