Private or public, swimming pools have become an important part of many people's lives. When we were kids, a simple backyard or hotel pool was as exciting as it could be, but as grown-ups we need more – and thanks to technology advances, designers and architects can get as excited about pools as we used to be.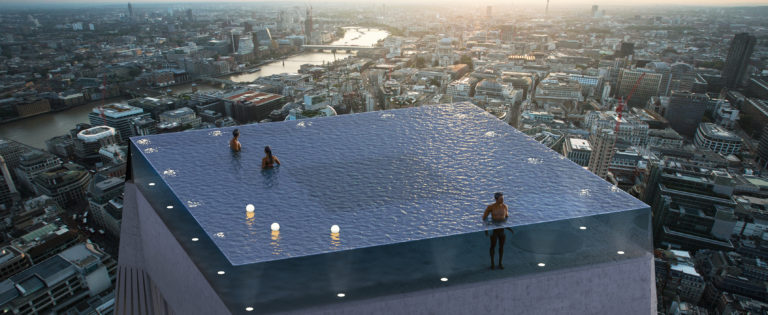 UK Pool designers at Compass Pools have presented Infinity London – a death defying swimming pool where visitors can float atop of a 55-storey building 200 meters above the capital's ground, and enjoy a magnificent 360° panorama.
The entrance to the pool is unique by itself: visitors will access through a rotating spiral staircase based on a submarine door. This solution was developed to prevent obscuring the view by swimmers who want to get in or out of the pool. The walls and the floor of the structure are made from cast acrylic material, completely transparent: thus, the visitors have a full view of the skyline and the hotel below.
A built-in anemometer monitors the wind speed and is linked to a computer-controlled building management system. This allows to keep the pool's water at the right temperature and prevents the water from being blown down to the streets below.
Moreover, waste energy from the building's air condition system will be used to heat the pool. To crown the spectacularity of the project, a full spectrum of lights will make the top of the building sparkle as a jewel.
The project's construction is due to start in 2020 with its exact location yet to be confirmed.
Another example of an above the ground pool is developed by the US based SCB, architecture, interior design, and planning firm. It belongs to a skyscraper in Hawaii – Anaha, which means "reflection of light" in the local language.
This glass-bottomed pool extends out from the seventh floor of the building at the height of 23 meters above the ground. Those who dare are rewarded with a vertigo-inducing look down through the pool's transparent bottom. The clear acrylic glass of its front wall removes any visual obstruction and connects swimmers with the ocean lying just beyond.
This one of a kind on Hawaii project captivatingly joins the land, the sea and the sky in its artistic brilliance combined with engineering excellence.
On a smaller scale, the Sicilian office of Architrend Architecture developed Casa B – a concrete house for a private customer in Malta.
This four-story building is close to its more traditional neighbors in terms of general arrangement, but stands out by its minimalist aesthetics and use of contemporary materials.
The rooftop swimming pool at Casa B is visible from the street, as well as from inside the living space. It is surrounded by a wooden deck and features a glass side which opens a wonderful view of the Malta's coast.