Those who have limited spaces at home wild love these innovative desks that can serve dual functions. Some of them can be both decorative and useful, others can be stored quickly when not in use. But all of them will save you space – and money – ensuring enough functional workspace when needed.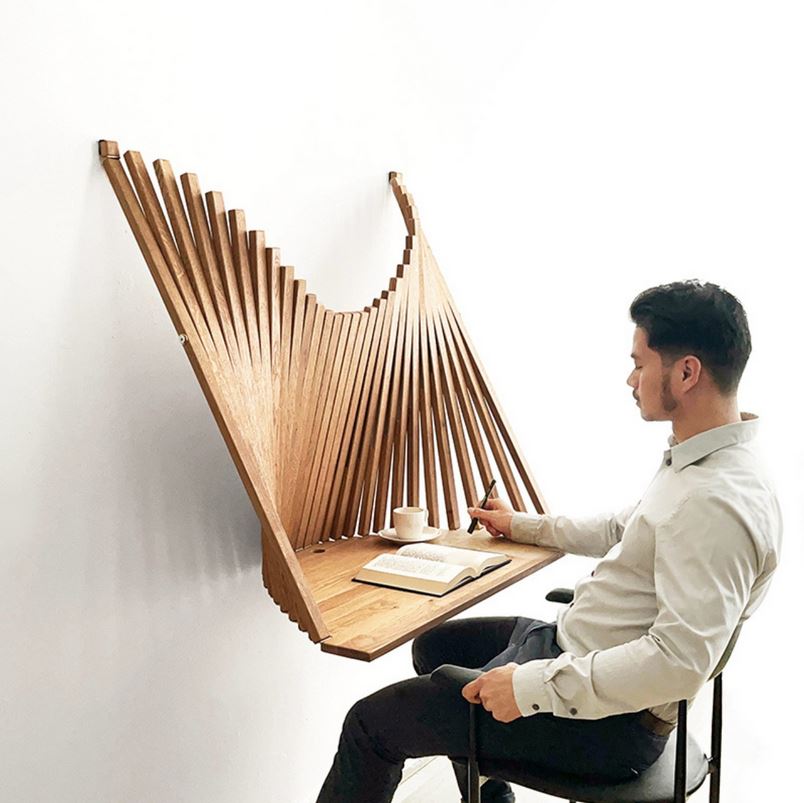 When folded up, the minimalist and geometric Flow Wall Desk developed by Amsterdam-based designer Robert van Embricq looks like a contemporary work of art hanging on the wall. However, when you unfold it and turn it on its axis, incorporated exposed brass hinges turn it from a piece of art into a functional desk where you can work on your laptop or work with documents. The resulting working area has wooden slats surrounding and supporting the tabletop to create a more natural look and organic effect and to also serve as a screen for more privacy.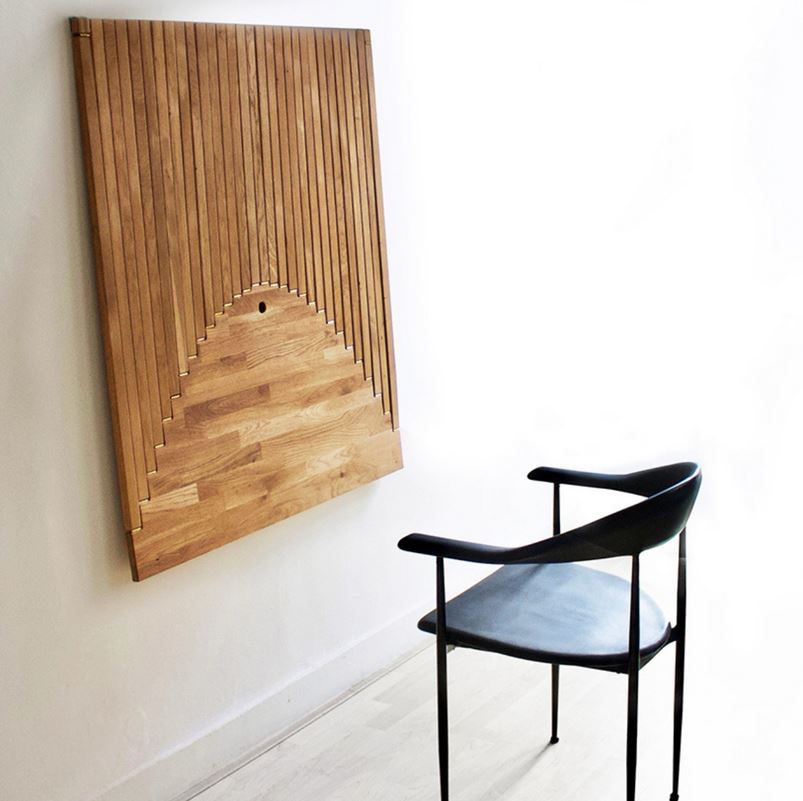 Once you are done using it and you need to have more space in your area, you can just put the tabletop back up and it becomes part of your house's decoration once again. The design is as simple as it is sustainable. Besides, more sustainable material developments are being examined and analyzed for production. The designer believes the contemporary and adaptable design can be best suited for homes, libraries, hotels, and many other inside designations.
UK-based designer Henry Swanzy has created a desk that not only saves space but also follows health experts' recommendations to either stand up and walk every now and then when working at a table or work without sitting down at all. His Lean is a sit/stand desk with configurable desk height and angle for user compatibility. The design allows to switch between a regular desk and a standing desk in a metter of a few seconds.
The 8kg desk rests securely against wall and floor, held firmly by cork discs, and folds flat for hanging storage when not in use. The designer combined crafts with innovation. The laser-cut frame is made using certified structure and cork for a lightweight structure, while the Dyneema cord used in dinghy racing maintains the desk to a load-tested weight of up to 65kg. The cord is held in place by cleats discretely held within the frame, and can be adjusted with ease.
Lithuanian designer Simonas Palovis has also developed a standing desk that allows you to enjoy the benefits of a healthier working lifestyle. The Axis concept uses a simple mechanism to switch between a regular desk and a standing desk, without the electronics and motors that make these more complicated and more expensive than a normal desk.
As its name suggests, the piece uses a simple axis mechanism to move the larger desk surface up or down as needed converting from sitting to standing. The simplicity of the system means that manufacturers can keep the number of parts and materials down to a minimum, driving down the cost of the desk itself.
As a bonus, part of the desk actually remains in position and serves as a good place to put items you are less likely to move, like supplies or desk organizers. It can even act as a temporary bookshelf that stays in the back of your desk when sitting or beneath the table when standing.