With growing bike popularity, a number of accidents is increasing too. With this in mind, product designers and engineers put many efforts in developing safety bicycle helmets to protect the brain and neck of urban riders and athletes in the event of a crash. To do this effectively, helmets must be made of a crushable material to absorb the collision forces and a strap system to make sure the protection stays in place. The exact design of a helmet depends on the needs and specifications of the user and may vary from a simple paper structure to a revolutionary high-tech device.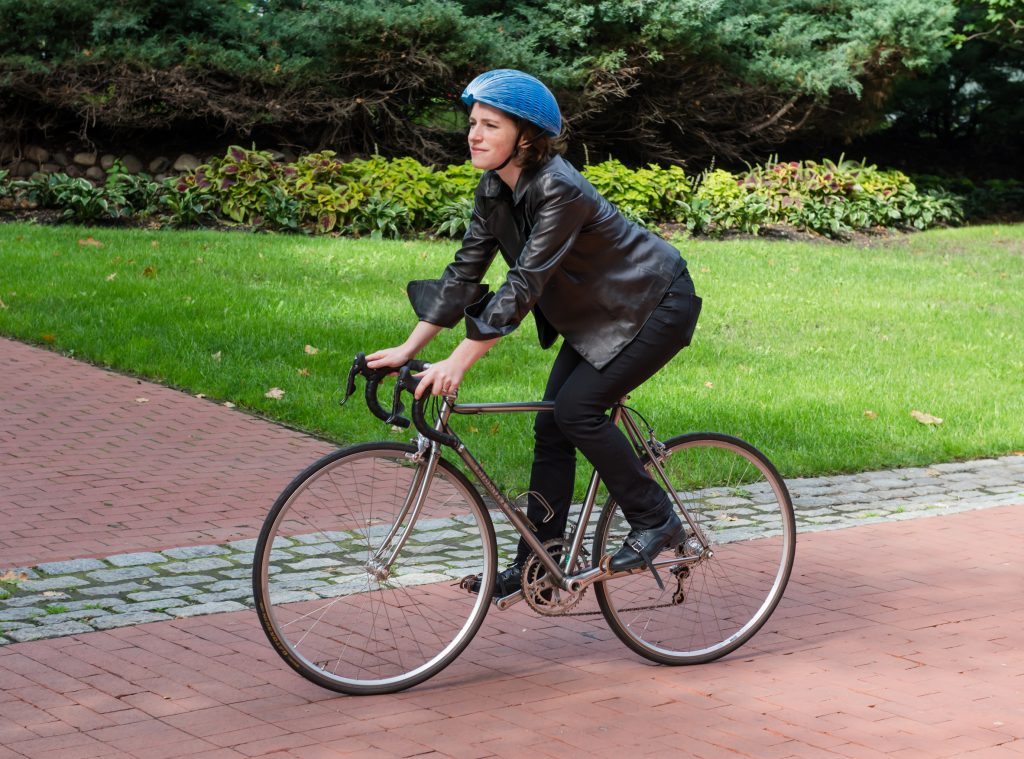 Back in 2016, Isis Shiffer, a graduate of the Pratt Institute of Design in New York, has developed a sustainable and collapsible helmet made from layers of recycled paper. Its radial, honeycomb-shaped structure lets EcoHelmet keep its shape to protect the cyclist's head as it is being worn, while folding down to a flat object when it is removed.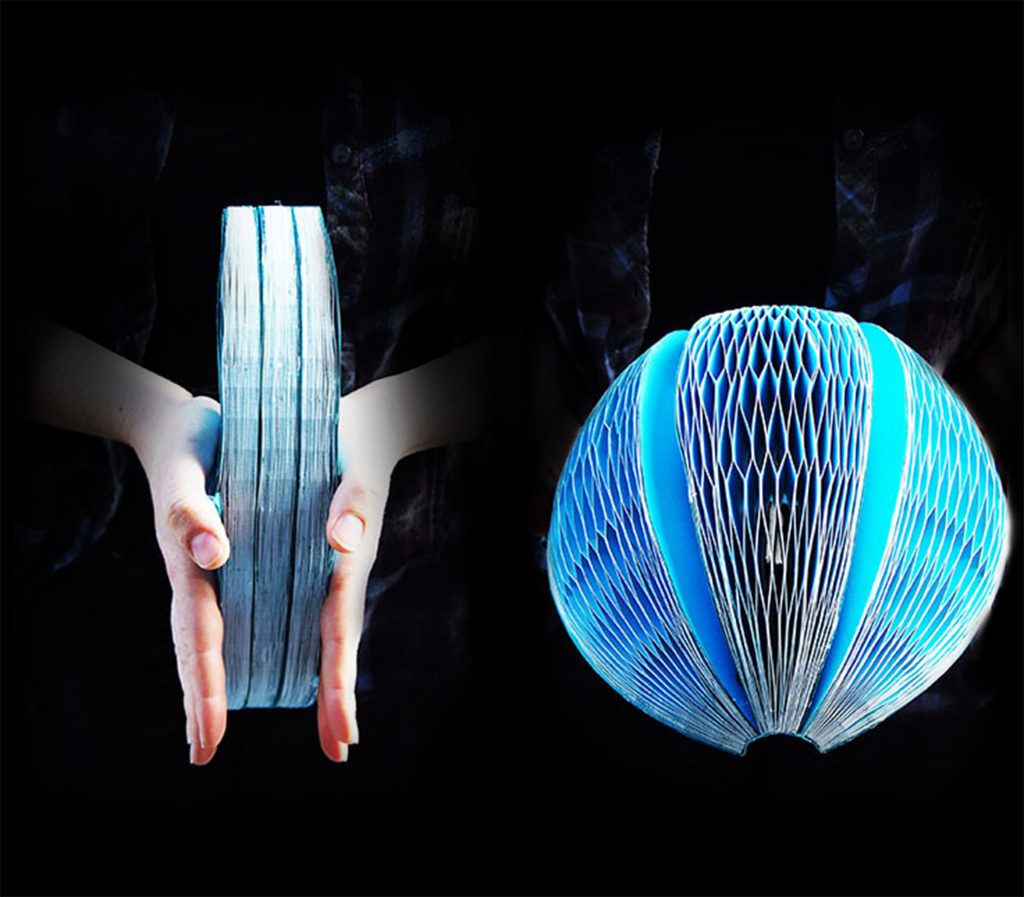 EcoHelmet looks appealing thanks to its design echoing the leather helmets of the 1970s. Designed to be sold at bike-share stations for a price as low as possible, it is fully functional despite the seemingly fragile material it is woven from. When collapsed, the helmet is small enough to fit into a handbag or a pocket, which makes it a perfect choice for off/on urban cyclists.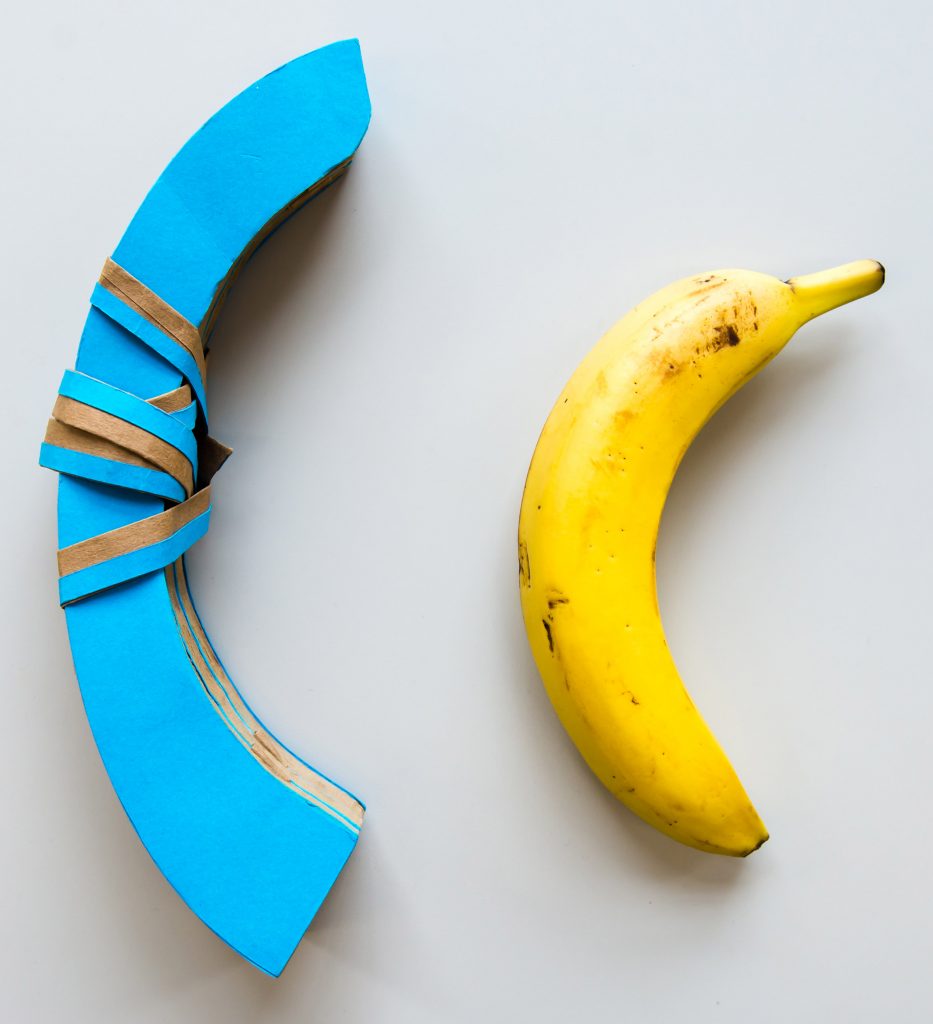 To test the helmet, the designer took it to a crash lab at Imperial College London, where it passed the European safety standards. All this brought the designer the international James Dyson award, an international design award that celebrates, encourages and inspires the next generation of design engineers.
Dutch design office Studio MOM also seeks to find a way to develop a more sustainable helmet that produces less waste after use than conventional non-biodegradable polystyrene helmets. For their MyHelmet prototype, they opted for a specially developed form of mycelium, a biomaterial made from the fleshy root-like structure of a fungus cultivated on a diet of hemp flakes.
While the main shell is produced using mycelium, the helmet's outer skin and strap are manufactured from a sourced hemp textile to fit in with principles of the circular economy. There are minimal CO2 emissions, it does not require any fossil raw materials and the result is 100 per cent biodegradable. This allows the user to get rid of guilt when replacing a helmet every three to five years, as experts recommend.
The process was developed by junior designer Alessandra Sisti as her graduation project from the Design and Engineering master's programme at Politecnico di Milano. When she later joined Studio MOM, she tested a wide range of material compositions to find the most effective solution. She discovered that heating up mycelium during the growing process makes its structure similar to that of expanded polystyrene. The resulting material is rigid, lightweight and has low thermal conductivity.
Studio MOM has carried out a series of initial tests to ensure the product's safety for use. An FEM analysis of the product prototype allowed the designers to assess the shape, strength, rigidity and fatigue of the material. The team also simulated the NTA standards test, which is used to estimate if a helmet complies with the requirements in the Dutch technical agreement.
PYLO, bike helmet prototype designed by Berlin-based innovation studio nFrontier is much more high-tech. The team claims it combines all latest design trends, safety innovations and cutting-edge manufacturing technologies.
Equally suitable for urban commuters and tech-savvy athletes, the lightweight helmet integrates many industry-first features, including key automotive safety and driver assistance technologies, with an array of smart safety high-tech such as LIDAR radar sensors, 3D immersive sound, LED light indicators, a Face Shield Airbag, a Smart 360° Surround Safety System and a versatile 3D-knitted inlay.
The 3D-printed nylon structure of the helmet shell is optimized to absorb deep impact at a much higher level than conventional polystyrene helmets. Incorporated between the shell and the head is a versatile 3D-knitted inlay designed to guarantee  an optimal, custom fit. The liner is double sided, offering cotton on one side, and wool on the other, and it can be worn on either side depending on the season.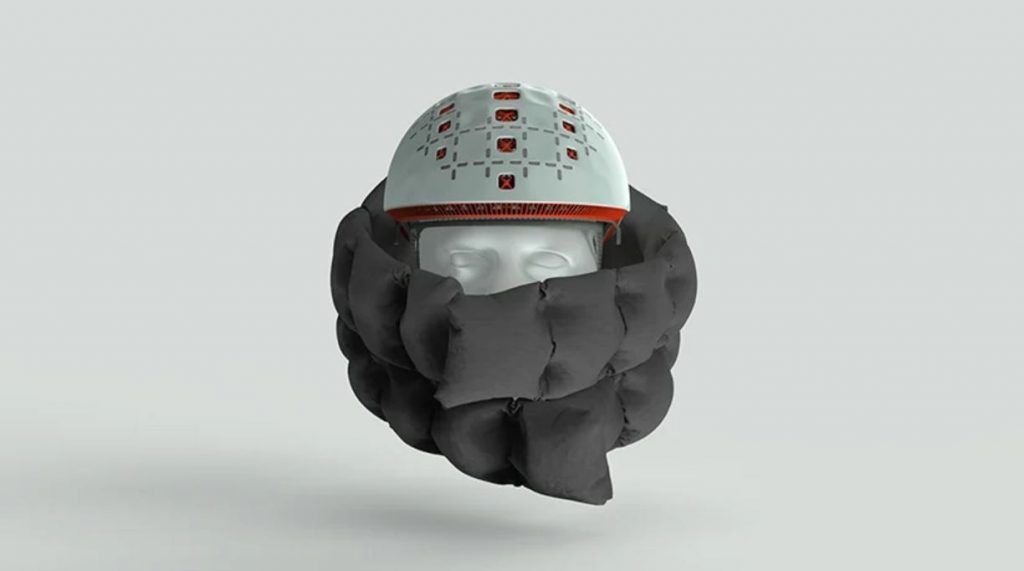 A visor and integrated LED head and rear lights provide extra protection and better visibility in bad weather, while gyro sensors automatically detect riders' manoeuvres to turn on brake lights. What makes the helmet stand out is the world's first Face Shield Airbag designed for a bicycle helmet. The feature blows up from the rear to protect not only the skull but also the lower face from injury in the event of a crash.