Human hair is considered a waste material in most parts of the world and its accumulation in waste streams causes many environmental problems. However, it has many known uses. Besides its long history of use in art and jewellery making, hair can be basic material for furniture and even be used to measure urban pollution.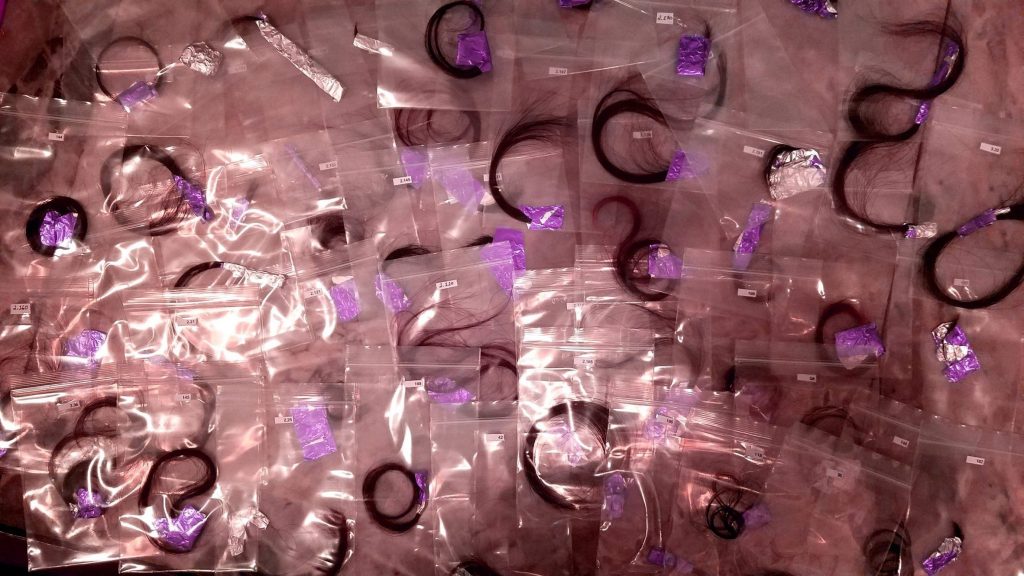 Artist Anouska Samms incorporates human hair into clay pots in reference to her family's unique tradition to playfully explore her family's matrilineal relationship. Her recent exhibition called This Myth We Make featured a collection of dysfunctional vessels made from coloured clay and decorated with strands of human hair the artist sourced from strangers on Instagram, as well as a large hanging tapestry she made using donated hair.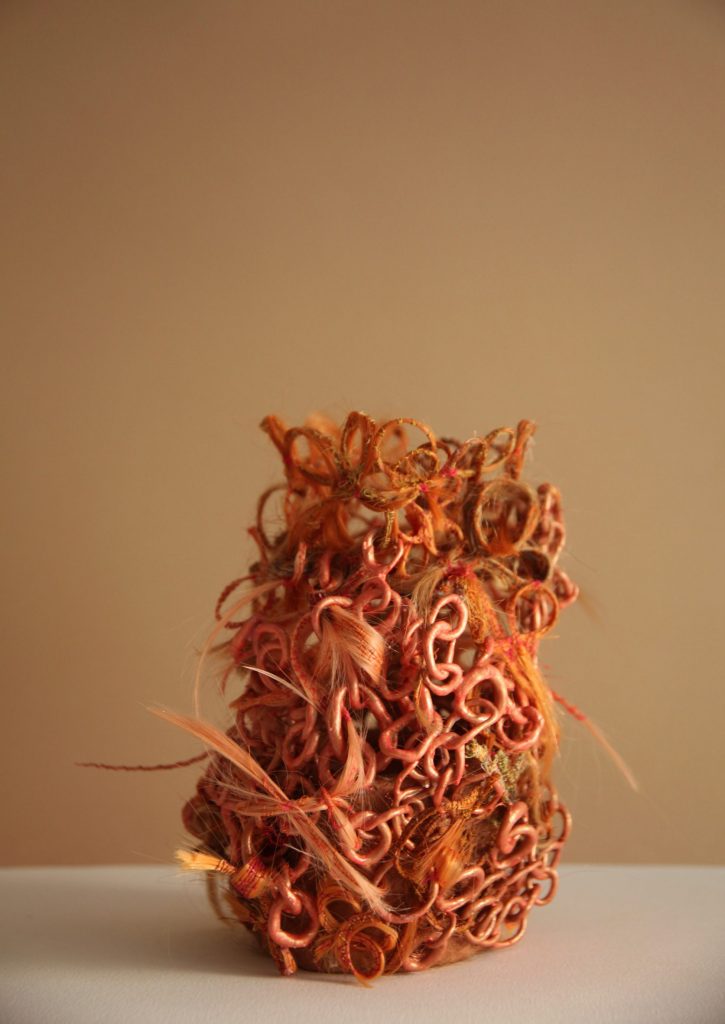 The artist received the hair from many volunteers from around the world, from Mexico to Australia, during the coronavirus crisis, when because of national lockdowns people had to cut their hair at home as they could not access salons.
As well as hair from strangers, Samms used hair donated by her mother and grandmother, who all dyed their hair red as an intimate family tradition. In line with this theme, the artist bleached and dyed the donated hair different shades of auburn, which was also used to form the Big Mother tapestry.
London-based designer and Kingston School of Art graduate Oksana Bondar uses human hair in a different way. She has created a dressing table stool jokingly called Wiggy by combining hair with Polylactic Acid (PLA) – a biodegradable plastic made from corn starch or sugar cane.
Bondar started the project with an ambition to demonstrate the design possibilities of hair which is normally considered a waste product. According to the designer, the solid material she devised can easily replace plastic injected moulds or plywood.
It took approximately three bin bags worth of hair collected by the designer from her local hair salon in London over a period of three weeks to make the stool. Bondar put the hair in soapy water and felted it together by rubbing the hair strands to form a matted cluster. This was then sealed in PLA bioplastic using a CNC-cut mould made from chipboard.
The shape was chosen to give off the least amount of waste, while its structural curves and bends are meant to reinforce the corners of the seat and secure the legs so the stool doesn't rattle.
London-based architects Deborah Lopez and Hadin Charbel, founders of research studio Pareid believe that human hair could be an untapped resource for sustainable construction. Their project, called Follicle and presented at Bangkok Design Week in 2019, started out as an investigation into the potential of hair as an architectural material.
However, after learning about the presence of heavy metals in hair, the pair realized they could also use the material as a research tool in cities with dangerously high levels of pollution. They set up their first test station in Bangkok, where they encouraged people to cut off a small amount of hair and submit it for analysis, along with details about their day-to-day environment.
This helped the duo to map the levels of pollution across different areas of the Thailand's capital, with samples containing larger quantities of heavy metals indicating higher levels of environmental toxicity. For example, people who lived near major highways were found to have a notably higher volume of arsenic in their hair. The architects have been using the information gathered to produce a "toxi-cartography", an interactive 3D map of the city available to view on a dedicated website.
At the same time, the architects are also continuing to explore ways that waste hair can be used in building construction. They use a felting machine to create a hair textile that potentially could be utilized as an insulating material, or as some kind of acoustic paneling.
One thing all the designers featured in this post have in common – all of them have to confront the stigma around the human hair. All of them want to find a way to use this material to create something that people feel attracted to.