Music and body movements have a deeply intertwined history, going through years hand in hand. But what if you could literally wear music – or even convert your body movements into musical symphonies?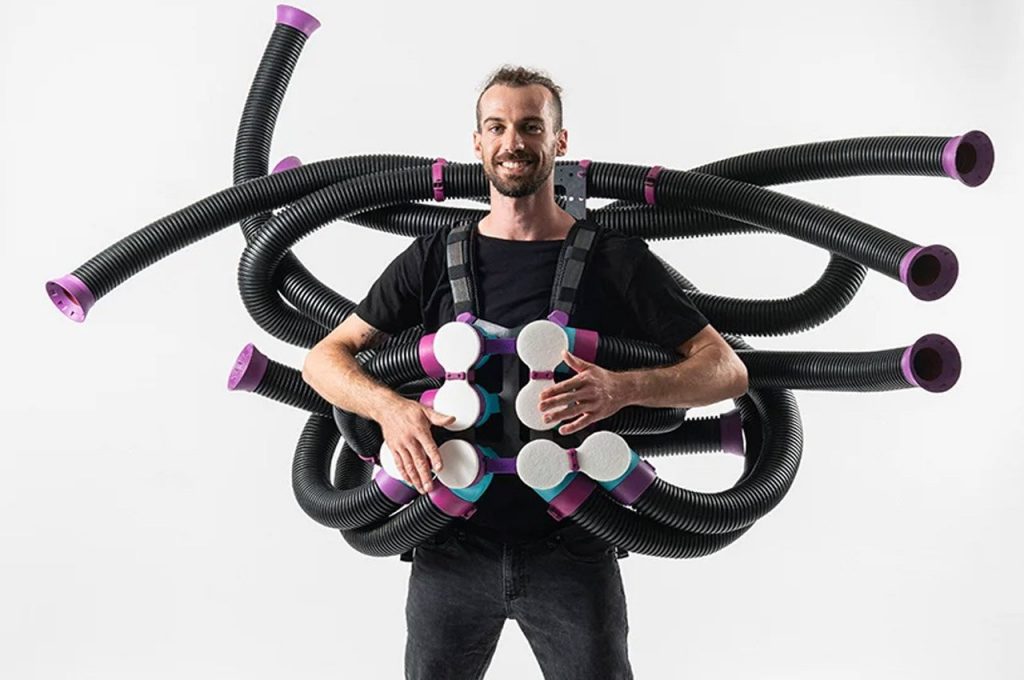 Speaking of a wearable musical instrument, we imagine something like OCTAV. Developed by Jerusalem-based industrial designer Asaf Wainberg, it is a DIY one-off instrument that can be worn like a harness.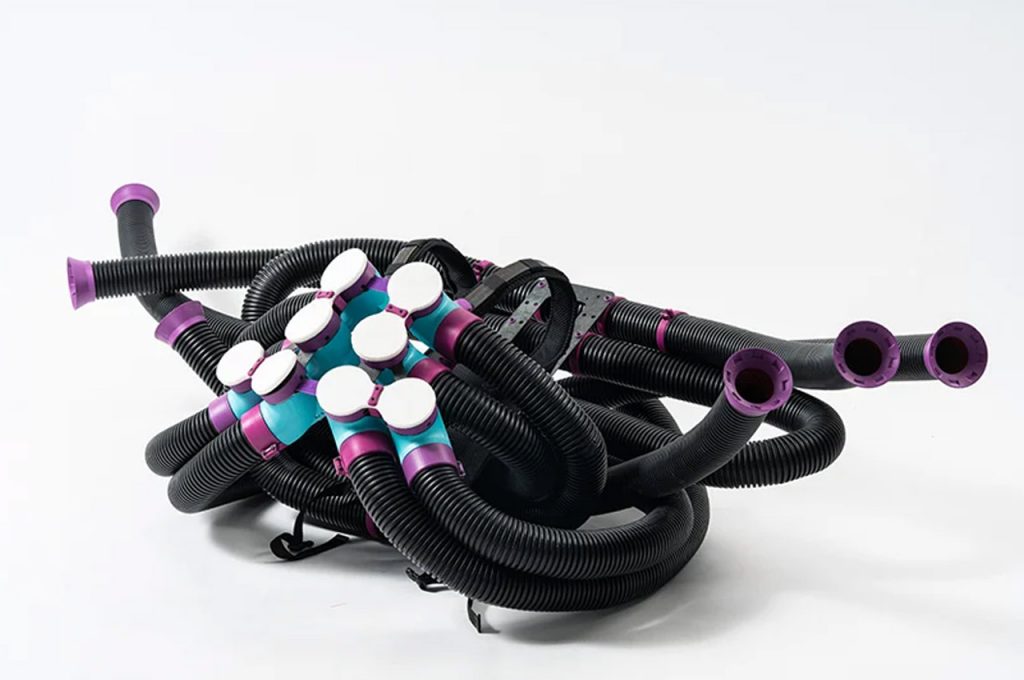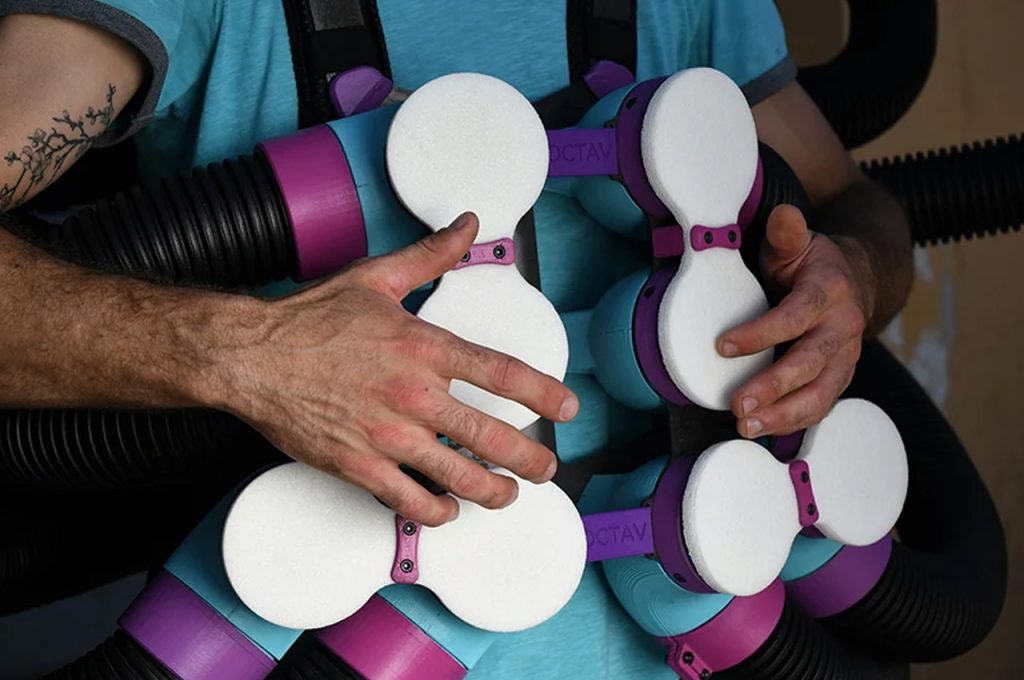 The bespoke piece is made out of a collection of black PVC pipes leading to six padsmade from foamed polyethylen that create sound by tapping onto them like drums. The sound is determined by the length and circumference of the pipes attached to it.
The whole thing wrapping the musician on the front and back endowing them with a superhero-like look.
However, contemporary designers find more innovative ways to make musical instruments wearable. Advances in computer technologies have enabled new means of musical expression with motion enabled musical instruments. Designed by DEZH (Design Engineering Zürich), Mictic is a Swiss-made XR wearable wristband that translates gestures into musical tones and sound effects in real-time.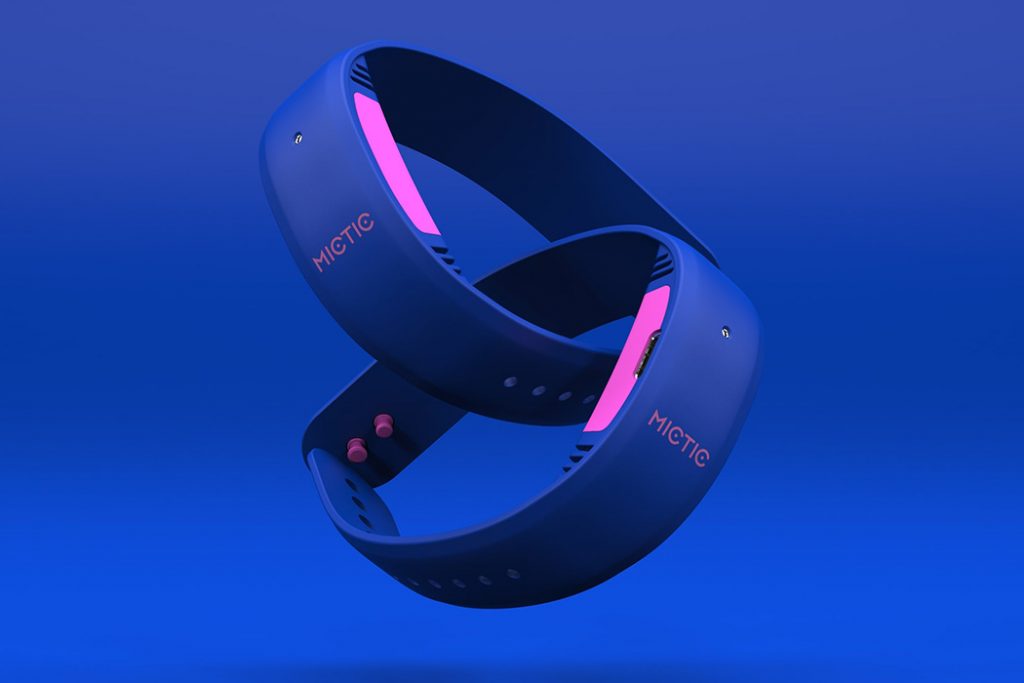 Paired with your smartphone, two wearable wristbands trigger hand movements into digital signals that trigger virtual instruments selected within the Mictic smartphone app. The bands can detect motions with commendable accuracy, converting them into signals according the app's massive bank of gestures relating to individual instruments and soundscapes.
The user can carry out authentic movements as if playing air guitar or performing a drum solo, or just dance away to create an abstract audio composition.
Aside from actual instruments, Mictic's app also offers thematic soundscapes like Hip Hop, Trap, Latin, EDM, and Rock that let the user create dance-worthy music as they dance.
Royal College of Art graduate Marie Tricaud has designed a set of wearable modules that let live music be performed as "vibration loops and temperature melodies" on your skin.
Named Touché, the product consists of small brightly coloured plastic hexagonal pods that attach anywhere on the body, in any combination, and a console that performers can use to build loops, create different types of sensation, and play tracks. Each wearable pad contains its own vibration motor, which offers varying levels of intensity as well as a temperature element.
Rather than translate audio frequencies into physical vibrations, Touché offers a creative tool for performers and listeners to artistically explore the long-neglected sense of touch. Musicians can use Ableton software to synchronise their vibrations to music, and a MIDI keyboard can also be plugged in to control the Touché console.
<iframe title="vimeo-player" src="https://player.vimeo.com/video/222853339?h=c2391833e6″ width="640″ height="360″ frameborder="0″ allowfullscreen></iframe>
The current working prototype relies on wires to connect the pads, but Tricaud hopes to eventually produce a wireless version.