Whether you are working from home, attending video calls, binge-watching your favourite shows or video-chatting with family, these bespoke smartphone stands will help uplift your phone/tablet experience.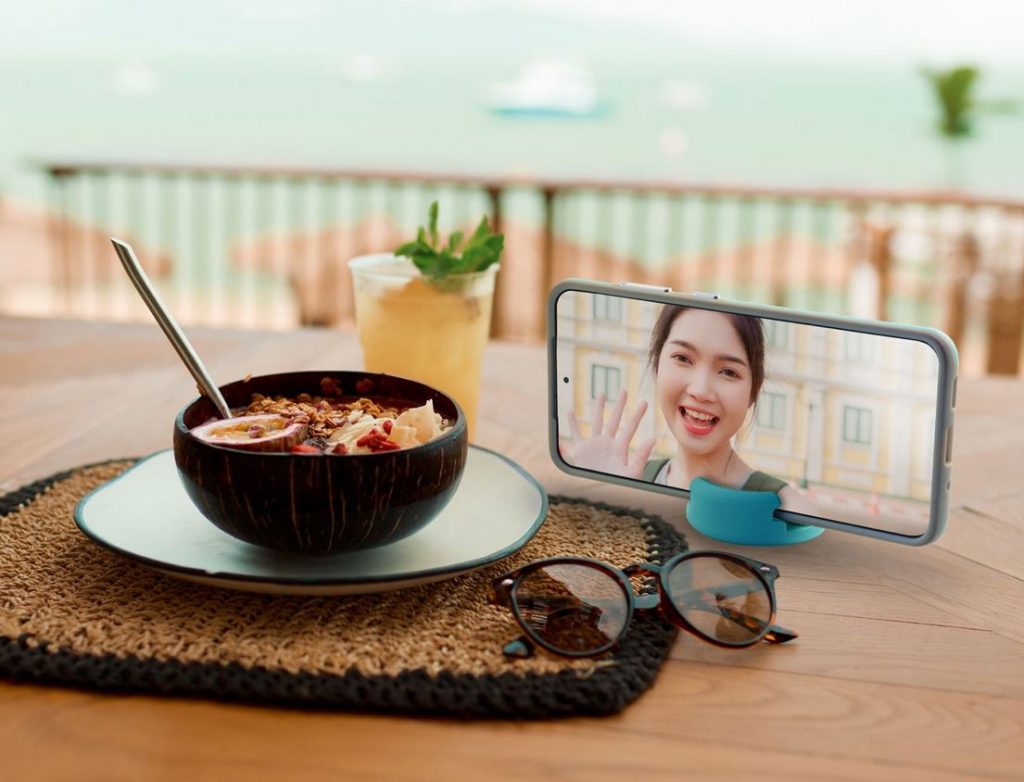 Aiming to allow users to attach their iPhones to indoor fitness equipment like a Peloton bike, squat rack, treadmill, elliptical, etc., design studio Moment has developed Strap Anywhere, a silicone mount that provides a friction-grip. The adjustable item can be technically secured to any handle, pipe, railing, bar, from a motorcycle to a shopping cart, or even the user's wrist.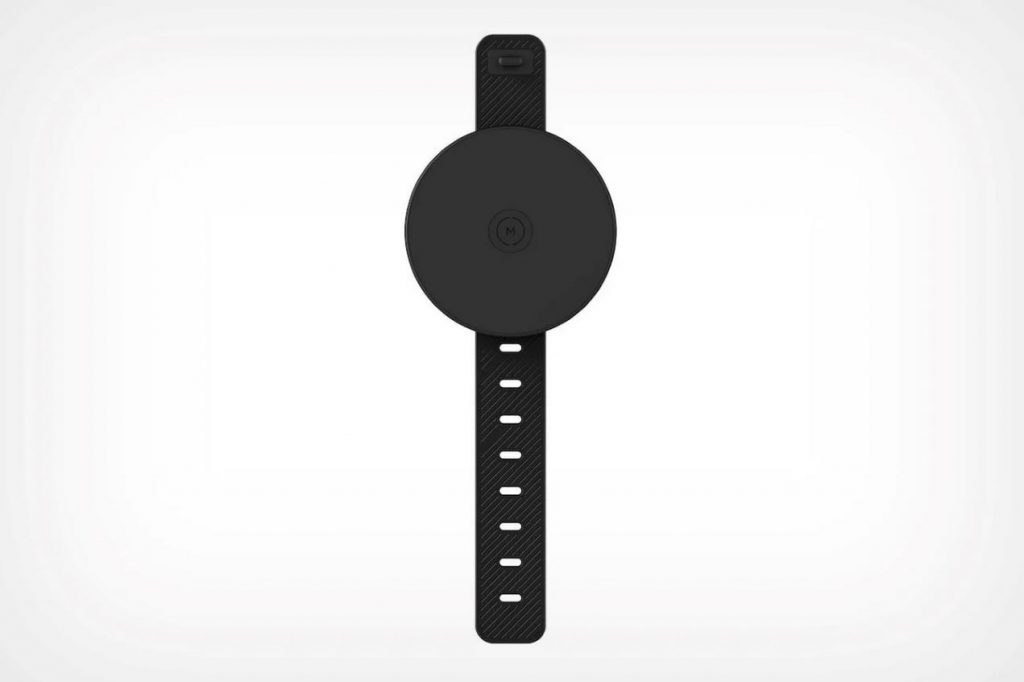 The Strap Anywhere mount works directly with the iPhone as well as with MagSafe cases for the iPhone. It is made from sweat-resistant grippy silicon material, which makes it a perfect stand for gym equipment, while a proprietary configuration of magnets provides extra strength. This makes the mount sturdy enough to double as a smartphone stand, which means it can be propped up at an angle on the desk or yoga mat.
The GoDonut MiNi by product designer Nina Seyedabadi is a donut-shaped device that lets the user prop their phone up on nearly any flat surface and is small enough to fit on a keychain.
There is a groove running down its body that can accommodate smartphones up to a half-inch thick, in either landscape or portrait mode, while the donut's circular shape serves as a stable base.
Measuring only 2 inches in diameter, the patented stand is small enough to fit in a handbag even in a pocket. It comes with its own steel carabiner and a protective case and is available in a variety of vivid, "delicious" colours.
Lookstand by Regina Koh is more than just a smartphone kickstand. Although this all-metal item is smaller than an Apple TV remote, it can be used as a tripod and a selfie stick.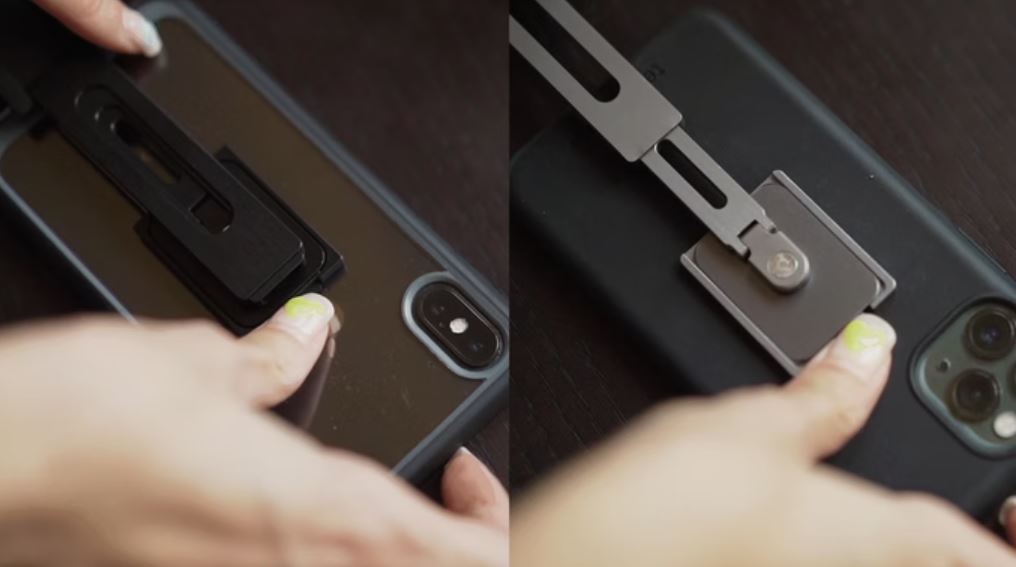 The Lookstand does the job of three separate products all integrated into one slim device, which attaches to the back of the smartphone using a slim plastic mount that sticks on with 3M adhesive. This enables the stand to be easily removed when no longer needed, leaving behind just a slim barely tangible plastic mount, which also supports the phone's ability to be wirelessly charged. At just 0.2-inches in thickness, the stand is thin enough, for the smartphone to be effortlessly fitted in a pocket.
Although the construction is light and thin, it is robust enough to work universally with smartphones as well as with tablets. The stand comes with a 360° hinge that lets the user rotate and tilt the phone in landscape, portrait, or even in any intermediary angle. In the tripod mode, it can elevate the device to more than 7-inches off the ground using an adjustable telescopic system, while the third mode turns the device into a regular kickstand that props a smartphone like a standing photo frame.
The device comes in two sizes. While the standard Lookstand is perfect for smartphones, Lookstand Max is better suited for tablets, Nintendo Switches, and even projectors.
The patent-pending Tango Grip & Stand by Lukas Scheurer comprises a thin stamped metal enclosure and an underlying conical steel helix. The way the enclosure is designed makes it easy to deploy the stand or grip with just a simple touch of a hand.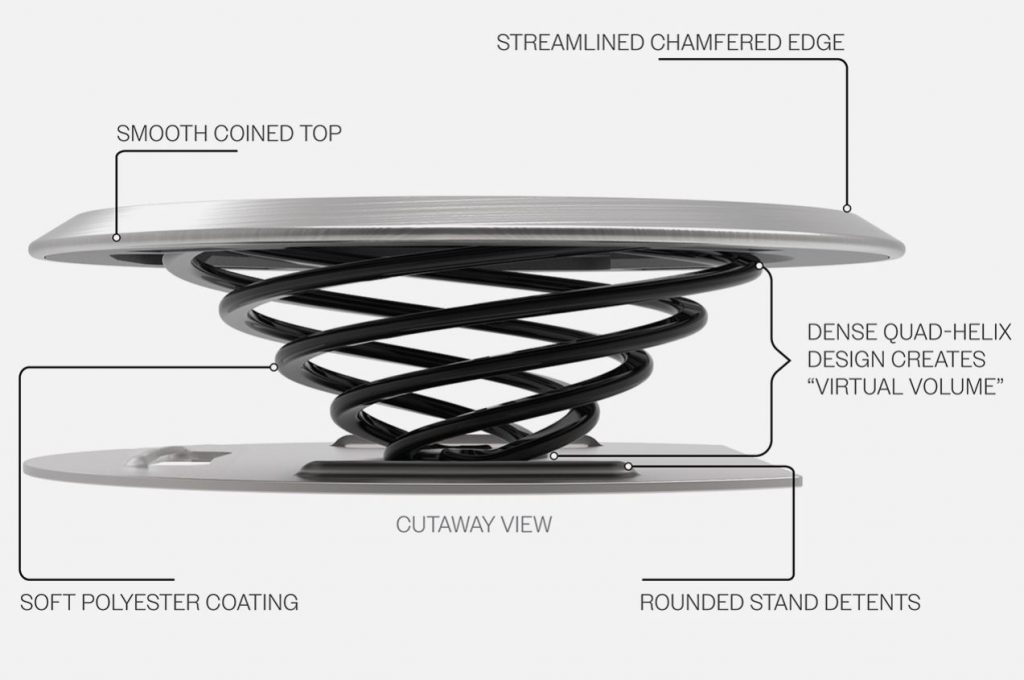 The stand works on more ways than one. An inner spring-steel quad-helix automatically pushes the steel disc outwards, which can be oriented in both landscape and portrait formats. To shut the stand, the helix should be pushed back inwards, so it collapses onto its baseplate once again, sitting flush against the surface of the phone. This prevents the stand from adding unnecessary mass to a sleek smartphone – it does not snag on the user's pockets or prevent the device from being able to lie flat on any flat surface.