While fake fur clothing has been making major headlines in the fashion world, furry furnishings are stealing the spotlight in the world of interior design. We have rounded up some comforting cuddly objects sheathed in fur that flaunt a wonderful sense of luxury, curiosity, and sometimes humor.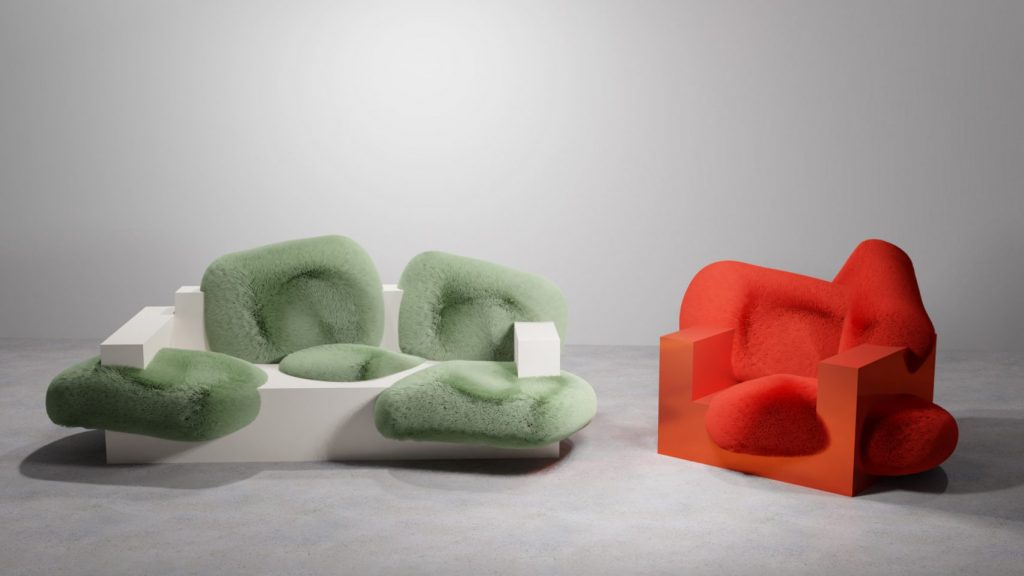 Interested in how a space is affected by the production of elements vaguely similar to furniture, Barcelona-based architect and designer Guillermo Santomá uses simple and primitive methods to alter familiar objects in a constant process of deformation. Among seating elements created by the designer using a plethora of unconventional shapes and unexpected materials, such as pool tiles, broken glass, foam, rocks and furry shapes, there is Sofa Pelo.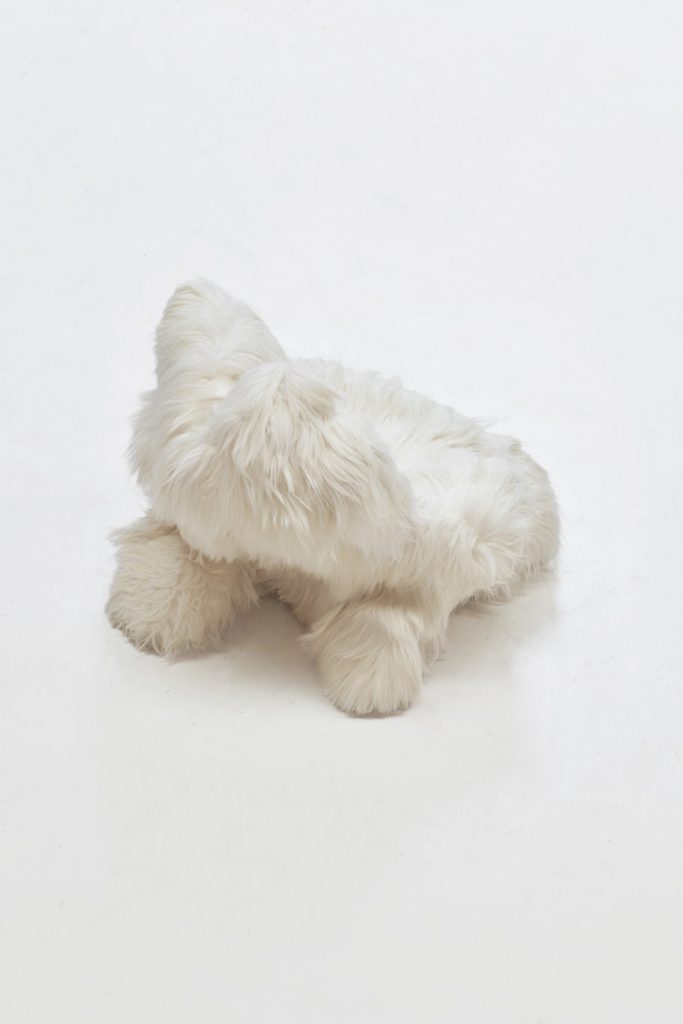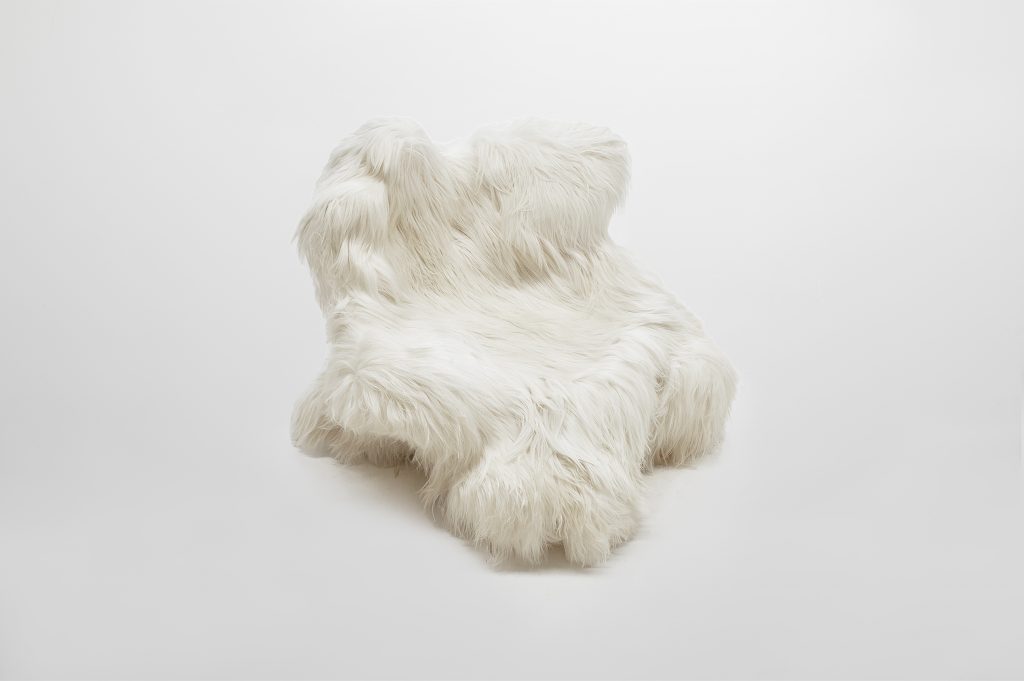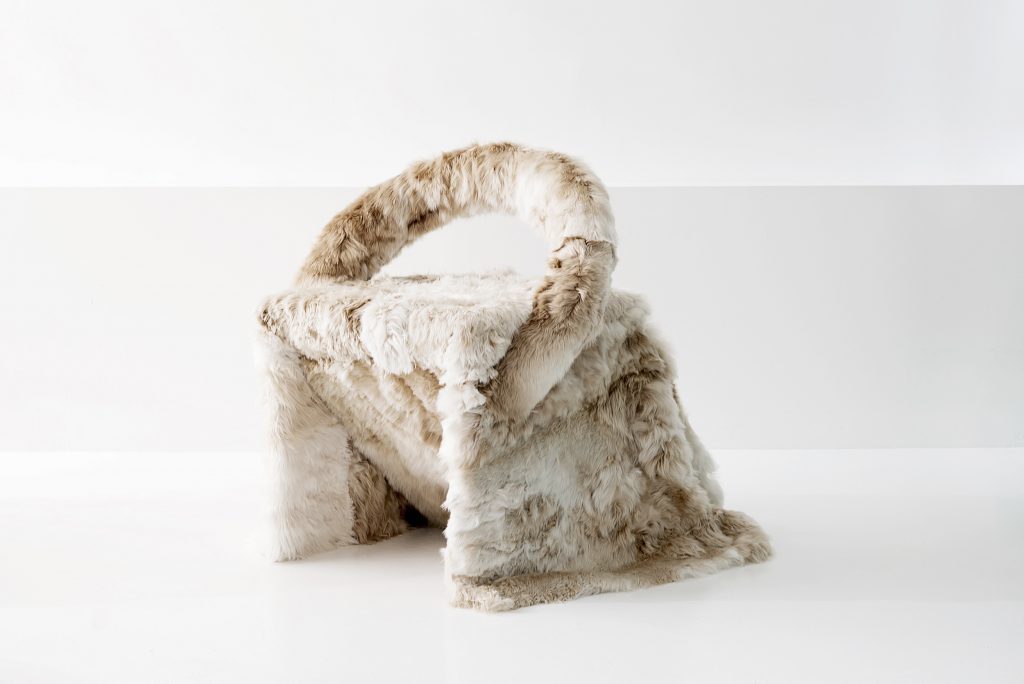 The conceptual object comprises a giant white sheepskin over 3.5 metres in length draped over an iron frame supporting cushioned volumes and accompanied with sheets of glass, to complete this combination of a daybed and a coffee table.  Forming an environment rather than a furniture piece, the giant furry rug would make an ideal centerpiece for a chalet or a holiday home.
New York based studio ArandaLasch has completed their Railing series with a fur-covered edition. Railing is a collection of furniture that consists of structural modular stainless steel pipe arcs.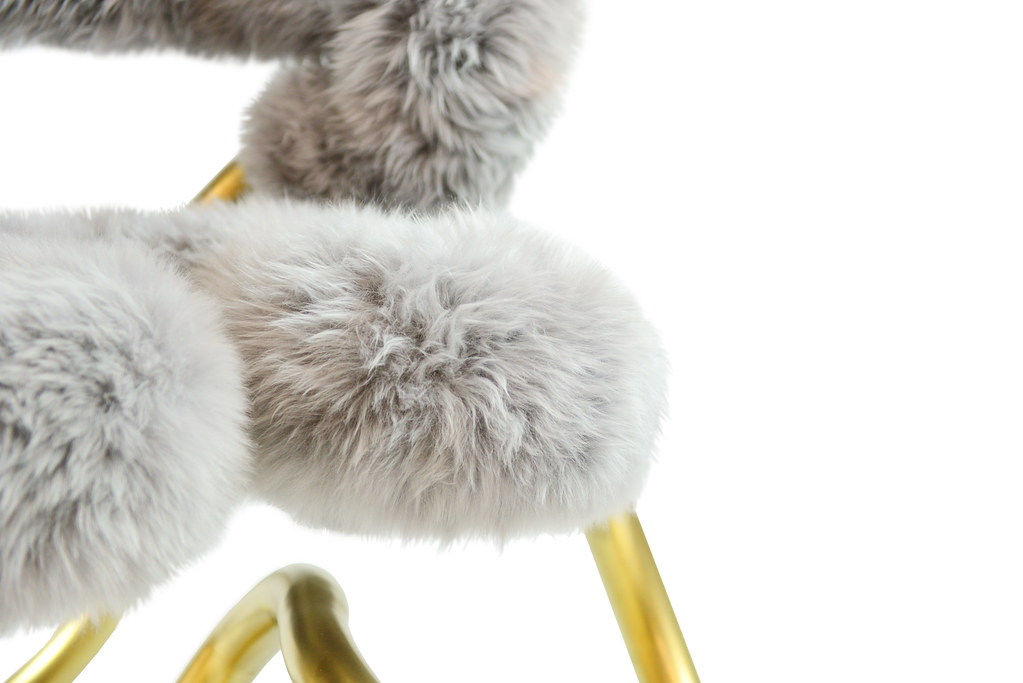 Though varying in size, shape and complexity, each distinct piece, be it a stool or a chair, explores the notion of infinitude. It is a single line that curves through a number of fractal circles and comes back to form a continuous loop. Here, the circle does not display the qualities it is most known for, but it is what a circle can be.
While earlier elements of the collection were presented in silicone foam or hand-sewn leather upholstery, the furry edition softens the sleek appearance of the twisted metal tubes by faux fur that wraps around their seats and backs.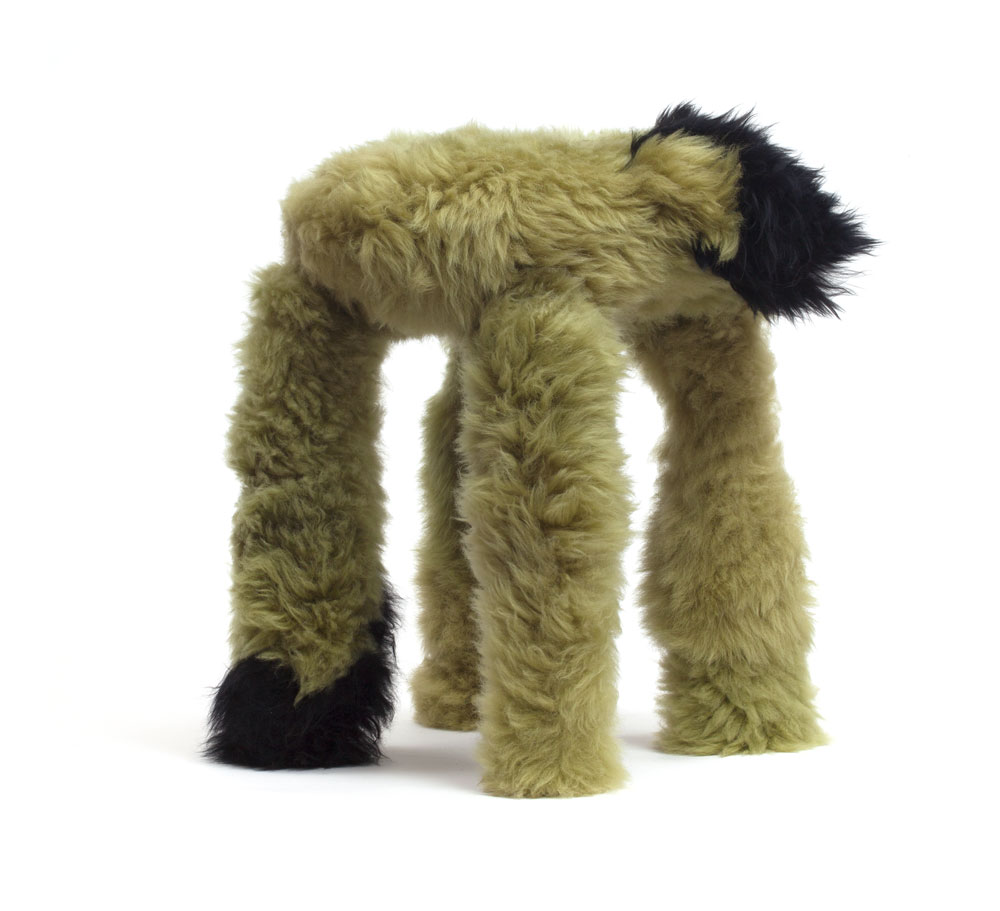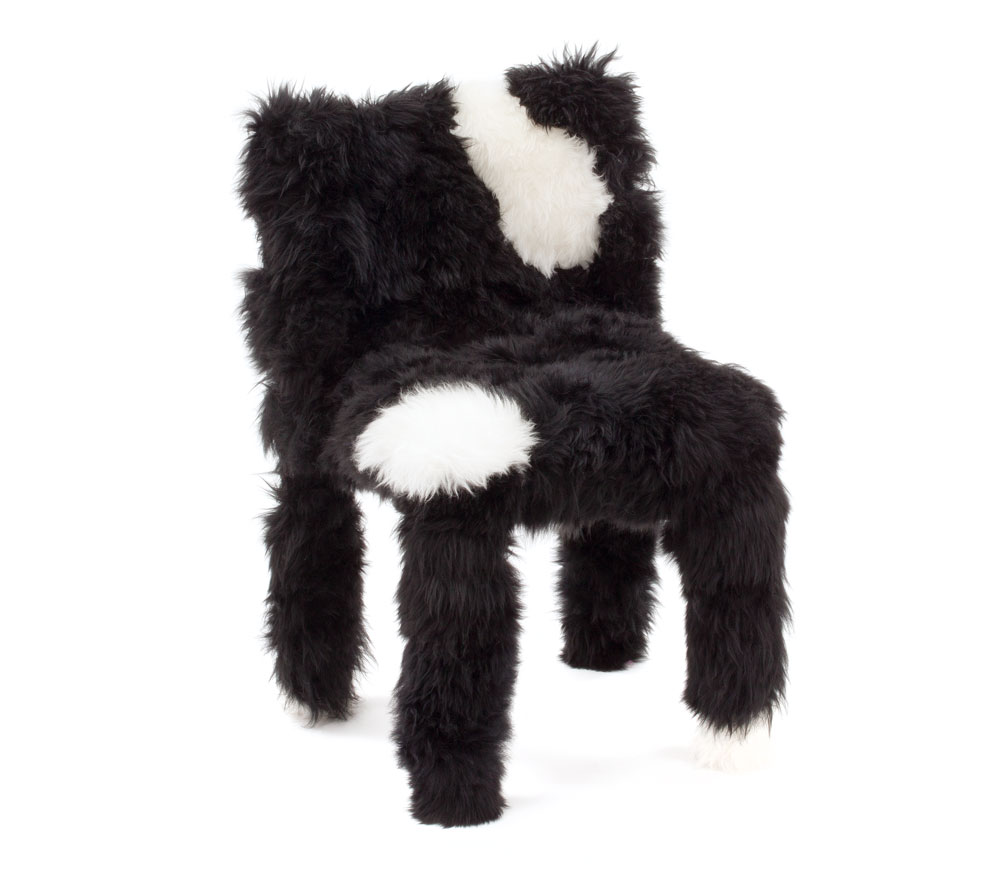 Brazilian designers Humberto and Fernando Campana are known for using unusual, and often found, materials to create their sculptural furniture pieces – and many of them are soft and fuzzy. One of these is whimsical Chica collection, of stools and chairs, characterized by fluffy fur and playful colours, that pays homage to Humberto Campana's adopted dog.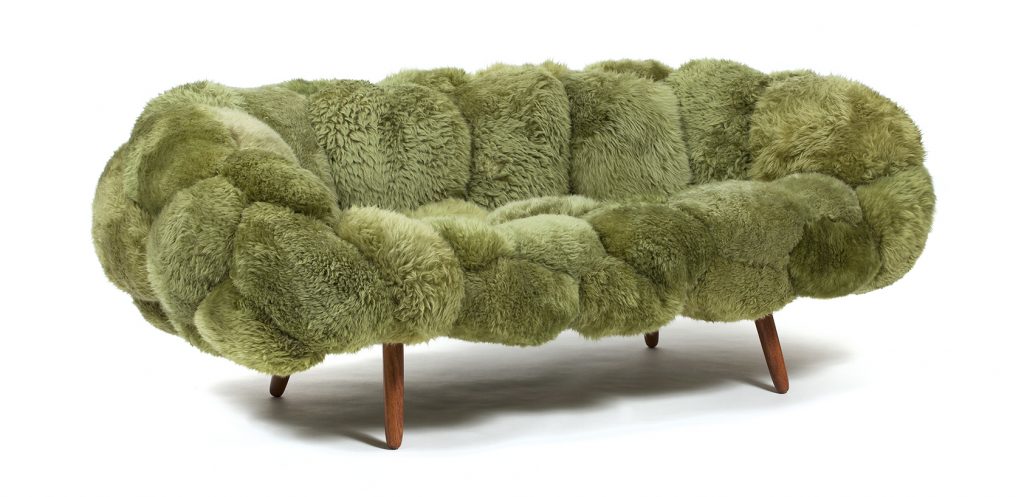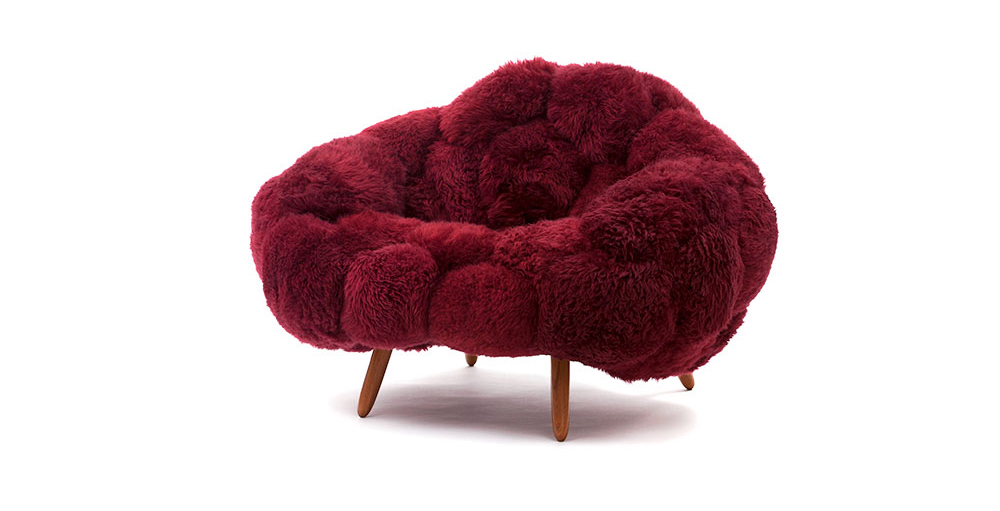 The more sophisticated Bolotas collection was inspired by stone walls and named after an acorn ('bolotas' in Portuguese), for that is what the first prototype resembled. The designer brothers decided to use natural skins to bring comfort to the design: pillows of sheepskin for the armchair and the sofa carefully arranged on a stainless steel structure with Brazilian wood feet.
But the most recognizable pieces by the Sao Paolo based duo is their signature Banquete range. The chairs are handcrafted using sets of children's stuffed animals – from generic animals to icons like Mickey Mouse – that are combined into giant cushions to be sat on.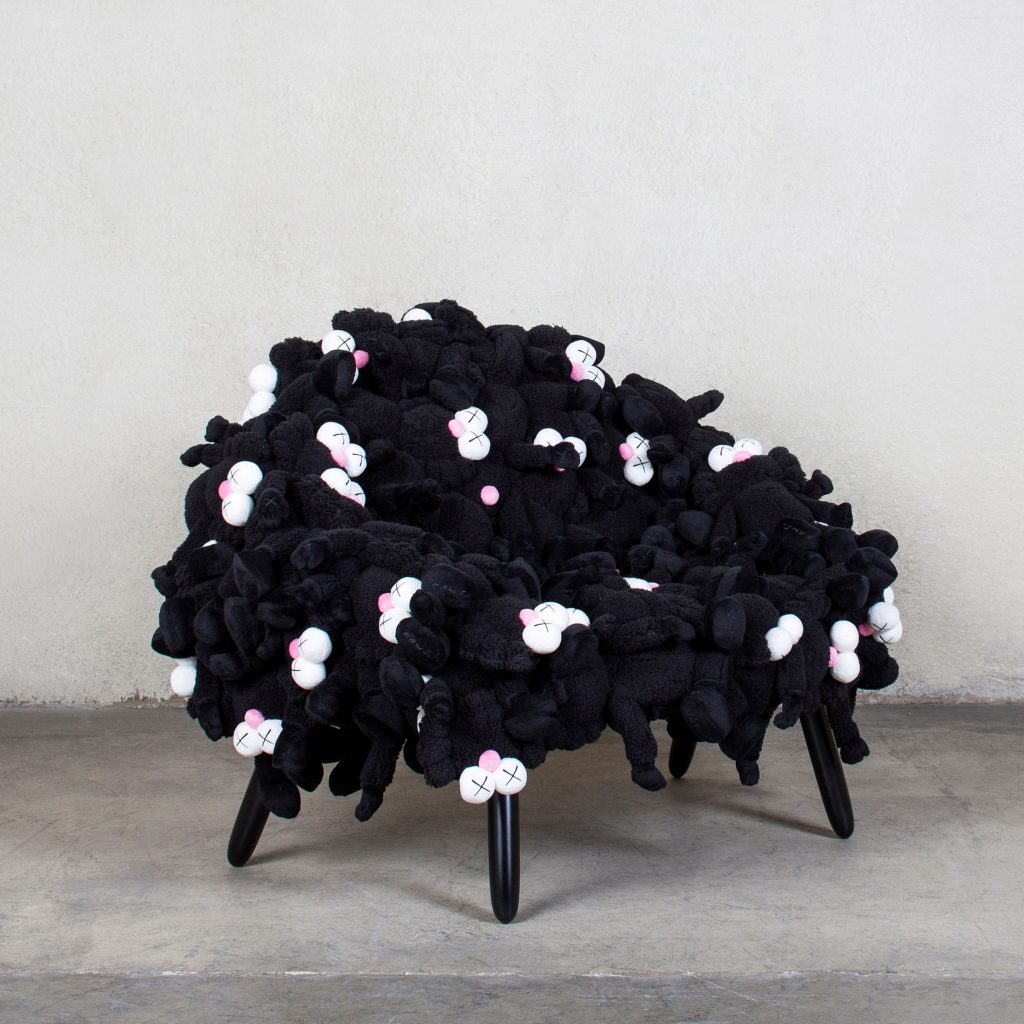 The latest limited edition of Banquete features two armchairs and a sofa constructed from soft toys that are recognizable as cartoon characters frequently used by American artist and designer Kaws – pink figures and black toys that also have round blush noses.
All pieces of PillowPillow furniture collection by Dutch-German design duo Janne Schimmel and Moreno Schweikle are the result of a digital modelling experiment, which the designers have translated into a real object. Rather than take two principles and unify them into one new shape the designers kept both form languages perfectly intact.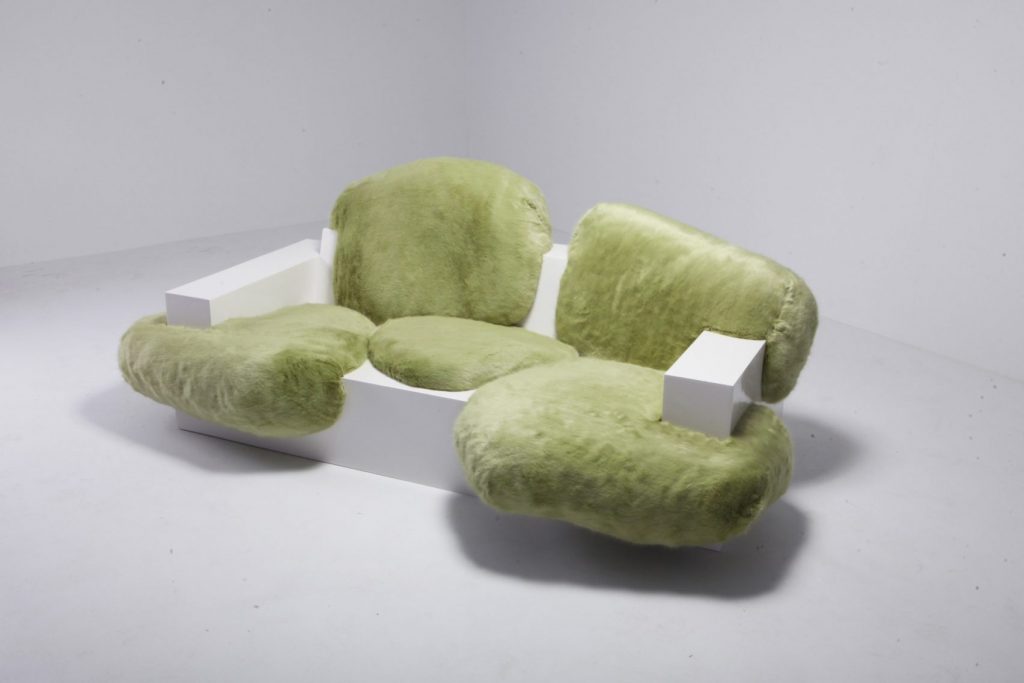 The chairs of the range combine archetypal, minimalist furniture designs emphasized by a lacquer-like car-paint coating with organic-shape upholstery additions finished in soft artificial fur, "morphing" them together to create new forms. The fur allows the designers to hide the connection points between the hard and soft elements making it seem like they effortlessly flow into each other like they would do in the 3D-modelling software.
The third piece in the collection features a standard desktop computer combined with green, fur pillows, and is intended to sit on the floor of a living room. By bringing it from the desk onto the floor the duo wanted to challenge the way we engage with the computer – they believe the computer deserves a more prominent place in our households, since it has taken such an important role in our lives.