Ceiling is sometimes called the fifth wall. Architects and designers agree that a statement ceiling can be a key element in a design scheme. We have collected a few projects with ceiling that literally elevate the interior.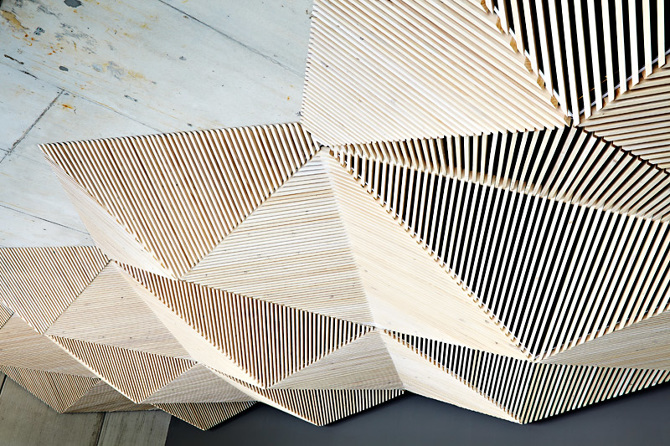 Two New York based architecture practices Studio Link-Arc and Kane A|UD Architecture have teamed up to design Banu restaurant in Zhengzhou, China, as a recognizable landmark.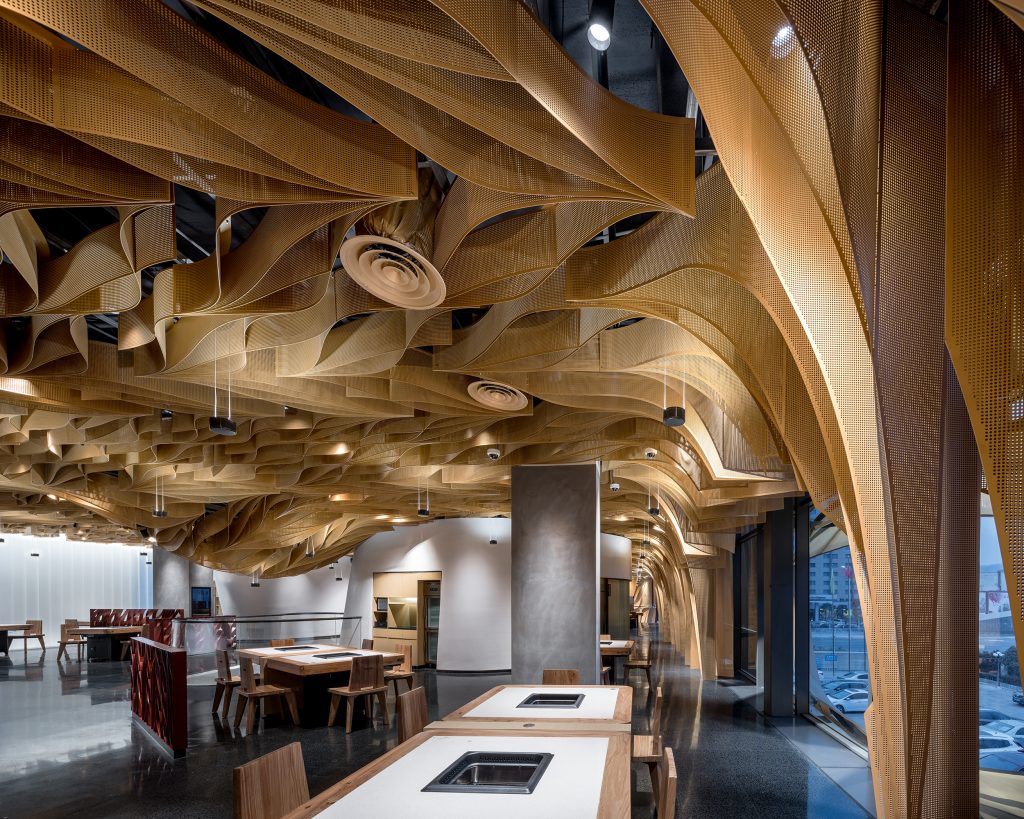 A key feature of the design is a flowing lattice ceiling that varies in density, height, and size, based on the program needs and unifies the space. The intricate yet rationalized pattern of the ceiling is made from perforated metal panels that extend externally, forming a vertical fin façade that serves as a sunshade and gives changing transparency and visual texture to the building.
Through the unity of interior and exterior, the visual affect is one of a constantly changing dynamics visible from the street, welcoming passers-by into the restaurant.
To support this fluid organization system defined by the ceiling, the architects broke down the large-scale and orthogonal structural grid of the building and introduced five sculptural cone-shaped private dining rooms and two open kitchens that both enclosed the program while differentiating the dining spaces around them.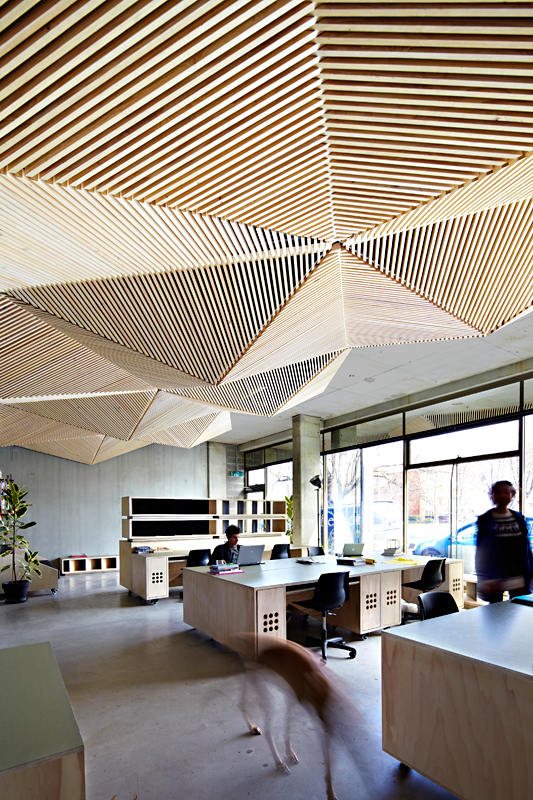 The ceiling of the office of Australian architecture and design firm Assemble is a highlight feature comprised of five types of triangular folds of timber battens, which are mirrored and repeated eight times across its length.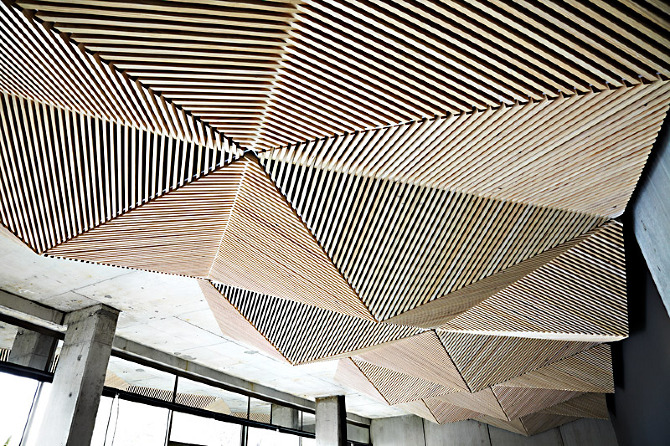 Aiming to conceal the original ceiling cluttered with pipes, ductwork, air-conditioning units, smoke detectors and fire alarms, while still allowing the systems to function properly, the team experimented with folding different sculpted origami forms from paper. All the joinery and timber battens are manufactured from sustainably harvested hoop pine plywood that has been white-washed with a low VOC clear finish.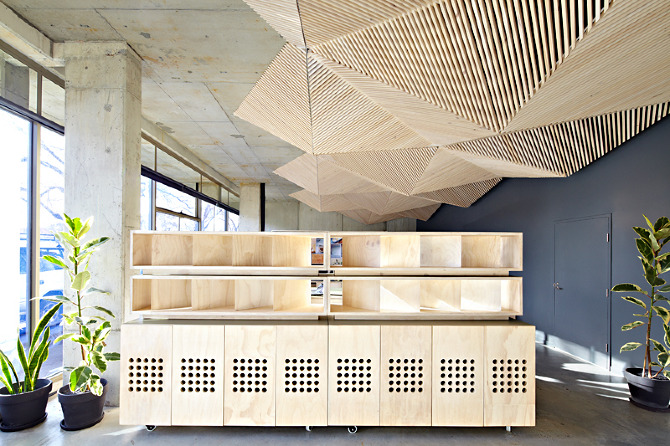 The custom-built furniture echoes the materiality of the ceiling and isplaced  on castor wheels, so it can easily be shifted for the interior space to be reconfigured for events and design workshops.
Local firm Paritzki & Liani Architects has completed an office for an engineering company PRS in a high-rise block in Tel Aviv, Israel, using the company's product Geocell to create a signature ceiling.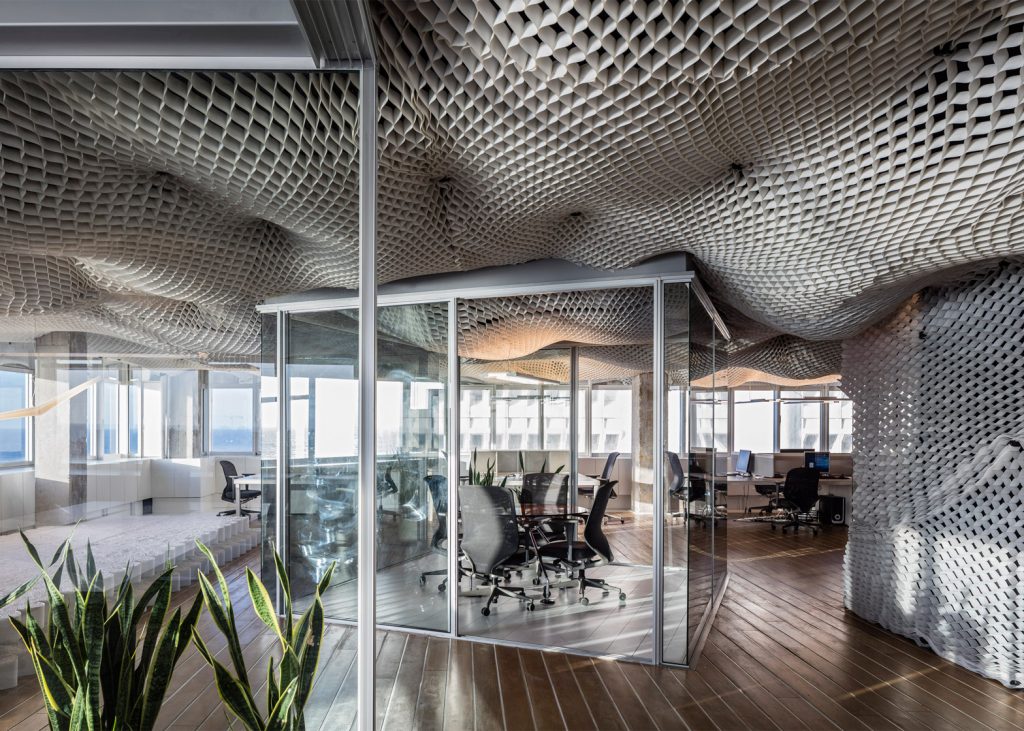 Mainly used to stabilise soil for roads and other infrastructure projects, the material comprises a net-like web of plastic, with openings that change in size as it is stretched and formed. The varying density of the material, thanks to its flexibility, can assume different degrees of transparency and visibility. Made from Geocell, the undulating membrane-like ceiling is intended to reference undulating forms of a cloudy sky and the ocean, both of which are visible through the windows.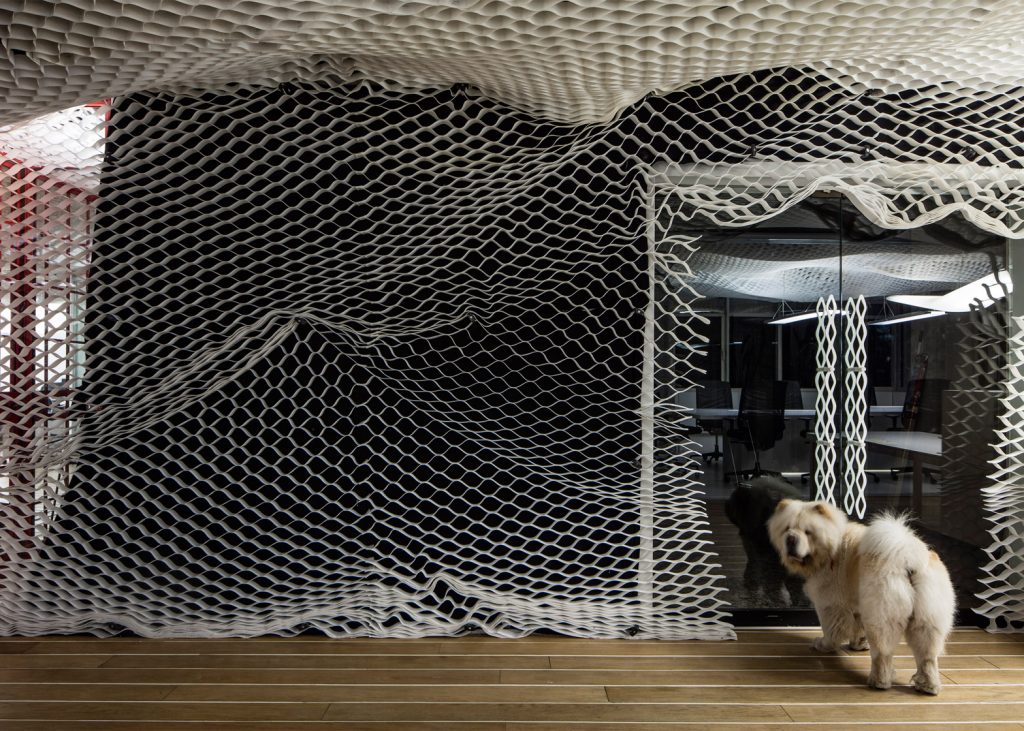 The billowing forms also run down the glass walls on either side of the entrance to the office, offering privacy and leading visitors through the double glass doors that form the entrance. Lights that are suspended from the ceiling allow shadowplay throughout the space.