It looks like working from home has become ingrained in our everyday lives and will be here to stay even after the pandemic is over. Now that it is no longer a temporary solution, designers do their best to develop attractive and ergonomic desks intended to improve new working from home lifestyles. Blending in with the rest of the room, these compact and multifunctional pieces of furniture ensure your back won't hurt from an uncomfortable sitting position.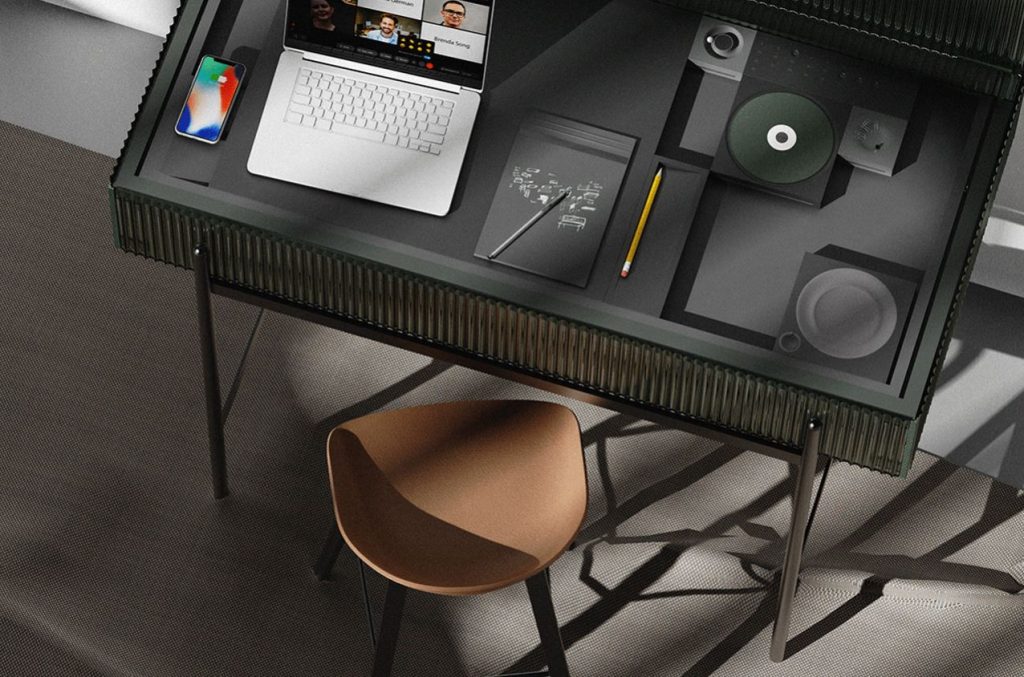 A group of Korean designers, Juwon Kim, Jiwon Song, and Eunsang Lee, has developed a desk that represents a micro replica of our homes. Named Layout, the multifunctional workspace consists of various modules that let the user switch between work and play.
Underneath a translucent corrugated exterior finish in ethereal sea green, there is a mix of practical and leisure modules that help stay connected and concentrated during the workday and entertain after it is done. The light controller module operates the interior glow, while paperclip and pencil holder modules provide storage space for stationery items. There is also phone charging, an electronic memo pad, clock, and calendar modules at the user's convenience.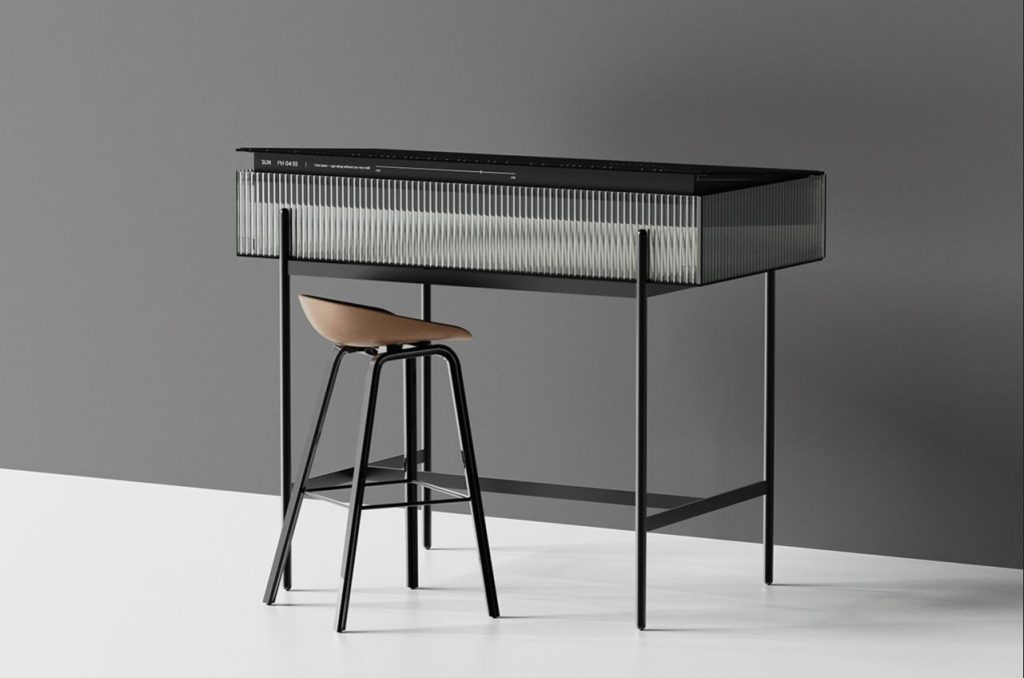 After the work hours are over, the desk upper cover, which doubles as a partition to provide some privacy for the user when folded, can be closed to conceal the workspace. In such a way, it is transformed into a front display panel, with entertainment features, such as a CD player and accompanying speaker and micro-control grid, hidden underneath.
Portuguese designer João Teixeira has chosen to forgo conventional desk drawers and replace them with a sleek and elegant metal stand at the back, perfect to hold books and documents. Reminiscent of the way piano players hold their music notes, the conceptual solution has given the desk its name – Piano. The metal piece can also be used to display flowers, photos, or other personal items, thus acting as a fair substitute for a drawer.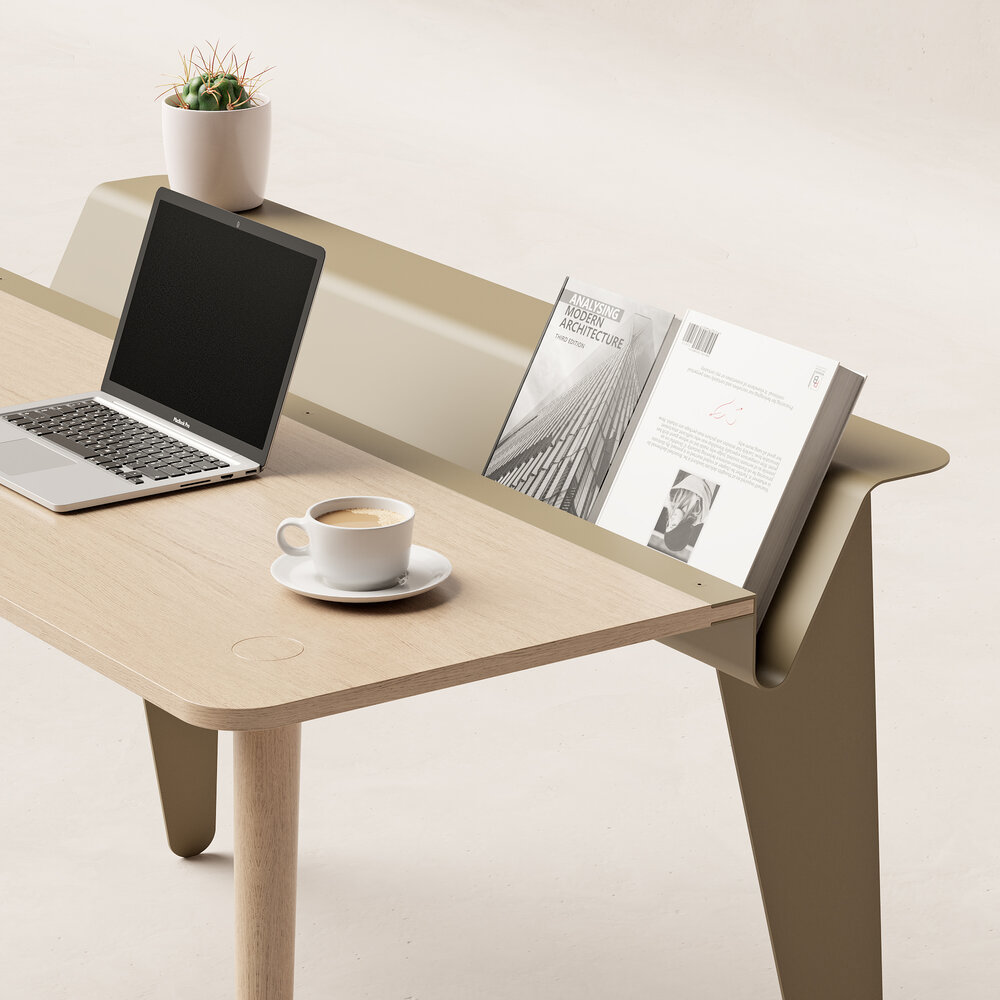 Inspired by the Standard chair by Jean Prouvé, the desk uses two contrasting materials – metal and wood. While the latter offers warmth and tactility, the former provides a cool, sleek finish and allows for slimmer profiles.
The absence of drawers, together with slim profiles and rounded corners, lends the desk a minimal appearance that would look great in any home office setup.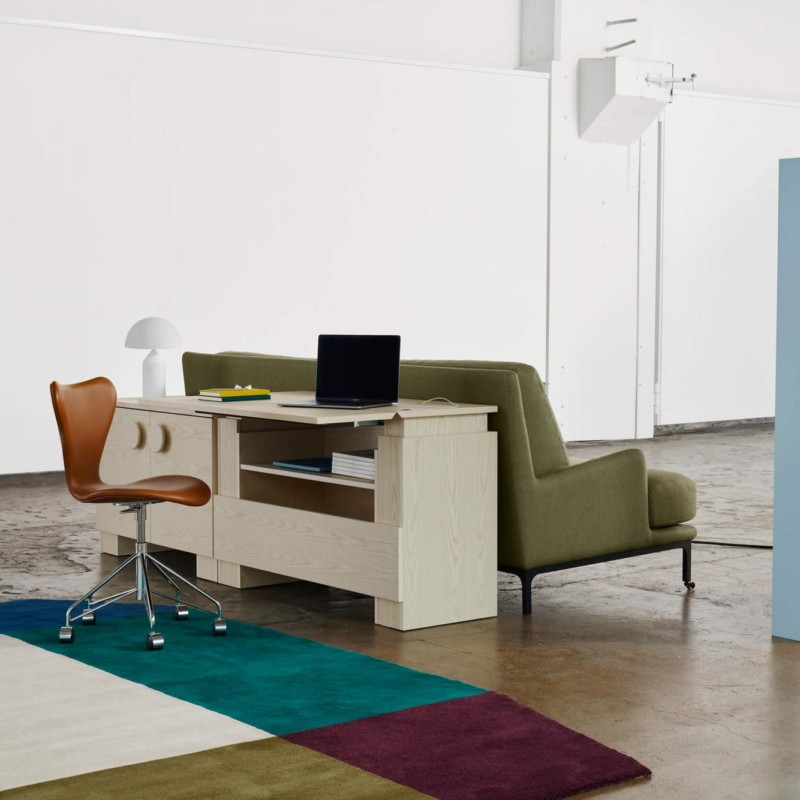 Kabinett by Stockholm designer Alexander Lervik is not solely a desk but a comfortable, ergonomic set-up for working from home. Developed for the Finnish furniture manufacturer Adea, the item comprises a cabinet for the home office, which has various built-in features that allow it to be transformed into an entirely different piece of furniture.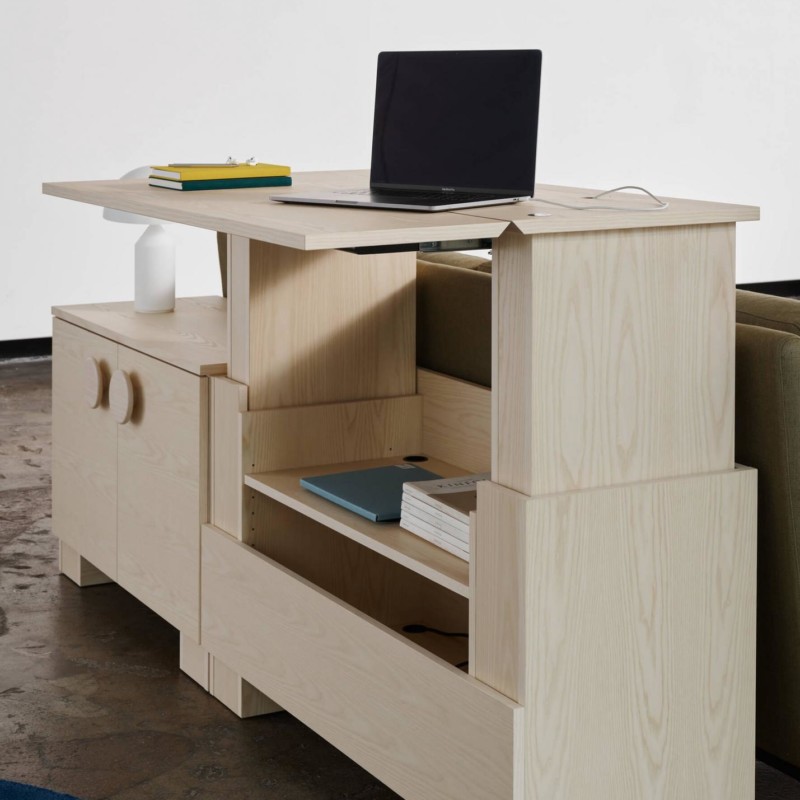 The piece is designed to take up as little space as possible in a room, without sacrificing work comfort. For the user to find the most comfortable sitting position, the desk can be raised or lowered; while at the end of the workday, the computer and stationery can be hidden inside the cabinet.
Similarly designed to maintain comfort when working from home, the height adjustable Noa desk, developed by Tom Parfitt for Benchmark Furniture, is flexible and ergonomic.
The compact piece features a sit-stand mechanism that allows for the table top to smoothly rise and fall, controlled by a console on the underside. The timber down-stand hides the desk's electrics and the power cable runs neatly down the central column.
Apart from its ergonomics features, the desk is created using natural materials. It is highly tactile and is aesthetically pleasing due to its softly rounded edges.
In case you do not have enough space to place any of the mentioned desks in your small city apartment, take a look at the Alada desk by Woodendot.
This unique piece can seamlessly transform from a full wall desk to a decorative shelf in seconds. It can be installed at any height and even includes hidden storage space to keep all the necessary items close at hand.