Originating from Asian countries, a teahouse, or tearoom, is a building where primarily teas and other light refreshments are served. Informed by the ancient art of the tea ceremony, contemporary tea houses with their pared back minimal architecture and connection to the surrounding environment generate spaces for sharing and reflection.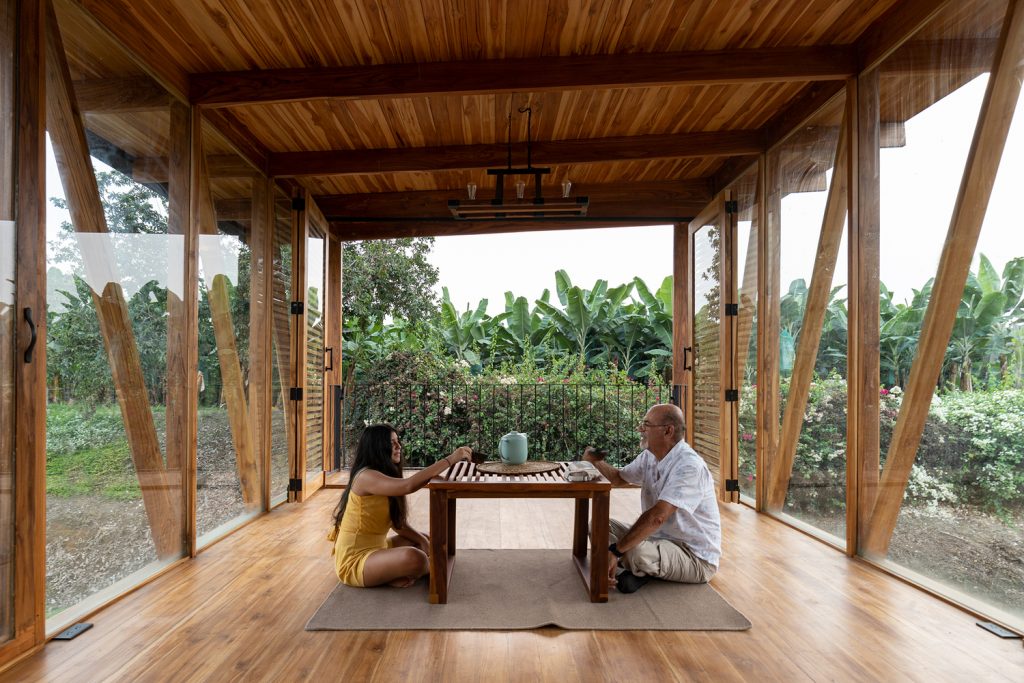 Local studio Natura Futura Arquitectura has developed a small tea room over a water channel in Los Ríos province, Ecuador. Designed for an elderly man who has the habit of drinking a cup of tea and coffee with his family every afternoon, the project seeks to maintain this tradition and create an flexible space that allows the family to be connected to Nature.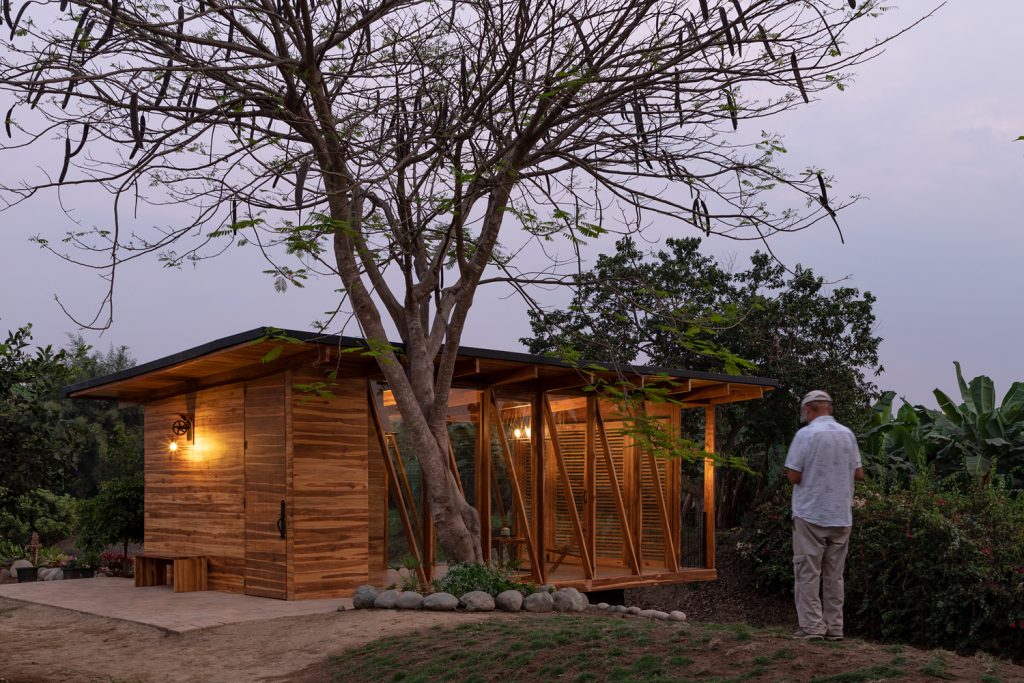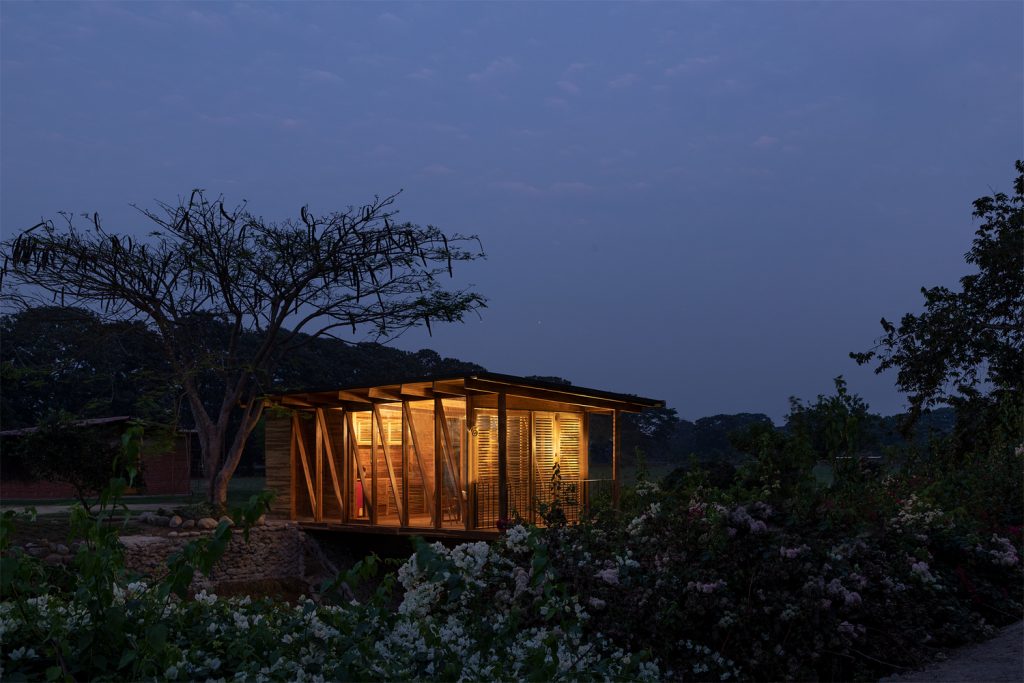 The 24sqm structure made from locally sourced wooden trusses rests on two pre-existing concrete structures that were to be used for the construction of a bridge. Sliding glass panels allow the place to be adapted to various daily uses, such as morning yoga, weekend visits, afternoon tea and Sunday football matches, as they open up to the environment, blurring the boundaries between indoors and outdoors.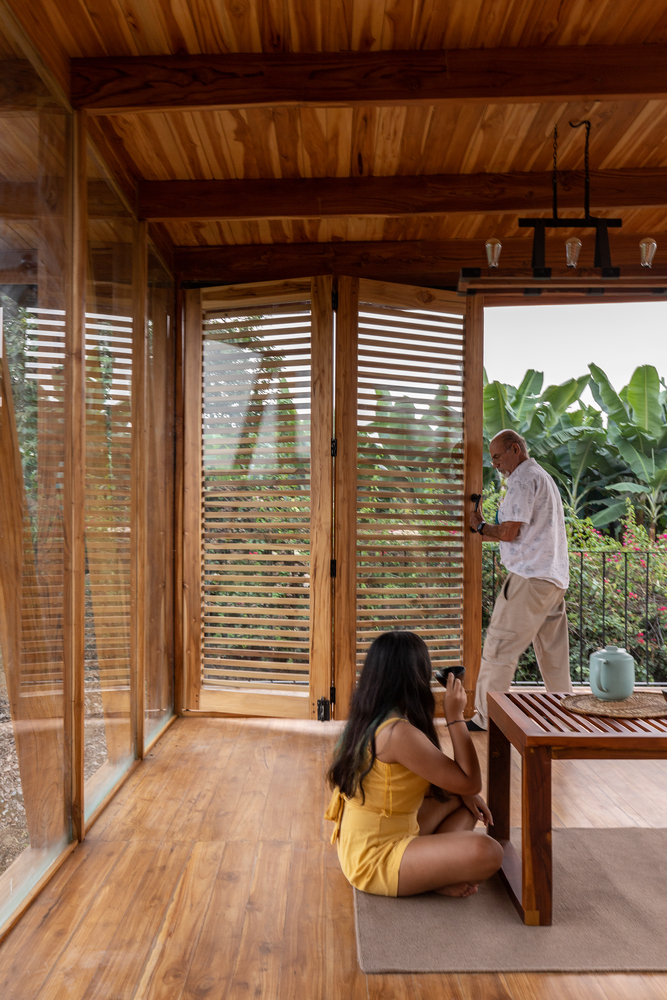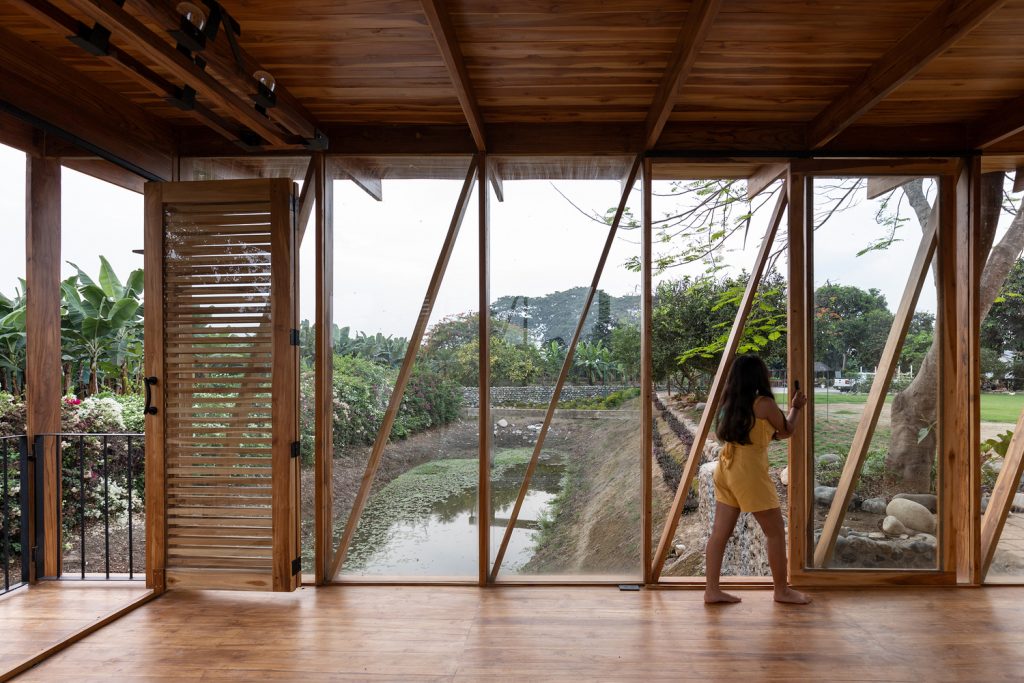 Folding lattice doors open onto the outdoor terrace where occupants can sit and have a direct connection with water. The flexible program is complemented by a multifunctional counter and a bathroom.
Teahouse Ø created by London architecture studio Pan Projects in collaboration with Danish designer Helene Christina Pedersen is also inspired by interaction with water. Informed by the way in which the surface of the water changes, reflecting the surrounding environment, it encompasses a floating pavilion that can move around Copenhagen's canals.
The pavilion is produced in a local workshop using a wooden structure and fibre-reinforced, plastic-covered Styrofoam cladding. Transparent acrylic tubes are suspended from its roof make up its walls creating an effect of running water.
As its name suggests (Ø means "island" in Danish), the pavilion is constantly moving around the canal and even has a hidden plate to attach a motor which is used when it sails around.y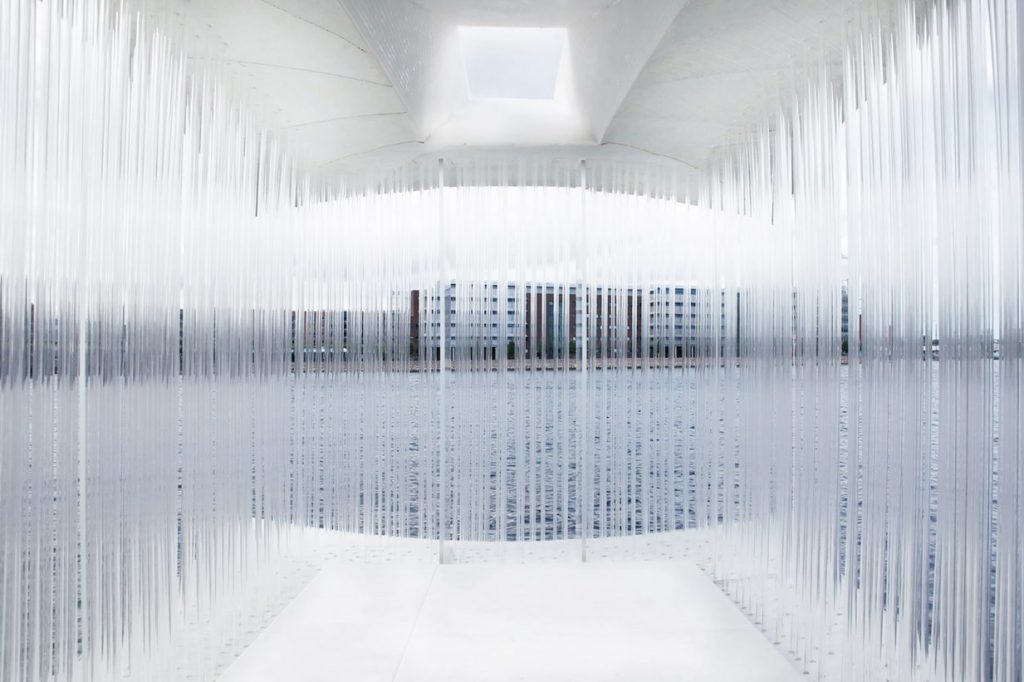 Conceived as a teahouse, the multi-functional structure can accommodate various functions encouraging citizens of the Danish capital to utilise the space on the canal as a new public space, while enjoying and discovering the beauty of water and nature inside the city. Before the pandemic, the pavilion was used as a DJ stage, a floating concert stage and a yoga venue and was set to be followed by a floating bar and restaurant.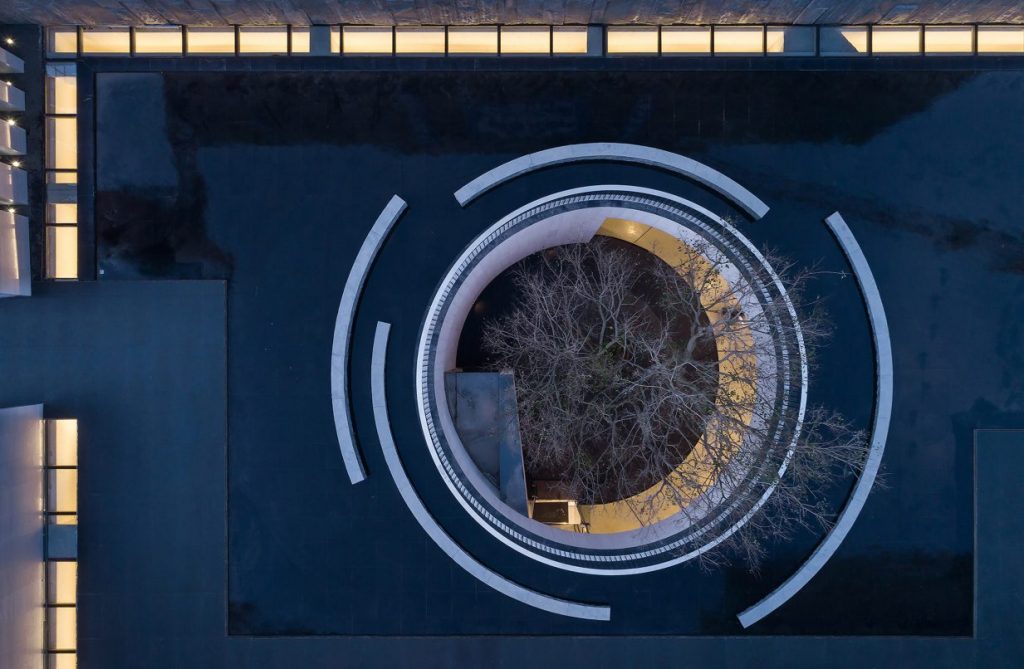 Water is an integral part of the project of the Tea Community Centre in Xiamen, China, designed by architecture studio Waterfrom Design with bases in Taipei and Shanghai. Alongside a simple pavilion for preparing and serving tea above ground, the multipurpose building is partially concealed beneath the surface of a pool of water.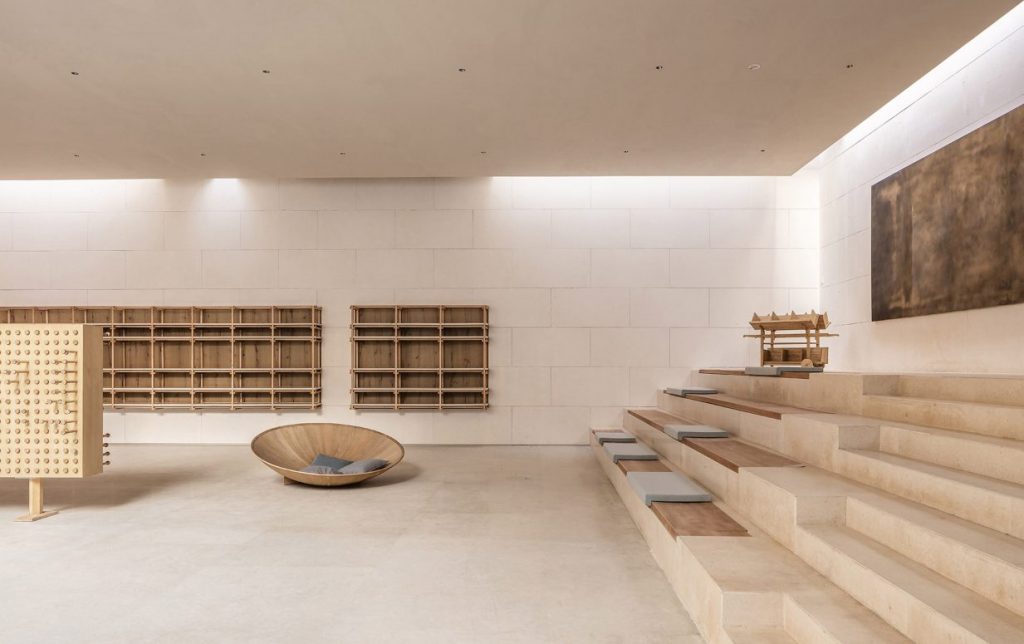 The submerged basement, described by the architects as "the cave below the lake," can be used for a variety of different activities. A serving counter and tables can be used for dining, while a lounge space surrounded by bookshelves is highlighted as a reading area. There's also a seating space intended for lectures, and an exhibition area. A shallow pool of water covers the roof of this space but it is possible to see down into it, as it is punctured by a large circular courtyard. A tree in the centre of the courtyard symbolizes of a traditional gathering space in a village.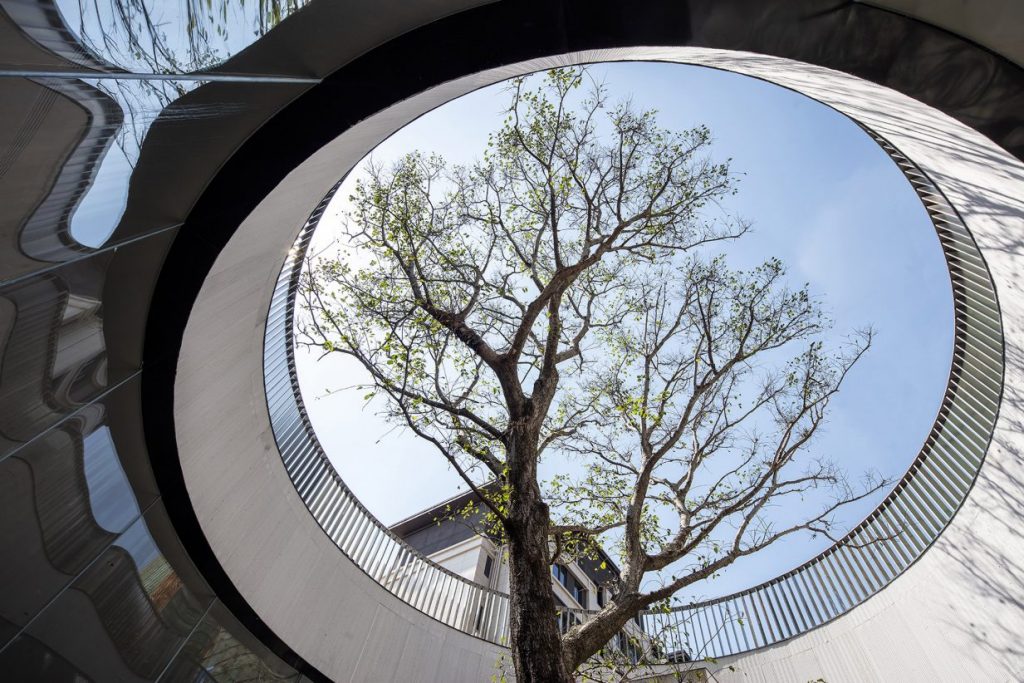 The tea pavilion provides the entrance space, with a reception desk on one side and an area for tea ceremonies on the other. It has glass walls, so visitors can enjoy a picturesque views of the plants and the water pool outside.
The material palette includes natural materials, such as copper, fir wood, natural stone, rattan, and handmade ceramics.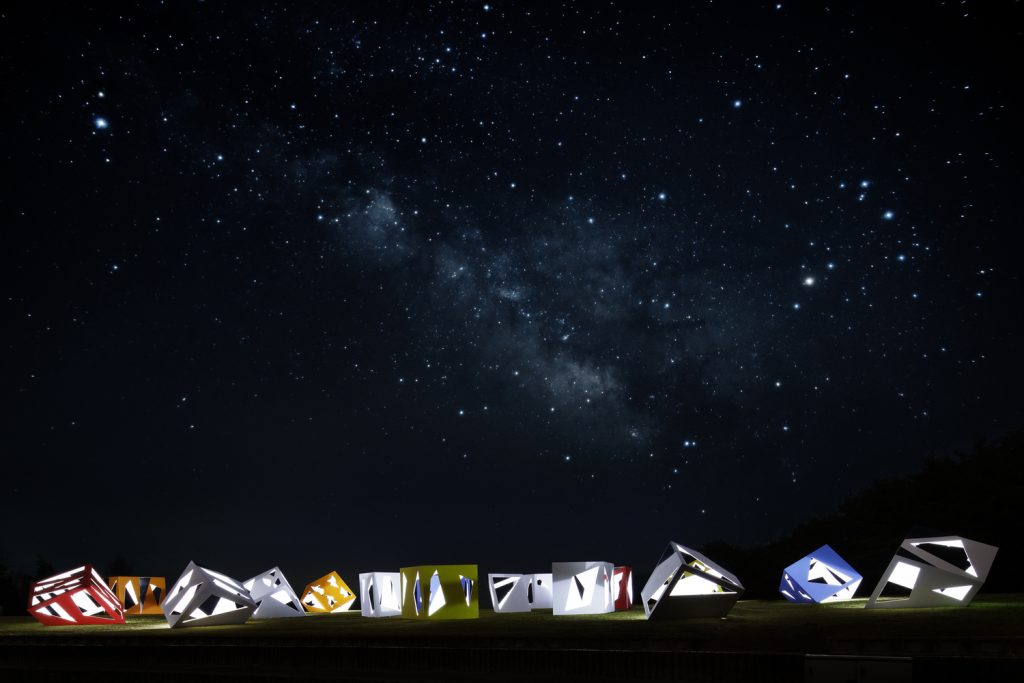 Irregularly shaped and colourful tearooms by Japan-based Moriyuki Ochiai Architects are scattered throughout the landscape in a rural areas known as Bisei, in the Okayama Prefecture, which is known as a perfect place to observe the stars. The town itself is also the place where green tea was introduced to Japan.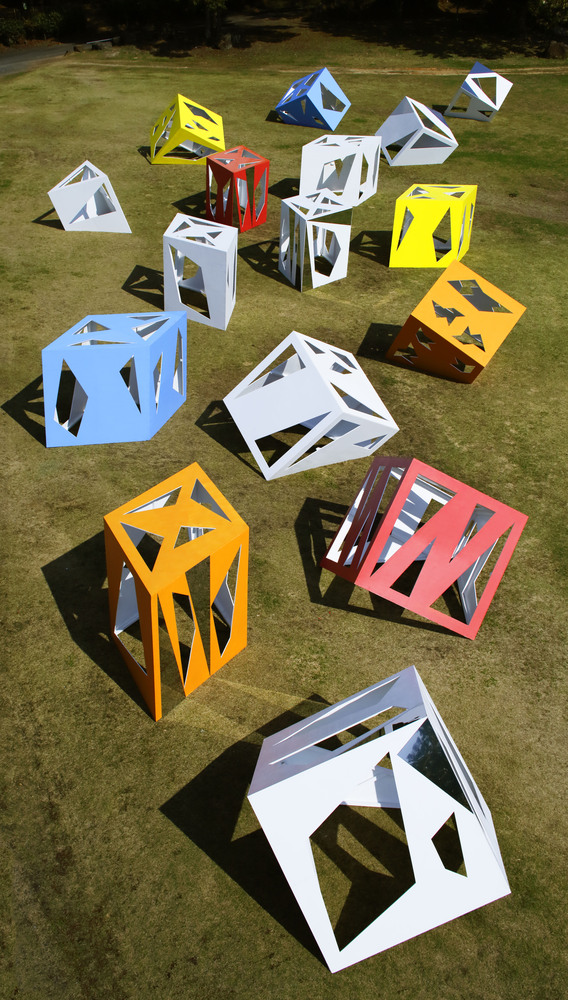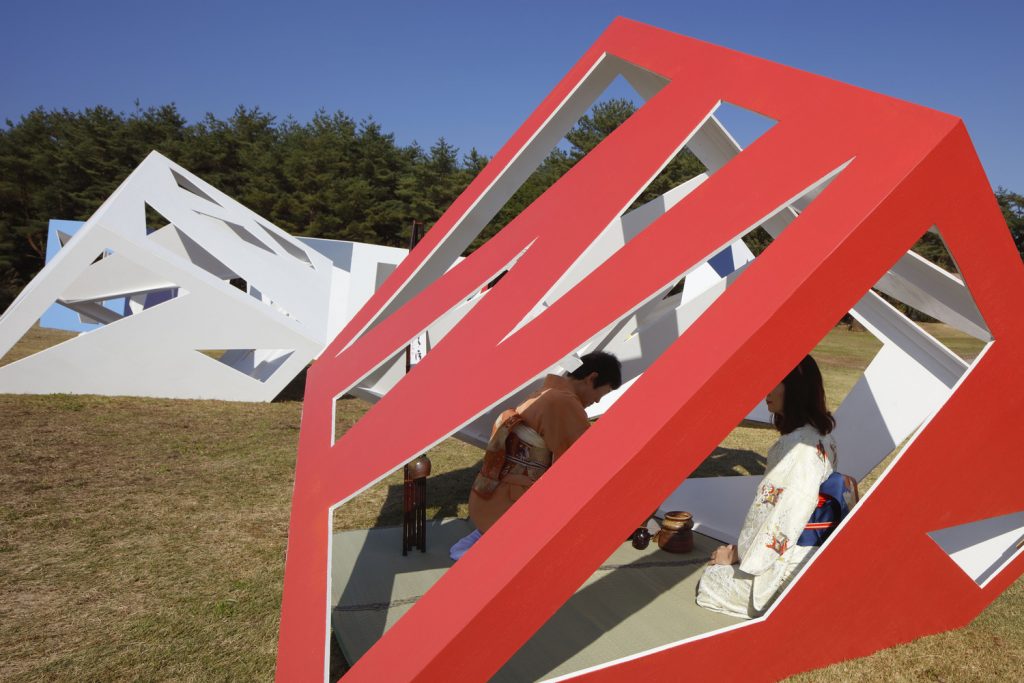 Painted in a variety of colors, each enclosure features openings framing the landscape so that users can see the geometric forms across the site. The tea rooms can be experienced both as a cluster of volumes,  which together create a new landscape, or as individual pavilions that can be occupied one at a time.