Playgrounds offer many benefits that go far beyond giving kids something fun to do. Children are constantly learning through play—making new friends, sharing, taking turns and interacting with other children. Providing children with an opportunity to practice their physical, cognitive and social skills, playgrounds can even grow to be the heart of community.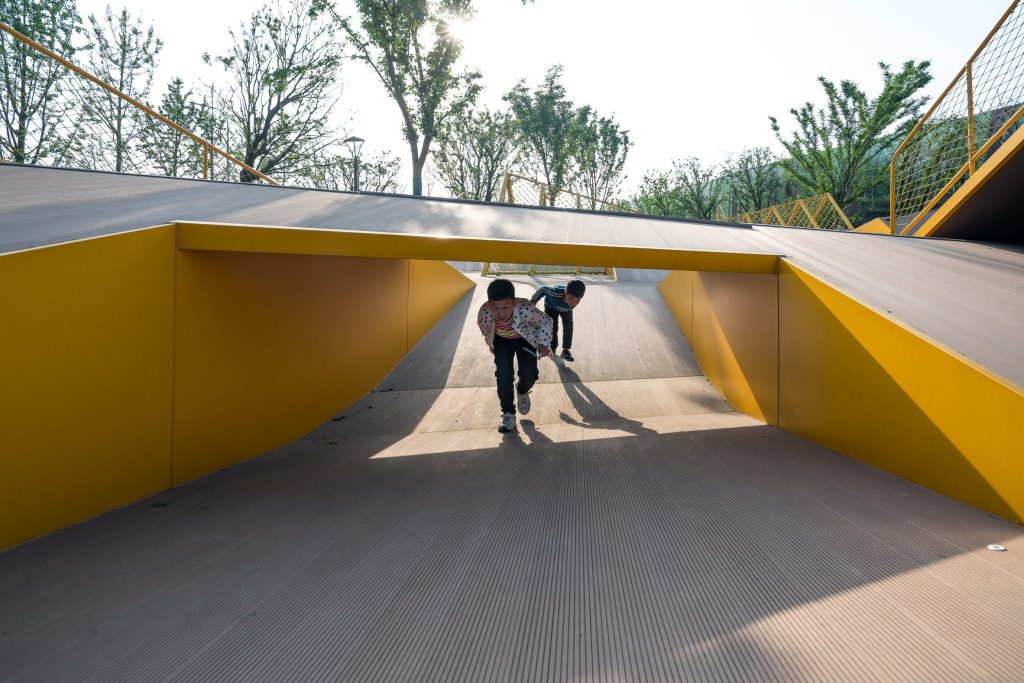 Los Angeles based landscape architecture studio Atelier Scale has created The Folds, a small community playground in Changzhou, China, as a place for children to explore in a more tactile and instinctive way that usual, not bound by function or program.
The initial idea for the folding landform was informed by the movement of water. As the studio was only given one month to construct the playground, they chose a design strategy of creating a repetitive pattern of folding gesture. This made material fabrication and construction much more predictable, controllable and cheaper. However, the modular approach didn't restrict the creativity of the design, with interesting variations created based on the folding modules.
To encourage children to perceive the space with their hands and feet and play with the folding landform, the studio minimised the use of playground equipment. This allows children to explore the space with their own sense and motivation. The same neutral shape can be observed as a cave, a valley, a slide, and a house, by different children.
The playground features plenty of hiding spaces and nooks as well as a separate undulating seating area with a decorative fountain.
The choice of materials includes plastic timber, which looks almost like wood but is more durable, for the folding decks and metal painted in a bright yellow hue for safety fences and edges.
Children's Playspace by New York studio Architensions is an indoor playground designed for a wellness professional in Brooklyn. Aiming to merge aesthetics and function in a way that relates to children's imagination and cognitive development, the studio has developed several plywood structures in different colours and shapes modeled on natural landscape shapes.
All structures offer different sensory experiences. The Treehouse is composed of a stepped bottom and gridded top wrapped in mesh, while the Igloo has a circular white base and a suspended triangular top covered with semi-translucent washi paper.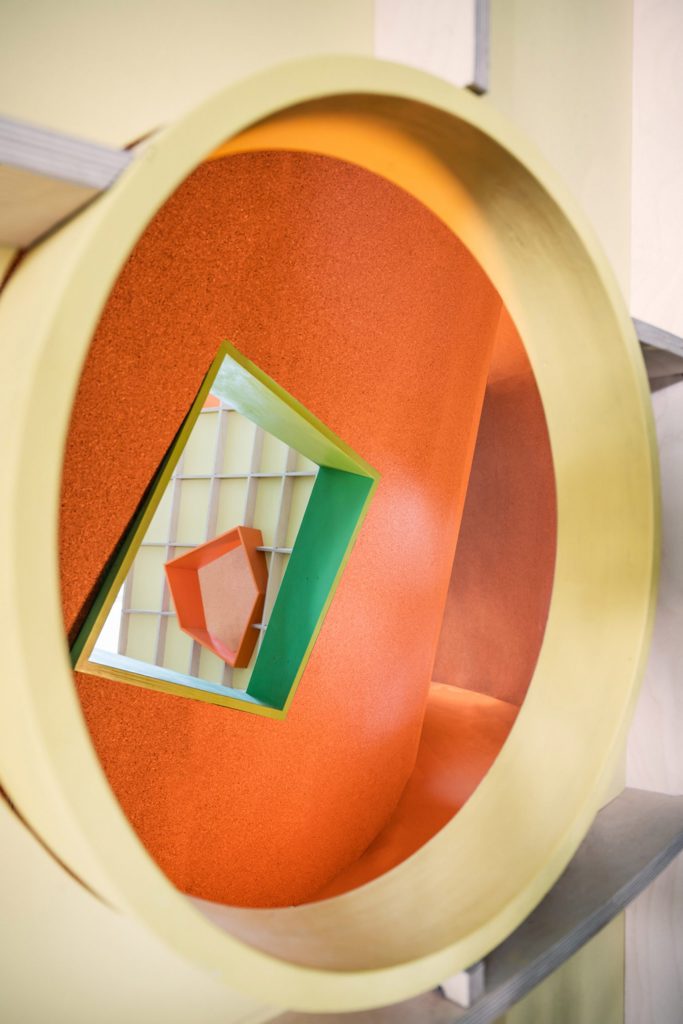 The Tunnel meanwhile has a slanted, gridded exterior and arched opening carved through it that leads up steps and down a ramp. Geometric windows with colourful frames protrude from the exterior to offer views out and inside to the brightly coloured orange walls.
Above the structures there are three cloud-like structures made from slats of foam, some of the walls are draped in silky fabric to resemble water, while a soft tan-coloured rubber floor imitates a forest floor covered in pine needles. According to the team, the environment allows children to assume different body postures, to create boundaries, and to manipulate their surroundings.
International CAUKIN studio that sees its mission in creating impact through architecture collaborates with local and international participants to design and build playgrounds in countries of West Africa and Indonesia.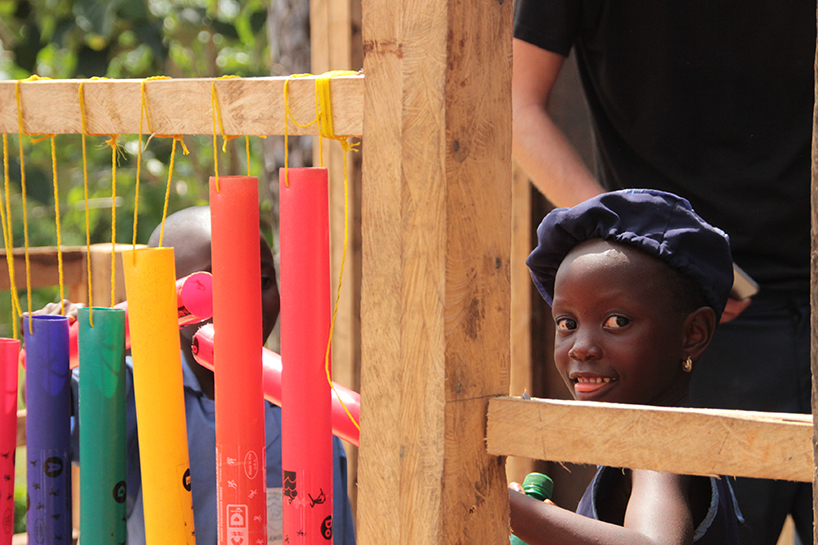 Their Slinky playground is located in Sierra Leone's village of Masama offering opportunities for nearly four hundred students of the local school to explore, challenge, and enjoy themselves in a safe environment. It consists of a series of pre-fabricated square frames crafted from two layers of local timber, laminated together into double strength sections. Joined together the wireframes resemble a snaking 'slinky' that weaves between the existing palm trees, through the school fields, and up the steep, sloping plot, offering plenty of integrated climbing holds for children to explore.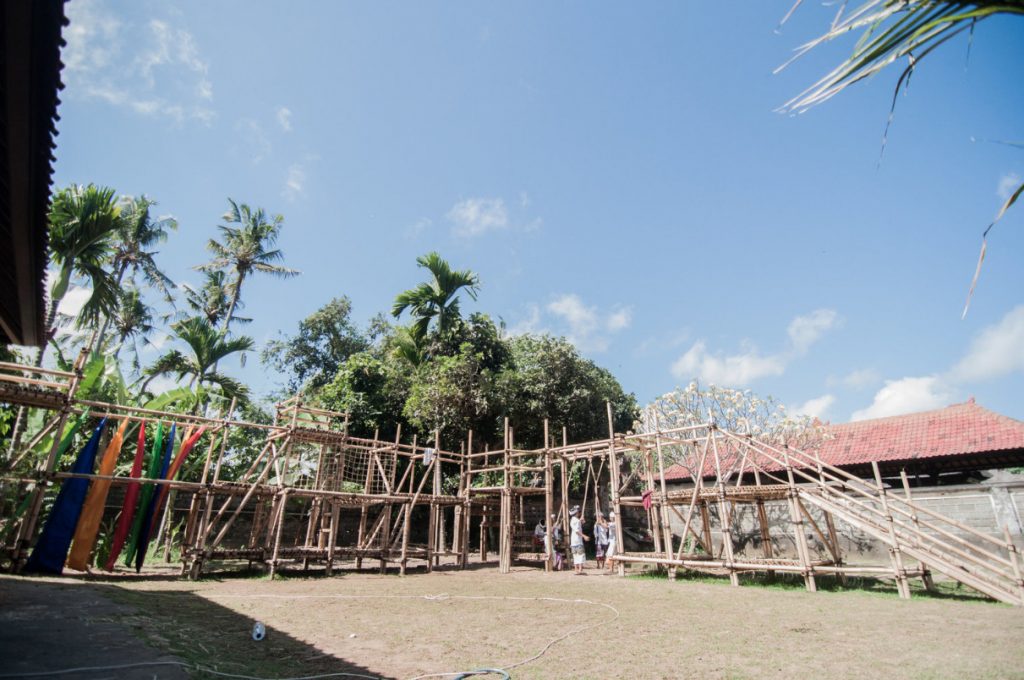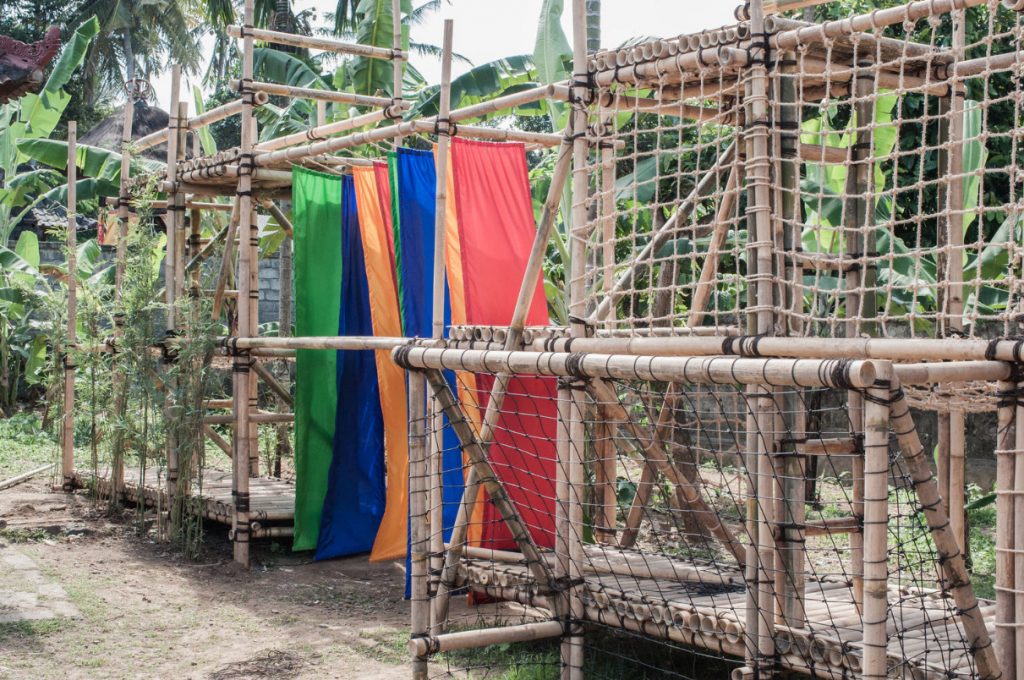 The L-shaped Playdium playground in Bali surrounds the local school's football pitch and includes a spiral staircase, rope swings, hammocks, football net and a 'relaxing' area, should the children desire more quiet time. All structures are made entirely from bamboo, a local and highly renewable material. Each beam and column are secured in place with hand made dowels, trimmed from split pieces of bamboo, and are joined together using palm string to give it an added element of durability.