Did you know that long before trees overtook the land, earth was covered by giant mushrooms? Today, mycelium, the thread-structure that mushrooms and other fungi use to grow, much like the roots of a tree, makes a great base for self-growing, fibrous, natural composite materials with controlled physical properties that can be produced in large quantities and over wide areas, as a great contribution to circular economy.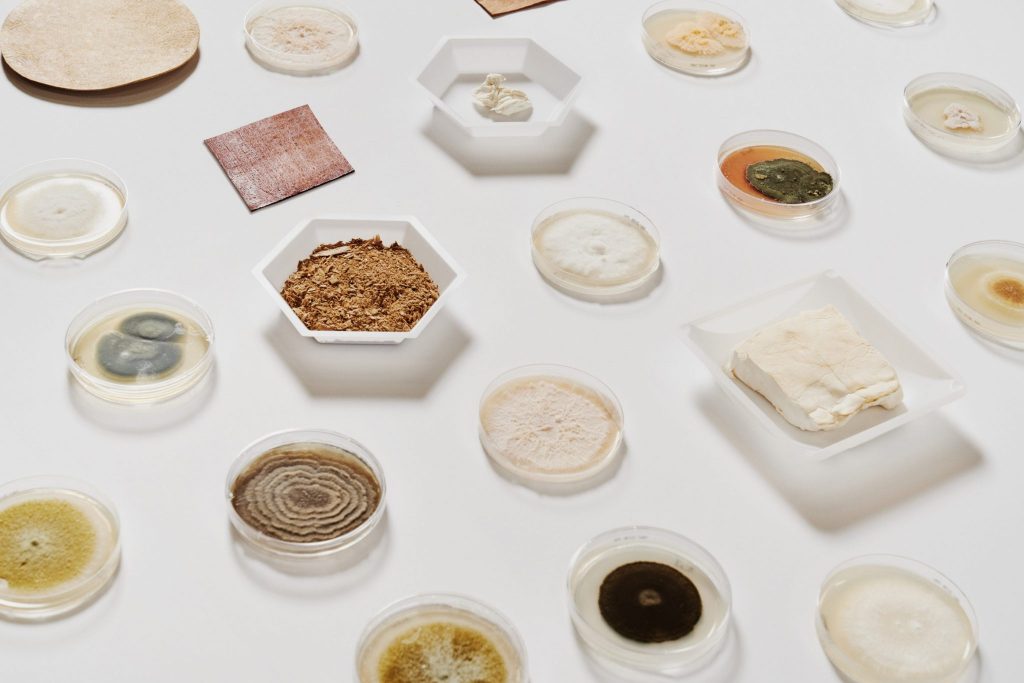 Business consortium established by Adidas, Stella McCartney, Lululemon and Gucci's parent company Kering is going to invest in the production of a material called Mylo, which is grown from mycelium. Developed by US biotechnology company Bolt Threads, the novel biomaterial replicates the look and feel of animal leather. The plan is to create a supply chain for the vegan leather, which would allow it to be manufactured at a commercially viable scale, in order to make it affordable even for smaller companies.
The consortium is made up of a strategic mix of luxury and sportswear brands, which showcases that this high-quality leather alternative not only comes as a competitive price but also can live up to the high aesthetic and performance standards that are inherent in these industries.
In the manufacturing process of Mylo, mycelium cells are fed with sawdust and other organic material and placed into a humidity- and temperature-controlled environment, where they grow into a foamy layer. This is then turned into a sheet of material that resembles cork but is much thinner and more flexible, which is then tanned and dyed by the same tanneries that work with animal leathers.
The crucial difference is that Mylo, as its creators claim, is free of highly hazardous substances such as DMF (dimethylformamide) and chromium, some of the most noxious chemicals normally used in production of animal and synthetic leather. Unlike synthetic leather alternatives, Mylo also does not use any petroleum-based plastics, which emit carbon as they are produced and will take hundreds of years to decompose.
The first products manufactured of Mylo are expected to hit shelves in 2021. In the meantime, smaller companies launch their mycelium products. Indonesia-based biotech startup Mycotech has developed another mycelium-based leather alternative named Mylea. They collaborated with Pala Nusantara, one of the most prominent handmade-wooden watchmakers in Indonesia, to create Pala x Mylea™, the world's first mushroom watch.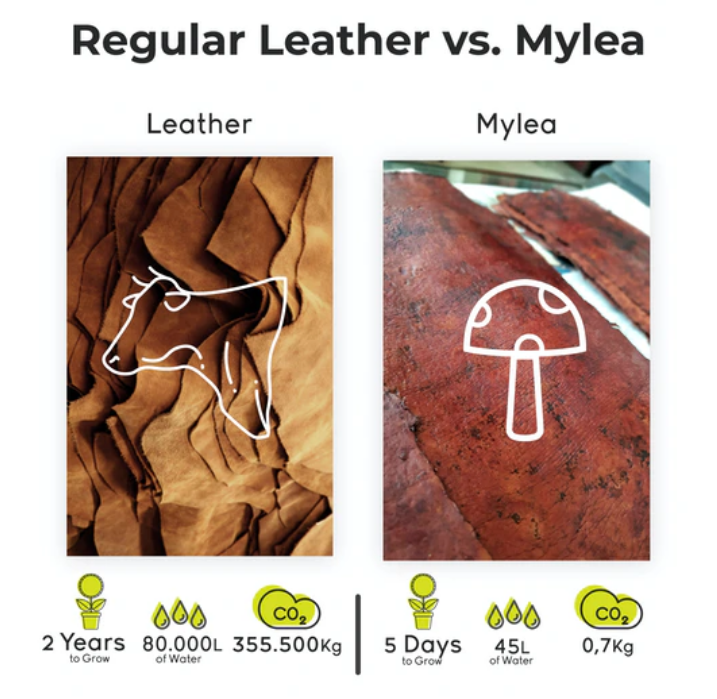 The idea of this vegan leather is inspired by tempeh, the traditional Indonesian dish, which is made by combining white soybeans with fungus named Rhizopus oligosporus. The fungus's mycelium binds the soybeans together and makes them solid. Aware that Indonesia produces more than 120 million tons of agricultural waste, with less than 10% being recycled, Mycotech has decided to use it as growth medium for mycelium, instead of soybeans.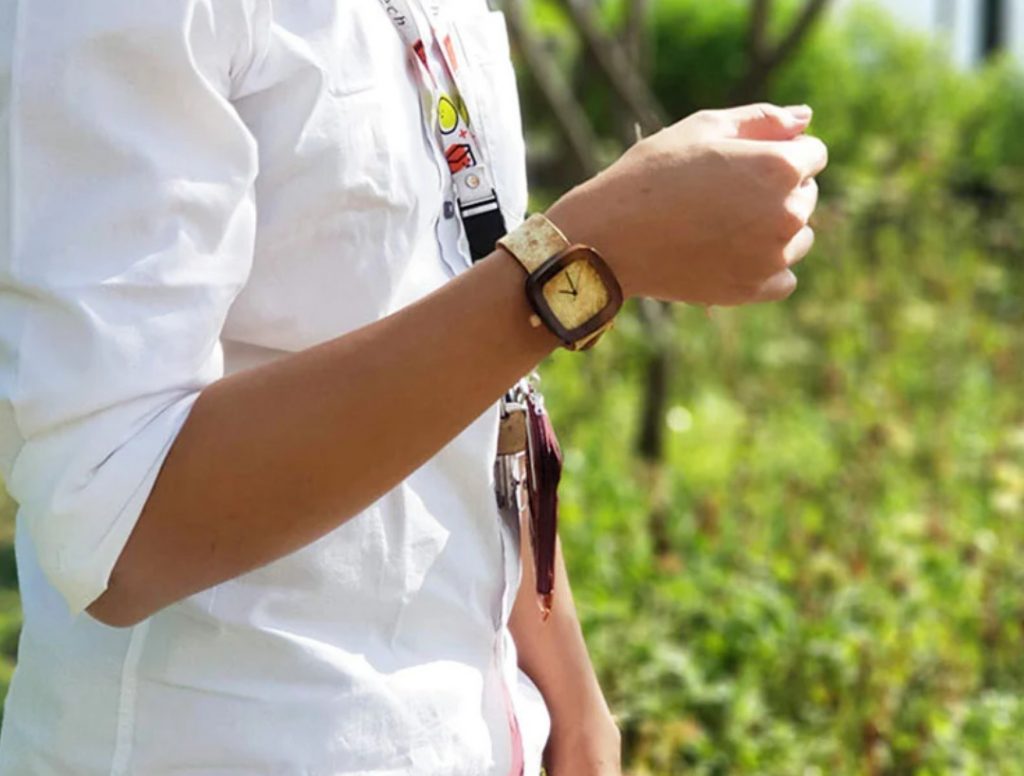 Mycelia uses biodegradable materials throughout the entire process, which gives positive social and environmental impact by processing more agricultural waste and collaborating with local farmers.
Apart from the Pala x Mylea™ watch, Mylea applications include wallets and covers for traveller's journals. Currently, Mycotech has a campaign launched at Kickstarter to increase their production and fulfil a larger market demand.
Leather alternative is not the only application of mushroom mycelium. Dutch designers Pascal Leboucq,  Lucas De Man and Erik Klarenbeek, who is known for his work with this material, have joined forces to design the Growing Pavilion at Dutch Design Week 2019, made entirely from bio-based materials. The project aimed to make a statement, so that more people could learn about the impressive properties of bio-based materials, most of which often stays at a sample stage.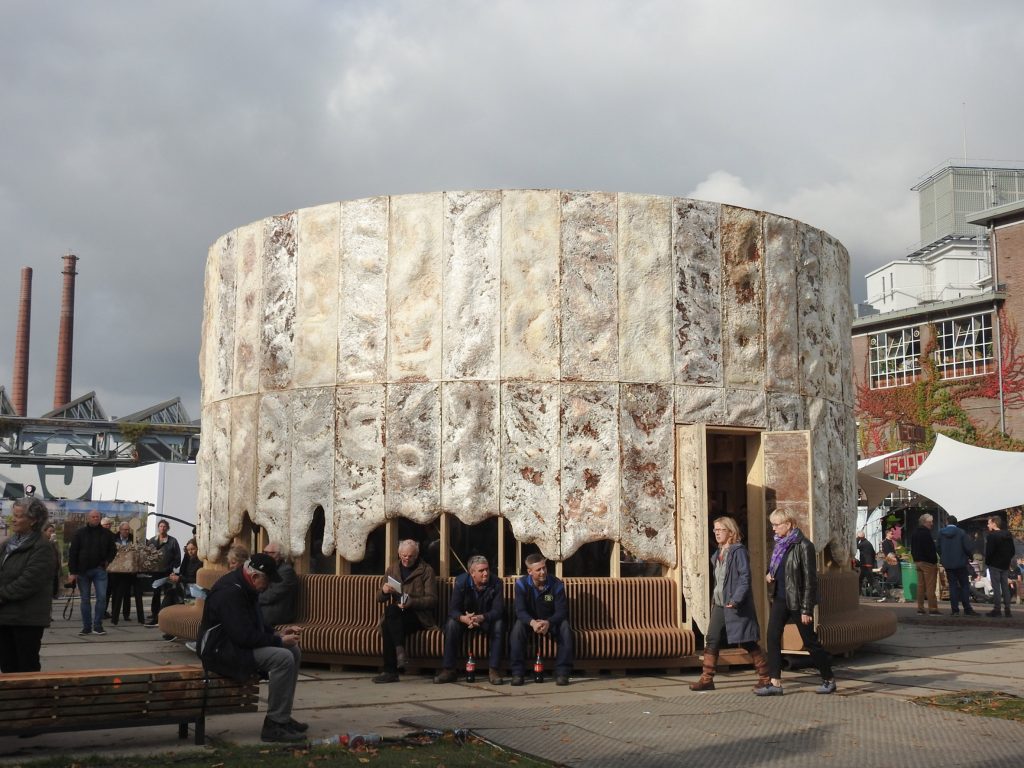 The pavilion has a unique, organic texture and colour. The outer panels were grown from mushrooms, with the mycelium in the roots providing strength, and attached onto a wooden frame. The mycelium panels possess a number of properties that make them a unique building material. They are very light and well-insulated in terms of temperature and sound, also they can be repaired or reused elsewhere once the structure is taken down. To make the panels waterproof, the team covered them with a coating, which is a bio-based product originally developed by the Inca people in Mexico.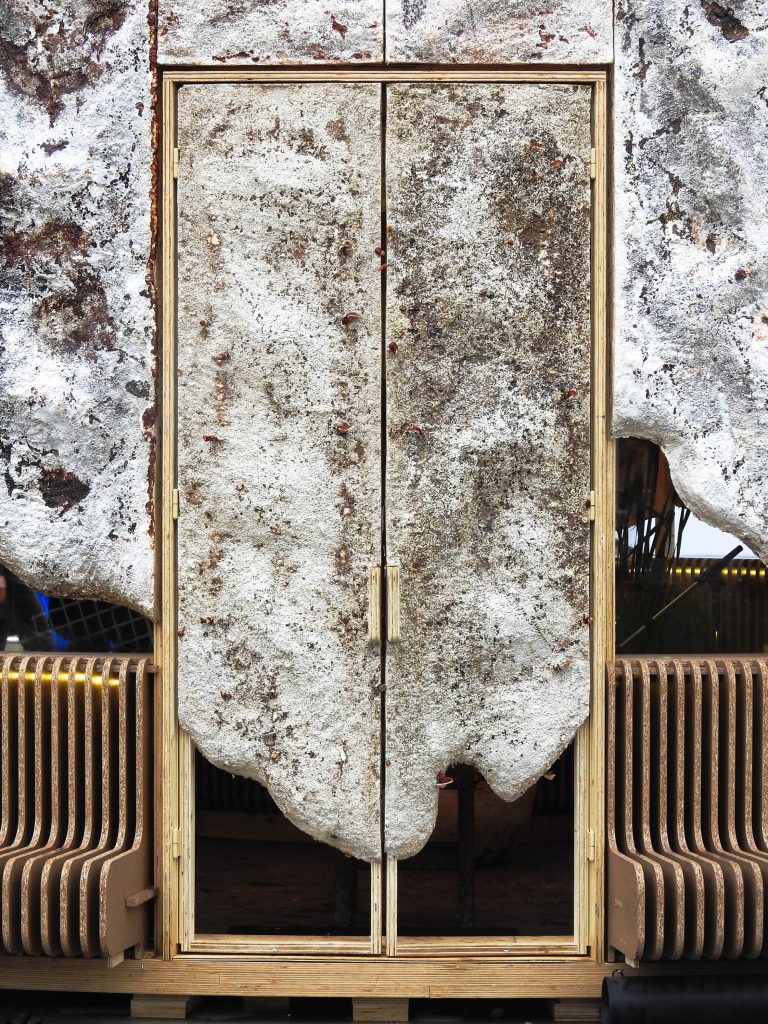 Although the idea of the Growing Pavilion started from the mushrooms, it became bigger and included floors made from cattail (a type of reed) and benches made from agricultural waste.
The team are currently working towards panels and an eventual pavilion that will last outdoors for a few years, or even longer.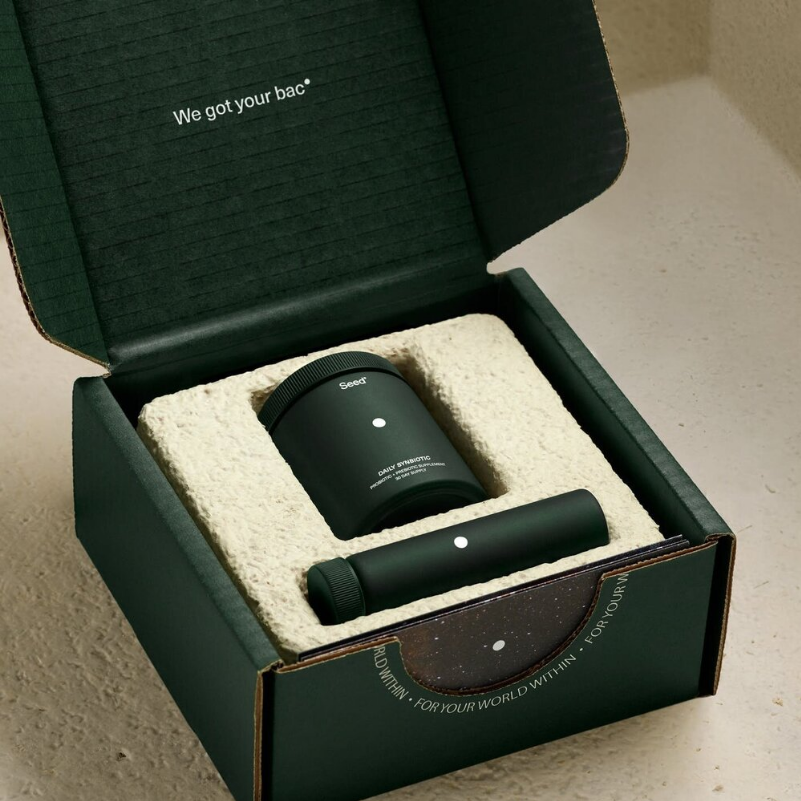 New York based company Ecovative is known for making compostable packaging from mycelium for major brands like Dell and Ikea. Their high-performing Mushroom® Packaging is cost competitive, thermally insulating, and water resistant. Due to the fact that it is simply made with 2 ingredients – hemp hurds and mycelium – the material breaks down in just 30 days.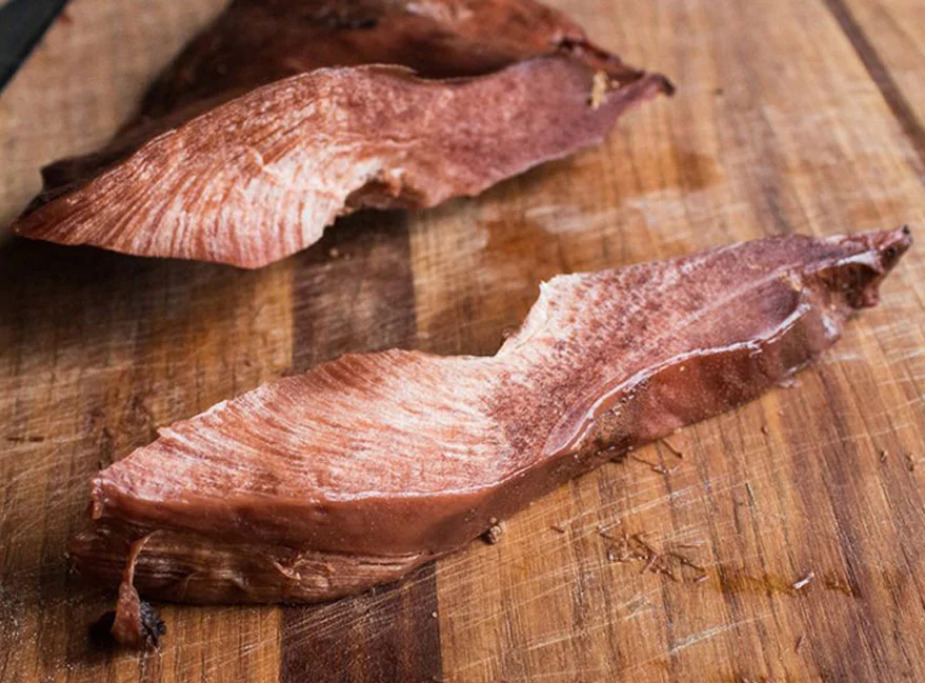 Today, Ecovative is working with a new company, called Atlast Food co., launched by Bayer, to use mycelium to improve the structures of plant-based meats, including steaks and chicken. All plant-based meats sold today are in ground form, as burgers, chicken fingers or other "reconstituted" products. However, in the existing animal protein market, whole cuts are the majority sold. Plant-based meats have been missing a key ingredient until now: structure. Mycelium is a self-assembling 3D scaffolding with tunable porosity and controllable fiber orientation, which makes it a perfect component for plant-based meat.