Modern cities are growing at a fast rate, and in the busy lifestyles urban dwellers grow to be more and more disconnected from one another. Aiming to help alleviate the social isolation that people are prone to in cities, architects create concepts that place themselves between co-housing and a private way of living to increase interaction between citizens – for a healthier, happier lifestyle.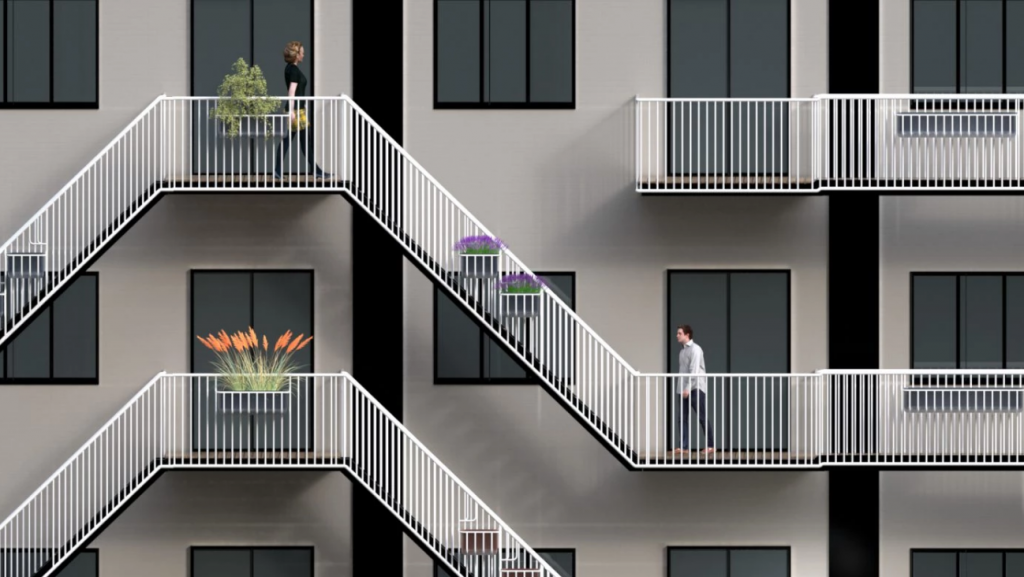 Eindhoven-based design Tienvierstudio, founded by Milou Bergs and Edwin van Capelleveen, has developed a modular balcony system designed to encourage good relations between neighbours. Aptly named Social Balconies, the concept aims to create a semi-public space, which allows neighbors to connect with one another: dine, engage in communal gardening, or simply meet for a chat. As a result, balconies, which are now often used for storage or hanging laundry could gain a whole new practical role – combatting social isolation in urban areas.
This toolkit of bridges and stairs is designed to connect pre-existing balconies in almost any type of building, it can also be customized to fit a local context. The basic prototype of this project is made out of steel, wood and concrete but, according to the team, the idea can be rendered in different materials. The system also comes with planters that can be attached to the railings to make the building come alive, and to spark interaction between residents.
By connecting the apartments, the designer seeks to create a shared space for the community and minimize social boundaries between neighbours, thereby tackling social isolation and loneliness. The added space is intended to create a sense of belonging in a small community.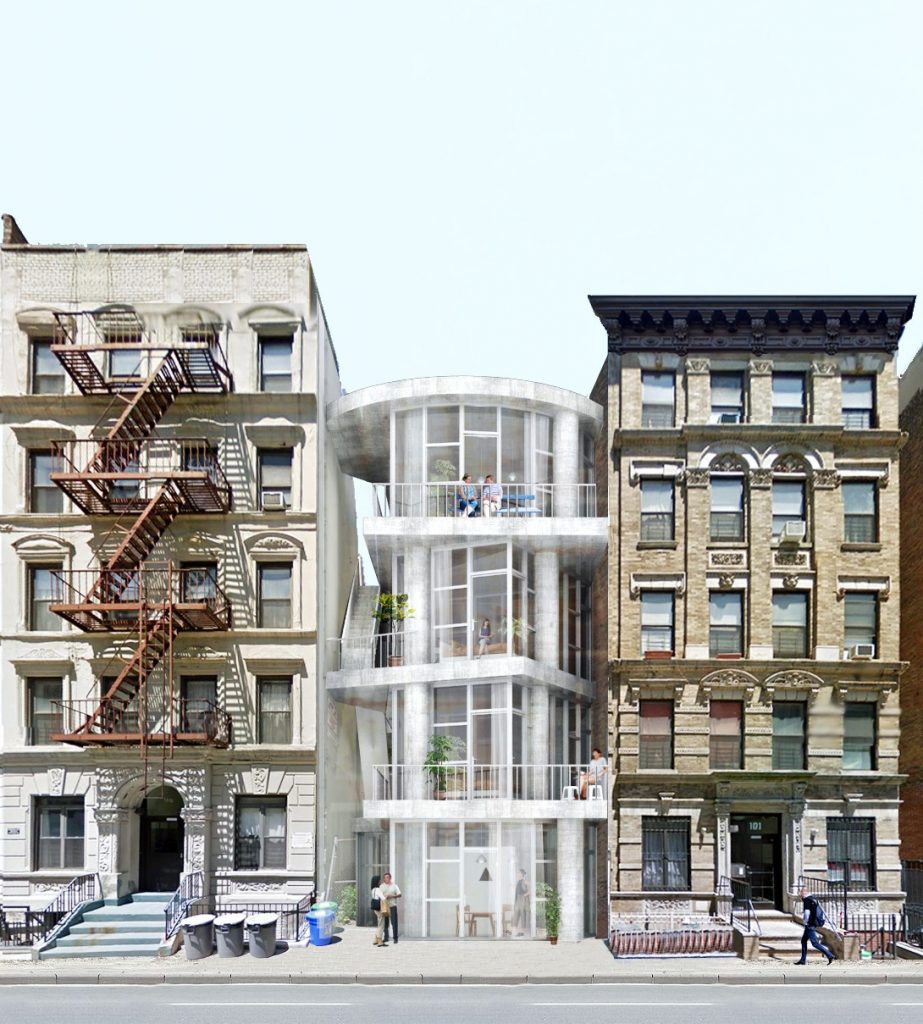 Chicago-based architecture studio Kwong Von Glinow has designed Table Top Apartments, a conceptual housing solution, which as its name suggests is based on the form of tables stacked on top of each other. In this concept, the uneven spaces between apartment units created by the irregular shapes of the connecting slabs form areas between the apartments. This solution brings in light and air between the slabs, and down into the units within the building, providing an opportunity for inhabitants to socialize with their neighbours in the resulting shared space.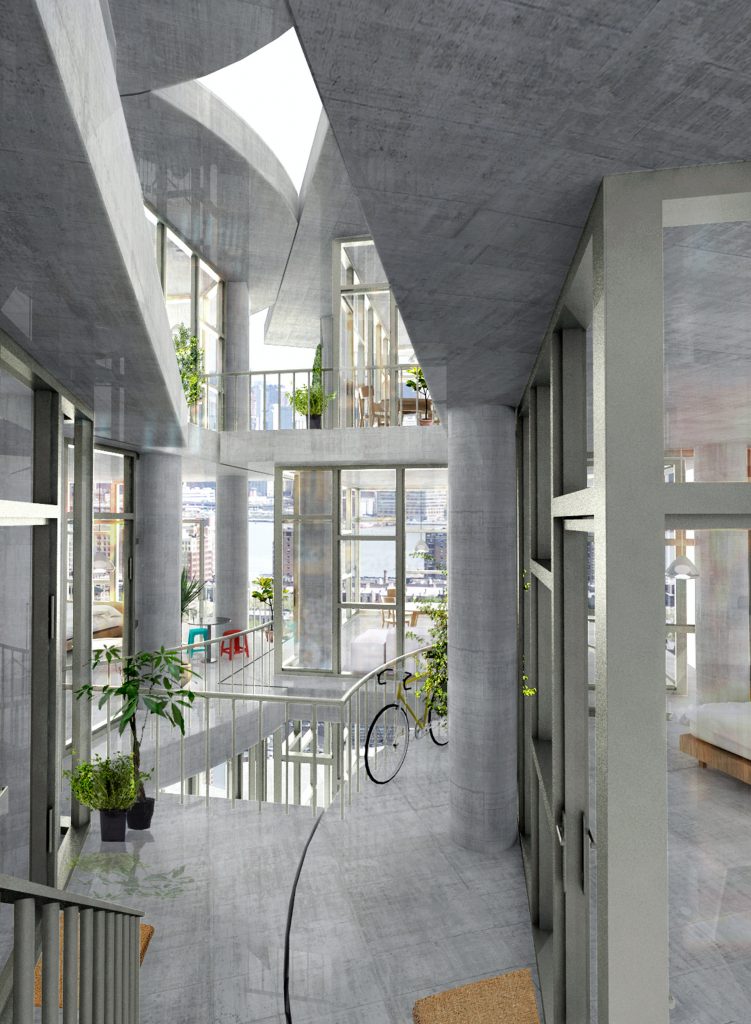 The scheme is devised for constructing residential buildings on footprints of minimum dimensions, such as the typical size of a lot in New York which is as small as eight by 30 metres. Each apartment unit is based around a uniform set of four supporting posts. On top of these sits the slab element, which comes in one of three shapes that can be combined in different ways to make 25 different structures.
Intended to tackle loneliness in cities, the project seeks to provide high-density housing that offers its inhabitants a good quality of life. Architects Alison Von Glinow and Lap Chi Kwong claim that the concept can be scaled up to form the so-called "superblocks", with the shared spaces giving breathability to the building and enabling the residents to feel part of a community.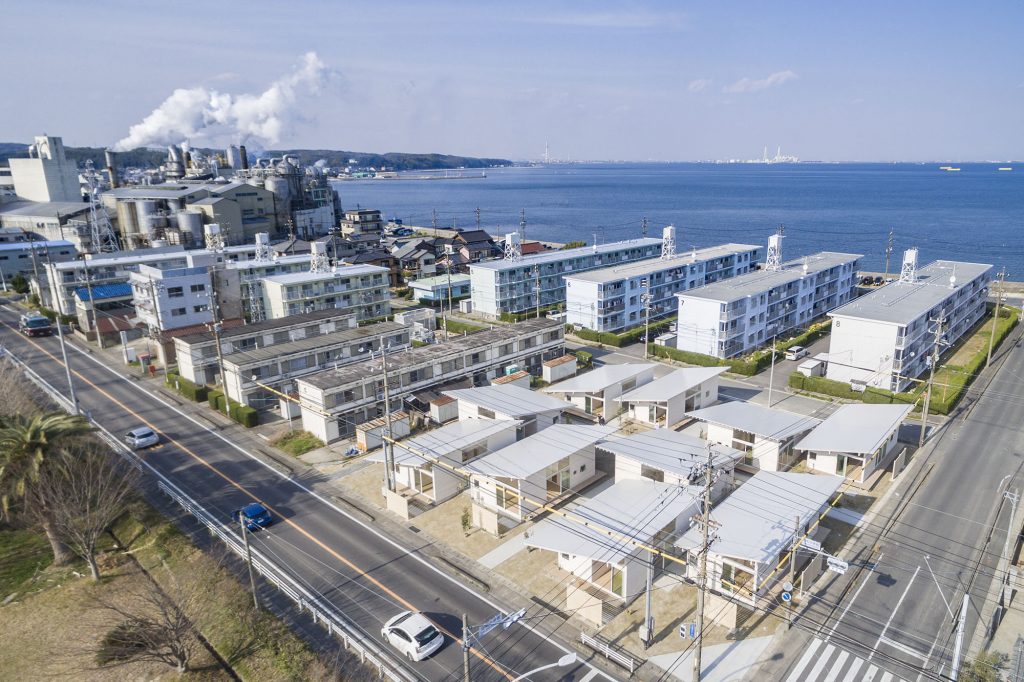 In their design of the Kowa housing complex, Japanese architecture practice Studio Velocity has chosen to replace the conventional apartment building with an open, friendly complex of spaces for multi-generational families. While the number of apartments was reduced in the new plan, an ambiguous boundary between public and private spaces promotes engagement between neighbors.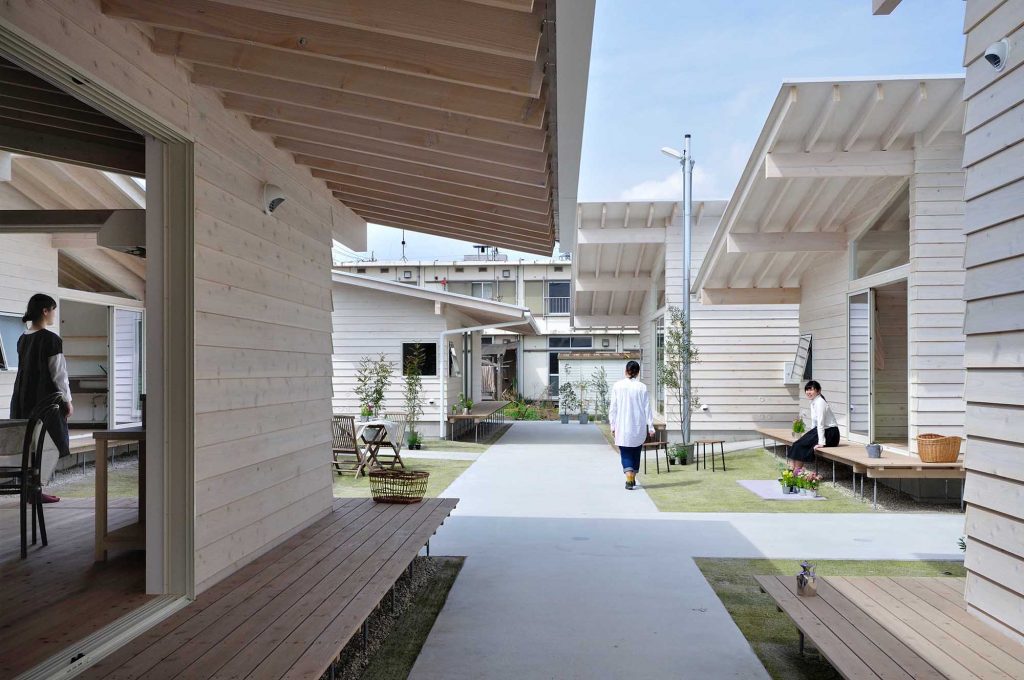 The result is a hybrid of the detached housing and apartment typologies. The complex comprises ten buildings surrounded by a wooden deck that welcomes the neighbors and connects the public alley and the living room. By opening the living room in all four directions onto the deck, each interior receives the interstitial gathering space, encouraging interactions between residents. This overflowing internal life is limited by two diagonal cores – the bedroom and bathroom – which leaves the living room as a connection.
The Kowa public housing apartments were the recipient of the Japan Good Design award 2018