The lockdown caused by the coronavirus outbreak showed to many of us how crucial social gatherings outdoors are to us. Now, that outdoor spaces around the world are beginning to open, it turns out that it might be tricky to remember to accurately interpret or even keep a recommended two metres distance. As a response to this problem shared by many, designers and architects develop creative solutions which would enable different forms of collective expression and the spaces they take place in, to continue to serve their function in our societies.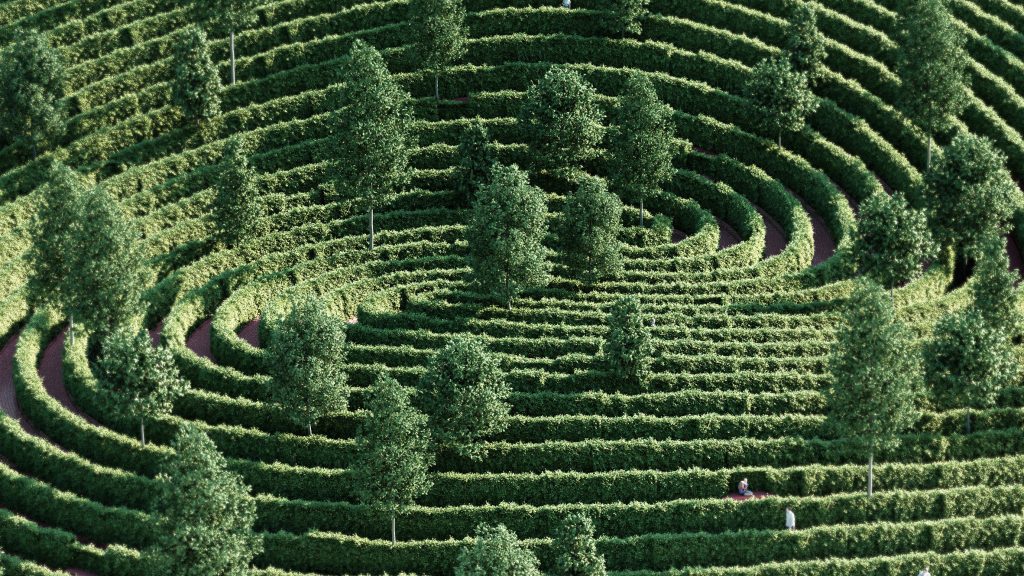 Austria-based studio Precht has imagined what a park would look like if the rules of social distancing are a part of a design guideline. Named the Parc de la Distance and proposed for a vacant land plot in Vienna, a park would future numerous red-granite gravel routes arranged in a maze-like pattern that can be used simultaneously. The paths would be divided by 90-centimetre-wide hedges to maintain a safe physical distance between its visitors.
Each route would be about 600 metres long and take around 20 minutes to walk to the centrally located fountains and back. Gates on the entrances to the routes would indicate if a path is occupied.
The design is inspired by French baroque gardens with their strong order of plants organized in geometrical shapes, as well as Japanese Zen-gardens with their circular movements.
Although Precht designed the park in response to the current coronavirus outbreak, the architects believe that a social-distance park would be a beneficial environment for cities after the pandemic as people will appreciate outdoor spaces and seek solitude more than before.
The solution used by New York's Domino Park is much simpler but it also helps the public to stay safely apart during the pandemic in the existing parks and outdoor areas. The park's staff came up with the design that features circles applied with white chalk paint onto a plot of AstroTurf, or artificial grass.
The circles mark out areas for groups or individuals to sit inside. There are approximately 30 circles arranged symmetrically in rows, and each is 2.4-metres in diameter. The concept is not only effective, it is also cheap and quick to implement.
Creative director and producer David Michon and Nicholas Bell, co-founder of the agency Ask Us For Ideas, believe soultions that facilitate a safe return to public spaces can go beyond caution tape or haphazard spray paint. They have launched a Where We Stand project that tasked 15 studios creative agencies, designers and design partnerships from around the world to respond to a new reality in cities: the need for physical distancing. Each team has chosen a favourite public space, and proposed new visual systems that create a welcoming, safe – and at times provocative – environment for the public to gather. The responses were as diverse as the public spaces they aimed to help.
East London-based Accept & Proceed's proposal focuses on reshaping amateur football pitches to allow for matches to restart. The design features colourful marking on the pitch that indicates the area that each player can occupy so they do not come in contact with each other during the game.
Brand consultancy dn&co came up with Augmented Assembly, an AR app, which helps address safe public gathering in the British capital's Parliament Square. The app is driven by the Voronoi diagram that produces ever-shifting patterns, which can be projected on the ground through AR. In this way, people can find their spot to take part in an activity, from performances to protesting. Every space is different, which allows for organic expansion rather than relying on rigid grids that are often less efficient ways of filling space.
Local agency Foreign Policy proposed mounting colourful distantly-spaced poles with speaker-receivers in the Singapore Botanic Gardens as a part of a public installation aimed to reframe "social distancing" to "physical distancing." The solution let people who are hanging out at the garden to interact with one another.
In case, there is no park designed following the rules of social distancing in your neighbourhood, check out the Here Comes the Sun blanket by London-based designer Paul Cocksedge. Developed to allow people to socialize safely and confidently picnicking or sunbathing with friends in the park, the open-source design comprises a blanket shaped as an outline of a circle with four separate circular pieces of fabric placed at the recommended two metres distance apart from one another.
Cocksedge settled on using a circular design for the blanket as it is a traditional form in which people naturally gather together. The blanket's sun-like design allows it to be wrapped around a tree if the users want some shade. Described by Cocksedge as a "democratic piece of design", the blanket design is available to download for free and can be made by anyone.