A coffee table can be one of the building blocks of great interior design. Nowadays, product designers go farther than just creating a visually expressive furniture item. Drawing inspiration from the most inexhaustible source – Nature – they develop bespoke objects mimicking  organic  one of a kind shapes and using natural materials not expected to be found in your living room.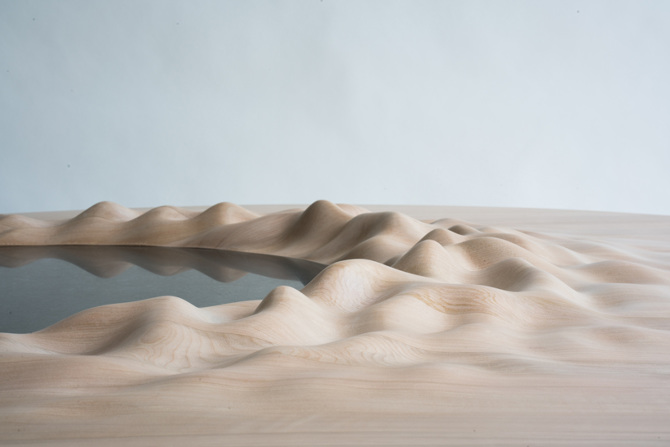 London-based company Hackney Botanical  that provides 'plantscaping' – meaning indoor landscaping for those who do not own homes and outdoor spaces  – has created a collection of seven terrarium coffee tables that double up as 'indoor gardens'.
Perched on hairpin legs is either a reclaimed and lovingly restored antique sash window frame or a minimalist floating glass floating above the plants to provide natural airflow and allowing the flora to be seen from every angle. Tabletops can be taken off for watering.
According to the founder Rose Worrell, the tables are 'practically kill-proof' because both plants and soil are carefully chosen to require minimum maintenance and the Victorian window frames were constructed at a time when durability and longevity was inherent in design.
Each one includes a different miniature ecosystem of plants chosen for natural air-purifying abilities and other elements such as driftwood and coral, taken from nature. The Grove table is planted up with a range of verdant leafy plants including tradescantia and pilea, while the Mesa one recreates a desert environment, with a variety of succulent plants, driftwood and a sandy soil. Each coffee table is a one-of-a-kind item which will not be replicated.
To create their Imaginary Geographies series evoking elements associated to its home country, the Chilean collective GT2P, short for Great Things to People, employ digital fabrication techniques. The focus of the collection is a circular wooden coffee table, covered with ripples adapted from topographical maps of the Andes mountain range, which is Chile's natural frontier to Argentina as well as an icon molding the nation's culture.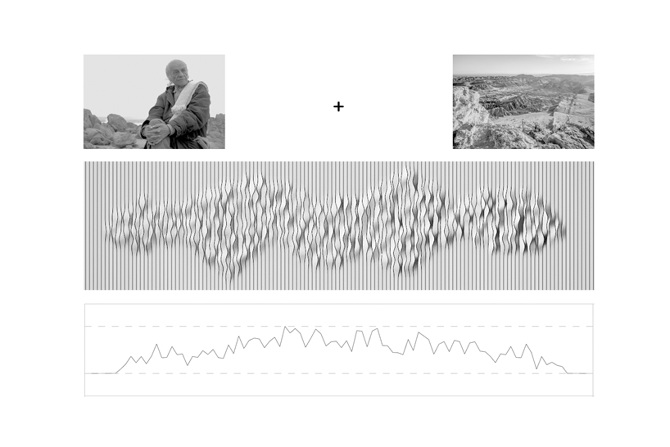 Proposing a geometric and material reconstruction of the Andes, the project started with an audio composition of the sound of the mountain range mixed with the verse by the Chilean poet Nicanor Parra, which was subjected to digital interpretation through a sort of a sound visualizer. The digitally manipulated information was then transferred on material surfaces, using CNC carving techniques.
The coffee table included in the series is rendered in lenga, a Chilean wood also known as 'Patagonian cherry,' and black basalt leaving a larger flat surface in wood. With an irregular spiral expanding from the inner basalt circle to the edge of the table, the texture gradually decreases in depth, transforming a geographical image directly related to landscapes found in the Andes into a solid geometry.
GT2P's another series Remolten Revolution featuring unique side and coffee tables as well as stools and planters is handmade directly with volcanic lava without being purified or mixed with additives. The items are produced with the help of a controlled process  which allows to adhere to the surfaces of stoneware with a range of slopes, and preserve the object's shape even after the lava covers them.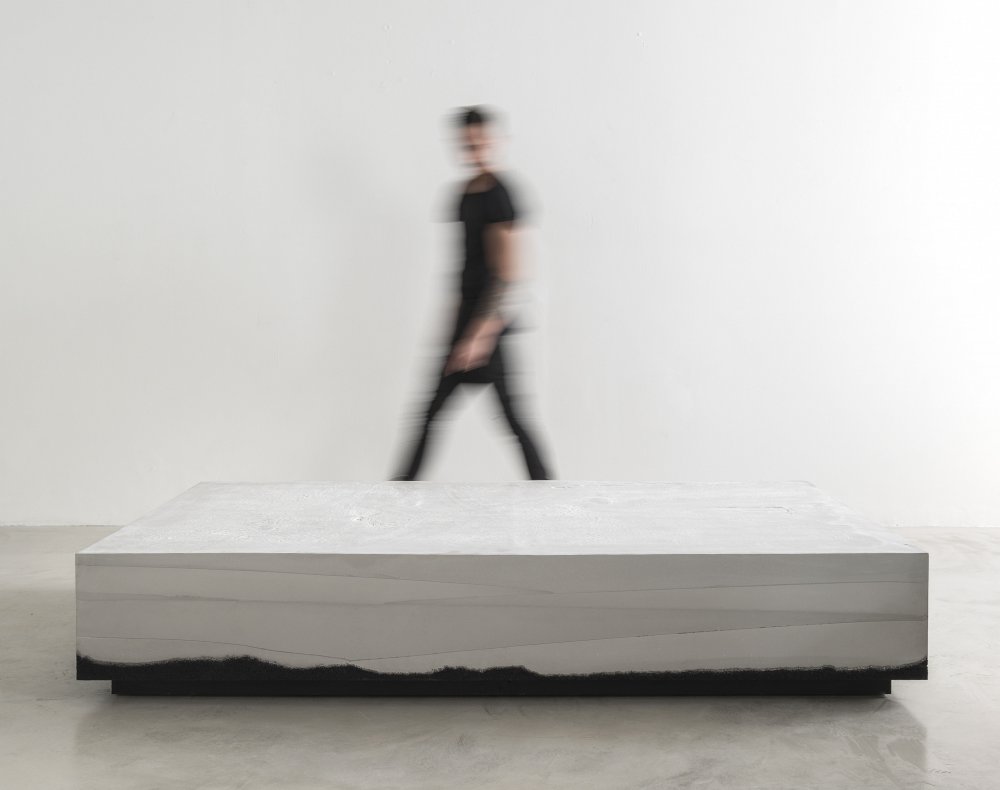 Brooklyn designer Fernando Mastrangelo has used patterns and shapes intended to resemble mountain cliffs or snow peaks melting, as a subtle homage to the effects of global warming for the coffee table of his Ridge collection.
The made-to-order table is cast from hand-dyed white cement and black silica. Poured by hand over the black granules, the white cement merges the materials to create an effect evocative of a mountain capped in a mass of snow and sky. The table's another option includes copper pellets but is similarly landscape-oriented and evocative of the impermanence of nature at the highest elevations.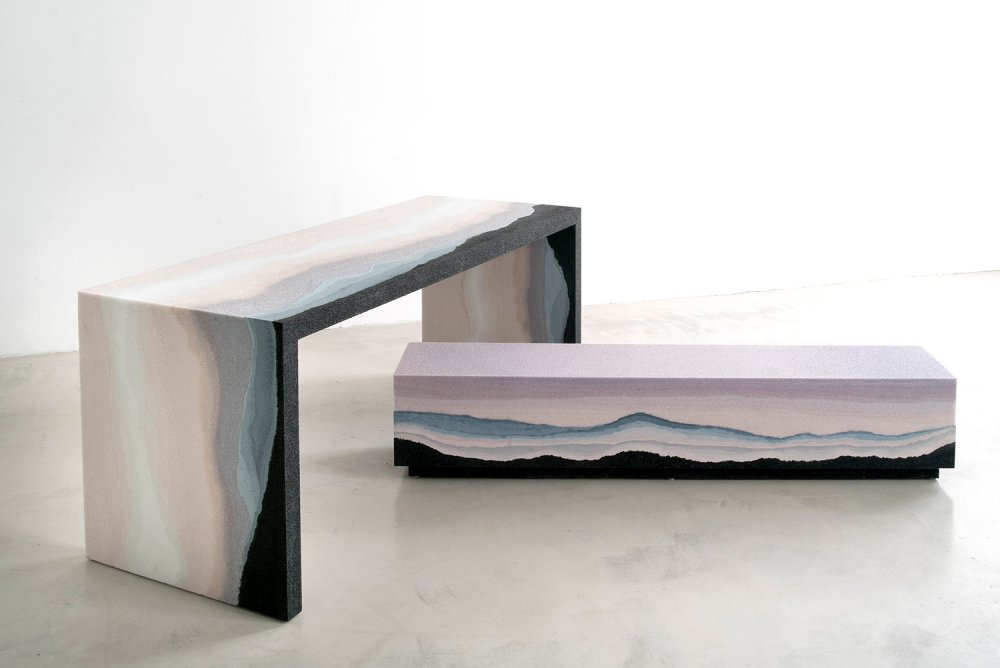 The coffee tables of Mastrangelo's other series Escape created in the designer's signature technique resemble a three-dimensional landscape painting inspired by trips to the American Southwest.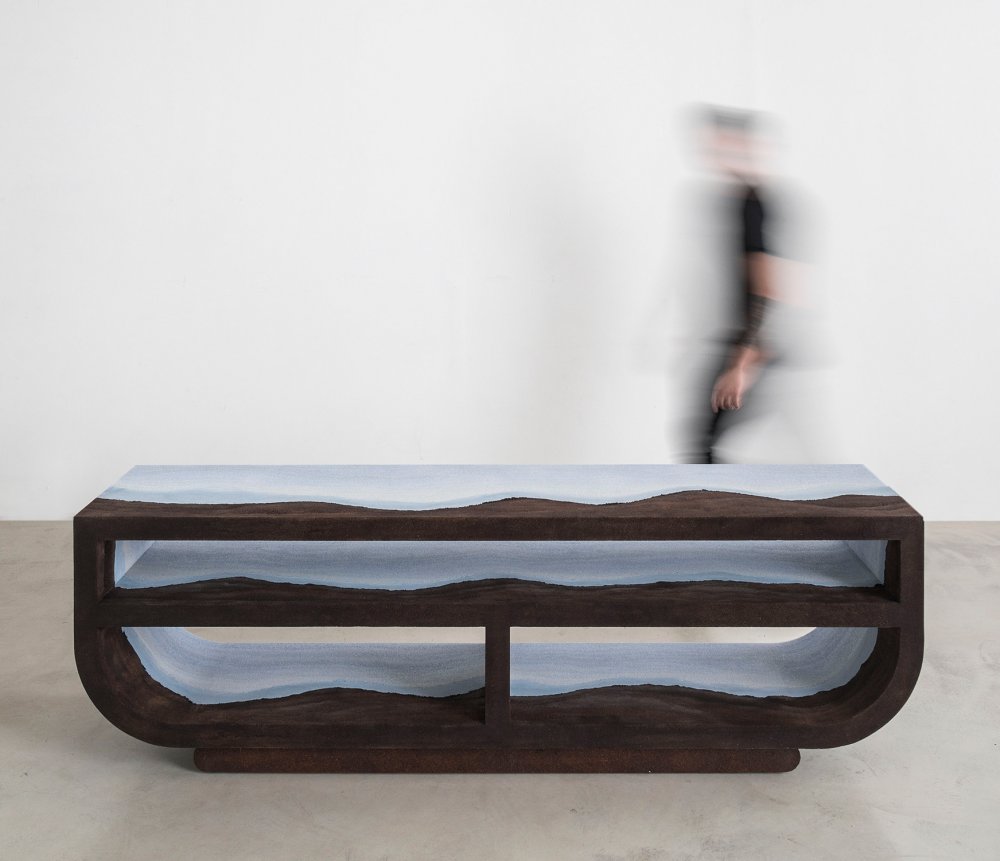 Layering hand-dyed granules of sand, coffee, powdered glass, and silica, these made-to-measure objects consist of gradients of tones and textures suggesting layers of earth, mountain ranges, otherworldly skies and bodies of water.  The construction is poetic and timeless, inspiring fantasy and utility.
Check out our selection of designer tables for more inspiration.