With pace of life constantly increasing, more often than not designers and architects around the globe put efforts into developing pre-fabricated housing projects that minimizes on-site construction time, still remaining respectful of the environment. Not only these modular structures offer a fully functional housing, their bespoke design and sustainable natural materials are truly rewarding to the eye.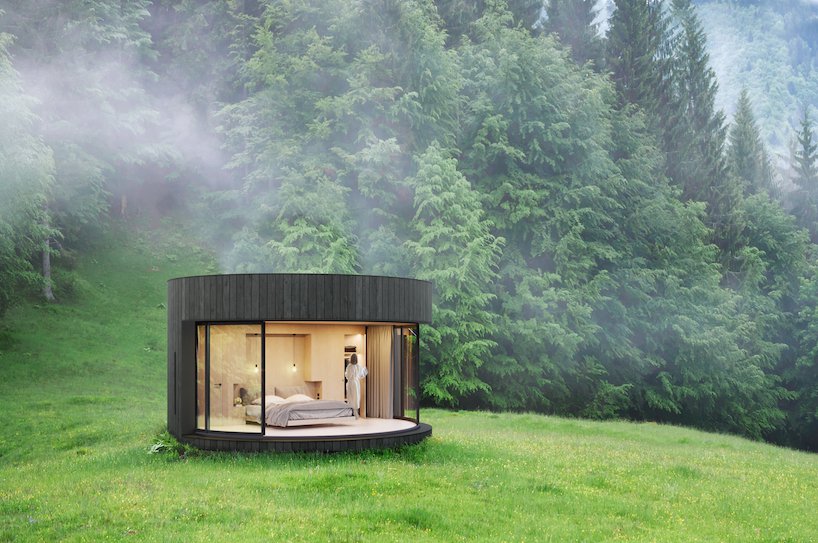 Barcelona-based studio In-Tenta Design has developed the DROP Box hotel suites –highly versatile and customizable transportable modules that can simply be dropped into any location, no matter how remote. The off-site manufactured units without foundations can be transported via a trailer or a container ship and quickly assembled in any setting, with as little impact on the surrounding nature as possible.
The DROP Box suites feature a fully-equipped kitchen and bathroom, a double-bed with a panoramic view and an outdoor terrace, with a minimum occupation of the land. They can provide a comfortable stay either a couple or a family of four, bringing a unique alternative to traditional hotel accommodation for those who would like to plunge themselves into the wild in search of a new experience.
Another way for city-dwellers to reconnect with nature is Lumipod, a pre-fabricated cabin with a curved window 5m in diameter that can be opened to the great outdoors. The concept was designed by the French company Lumicene known for their signature windows to provide an idyllic retreat in the woods.
This small place of 17sqm offers anything a visitor might need for a short stay, including a bedroom, a toilet and shower. Thanks to the sliding aluminum frame the window glass is placed in, one can open or semi-open the cabin for a full immersion into the surrounding landscape. This lets the Lumipod deliver an unforgettable experience truly eliminating the boundaries between interior and exterior.
To minimize the impact on the location, the Lumipod is compiled of two pre-fabricated modules clad in charred timber. The structure rests on two screw piles and can be assembled within 2 days on-site.
The Estonian architecture and engineering company Kodasema went even further and integrated a pontoon into their Koda Light Float pre-fabricated house. This feature enables it to float on water and dock at harbours or canals inside a city. The modular concept built in collaboration with floating marina installations company Top Marine offers a variety of applications, it can serve as a summer retreat or accommodate a small waterfront café.
The minimalist structure occupies as little as 25.8 sqm and includes an open-space living room with façade-sized windows to let the natural light in, a sleeping area, a shower room with toilet, and a kitchen. The module also features a floating terrace and a bridge that attaches to the shore.