Would be fair to say that pretty all urban residents want to sometimes escape from the busy life they are leading. The idea of having a place outside the city premises, where nothing overloads our tired nervous system, is very appealing. A retreat is neither a holiday destination, nor a sanatorium where you still have people around. It rather is a simplistic and isolated spot to relax and recharge.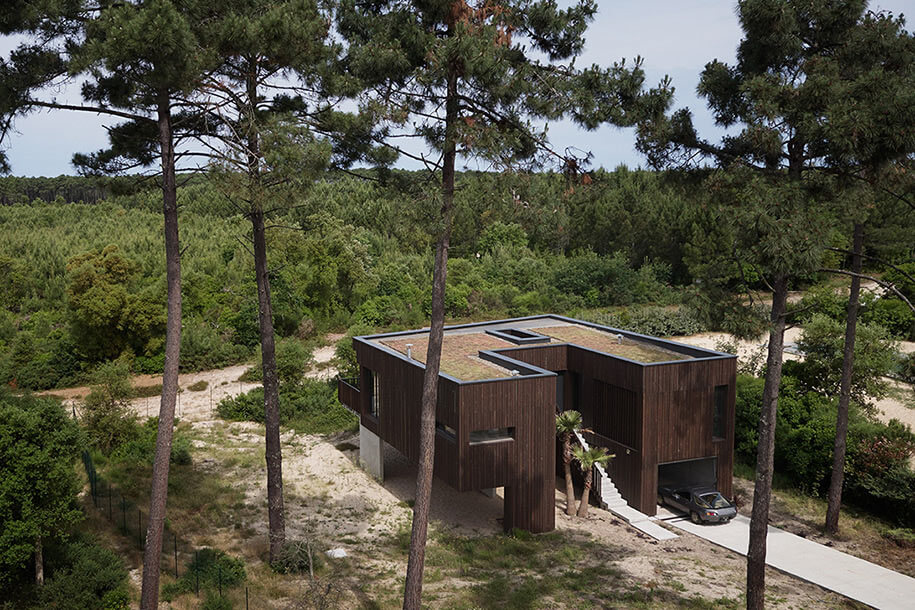 Maud Caubet Architects based in Paris have developed a retreat for a French family. The house sits on the sandy banks just 500 m from the beach.
The architects aimed at blending the structure into the surroundings and chose timber to clad the house, while positioning it in on a solid concrete base: this ensures a complete emersion in the forest nearby.
They chose a simple floorplan with openings and outdoor areas. Large terraces and windows of the living spaces that are elevated on stilts offer relaxing long views out on the pines. Private quarters are hidden in the opposite end of the structure.
Mork-Ulnes Architects based in San Francisco and Oslo Created a compact concrete retreat in California's Sonoma Valley.
The architects believe that feeling relaxed inside a sturdy house begins with feeling safe, especially when it is cantilevered over a ravine. This determined the choice of the material for the new structure: board-formed concrete, which is also the best choice for the areas exposed to wildfire.
The three volumes of the structure are connected into one continuous form with its roof made of a smooth-troweled concrete slab.
The sculptural qualities and monolithic, permanent qualities of concrete are exploited throughout the project: everything except for the doors is made of it. The architects used solid pine doors to add a little bit of warmth to where one would be touching the building.
Open corners of the house ensure perfect views of the canyon and the pines.
PPAA Arquitectos based in Mexico designed a home to be built in an area discovered by two brothers during a rock-climbing trip.
The project was guided by the qualities of the surroundings and sought to establish intimacy with the panorama and the land itself with a minimum impact on the environment.
The architects sourced local stone for the construction of this rectangular structure with a slanted roof profile that accommodates a mezzanine at one end.
The layout of the house is simple and serves the main goal: to maximize views to the surrounding landscape. The main living space is located in the center of the building and is bordered by a small kitchen on one side and a fireplace with armchairs for a comfy evening on the other. Both bedrooms are full of light and support the house's creed as a container of views.