Bridges help us move forward despite natural or technogenic obstacles. With the earliest known bridges being fallen trees and stepping stones, we've a long way – today they please the eye with a broad variety of engineering solutions and designs. Yet architects keep surprising us with new ideas and implementations of most unusual projects.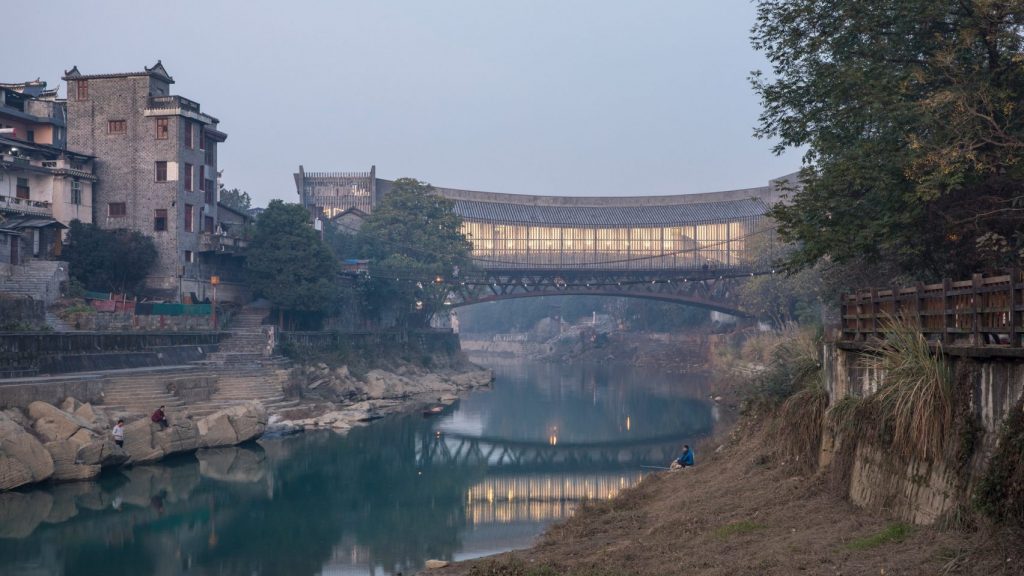 The Chinese Atelier FCJZ created one of such bridges, and made it serve a dual purpose. Covered bridges can be found throughout the mountainous Xiangxi district in western Hunan, yet this unique bridge in the Jishou has been developed not only to create a pass, but to encourage people to engage with art on their daily commute.
The Wanrong river runs through the middle of town, which makes it a perfect location for an art museum. The space doubles naturally as it is a two-way pedestrian bridge. Thus, there is no need to make a special trip to a museum: art can be enjoyed on one's way to work, school, or in between shopping stops.
This bridge's sloping floor arcs over the river and includes stepped podiums: places to stop and rest. The covered walkway is lined with an open metal balustrade offering views of the river on either side. The painting gallery is housed in a concrete arch placed on top of the steel structure. Glazed walls between the two sections of the bridges are a brightly lit space used as a hall for temporary exhibitions.
DXA Studio from New York has designed an award-winning conceptual bridge called The Midtown Viaduct.
The complex steel structure addresses a pending surge in pedestrian traffic in the area, as it has become hardly traversable on foot due to ongoing construction work and ground-level infrastructure. The studio elevated the pedestrians above the ground, and the structure of the bridge, designed as a freeform path, allows to change direction and routes.
The bridge will also feature planting, seating, ponds and patios which will be accessible for the public, while spaces underneath could be used for cafes, bars or bike storages.
The bridge's ring-ribs are similar to those used in aircraft wings and will be spaced every three meters apart. Linear ribs will transverse these rings to create a mesh-like composition of tubes. The ribs will have to be cut in sections using a water-jet technology, then transported to the bridge's location and welded together.
The infrastructure of this project goes beyond the much-needed connections: it will transform the currently disused city area into an activated, dynamic and social pedestrian amenity.
TA Landscape Architecture, Vietnam, designed a curved golden bridge at the Ba Na Hill Mountain Resorts Da Nang that is held up by two stone hands and connects two cable-car stations.
The Bridge extends the Avatar Garden and relates to myths about gods, humans and nature.
The 150-metre long and five-meter-wide bridge sits on simple steel supports, and the fiberglass and wire mesh hands serve only as a design element. In the local foggy and hazy weather, the bridge produces an astonishing impression on its visitors.