Mexico born artist Carlos Amorales shares his vision of art with the world via an array of platforms like animation, video, film, drawing, installation, performance, and sound. His creativity and experience in many fields have brought him to Fondazione Adolfo Pini that will run his large-scale exhibition until July 8th.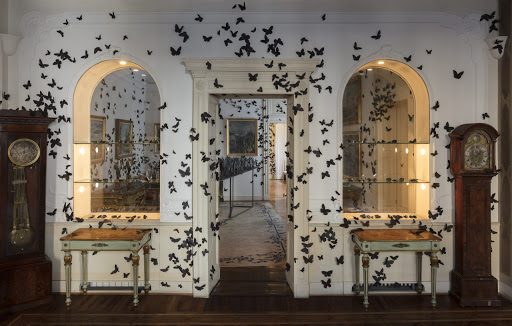 His Lady of Damage exposition curated by Gabi Scardi is not like anything you have seen before. It might seem to be an invasion by black coloured butterflies that look so ethereal in the context of an old building.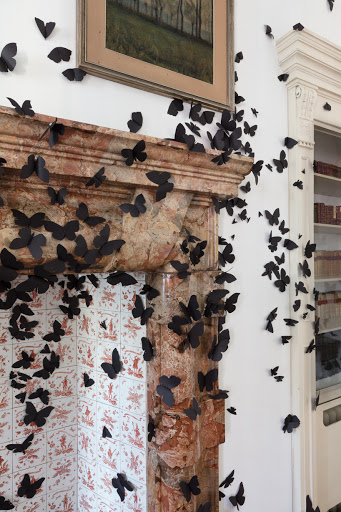 Lady of Damage by Carlos Amorales
This swarm of chaotically placed butterflies creates a slightly mystical atmosphere. Amorales explains, that with this installation he refers to its own country, Mexico; and speaks to us of discrepancies and tensions throughout the world of today, and of the need to identify the origin of our ghosts, to recognize their scope, their matrix, their ideological value.
The exhibition also includes other works by the artist. The intrusion of the natural world into the spacious rooms of the foundation building allows for diverse narratives to emerge, communicating ideas that the artist himself has not yet discovered.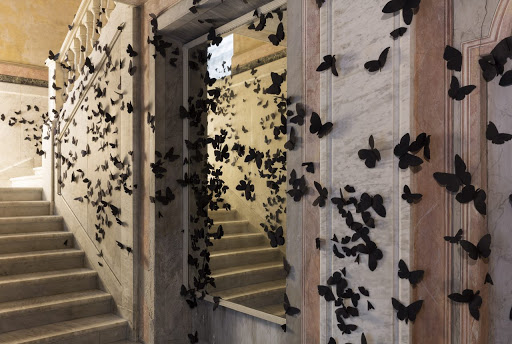 Lady of Damage by Carlos Amorales
Amorales's exhibitions tend to have an encoded language embedded in them. It's up to the viewer to interpret them since the artist does not share a dictionary to his artistic language, and prefers to leave his mysterious and clandestine puzzles unsolved.
Another natural intrusion that causes unexpected interpretations is that by Azumo Makoto, a flower artist who plays with the most unexpected locations for his floral installations – putting them in the middle of a stage for a band performance or exposing them to freezing conditions. The artist believes that the life cycle of a flower is greater than we imagine.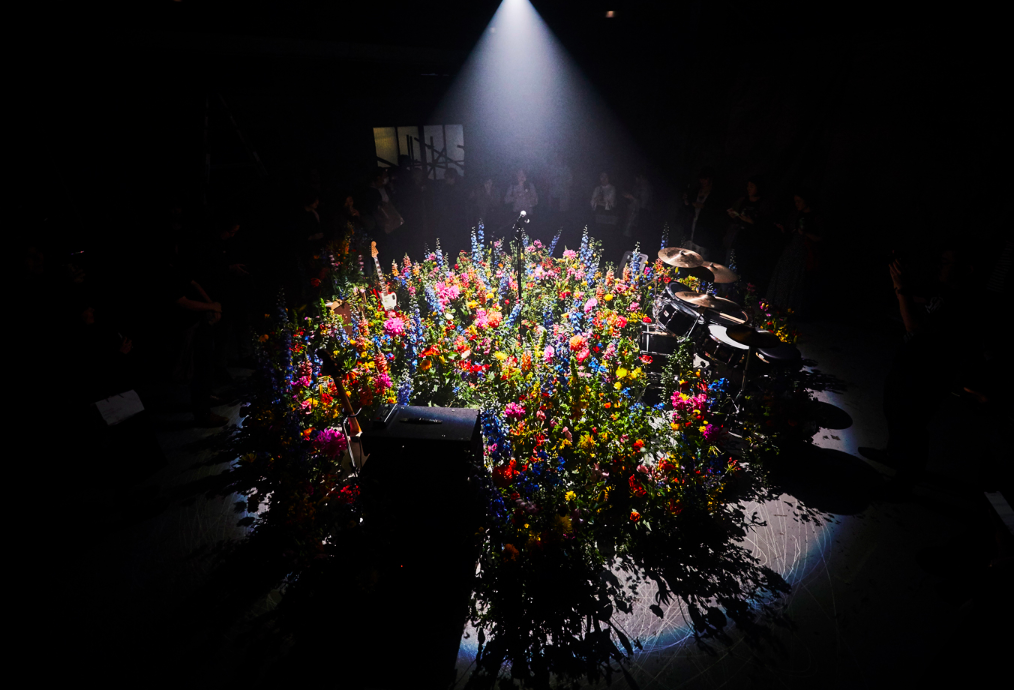 CRAZY GARDEN × ICE AGE
Azumo Makoto's variegated flower compositions indeed look stunning, and are able to adorn whatever given space, His 'Crazy Garden × Ice Age' project is yet another proof: the flowers are placed around musical instruments to create an unearthly effect. The hectic yet harmonious assemblage of plants is so emotionally intense that it seems to be able to accentuate the originality of the music performance.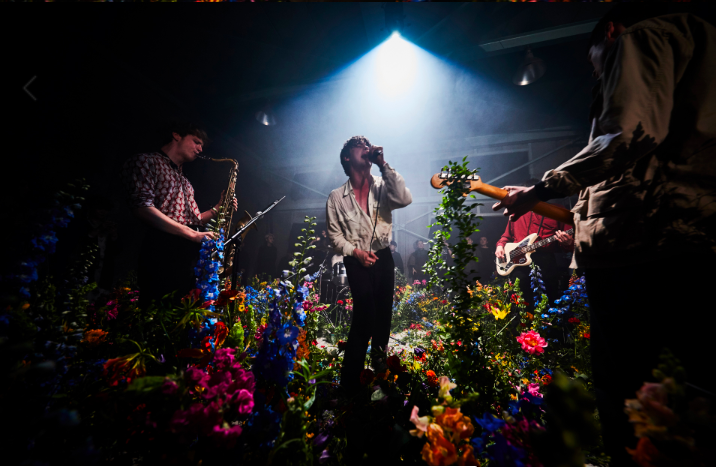 CRAZY GARDEN × ICE AGE
Starting with his first installations back in 2002, Makoto has gained global attention for his vibrant arrangements. His AMKK artistic group has had exhibitions in New York, Milan, Belgium, Shanghai, Mexico and many other major cities.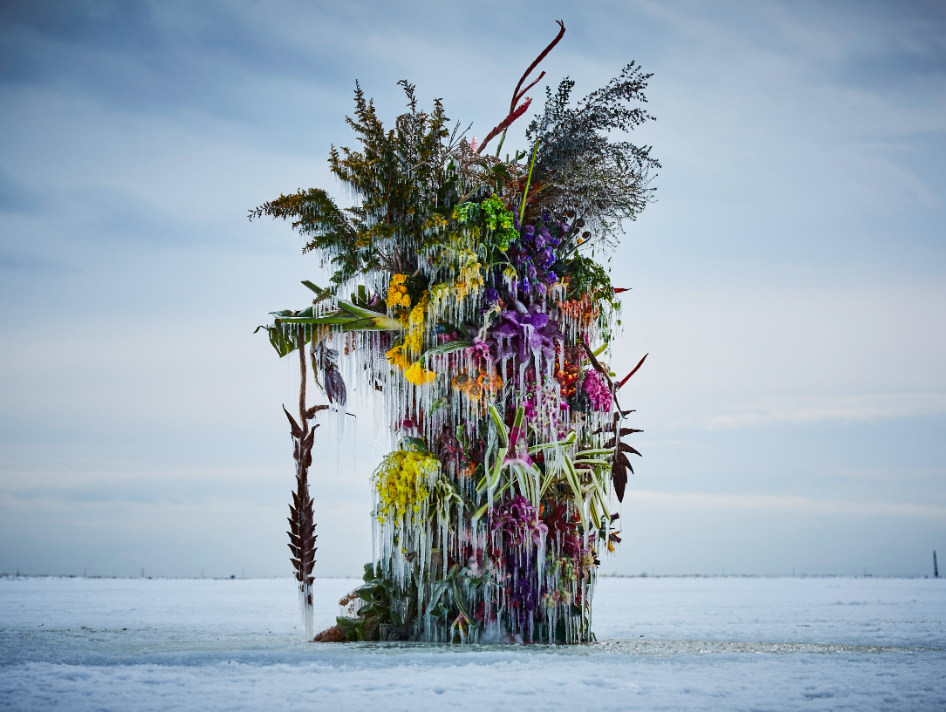 Frozen Flowers by AMKK
The studio's other works stand out on account of its unusual background, an outdoor space that froze the flowers. The artist's idea was to create icicles on the flower leaves by splashing them with water. Ultimately, the group was able to masterfully enliven a cold and deserted space with their 'Frozen Flowers'  exposition.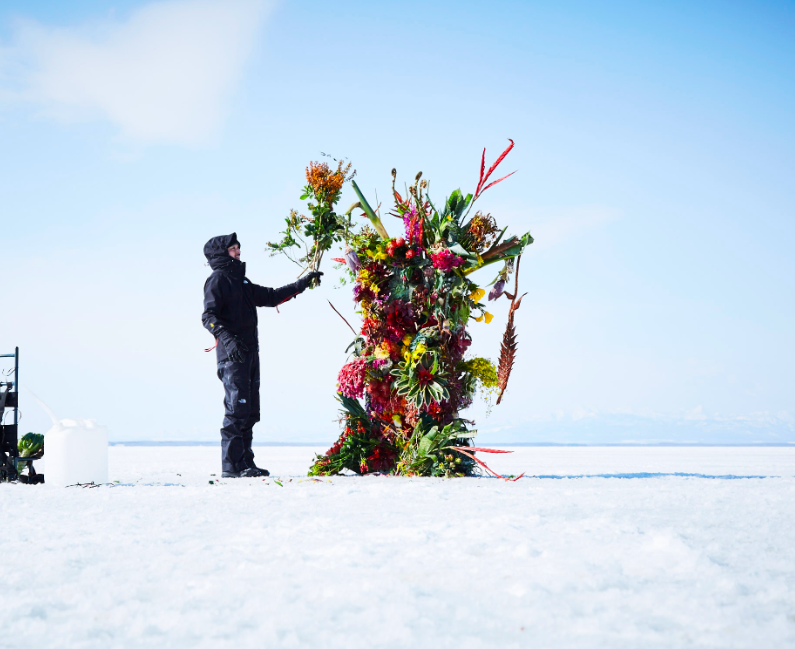 Frozen Flowers by AMKK