Swimming pools attached to private homes are not unusual. However, few pool houses boast stunning architectural design as the ones we have selected to showcase here. We hope you're inspired by their beauty and creative genius.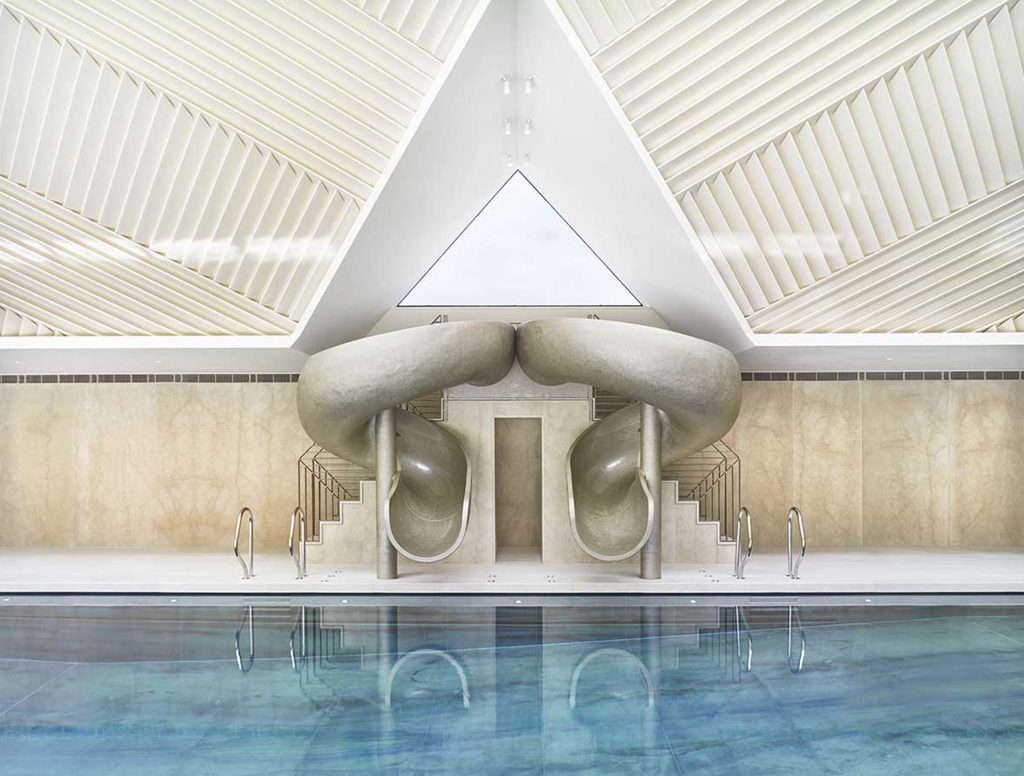 Pavilion Pool House by Rafael de Cárdenas Architects 
New York Architects 'Architecture at Large' founded by Rafael de Cárdenas implemented their experiential approach to architecture and design with this pool house for the owners of a mid-19th-century manor in an undisclosed English countryside location.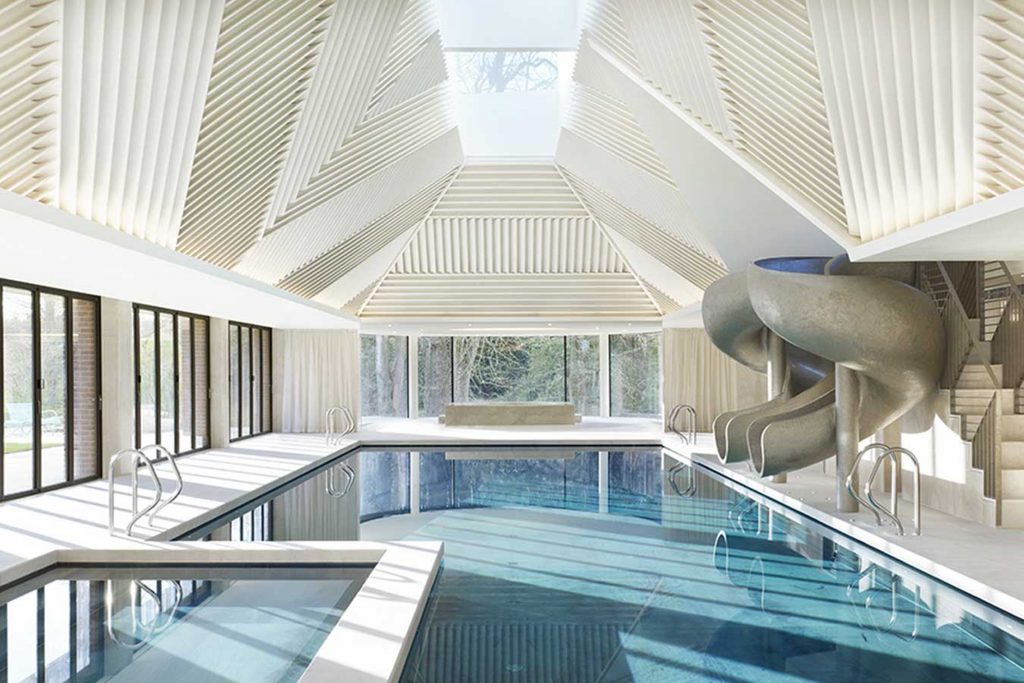 Pavilion Pool House by Rafael de Cárdenas Architects
A pair of symmetrical fiberglass slides spiral down towards the surface of the water of this pool house, which is positioned perpendicular to one side of the manor so the space between the two buildings creates a sheltered courtyard.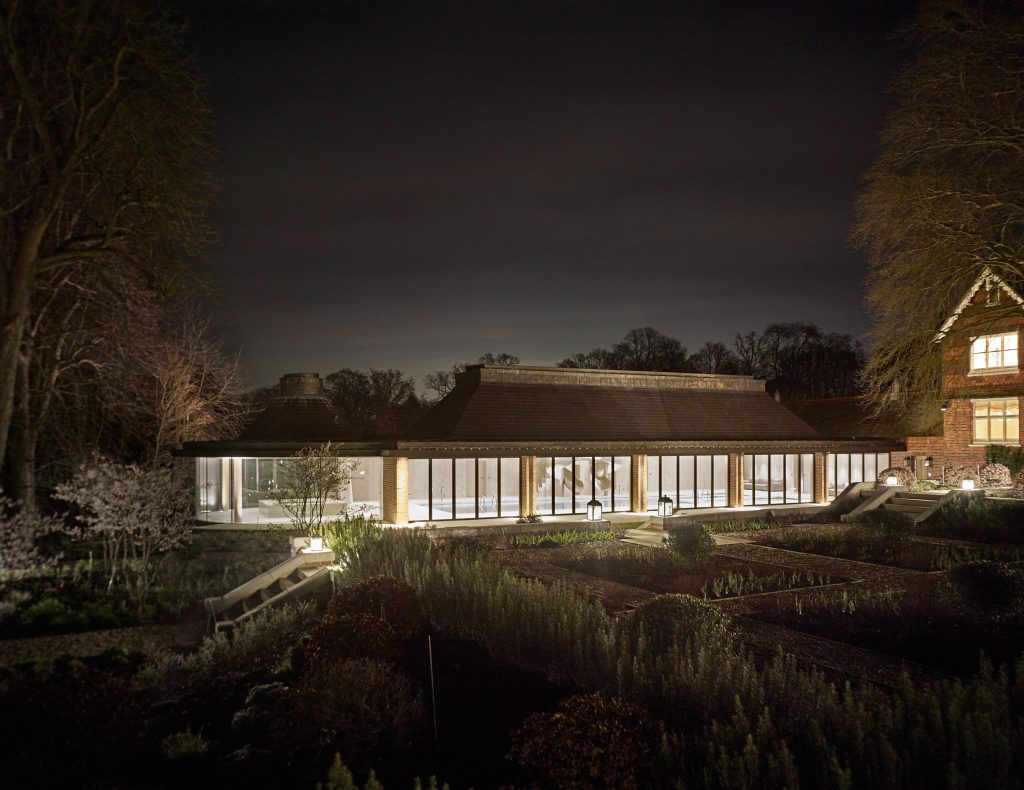 Pavilion Pool House by Rafael de Cárdenas Architects
Materials including brick and copper used for the building's exterior were chosen to complement the appearance of the existing manor, but the design also seeks to introduce something unique to the estate. The roof is comprised of a pair of funnel-like forms that incorporate large heated skylights, which help to organise the interior space and visually separate the pool area from the round structure containing the hot tub. The inner surface of the ceiling is covered with fibreglass panels featuring angular ridges that help to provide acoustic dampening, while also creating a pattern that responds to the changing light.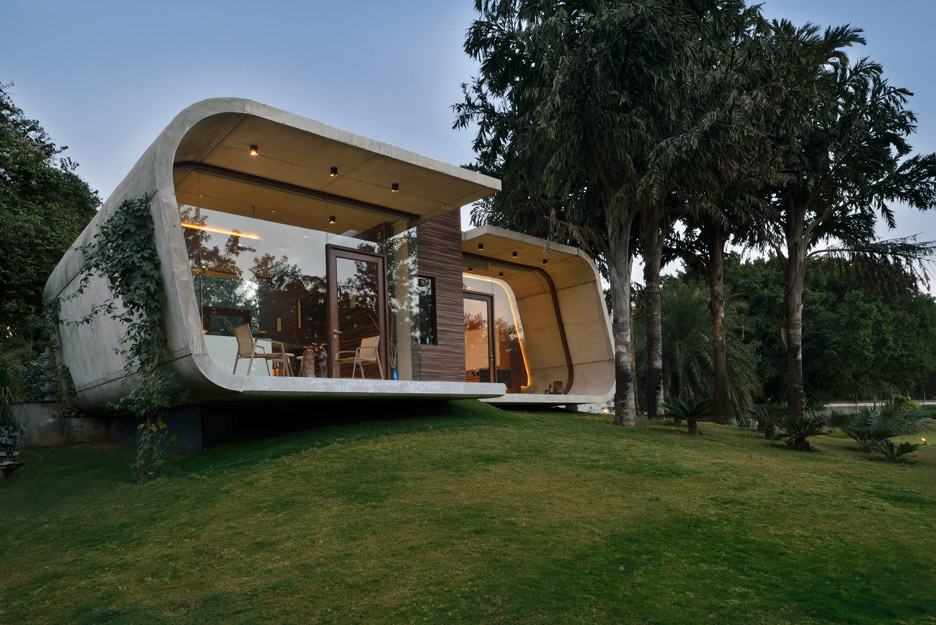 42 mm is a multi-disciplinary practice based in India which specialises in architecture, interiors and urban design with a desire to "depart from conventional models".  Its New Deli pool house design was conceived as a 'pebble in the grass' to house act as an extended entertainment centre to the main house. Asserting its presence with a singular, bold and robust frame, this house sits impressively within its surroundings, while the construction system is shell-based – cantilevering the block. Developed from a sturdy concrete shell, glass on either side of the elevation makes it visually balanced and transparent to blend perfectly with its breath-taking surroundings.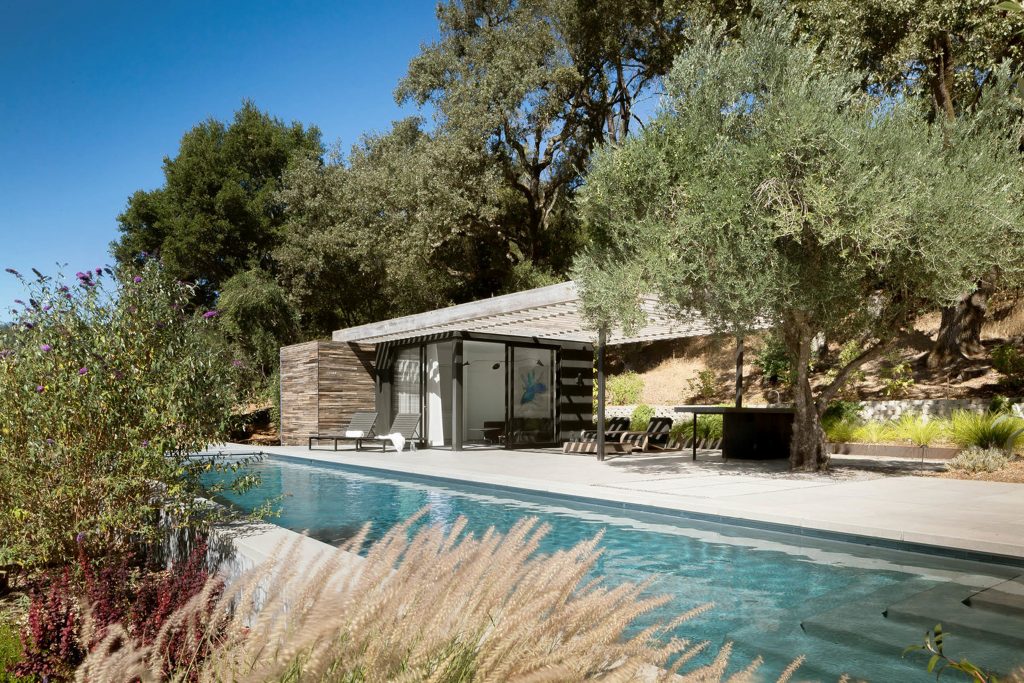 Sonoma Retreat Pool House by Ro Rockett Design
California-based architecture and design firm Ro Rockett Design recently added a pool house to a Sonoma County retreat that the owners found so alluring, the clients decided to turn it into their full-time residence. Located in the northern California town of Geyserville, the property boasts stunning views of rolling vineyards and the rugged coastal landscape. The Dry Creek Pool House is carefully situated to take advantage of these impressive vistas and features a palette of natural materials and reuse of local resources and minimalist design to blend in with the surrounding environment.