The weather is nice and calling for a family outing, which is impossible without a good old picnic table. Popping up in urban centers as a casual dining/resting area, contemporary outdoor picnic tables are far from the conventional pieces that are typically thought of as a standard wooden table with benches on each side.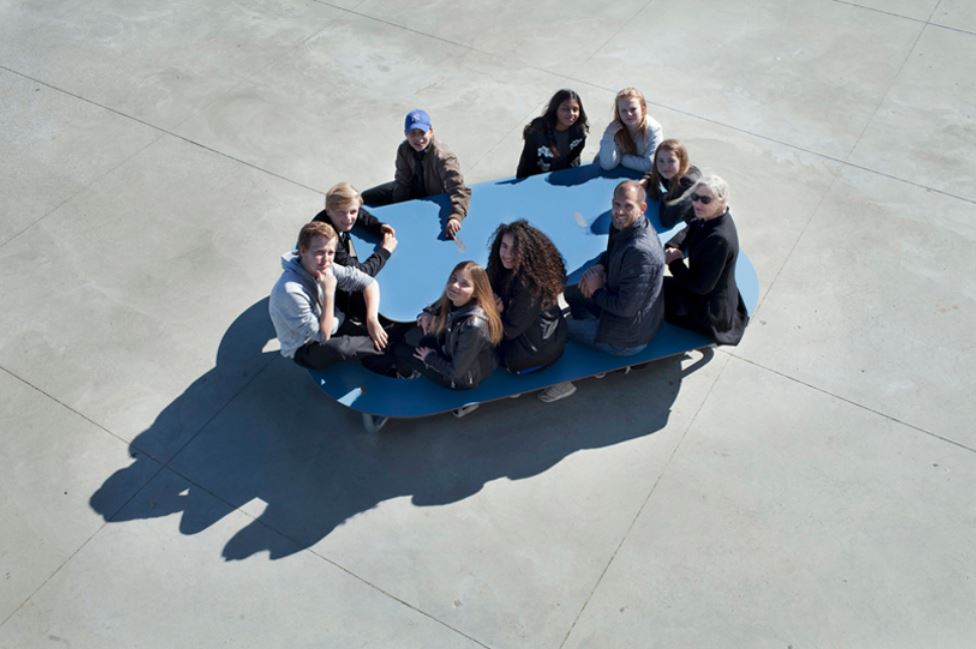 Flemish designer Dirk Wynants has re-imagined the classic picnic table (or a beer garden bench) for his own company, Belgian furniture makers Extremis. Aiming to improve access to the table, he has produced an outdoor product based on the traditional "get-together" around a table with its very own style. This sculptural piece of garden furniture invites one to sit down and is functional and durable in equal measure.
Named Hopper, the design comprises a long table and two benches formed of a single continuous piece of aluminium. Aluminum or steel legs in combination with hardwood ensure the table's long life span while the attached benches offer a clean aesthetic.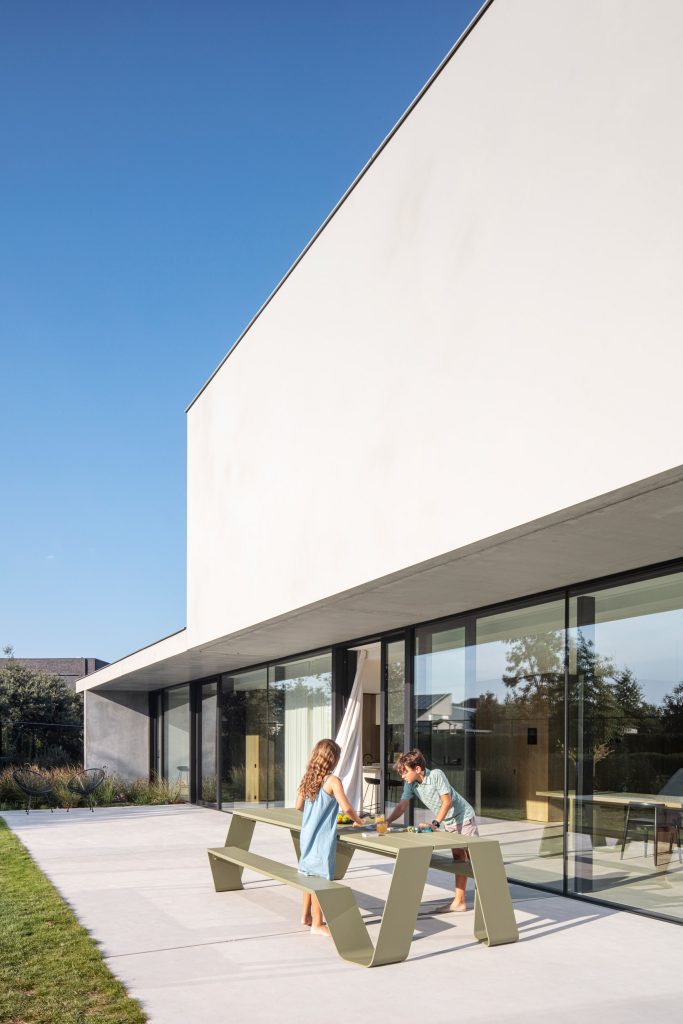 The table silhouette is inspired by the hop fields of Belgium's "Westhoek" region. Its characteristic feature is easy entry points at the ends to get oneself seated. This eliminates the need to scramble over the tablemates to reach the table.
Hopper won many awards, including the Reddot design award Best of the Best in 2011.
Italian architects and designers Alberto Basaglia and Natalia Rota Nodari, who together run an eponymous design studio, have designed a colourful outdoor table-and-stool set for the local brand Urbantime, which specialises in furniture for public spaces, particularly in city environments.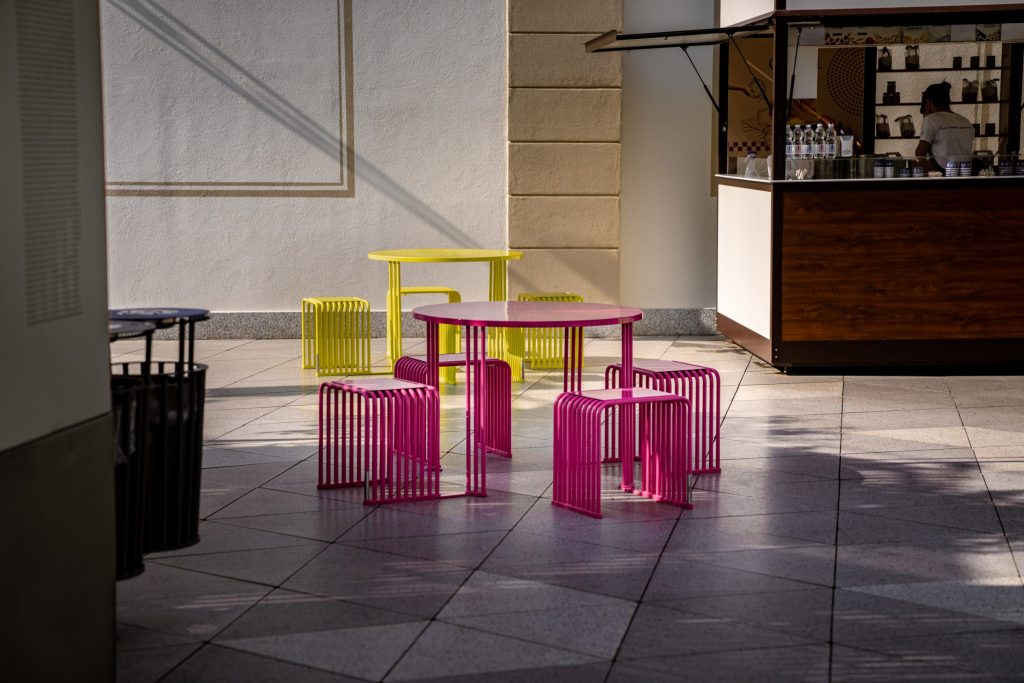 Part of the brand's Zeroquindici.015 collection of metal-rod outdoor furniture, .015 Octopus consists of a round picnic table with four affixed, cuboid seats made from hot-dipped galvanised steel. The way the tubes of the table legs wind and bend into stools loosely resembles tentacles, which is reflected in the product's name.
The simple, contemporary piece is available in several bright shades of durable polyester powder paint.
When back in 2015, Out-Sider, Danish supplier of urban street furniture, held a design competition to create an innovative bench set for the future, the winning proposal by Copenhagen-based firm Holscher Design was selected for its graphic and iconic basic form. Named Plateau, the design is a table surrounded by an integrated bench that provides a large number of seats facing one another thus generating social interactions.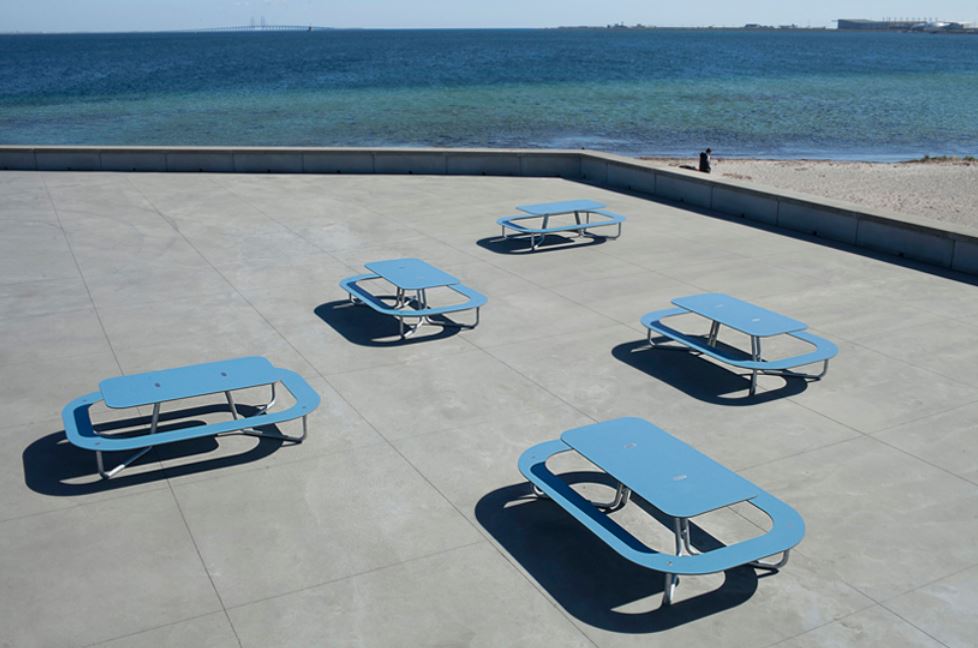 Rooted in Scandinavian design traditions, the furniture is as functional as it is graphic and minimalist. The smart use of the rectangular and round forms makes the table a piece where you get maximum utilization of floor space — it can accommodate up to 12 people.
Made from multi-layered and dyed 12mm HPL and powder-painted hot galvanized steel, the table is highly UV- and weather-resistant, which makes it a great choice for both indoors and outdoors.