All cat owners love their furry family members, while the latter definitely enjoy spending time sharing a living space with their people. We have selected some great examples of furniture design that serve dual purposes. Since cats instinctively seek small corners and dark spots to rest, most likely they will appreciate some of these pieces that that can be shared by both felines and their owners.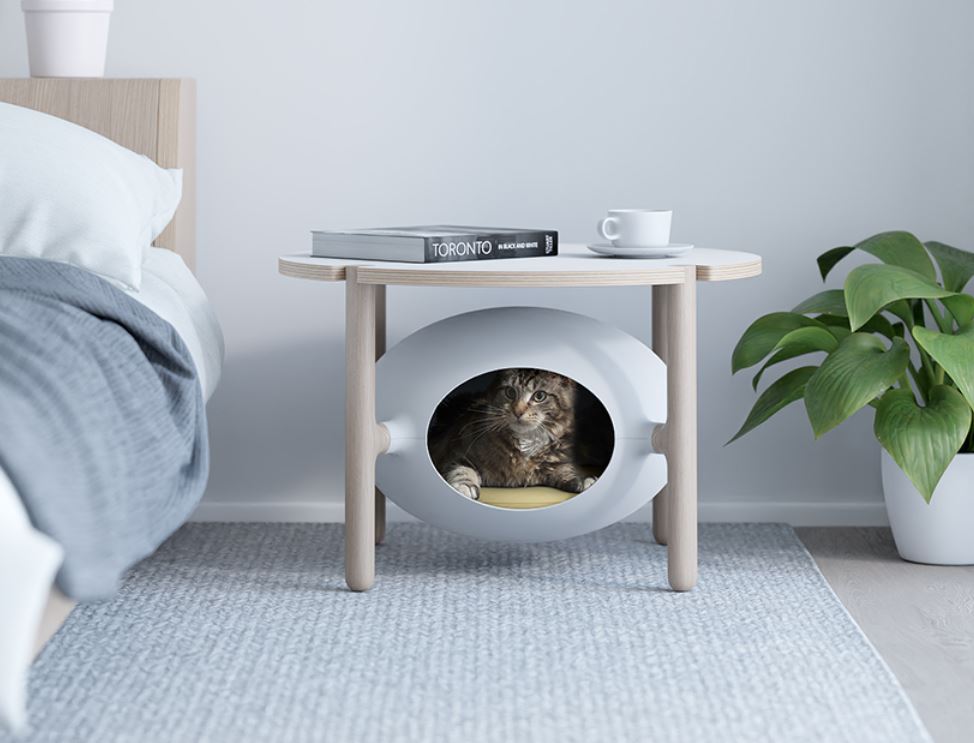 Portuguese designer João Teixeira has disguised a comfortable cat bed disguised a coffee table. This minimalist multifunctional piece integrates a cozy shelter for cats without disrupting the interior of your living space. Named Igloo, the design boasts a sleek and elegant Scandinavian aesthetic and can effortlessly blend in any living space. The minimal colour palette includes smooth white and light wooden surfaces.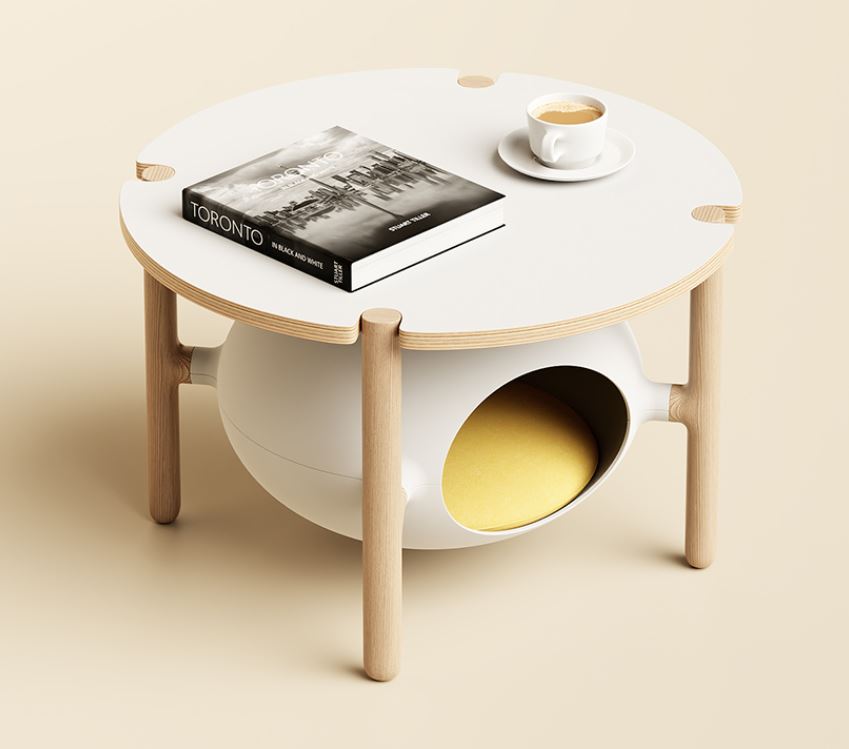 The simple spherical shape of the cat bed was chosen for a cozier look, it also best responds to a cat's natural curling resting position. The white wooden rounded table top rests upon four wooden legs that are attached to the white plastic sphere by organically-shapes side connectors. At the points where the legs intersect with tabletop, are smoothly carved cut outs in the table top, making the Igloo a more visually appealing product. The table provides a cozy nook for your cat while you are lounging on the sofa.
Taiwan-based studio SUNRIU proposes a furniture design that integrates a resting space for cats that is just as comfortable. Designed as a part of the Flow Collection, this minimal and chic-looking armchair features sophisticated spiral armrests extending to its back that add an interesting and artistic element to its appearance.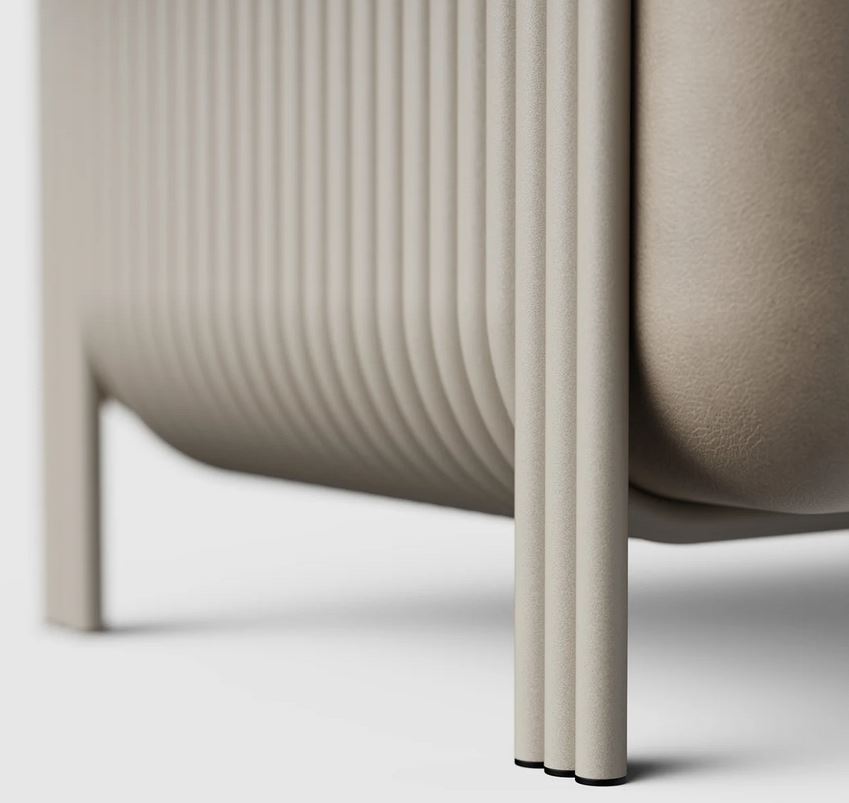 This detail is hollow, which enables it to function as cozy little nooks for a cat to crawl and snuggle in, while the user leans back with a book. In such a way, it creates a shared space, where the owner and pet can spend some quality time together.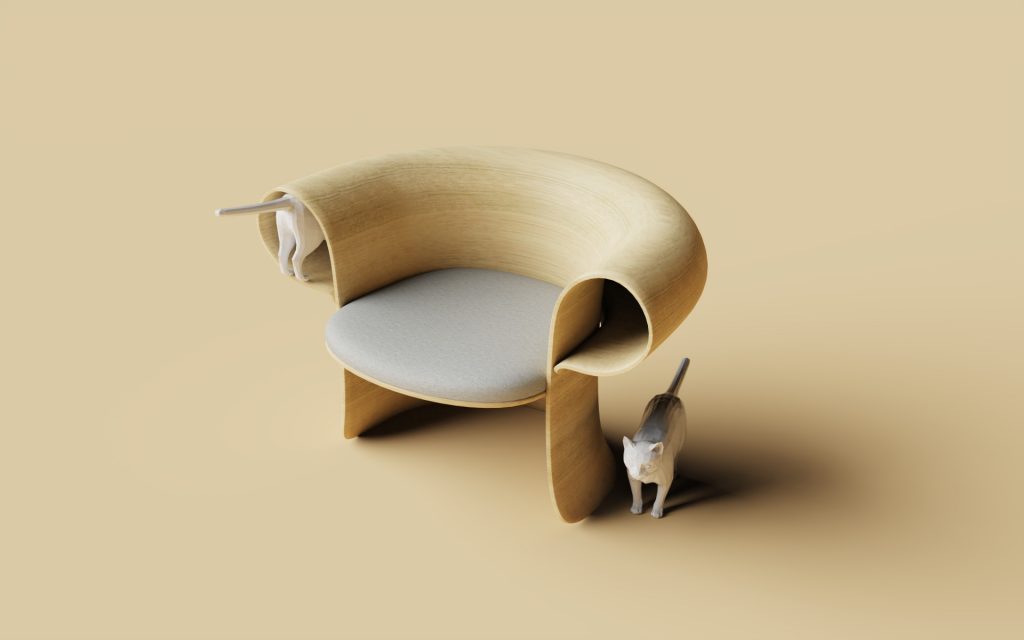 The sofa is available in two different design options – one comes in plywood, while the other is made using resin and plastic.
Aptly titled Sharing Joy, the award-winning chair developed by Chinese product designer Zhe Gao combines both a side table for humans and a crawl space for cats to casually lounge in. Just like the Flow Single Sofa it comes with a hollow backrest perfectly sized for a cat to rest inside.
Inside, there is a dangling cat toy, which makes the spce even more lovable for feline pets. The cat and the owner can relax and meditate on the same chair and spend a good time together without disturbing each other's space.
The chair is upholstered in canvas fabric, which is both good at masking any fur the cat leaves behind and withstanding their claws. The armrest in the meantime is big enough to double as a side table to rest a book or a cup of coffee.