Sustainability in the travel sector is steadily growing. For air travel, there are two clear priorities – a transition to sustainable aviation fuels, and the need to develop sustainable airports. With a growing focus on the environmental impact of aviation, architects are designing a new generation of airports in an attempt to reduce carbon emissions. The projects feature timber, solar panels, and modular construction aiming to make an airport sustainable in this emerging economic landscape.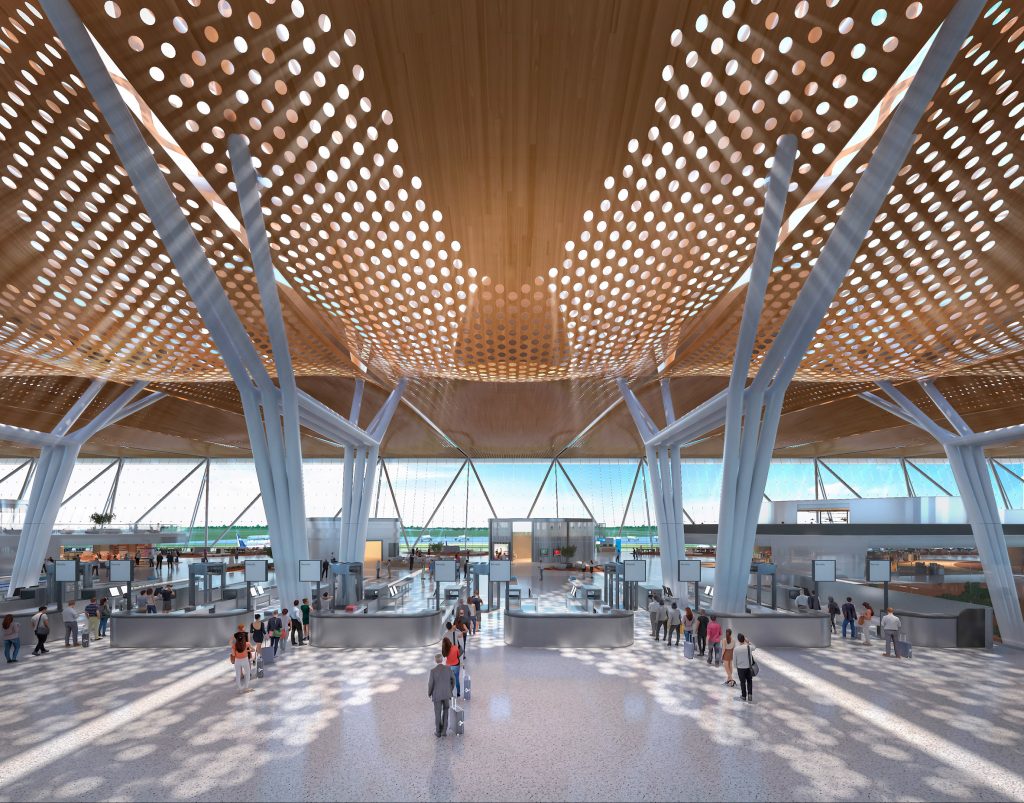 Commissioned to design an extension to the airport in Guadalajara, Mexico's second-largest city, in order to cater to a new taxiway and runway, US firm CallisonRTKL has developed a new terminal with a wavy wooden roof perforated with hundreds of holes to filter sunlight.
Massive white columns span the three floors of the white building to support the triple-height space. Level one accommodates baggage claim and a welcome hall, while level two features arrivals and a pedestrian bridge, and level three houses ticketing, security, departures, food and beverage and duty-free shopping. A circular road connects the two terminals and highway access.
The studio explains that the design has been inspired by the image of the Mexican Eagle as it soars through the sky. With wooden details, indoor plants and green walls, it also pays homage to Guadalajara's arid climate, mountains and native agave plants, which are used to make tequila.
According to the firm, the new Guadalajara airport will reduce the amount of carbon in comparison to a similar, medium-sized airport building, which emits an average of 30,188 metric tons of carbon dioxide per year requiring 30,000 trees planted each year to offset emissions. The new terminal would emit as little as 2,814 metric tons, which would make it the first of its kind.
This will be achieved via using more environmentally friendly energy sources like solar panels, natural light for lighting, and natural ventilation and shading. Multiple environmental strategies reduce energy use by 60 per cent and the carbon footprint of the project by 90 per cent, equivalent to planting 27,300 trees every year.
Carbon reduction strategies and biophilic design principles will also define the expansion of C Concourse of Seattle-Tacoma International Airport to be carried out by architecture offices Miller Hull Partnership and Woods Bagot.
The concourse's interior is designed as an interplay of environments defined by both the local energy and a connection to the natural landscape of the Pacific Northwest. The focal point of the design is a grand staircase clad in locally sourced Douglas fir. Modelled on the Seattle farmers' markets, a "marketplace" located in the middle of the concourse will include a bar, various retail kiosks and an area for musicians facing the grand staircase.
Four additional storeys above the airport's existing concourse will provide travelers with a range of amenities, including dining and retail spaces, as well as interfaith prayer and meditation rooms, a nursing suite and a business lounge. The upper levels of the building will also offer impressive views of the airfield and the surrounding Olympic Mountains.
Designed as part of Port of Seattle's Sustainable Project Framework, which pledges to commit to more sustainable infrastructure, the project will use an array of sustainability strategies including photovoltaic panels and electrochromic window glazing, as well as fossil-fuel-free systems for heating and hot water.
The building is set to be completed in 2027.
Danish architecture studio BIG and US firm HOK have also joined forces to design an airport focused on sustainability. Chosen from a shortlist of 10 designs drawn up by studios including Foster + Partners, SOM, and Grimshaw, their project for Dock A, an extension for Zurich airport that is expected to become its largest terminal, will be built largely from locally sourced timber.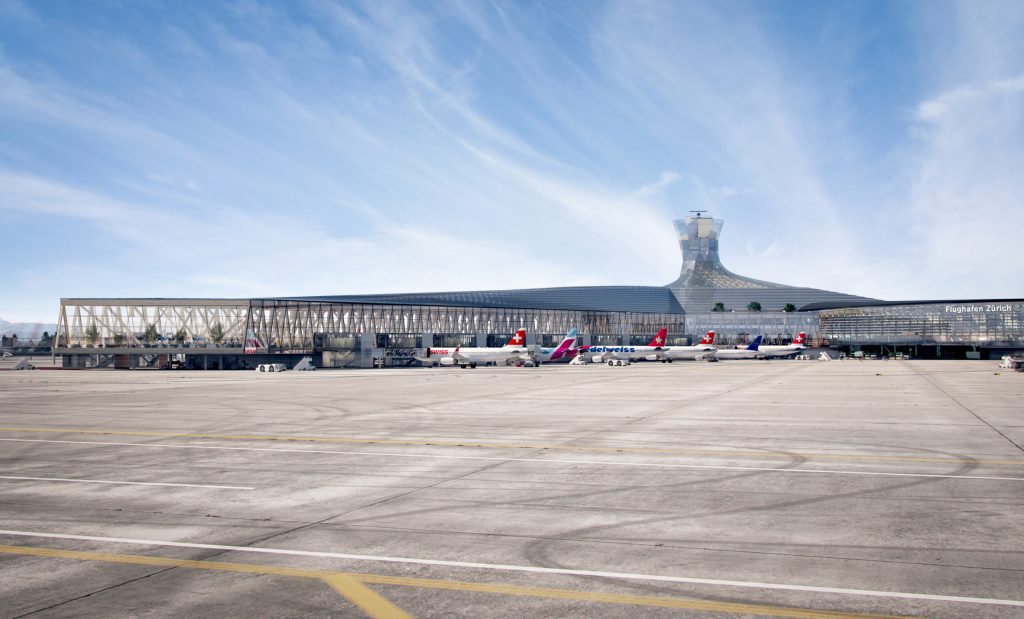 For the new main terminal, that will include a long pier flanked by gates and a traffic control tower, the team has opted for a mass timber frame that seems to be the simplest possible response to the issue of ever-growing number  of various international guidelines and safety requirements that apply to airport design. This solution combines a structural design, spatial experience, architectural finish, and organizational principle in one.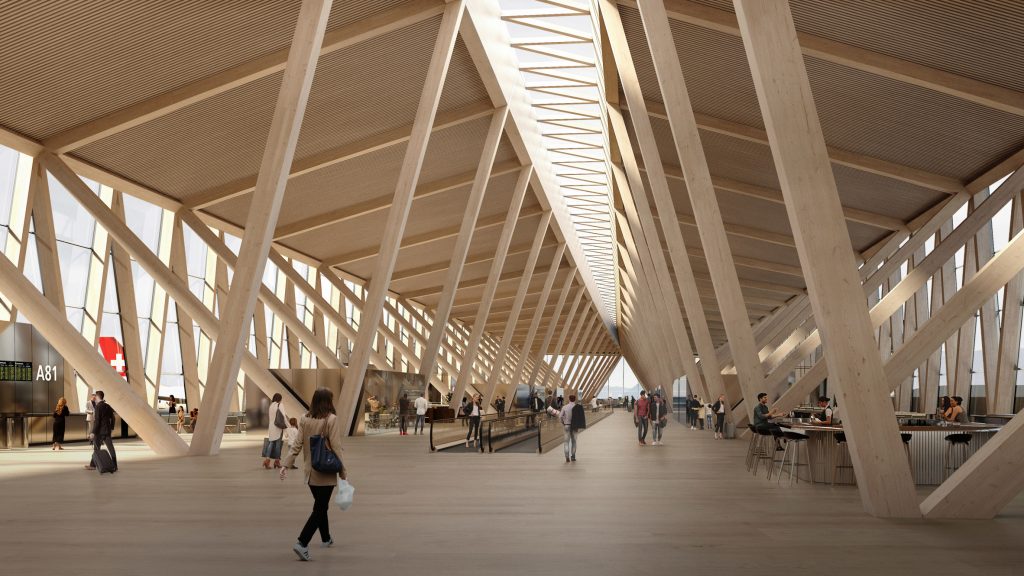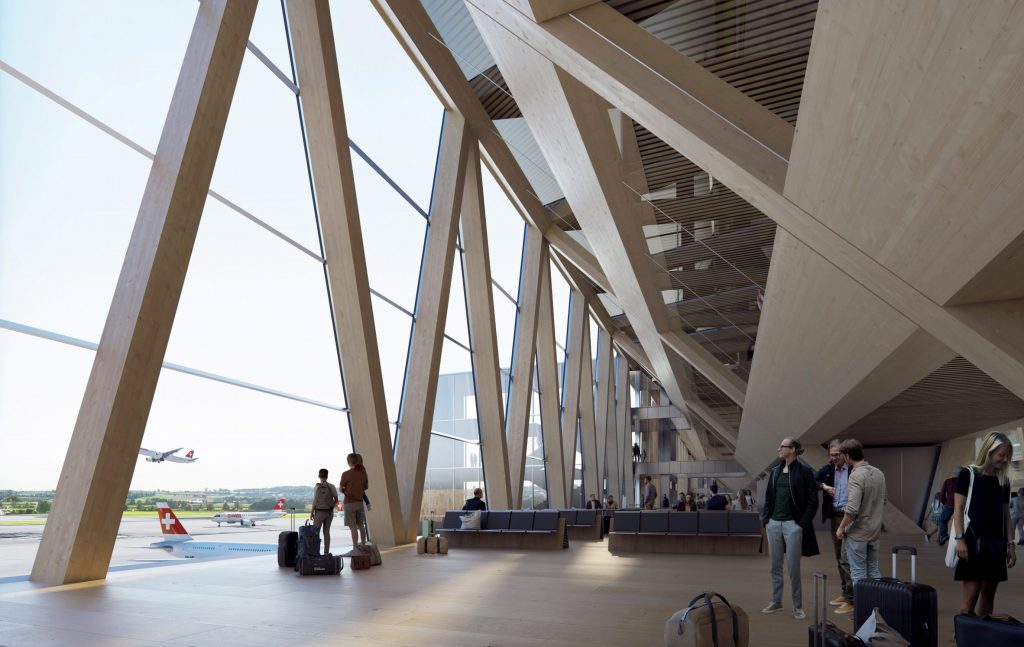 Formed of V-shaped timber columns, the building will be divided into seven floors with arrivals and departures on the top floors and an immigration hall located below ground. Along with the main structure, timber will be used for the floors and ceilings as well.