The pandemic has taught us all to find new opportunities to work out at home. During the lockdown, our homes took on the role of makeshift gyms, which could be quite challenging for compact apartments given the space limitations. Home work outs are here to stay and our apartments will hardly grow bigger. Product designer address these issues trying to find ingenuous ways to develop gym equipment, which would not only benefit our bodies but also enhance our homes.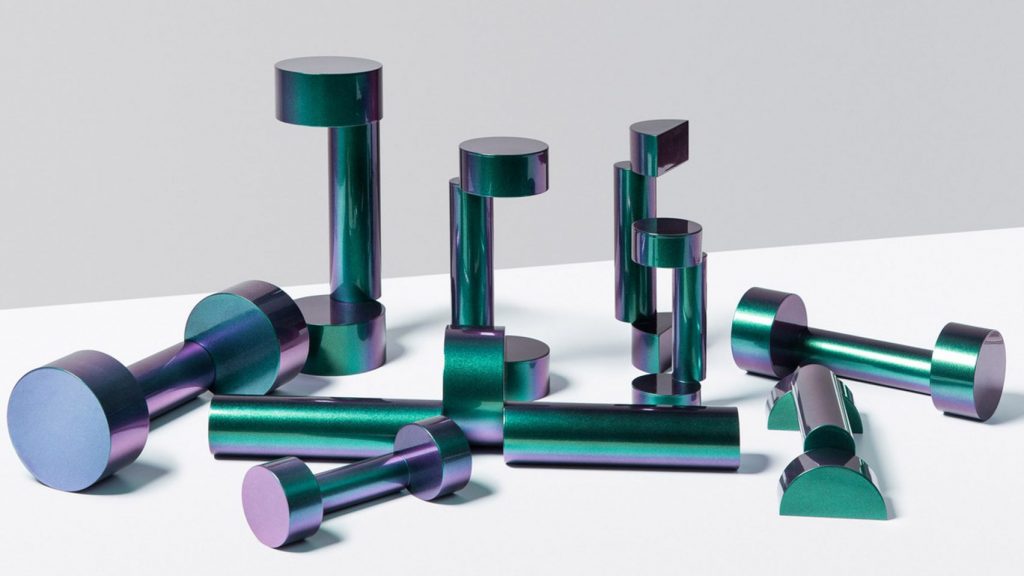 Amsterdam-based design studio H-O-TT has proposed Furfit, a conceptual hybrid collection that aims to find an active use for the pieces of furniture that are otherwise limiting our movements.
Heracles is a coffee table that features five pairs of dumbbells for legs. The dumbbells range between two and five kilograms and their weight is signified by their colour and diameter, which can be seen from above. A set of lighter dumbbells ranging from 0.5 to two kilograms acts as pegs in the Epimedes coat rack.
One simply has to turn the Lasius high stool on its side and its decorative sinuous handle will double as a curl barbell. In a similar manner, push-up bars are rendered as stools with hemispherical seats that allow them to be laid flat on the ground. To turn the Idas side table into a kettle bell, the user needs to take its top off.
The designers have developed a simple screw system that would allow parts to be added or subtracted thus changing the objects' function. It follows the traditional mechanism of loading and unloading weights from gym equipment, which is bolt and screw. For the coffee table, the mechanism is implemented clockwise and counterclockwise in each pair of dumbbells, creating a neutralising momentum that keeps the top surface stable
So far, the collection is purely conceptual but the team envisions producing the equipment in various finishes to suit different tastes. The sophisticated can opt for a version in brass, marble and oak wood, while the younger users might like a more playful combination of vibrantly coloured terrazzo and resin. There are also plans to include a version made using reclaimed and recycled materials.
Olympia, a collection of exercise weights developed by Swiss designers Candice Blanc and Ulysse Martel, comprises minimalist pieces that can be joined together to form geometric sculptures, when not in use. The project includes a trio of free weights, a pair of push-up bars and a two-hand dumbbell, all coloured in an iridescent lacquer, which endows them with an ethereal quality.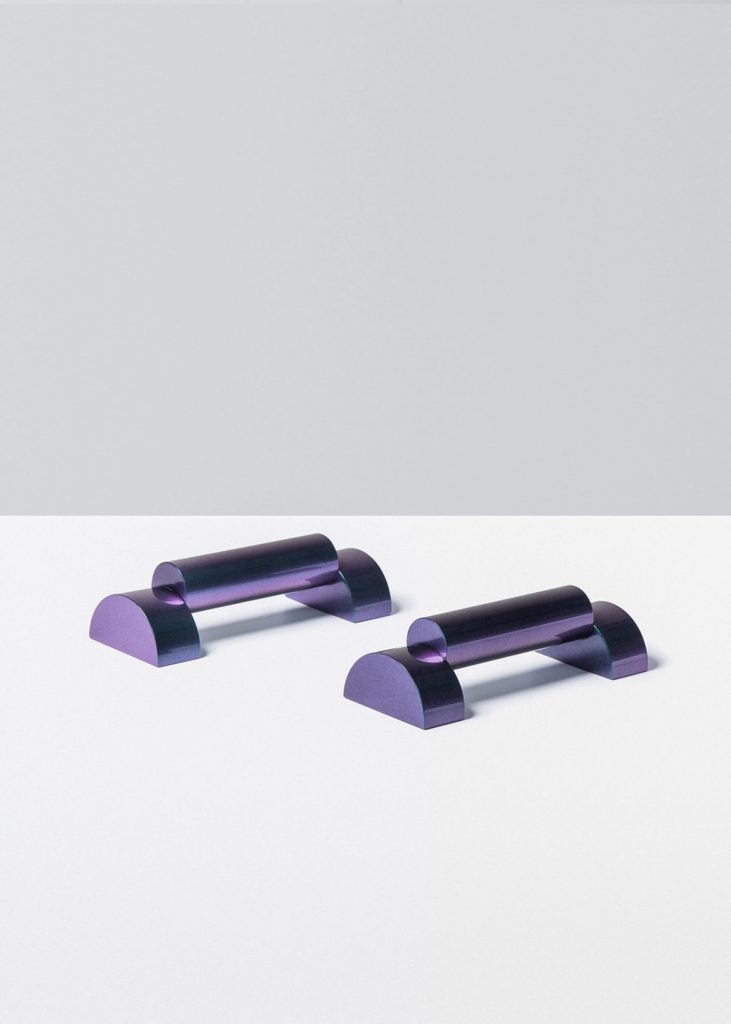 According to the designers, both futuristic and retrograde at the same time, the use of iridescent paint aims to capture the eye and give the object an exaggerated pictorial character of the items, turning them into beautiful artefacts.
As part of the Design Trust: Critically Homemade exhibition, which took place in Hong Kong last year to showcase prototypes made by architects and designers from around the world during the lockdown, award-winning designers Frédéric Gooris and Paulina Chu have created a series of simple bamboo components that people can use to create exercise equipment from readily available household items.
Named SWEAT (which stands for Simple Workout Exercises And Training), the collection includes a skipping rope, arm trainer and dumbbells that can be made by screwing water bottles into a bamboo handle. The duo has opted for bamboo because of its well-known qualities – the material a strong, lightweight and flexible at the same time.