Have you ever heard of the Bring Your Own Cutlery movement? It encourages people to carry their own travel-cutlery with them in order to address the drastic problem of plastic pollution caused by the use of disposable cutlery, and hundreds of thousands of people are already part of it. What can prevent others from joining this initiative is the simple fact that the flatware we used at home is not designed for travel and the existing travel cutlery solutions often compromise convenience to be portable. We have selected some brilliant designs that are as attractive and functional as they are easy to carry on a camping trip or during your outdoor lunch break.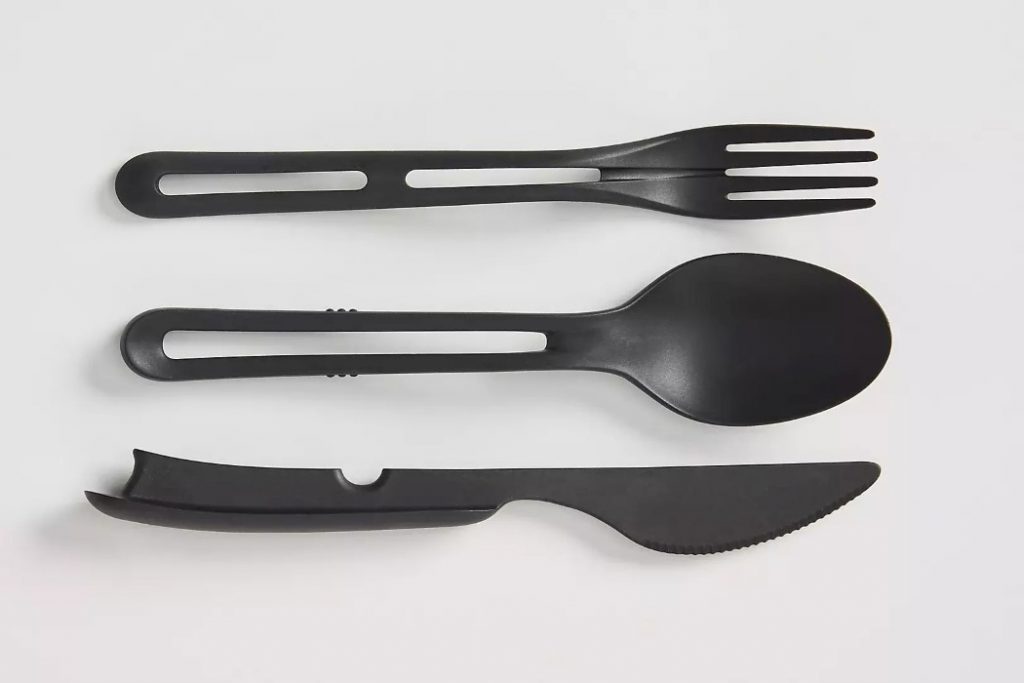 Reusable Travel Flatware by consumer brand Anthropologie is a three-piece cutlery set with a neat nesting design, which is convenient to carry around without compromising on shape and size.
Made from 100% recyclable and sustainable polyamide thermoplastic that's manufactured using renewable resources, the spoon, fork and knife can be joined to form a single bundle, which is easy to slide into a handbag or a backpack.
According to the manufacturer, one set of Reusable Travel Flatware replaces 250 disposable cutlery sets per year, providing a much more sustainable alternative to single-use disposable cutlery and Greatly helping to reduce your carbon footprint.
As its name suggests, Magware (the word is a combination of two words – "magnetic" and "flatware") by California-based outdoor brand Full Windsor uses a magnetic system to combine three separate pieces of cutlery into one single organized set. The spoon, fork and knife snap together instantly forming a neat, convenient stack, which can be consequently snapped to another set to create a single unit that is easy to carry and distribute to friends and family while having a meal out.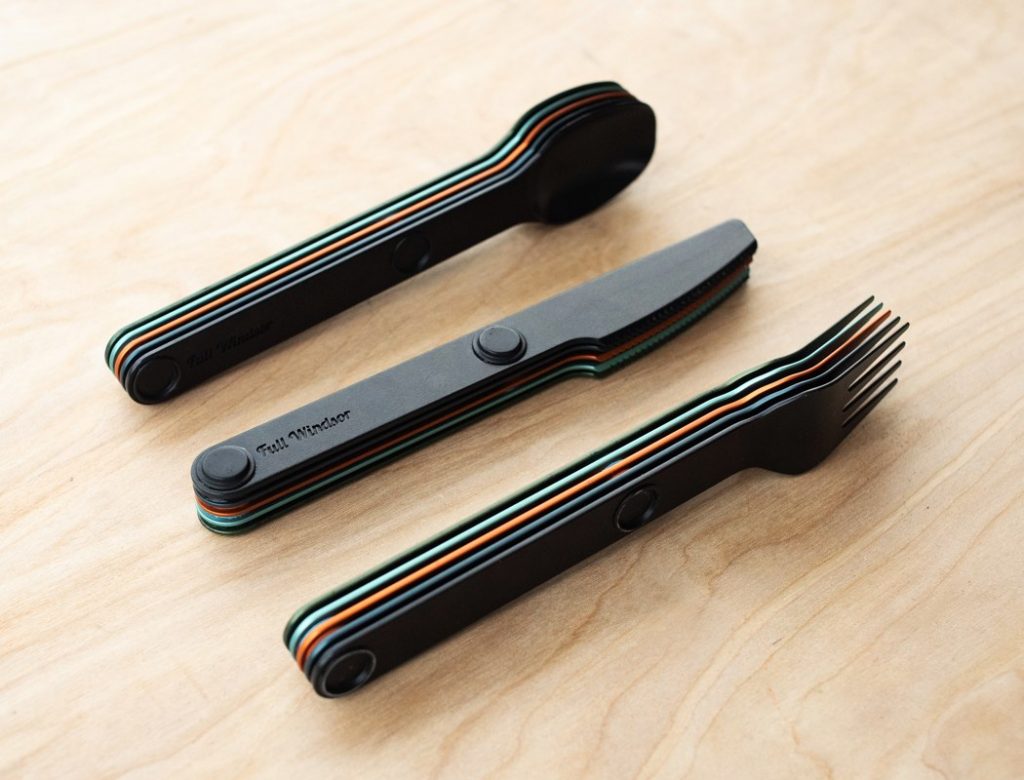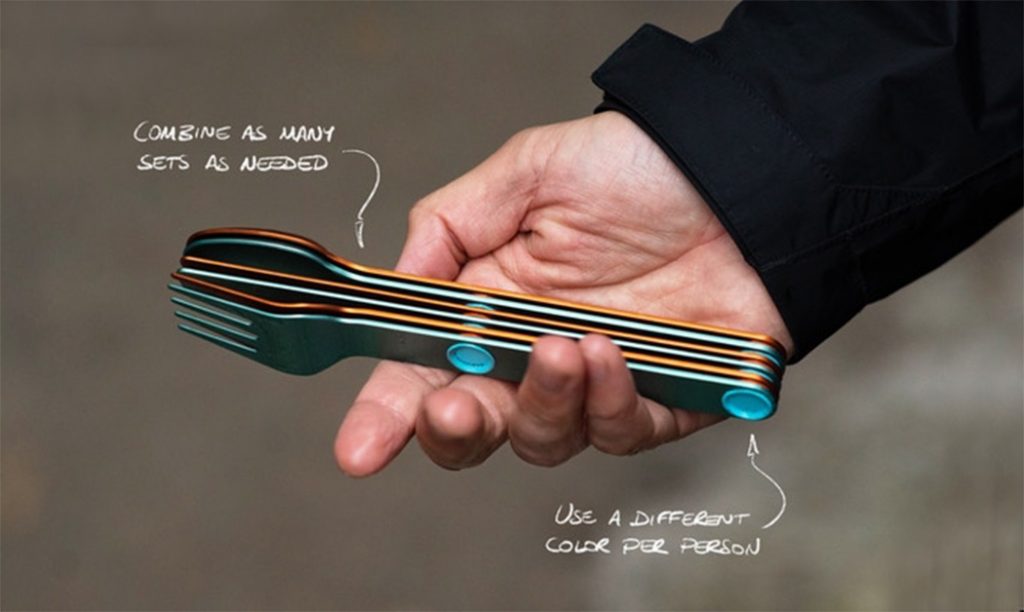 Made from food-safe and heat-resistant aluminium, the cutlery is lightweight enough to carry around (weighing just 1.6 ounces), yet robust and reliable to be reused multiple times. The set is available in a series of appealing anodized finishes, and for those who choose to enjoy sushi or ramen, Magware offers a set of magnetic chopsticks.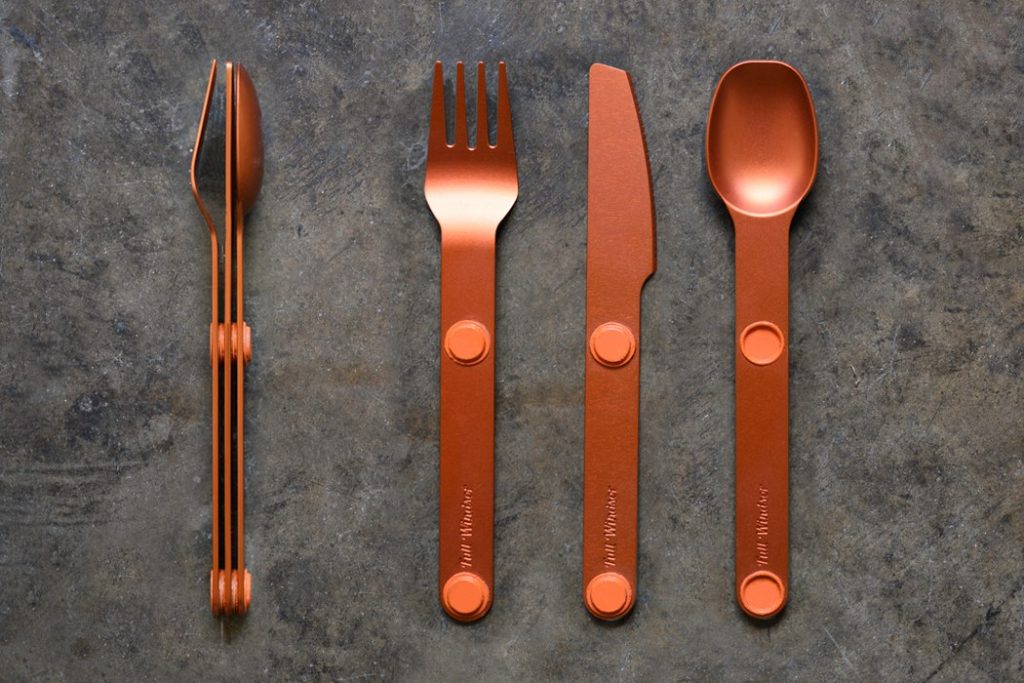 Each piece comes with two magnetic inserts around the grip, with a recycled polypropylene cover, which leaves a small gap between each piece of cutlery, preventing them from touching or scratching each other.
The question of hygiene is also the key for travel cutlery, which one carries along in their bag. On the Go flatware set by California-based industrial design studio Chris Granneberg addresses this issue offering a solution designed to help store reusable utensils once they are dirty.
The set comes with a small case, which is placed over functional parts of the cutlery that interact with food. On the one hand, this ensures that nothing gets dirty in the bag after you take away the cutlery after the meal. On the other hand, it protects the cleanliness of the items from whatever may touch them while you are travelling.